Soccer positions can appear quite sophisticated to those who are new to the sport.
There are so many different terminologies used to describe players performing in certain areas of the pitch, that informational overwhelm becomes a distinct possibility.
However, with a quick Google search a person can find well written answers to their soccer-related queries, especially when that solution comes from a blog such as this one!
To go straight to the point, today's article will look at the general meaning and purpose of the term CDM in soccer.
Let's get started then!
CDM is the short-form abbreviation for Central Defensive Midfielder. A player fulfilling this position generally stays between the defensive and midfield lines, sitting in front of the former and shielding it from opposition threats by attempting to make interceptions and tackles, as well as recycling possession when needed.
Now that you've gained basic familiarity with the position, you can begin to dive deeper into the more complex aspects of the role.
Read on to learn more!
Where does a CDM play on the pitch?
As previously stated, a central defensive midfielder usually takes position in the area just in front of the center backs.
Check out the diagram below for a more accurate illustration of this: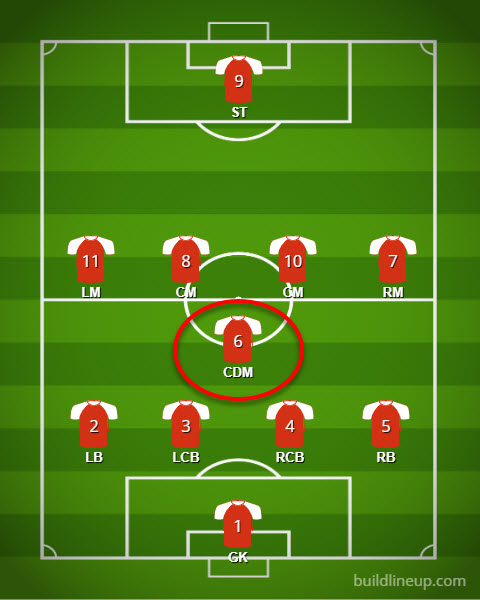 Notice how the position sits in between both the defensive and midfield lines.
They occupy the central space that resides in front of the defense and behind the midfield.
Conversely, some teams like to operate with a "double pivot" of two central defensive midfielders.
In such cases, one defensive midfielder would be positioned slightly to the right whilst remaining ahead of the defense, whereas the other defensive midfielder would take up an opposite sided position slightly to the left.
That so-called double defensive midfield barrier would look like this: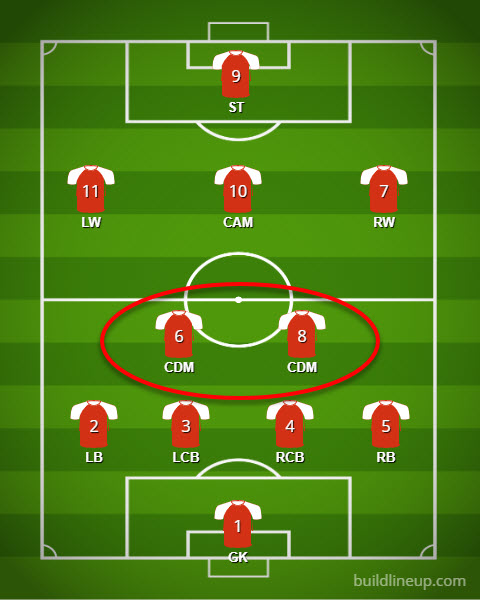 What does a CDM do in soccer?
Central defensive midfielders typically play a more reserved and risk averse role in a team setup.
They're not expected to burst forward into the opposition area as much as central midfielders, central attacking midfielders or wingers.
Instead, they're generally tasked with protecting the defense by way of smart positional play that involves things like:
Cutting out passing lanes;
Making interceptions; and
Commiting to blocks and tackles.
Beyond that however, they also get involved in the recycling of ball possession to more attack-minded team mates.
Central defensive midfielders have become such a critical component of team success in the modern game, providing attacking players with greater impetus and freedom to create as they need not worry much about spaces being exploited in behind.
You can expect the top players in this position to cover a lot of ground during matches; winning one-on-one battles along with being a strong and dogmatic physical presence both along the ground and in the air.
Take a look at the footage below which helps to illustrate the aforementioned points:
Which attributes make for a great CDM in soccer?
These days a strong case can be made for every team needing a quality player in the central defensive midfield slot in order to compete for silverware.
A lot of the skills needed involve mental capacity and the ability to be physically imposing, rather than pure technicality.
Read on to learn exactly why!
1. Concentration
Central defensive midfielders have to be alert for long stretches of the game.
Even when the soccer ball is out of play, these players have to be aware of any impending danger, as attackers could start to roam around and cause immediate problems once match play restarts.
Any lapses in concentration from this position can be severely punished, as midfielders and forwards would be gifted with the space and time to run at defenders and make them commit to risky challenges.
2. Anticipation
One of the most critical skills a central defensive midfielder should have is an ability to read the game.
This involves being in the right place at the correct moment in time; stepping in to intercept a pass intended for an opposition player; blocking a curled cross attempt, or even preventing a shot attempt at goal.
Anticipation can actually be likened to mind reading, because it essentially means you're able to know what an opponent is about to do with the ball and effectively counteract it in the process.
3. Composure
Central defensive midfielders that play in some of the world's most possession dominant teams (e.g. Manchester City, Liverpool, Barcelona) have to be cool-headed at all times.
Because their role in progressive build up play is more pronounced, they have to be composed enough to evade the press of multiple opposition players that are trying to hustle for the ball.
Panicking in such situations is out of the question, as collected players know that remaining calm during such moments is essential to maintaining favorable match momentum.
4. Strength
Aside from certain mental capabilities, central defensive midfielders still have to make sure that they're no pushovers!
Upper body strength is particularly vital when it comes to being able to hold off the aerial challenges of opposing players.
Good levels of strength can be achieved by following and sticking to a consistent dietary regimen, as well as taking to the gym to lift some weights and ultimately build more muscle.
5. Positioning
When waves of opposition attacks are in progress, being stood in the right areas can effectively curtail the pressure.
Central defensive midfielders that excel at positioning their bodies to stop forward threats make their lives much easier, because they don't have to end up making last-ditch tackles that typically expend large amounts of energy and come with further risks.
Poor positioning is one of the past criticisms that's been leveled at Manchester United players like Fred and Scott McTominay, who've occasionally been caught out or flat-footed by opposing sides.
6. Tackling
You can't score goals without the ball.
And one of the ways of retrieving this object from an opponent is by making perfectly timed tackles that don't lead to the concession of fouls in dangerous positions.
For central defensive midfielders, tackling is their "bread and butter" so to speak.
Believe it or not, players in this position usually value a good tackle almost as much as a goal scored!
Great central defensive midfielders boast high tackle success rate percentages, which allow their teams to get back on the front foot as possession is in hand to create new scoring opportunities.
7. Communication
Finally, good communication skills are paramount for central defensive midfielders.
They've got to be able to direct the play and tell other teammates where they need to be, especially during the early build up phase in possession.
For example, a central defensive midfielder could point or direct both central defenders to spread out wider as he or she drops deep to collect the ball from the goalkeeper in between them.
Examples of world class CDMs in soccer
There are a couple of real-life central defensive midfield gems that you need to be made aware of.
Let's start with the two Brazilians first!
Fabinho
This guy joined Liverpool from AS Monaco in May of 2018, and since then he's gone on to be a defensive midfield revelation for the Scouse side.
He's so calm on the ball and his physical presence allows the likes of Trent Alexander Arnold and Andrew Robertson to bomb forward down the flanks and affect the play in advanced areas.
Casemiro
Here we have arguably the best defensive midfielder of his generation – Casemiro.
The Real Madrid legend has won multiple trophies with the Spanish side and his presence within the team has allowed so many attacking players to thrive over the years he's been present.
The club will definitely struggle to replace his talent once he decides to hang up his cleats.
Rodri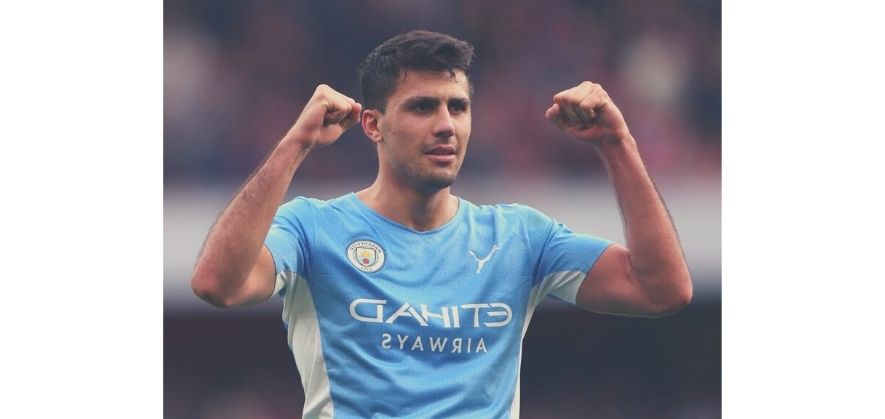 Last but not least we have Manchester City's Rodrigo Hernández Cascante.
This guy sets the standard when it comes to passing and composure with the ball at his feet.
You will rarely see him misplace a pass and he has a knack for getting himself into good recovery positions when his team is under the threat of a counter attack.
Is CDM and CAM the same?
Central defensive midfielders and central attacking midfielders are not the same positions, and neither do they have the same responsibilities.
The former is primarily tasked with shielding his or her team's defense, whereas the latter is usually responsible for attacking play that involves setting up goals and scoring them as well.
You can definitely have a look at this article on what CAM means in soccer for a more thorough breakdown of the role.
Closing thoughts
You should now be filled with knowledge on what the central defensive midfield role entails.
Go ahead and practice the position and see if you have what it takes to become the best ever player of it!
If you enjoy the content that I create and would like to buy me a coffee, then I'd really appreciate it!
Any money that I earn through this donation will be re-invested into more content for this website.
Additionally, by sending in a donation you'll also receive a copy of my recently released 190+ page eBook on Soccer Ball Care, as well as be subscribed to our mailing list where you'll be regularly informed on the latest developments concerning the Soccer Whizz blog.
Latest posts by Samuel Waihenya
(see all)