Disclaimer: Soccer Whizz is a participant in the Amazon Services LLC Associates Program, an affiliate advertising program designed to provide a means for sites to earn advertising fees by advertising and linking to Amazon.co.uk (source: Section 5). As an Amazon Associate I earn from qualifying purchases.
Soccer jerseys have had an important role in the sport, right from the game's inception.
Most importantly, soccer teams competing against each other always wear different colored jerseys to differentiate each set of players from one another on the pitch.
But the shirts that these athletes wear also have a pretty important feature that is often overlooked by many fans of the game.
This concerns the star symbols which are usually embroidered into the fabric; positioned just above the left-sided chest area on top of the country or club logo.
What do the stars on player jerseys mean?
Well, that's the question that this article seeks to answer.
So, let's get right down to business with an immediate answer to the topic.
The stars on soccer jerseys represent important achievements in the history of the team. At national level, each star denotes the number of World Cup trophies an international side has won. Conversely, the stars on club jerseys indicate the total number of league titles a domestic team has won.
Sounds pretty simple to understand, right?
Now, let's dig in for a deeper explanation.
Why do international team jerseys have stars on them?
When you pop into your local soccer store, you'll probably notice quite a few shirts that have one or more small stars that are either included as part of the team badge or placed above the crest.
The stars should look like this: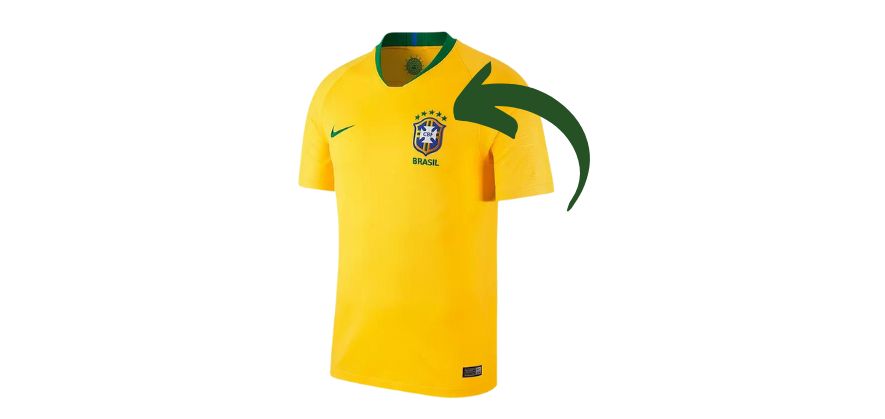 You see, these stars aren't included as part of the jersey design just for the sake of making the shirt more aesthetically appealing.
They have an actual purpose.
National soccer teams compete at the World Cup every four years and the winners of this highly prestigious tournament get to have a star embroidered on their team kits.
Which national teams have stars on their soccer jerseys?
All you have to do to find your answer is look through the list of previous World cup winners and see the nations that come up in the search.
You have the likes of:
Brazil – 5 stars for 5 World Cup wins
Germany – 4 stars for 4 World Cup wins
Italy – 4 stars for 4 World Cup wins;
France – 2 stars for 2 World Cup wins;
Argentina – 2 stars for 2 World Cup wins; and
England – 2 stars for 2 World Cup wins
The aforementioned list doesn't include teams like Uruguay and Spain who have won the FIFA World cup twice and once respectively.
So, the jerseys of these teams will look different to those of other nations due to the fact that they've managed to win this competition in the past.
One exception to note with the way in which the stars are used on national team jerseys concerns Uruguay.
They actually have four stars on their kits instead of two as the country considers that its victories in the Olympics – prior to the birth of the World Cup – ought to be taken into account as part of the tally.
Ultimately, the stars serve as a good reminder that the team in question was a past success, and that can spur the current crop of players to perform better in an upcoming tournament.
What do the stars on a club jersey represent?
At club level, the stars on soccer jerseys serve a different purpose.
They are instead used to represent the number of domestic league championships that a team has won throughout its history.
For example, in the German Bundesliga one star is used to indicate a total of three championships won.
The order then runs as follows:
2 stars – 5 championships;
3 stars – 10 championships; and
4 stars – 20 or more championships
So, Bayern Munich have four stars on their kits for a total of 32 league titles, as you can see in the image below: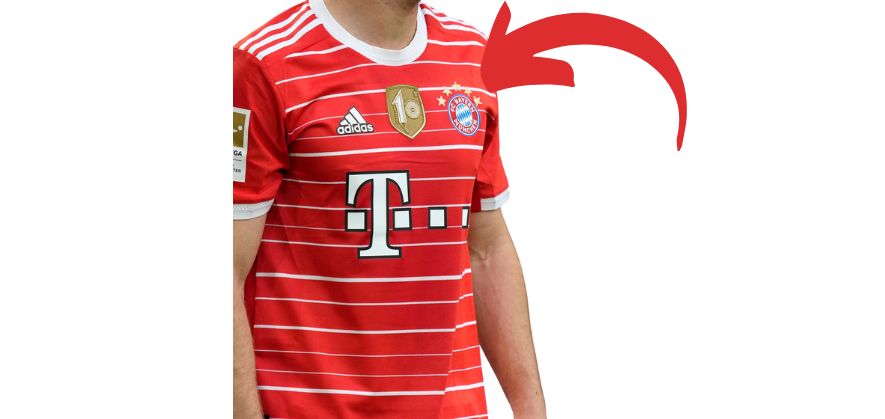 Here's an excerpt from a news article which backs up this point:
"In most cases, a country's governing body will grant teams the right to wear stars for winning a certain number of league titles. For example, in Holland, Italy, Sweden and Norway, football clubs will don a star if they have won 10 championships. Ajax, who would have 33 national titles therefore wear three stars."

Source – The Sun
Which soccer team has the most stars on their national jersey?
This question has a pretty self-explanatory answer.
Brazil is the international team with the most stars on their jersey, because they have won the World cup tournament the most times out of any side since its inception.
Their total of five wins gives them five stars on their kits.
Where can you buy soccer jerseys that have stars on them?
Various retail outlets sell jerseys with the stars on them.
Amazon makes things easy and convenient for buyers, so you can check out their jersey selection below:
Mens Retro Brazil Badge T Shirt Football Brasil Futbol Soccer Supporter Tee, M, Yellow/Green
Mens Retro Brazil Football T Shirt - Football Country Gift South America Tournament For Him - Soccer Footy Brasil
Purple Print House Designs - This design was created in house by our team of designers and then printed in our state of the art fulfilment facility. We take pride in creating the most amazing gifts including beanies, aprons, cushions, t shirts, hoodies, mugs, cushions, cards and sweatshirts for all occasions.
FOOTBALL T SHIRT: A great t shirt for football supporters to show their support to their country in a tournament this summer
England Supporters Printed Tshirt Unisex Great for Supporting England During Football Cricket Rugby Great for Any Birthday Present Secret Santa Present (small)
SATISFACTION GUARANTEE - We stand behind all of our products with pride and we are sure that you will be absolutely thrilled with this clothing item. If you're not delighted with this item of clothing, return it for a 100% refund of your purchase price, no questions asked
VALUE FOR MONEY : MAny of our T-shirts, Jumpers, Polo Shirts ,Jackets and other items of clothing are comparable in quality to other high street brands but cheaper in price meaning more value for money for the customer
THE PERFECT GIFT - Struggling to buy a gift for coworkers, family, and friends - This item of clothing is perfect for Christmas, Birthday And Secret Santa Present , Baby Shower Gift or just because you want that special someone to wake up every morning and start their day with a quality item of clothing.
Final thoughts
That basically wraps up the commentary on why soccer teams have stars on their jerseys.
If you've enjoyed reading through this post, then you'll probably like our articles on:
If you enjoy the content that I create and would like to buy me a coffee, then I'd really appreciate it!
Any money that I earn through this donation will be re-invested into more content for this website.
Additionally, by sending in a donation you'll also receive a copy of my recently released 190+ page eBook on Soccer Ball Care, as well as be subscribed to our mailing list where you'll be regularly informed on the latest developments concerning the Soccer Whizz blog.
Latest posts by Samuel Waihenya
(see all)