Lionel Messi, the maestro from Argentina, has etched his name in the record books of soccer history as one of the greatest players to have ever graced the sport.
With his mesmerizing skill, exceptional vision, and an innate ability to turn the impossible into reality, Messi's impact on the game has been truly extraordinary.
From his early days at Barcelona to his recent ventures with Paris Saint-Germain, Messi's illustrious career has been a testament to his unparalleled greatness.
Lionel Messi began playing soccer at a very young age, showing prodigious talent and a love for the sport from the start. At the tender age of five, Messi joined a local club called Grandoli, located in his hometown of Rosario, Argentina. It was here that his passion for the game and his exceptional skills started to emerge.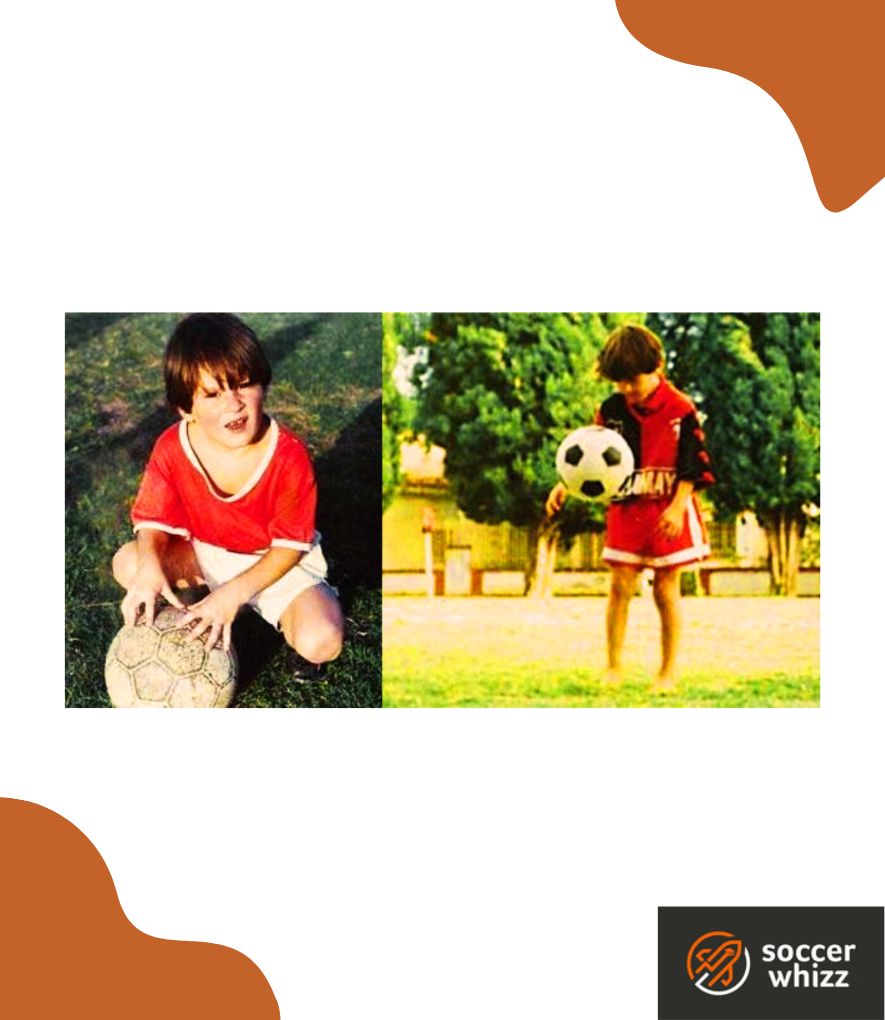 This article uncovers the awe-inspiring journey of a player who has redefined the meaning of excellence in soccer.
When did Messi start playing soccer professionally?
Lionel Messi started playing soccer professionally at the age of 16.
In 2004, he made his debut for FC Barcelona's senior team, marking the beginning of his remarkable professional career.
Messi's first appearance for the senior team came in a friendly match against FC Porto on November 16, 2003.
Even at such a young age, he showcased his immense talent and potential, leaving spectators in awe of his skill and natural ability on the pitch.
Following his debut, Messi continued to impress in training sessions and during his appearances for Barcelona's youth teams.
He gradually earned more opportunities to play for the senior team and quickly became an integral part of Barcelona's squad.
At what age did Messi start playing soccer?
Lionel Messi began playing soccer at a very young age, showing a natural talent and love for the game from his earliest years.
He started playing organized soccer at the age of five when he joined a local neighbourhood establishment called Grandoli in his hometown of Rosario, Argentina.
It was at this young age that Messi's passion for the sport and his exceptional skills started to become apparent.
Messi's talent quickly became evident, and at the age of eight, he caught the attention of scouts from Newell's Old Boys, one of Argentina's renowned soccer teams.
Here's some incredible video footage showcasing his ability back in those days:
He joined Newell's youth academy and continued to develop his skills and refine his game.
His talent and potential were so exceptional that Messi's family made the life-changing decision to move to Barcelona, Spain, when he was just 13 years old.
In 2003, Messi joined the prestigious La Masia youth academy, the renowned development system of FC Barcelona.
This marked the beginning of his journey with the club that would shape his career and see him rise to become one of the greatest players of all time.
Messi's early life
Now it's time to learn a little more about the greatest player of all time and his ascension to the top of soccer's pyramid from the grassroot level.
Family background
Lionel Messi's family background is of Argentinean and Italian descent.
His father, Jorge Messi, is of Italian origin, with his family originating from Ancona, Italy.
Messi's mother – Celia Messi – is Argentinean.
Lionel Messi comes from a close-knit family, and he has two older brothers named Rodrigo and Matías.
They have been supportive of Messi throughout his career, and his family has played an important role in his development as a person and a player.
Messi's family has been ever-present throughout his journey, providing support and guidance.
They have often been seen at his matches, cheering him on and celebrating his achievements.
Childhood
Lionel Messi's childhood was marked by his love for soccer and a remarkable talent that emerged at a young age.
Growing up in the city of Rosario, Argentina, Messi's passion for the sport was evident from his earliest years.
As a child, Messi spent countless hours playing soccer with his friends in the streets and local fields of Rosario.
It was there that he honed his skills, developing his exceptional dribbling, agility, and precise ball control.
His natural talent and passion for the game were evident even in those early years.
However, Messi's childhood was not without challenges.
At the age of 11, he was diagnosed with a growth hormone deficiency, which affected his physical development.
This led to financial strains on his family as they sought treatment to support his dream of becoming a professional soccer player.
In pursuit of better medical care and opportunities, Messi's family made the decision to move to Barcelona, Spain, when he was 13 years old.
This move was a pivotal moment in his life and career, as he joined the renowned La Masia youth academy of FC Barcelona.
It was there that Messi's talent flourished, and he received the necessary support and development to fulfill his immense potential.
Health issues
Lionel Messi was diagnosed with a growth hormone deficiency (GHD) during his early childhood.
GHD is a medical condition that affects the production of growth hormone, leading to slower growth and development compared to peers of the same age.
At the age of 11, Messi's condition was identified, and his family sought medical intervention to address the deficiency.
Treatment for GHD typically involves the administration of synthetic human growth hormone (HGH) to stimulate growth and development.
Due to the financial strain of the required medical treatment, Messi's family faced challenges in providing him with the necessary care.
However, the opportunity to move to Barcelona presented itself, and the club offered to cover Messi's medical expenses as part of his contract.
This played a crucial role in ensuring that he received the appropriate treatment for his condition.
The administration of HGH allowed Messi to overcome the growth hormone deficiency and continue his development as a young soccer player.
With the right medical care and support, Messi's physical growth and abilities progressed, enabling him to reach his full potential.
It's worth noting that HGH treatment is a legitimate medical intervention used to address growth hormone deficiencies.
Messi's case is an example of how proper diagnosis and treatment can help individuals with such conditions lead healthy and fulfilling lives.
Lionel Messi's key career milestones
And now for the good stuff, Lionel Messi's notable soccer achievements…
1. National team debut
Lionel Messi made his debut for the Argentine national team on August 17, 2005, in a friendly match against Hungary.
He was 18 years old at the time and came on as a substitute in the 63rd minute.
Unfortunately, Messi was sent off within a minute, which was not the debut he had imagined.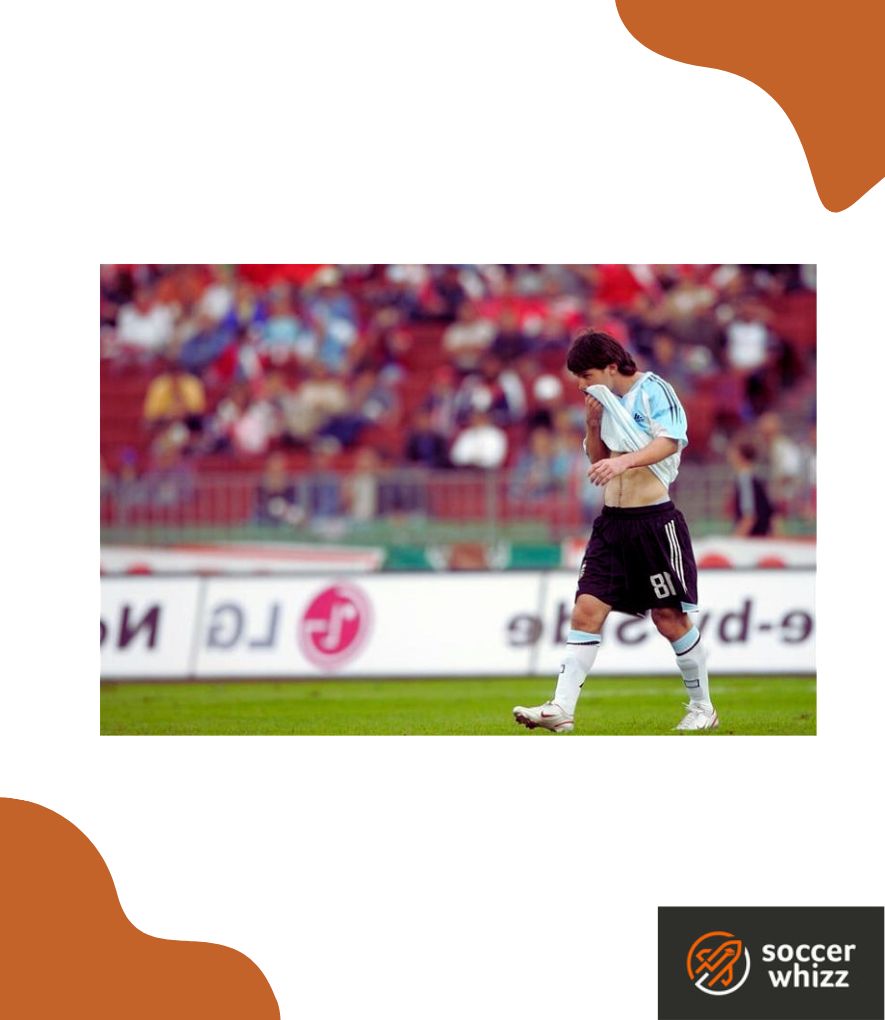 Despite his limited playing time, Messi's skill and potential were on full display, as he showcased his trademark dribbling and ball control in his brief appearance.
2. First international goal
Lionel Messi scored his first international goal for the Argentine national team on March 1, 2006, in a friendly match against Croatia.
It was Messi's fourth appearance for the national team, and he found the back of the net in the 63rd minute of the match.
Argentina went on to lose the match 3-2 however this marked the beginning of his long and illustrious international career.
3. First professional trophy
Lionel Messi won his first professional trophy with FC Barcelona during the 2004-2005 season.
At the age of 17, Messi played a vital role in Barcelona's success in the Spanish league, La Liga.
Messi's contributions helped Barcelona secure the league title, marking his first taste of professional silverware.
Although he was not a regular starter during that season, his performances as a substitute and occasional starter demonstrated his immense talent and potential.
4. FIFA World Cup win
Messi won the World cup for the first time in his professional career in Qatar 2022 as Argentina beat France to clinch the acclaimed international trophy.
Messi scored a brace to reignite their fight for the trophy even after France came back from 2-0 with less than 10 minutes left.
Throughout the tournament, Messi was the instrumentalist harmonizing the team's chemistry as he scored crucial goals to take them through different stages of the tournament.
Closing thoughts
In conclusion, Lionel Messi's journey in soccer began at a tender age, where his love for the sport and extraordinary talent emerged.
From his early days in Rosario, Argentina, playing with his friends in the streets, to joining Barcelona's La Masia youth academy, Messi's path was filled with determination, hard work, and an unwavering passion for the game.
Growing from a young boy playing in the streets of Rosario to a global soccer icon, Lionel Messi's story is a testament to the transformative power of passion, dedication, and raw talent.
His legacy as one of the greatest players to have ever graced the sport is secure, and his impact on the world of soccer will forever be etched in history.
For more content on the Argentinian maestro, check out the following articles on our blog:
If you enjoy the content that I create and would like to buy me a coffee, then I'd really appreciate it!
Any money that I earn through this donation will be re-invested into more content for this website.
Additionally, by sending in a donation you'll also receive a copy of my recently released 190+ page eBook on Soccer Ball Care, as well as be subscribed to our mailing list where you'll be regularly informed on the latest developments concerning the Soccer Whizz blog.
Latest posts by Samuel Waihenya
(see all)