Since bursting onto the soccer scene as a young prodigy, Cristiano Ronaldo has evolved into one of the greatest players in the history of the sport.
With an illustrious career spanning over two decades, Ronaldo has mesmerized fans worldwide with his exceptional skill, athleticism and unwavering determination.
From his early days at Sporting Lisbon to his stints at Manchester United, Real Madrid, and Juventus, Ronaldo's impact on the game has been nothing short of extraordinary.
Cristiano Ronaldo began playing soccer at a young age, showing a natural talent and passion for the sport. He officially joined a local club called Andorinha in his hometown of Funchal, Madeira, Portugal, at the age of seven.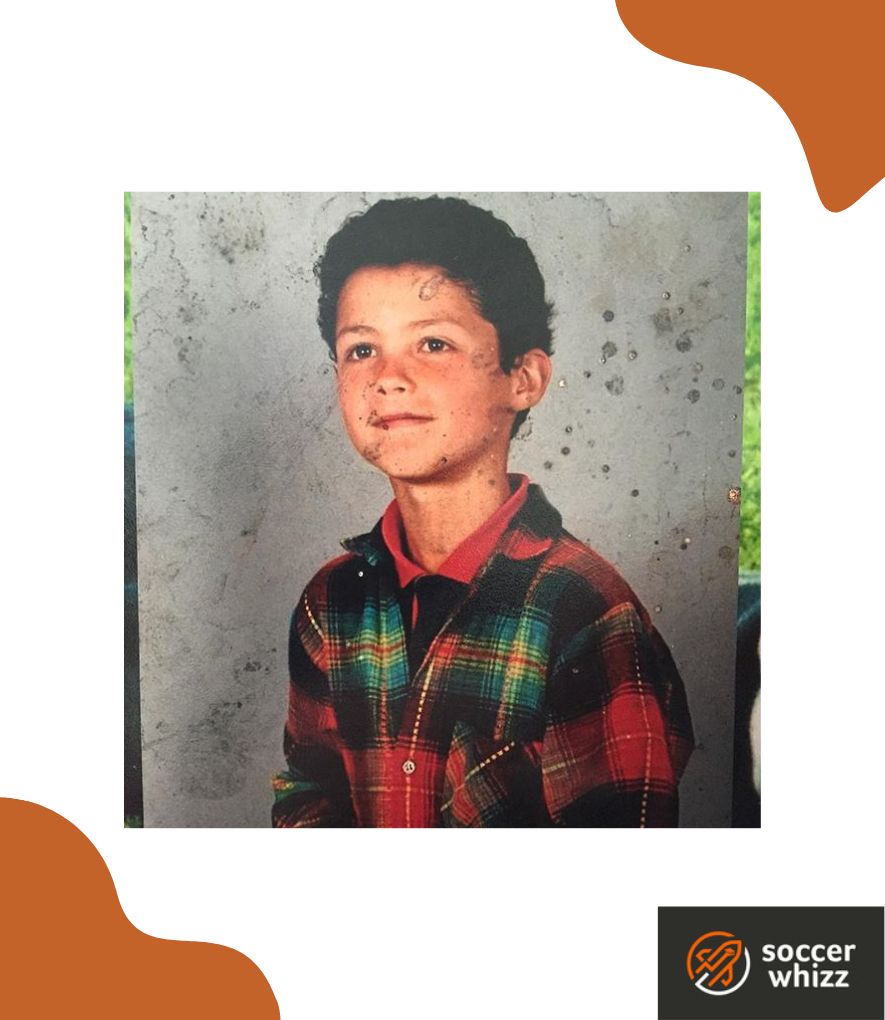 It was here that his skills began to develop; catching the attention of scouts from larger clubs.
As his father was the kit man at this club, it was easier for him to settle down in his first club.
This article explores the remarkable journey of a player who has redefined what it means to be great in soccer.
When did Ronaldo start playing professionally?
Cristiano Ronaldo started playing professional soccer in 2002 when he signed a contract with Sporting Lisbon, a prominent Portuguese club.
At the age of 17, Ronaldo made his debut for Sporting Lisbon's senior team during the 2002-2003 season.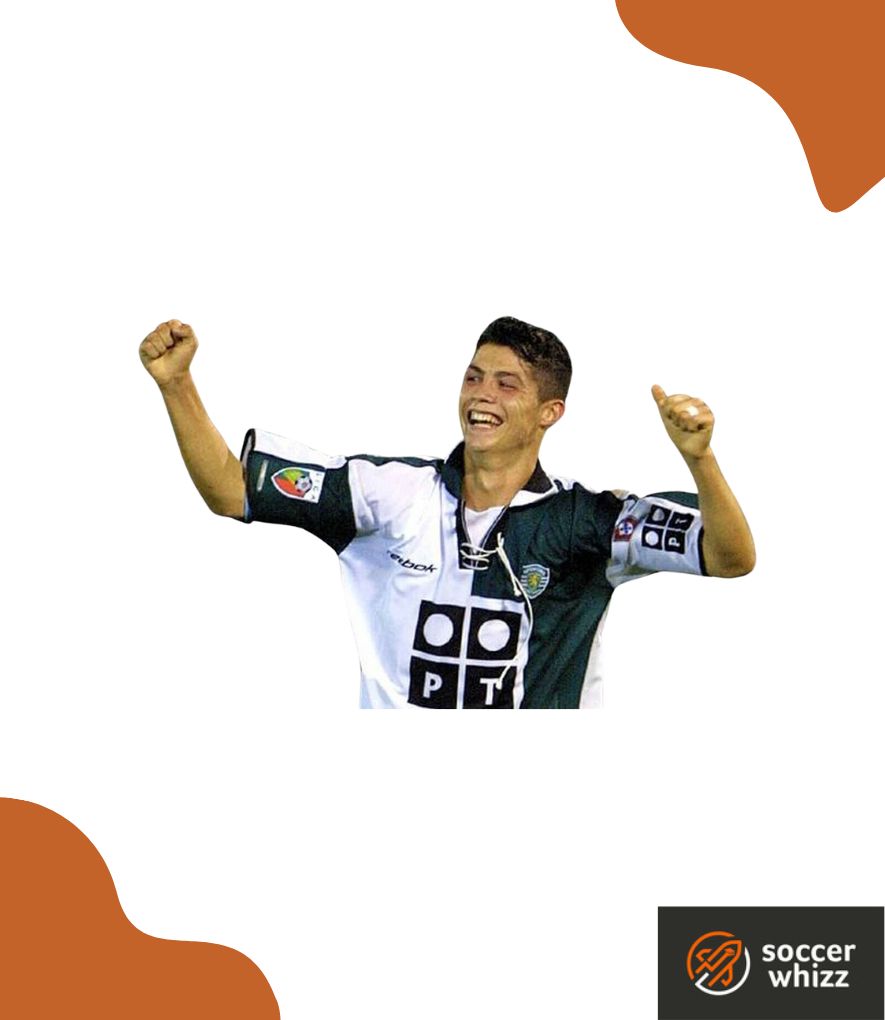 His impressive performances quickly garnered attention from top teams across Europe.
In August 2003, Ronaldo's professional career took a significant leap forward when he caught the eye of Manchester United manager Sir Alex Ferguson during a pre-season friendly match between Sporting Lisbon and Manchester United.
Ferguson was so impressed by Ronaldo's skills and potential that he decided to sign him for Manchester United.
Here's a video recap of that scintillating performance:
Following his transfer to Manchester United, Ronaldo made his official professional debut for the club on August 16, 2003, in a Premier League match against Bolton Wanderers.
From that point forward, Ronaldo's career skyrocketed, and he became a pivotal figure in Manchester United's success, winning numerous domestic and international titles during his six seasons with the club.
After his tenure at Manchester United, Ronaldo went on to play for Real Madrid (2009-2018), Juventus (2018-2021), and eventually returned to Manchester United in 2021.
Throughout his professional career, Ronaldo has consistently showcased his exceptional skills, breaking records, and etching his name in soccer history as one of the greatest players to have ever graced the game.
At what age did Ronaldo start playing soccer?
Cristiano Ronaldo started playing soccer when he was just seven years old and quickly became a star in his home country of Portugal.
His father, who worked as the kitman for Andorinha, helped him settle into the beautiful game very quickly.
Who started playing soccer first – Ronaldo or Messi?
Lionel Messi started playing soccer professionally before Cristiano Ronaldo, as the former began his career at a younger age compared to Ronaldo.
Messi joined Barcelona's youth academy, La Masia, at the age of 13 in the year 2000.
He progressed through the ranks of Barcelona's youth system and made his senior team debut in 2004 at the age of 17.
Since then, Messi has remained loyal to Barcelona for most of his career, achieving incredible success and becoming one of the most decorated players in the history of the sport.
It's only recently that Messi switched allegiances to Paris Saint-Germain, joining in August 2021 after being forced out of Barcelona due to the club's financial debt.
On the other hand, Ronaldo started his professional career with Sporting Lisbon's senior team in 2002 at the age of 17.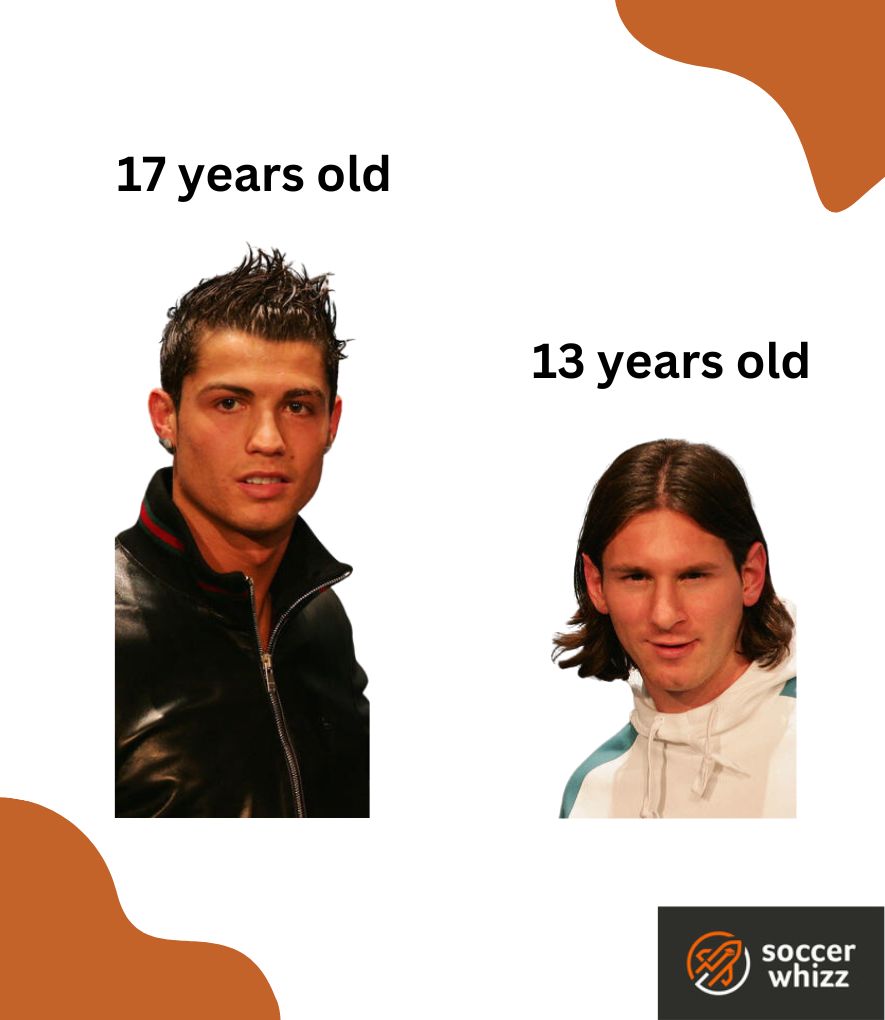 He made a high-profile move to Manchester United in 2003, where he rose to prominence and became a global star.
Ronaldo has since played for other top clubs like Real Madrid, Juventus, and returned to Manchester United in 2021.
While both players have had remarkable careers and achieved unparalleled success, Messi's professional debut came a few years earlier than Ronaldo's.
Their careers have often been compared, and their rivalry on the field has captivated football fans worldwide.
Ronaldo's key career milestones
Here are some of Ronaldo's first achievements in the sport, ranked in no particular order:
1. First international goal
Cristiano Ronaldo scored his first international goal for the Portuguese national team on June 12, 2004.
It happened during a group stage match of the UEFA European Championship held in Portugal that year.
In the match against Greece, Ronaldo found the back of the net in the 93rd minute with a powerful header.
Despite his goal, Portugal suffered a surprise 1-2 defeat to the Greek team.
This goal marked the beginning of Ronaldo's prolific international career, during which he has gone on to become Portugal's all-time leading goal scorer.
He has since scored numerous crucial goals for his national team in major tournaments, including the UEFA European Championship and the FIFA World Cup.
2. First professional trophy
Cristiano Ronaldo won his first professional trophy during the 2001-2002 season with Sporting Lisbon.
In that season, Sporting Lisbon emerged victorious in the Taça de Portugal (Portuguese Cup), which is the premier domestic cup competition in Portugal.
Ronaldo, at the age of 18, played a part in Sporting Lisbon's cup run, contributing to the team's success.
Although he was not a regular starter at the time, his performances and potential were already catching the attention of football enthusiasts and professionals alike.
Sporting Lisbon defeated Leixões 1-0 in the final held on May 12, 2002, to secure the Taça de Portugal title.
This victory marked Ronaldo's first taste of silverware at the professional level, a significant milestone in his early career.
3. First European championship win
Cristiano Ronaldo won his first European trophy during the 2007-2008 season with Manchester United.
The club emerged victorious in the UEFA Champions League, Europe's most prestigious club competition.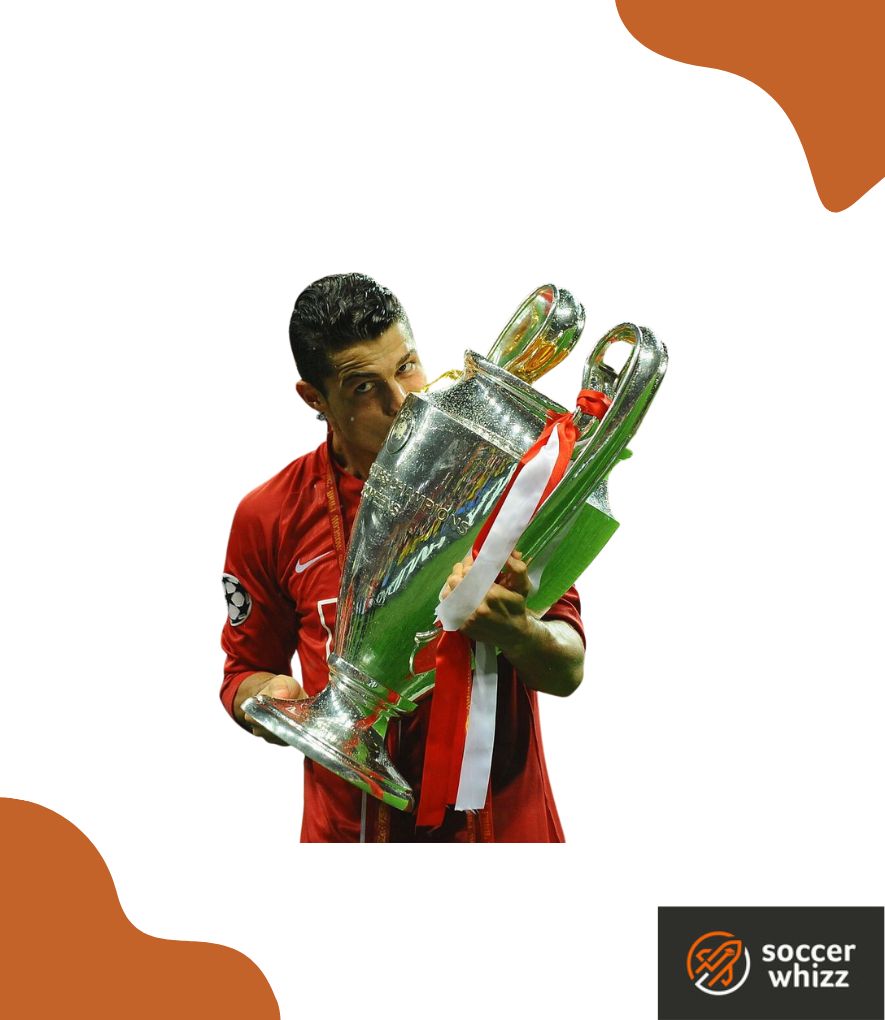 Ronaldo played a pivotal role in Manchester United's successful campaign, displaying his exceptional skills and scoring crucial goals throughout the tournament.
He was a standout performer for the team, contributing significantly to their triumph.
In the final held on May 21, 2008, at the Luzhniki Stadium in Moscow, Manchester United faced Chelsea.
The match ended in a 1-1 draw after extra time, with Ronaldo opening the scoring for Manchester United in the 26th minute.
The game eventually went to a penalty shootout, where Manchester United prevailed, winning 6-5 to claim the Champions League title.
This victory marked Ronaldo's first European trophy, a major milestone in his career.
It showcased his ability to perform on the grandest stage and cemented his reputation as one of the best players in the world.
Closing thoughts
In conclusion, Cristiano Ronaldo's journey in soccer began at a young age, when he started playing soccer on the streets of Madeira.
Ronaldo's journey serves as a reminder of the power of passion, hard work, and determination in achieving one's goals.
He is an inspiration to many and will undoubtedly continue to be a significant figure in soccer for years to come.
For more Ronaldo-related content, have a look through other posts on our blog, such as:
If you enjoy the content that I create and would like to buy me a coffee, then I'd really appreciate it!
Any money that I earn through this donation will be re-invested into more content for this website.
Additionally, by sending in a donation you'll also receive a copy of my recently released 190+ page eBook on Soccer Ball Care, as well as be subscribed to our mailing list where you'll be regularly informed on the latest developments concerning the Soccer Whizz blog.
Latest posts by Samuel Waihenya
(see all)