Disclaimer: Soccer Whizz is a participant in the Amazon Services LLC Associates Program, an affiliate advertising program designed to provide a means for sites to earn advertising fees by advertising and linking to Amazon.co.uk (source: Section 5). As an Amazon Associate I earn from qualifying purchases.
Soccer jerseys can be remarkably different, as they come in all sorts of colors and sizes.
Even more so, teams usually embroider their official crests (logos) onto them, and buyers are able to add their own customization through the printing of squad numbers and unique names, which further adds to the level of variation that this type of sports apparel can have.
But one question you'll usually see flying about on the internet relates to why soccer jerseys have the Fly Emirates name emblazoned on the front.
And it's a pretty good question to ask, especially by those who aren't quite familiar with how things work in soccer.
If you think about if for a second, where is the correlation?
This article will offer an answer to the aforementioned question, detailing why the name of an airline features so prominently on a sports shirt.
After all, where is the correlation?
As well as this, the article will also cover the specific teams that have the Fly emirates name printed on their official jerseys.
So, let's get started!
The Fly Emirates name is inscribed onto soccer jerseys as the airline sponsors numerous soccer teams within the world. The company is a huge promoter of professional soccer and their sponsorship deals with some of the sport's biggest teams is a marketing strategy that helps raise awareness for their brand by getting in front of a global television audience.
Reasons why the Emirates airline sponsors so many soccer teams
The proliferation of corporate sponsorships in the modern soccer game has been astounding to watch over the past couple of decades.
We've gone from witnessing players compete with the most simple and plain colored soccer jerseys, back in the days when players like Jimmy Greaves and Franz Beckenbauer were in full command on the pitch.
Just take a look at the picture below, for example: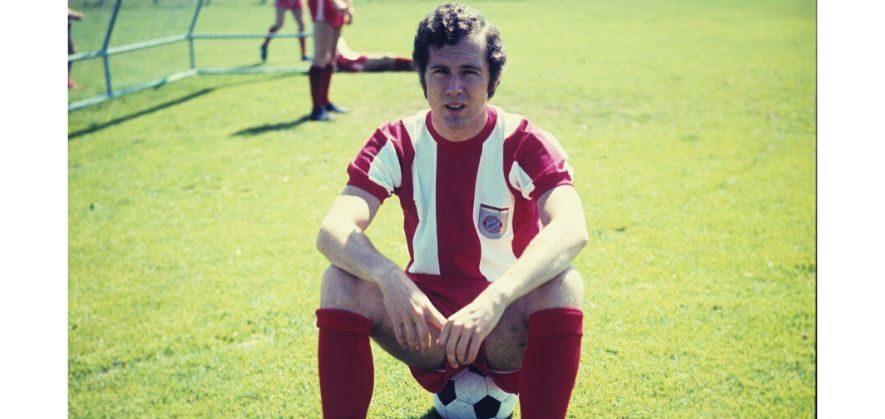 Notice how there's not a single brand name or logo printed onto the top apart from the official club crest.
That was how pure the sport was in the era of black and white television.
In fact, teams weren't allowed to promote sponsorships with other companies through their kits, as evidenced by the Football Association refusing to allow English side Kettering town to play with "Kettering Tyres" printed on the front of their shirts.
But all that changed and today we see all sorts of jersey designs and interesting sponsorships, such as teams choose to collaborating with partners like:
Betting companies;
Cryptocurrency exchanges;
Airlines; and even
Restaurants
So, this ultimately begs the question.
Alternatively, read on to find out!
1. Revenue generation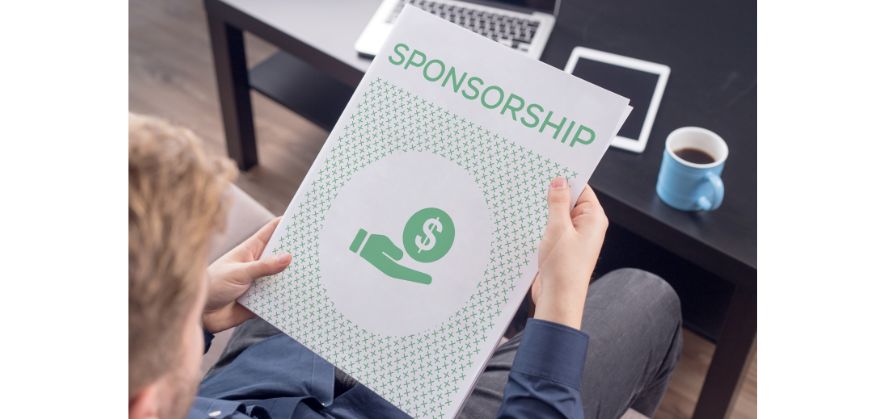 Soccer teams receive vast sums of money from large multinational corporations that are looking to have their brand name printed front and center for a global television audience to see.
On television broadcasts, matches run from start to finish with the exception of the 15-minute half time break, meaning that there isn't a lot of time for advertisements to slot into the coverage.
Having company names and logos displayed on the soccer jerseys that players wear gives these teams an avenue for generating revenue that will help with their operational costs.
So, you can imagine the benefits for a club like Arsenal, who received a significant financial windfall of 200 million pounds from the airline when they signed a five-year shirt sponsorship extension with the brand in 2018.
For the airline, they get lots of eyeballs glued to their brand name which results in more people travelling with them to various destinations around the world.
And flights are by no means free of charge!
Emirates have therefore been a huge beneficiary of such sponsorships, as they've had an influx of passengers that have resulted in the company adding a number of cities across Europe, Africa, Middle East and Asia to its existing flight network.
2. Brand association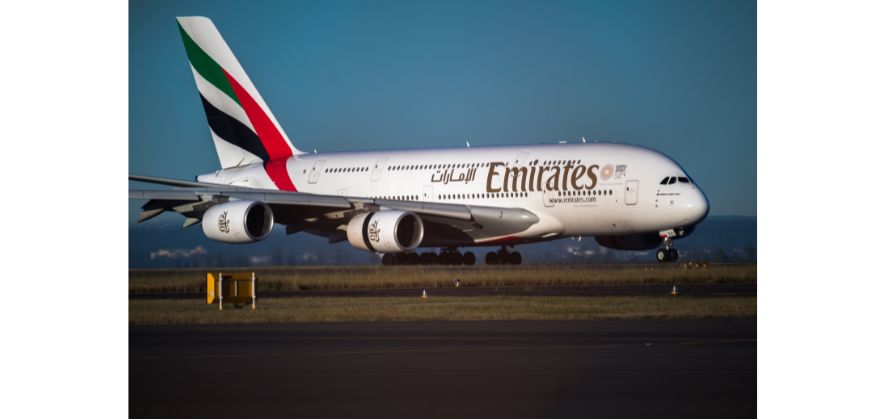 An airline like Fly Emirates would want to be associated with a soccer team that wins the vast majority of the time.
On first thought, you wouldn't really be under the impression that a sponsorship deal could provide a positive brand association benefit such as this.
But they do!
Imagine the overwhelming popularity a shirt sponsor would get when a team like Real Madrid wins the UEFA Champions League in consecutive seasons.
Fly Emirates – due to their affiliation with the Spanish side through a front and center shirt deal – would get a decent uptick in positive press coverage as a result of the team's success on the field.
Think of how things like social media mentions would explode when a picture of Karim Benzema lifting the trophy with his Fly Emirates labelled jersey goes viral on a platform like Twitter.
That good press really adds to the prominence of the brand within the sport.
How many soccer teams are sponsored by Fly Emirates?
At the moment, Fly Emirates sponsors a total of six soccer teams around the world.
These include:
AC Milan;
Arsenal;
Olympiacos FC;
Olympique Lyonnais;
Real Madrid; and
S.L. Benfica
Check out the table below for a full summary:
| Team | First Signed | Estimated Value |
| --- | --- | --- |
| AC Milan | 2007 | 175 million euros over six years until 2028 |
| Arsenal | 2004 | 200 million pounds over 5 years until 2023 |
| Olympiacos FC | 2008 | Not disclosed |
| Olympique Lyonnais | 2020 | 20 million euros annually until 2025 |
| Real Madrid | 2011 | 70 million euros annually until 2026 |
| S.L. Benfica | 2015 | Not disclosed |
Where can you buy a Fly Emirates soccer jersey?
There are several places where you can get your hands on a jersey with the Fly Emirates logo printed on it.
But perhaps the easiest place to find one is the biggest online marketplace in the world – Amazon.com.
Here are a few options from there which are worth taking a closer look at based on the ratings and reviews:
Closing thoughts
That brings us to the end of this short post on why the Fly Emirates logo is so commonly seen on various soccer team jerseys.
You'll now have an understanding of how important such sponsorships are for an airline and the sort of positive brand association benefits a company derives from such deals.
On the flip side, what do soccer teams stand to gain from accepting sponsorship deals such as those offered by the Emirates airline?
Well…
This has already been spoken about at length in our article on why soccer teams have jersey sponsors, so you can check that post out if you wish.
If you want to read more about soccer jerseys however, you can also have a read of our guide on soccer jersey styling, which will help you get your fashion sense in order when it comes to wearing them!
If you enjoy the content that I create and would like to buy me a coffee, then I'd really appreciate it!
Any money that I earn through this donation will be re-invested into more content for this website.
Additionally, by sending in a donation you'll also receive a copy of my recently released 190+ page eBook on Soccer Ball Care, as well as be subscribed to our mailing list where you'll be regularly informed on the latest developments concerning the Soccer Whizz blog.
Latest posts by Samuel Waihenya
(see all)