Disclaimer: Soccer Whizz is a participant in the Amazon Services LLC Associates Program, an affiliate advertising program designed to provide a means for sites to earn advertising fees by advertising and linking to Amazon.co.uk (source: Section 5). As an Amazon Associate I earn from qualifying purchases.
Over the years, goalkeeper gloves have undergone modern refinements to the way in which they function.
As an example, look at how latex was gradually incorporated into goalkeeper glove palm design to enhance grip.
In addition to that, think about all the sorts of glove cuts that manufacturers began to produce, such as:
Hybrid cut;
Negative cut;
Roll finger;
Negative roll; and
Flat palm
And the list actually doesn't end there!
However, there haven't been as many changes to goalkeeper glove aesthetics.
If you select the most popular pairs of goalkeeper gloves right from the dawn of the Premier League era in 1992, you'll notice quite a bit of similarity in the way they all look.
But the standard goalkeeper glove design was thrown out of the window recently.
This is because one of the most recognisable changes to this piece of soccer hand gear was seen at the 2021 European Championships.
The Italian goalkeeper – Gianluigi Donnarumma – was spotted wearing gloves that contained 288 spikes on the fist in the quarter final match against Belgium.
His team only conceded two goals during the entirety of the tournament and a tiny part of that excellent performance could arguably be attributed to the safety and performance advantages that the spikes on these gloves afforded him.
But why did his goalkeeper gloves have spikes?
Well, there's a pretty good answer for that!
Goalkeeper gloves have spikes on them because the protruding plastic elements – evenly distributed around the knuckle area – function to deliver texture and grip, which give a goalkeeper more control and power to all punched clearances, resulting in the ball travelling larger distances with greater accuracy.
Reasons why modern goalkeeper gloves contain spikes
To the casual soccer fan, It's easy to say that the spike design present on some of today's modern goalkeeper gloves is a marketing ploy brought out by manufacturers needing to get people to buy into new product aesthetics.
And they'd be partially correct, because these gloves do look fantastic!
The color of the spikes contrast quite well with the rest of the glove "skin", which makes goalkeepers stand out from the other outfield players on the pitch.
Finally, these players are getting some love after having to bear the bland and indistinguishable look of traditional goalkeeper gloves for years on end!
But the spikes don't just sit pretty.
In fact, they fulfill an even greater purpose.
1. Assisting with punched clearances
Backhand spikes allow goalkeepers to get greater levels of grip and traction on their punched clearances.
When a goalkeeper attempts a punch, they'll clench their fist and position their hand in such a way that optimal contact is made with the knuckle area.
The spiked skin helps immensely here, as it helps goalkeepers get firmer contact on the ball, and the little protrusions effectively rebound the object in the opposite direction with a bit of a "kick".
Ultimately, costly goalkeeper mistakes are avoided due to the fact that the spikes contribute to a ball connection that is more solid and stable.
The last thing such a player would want is for a failed punch attempt to find its way into the net!
2. Reducing injury possibilities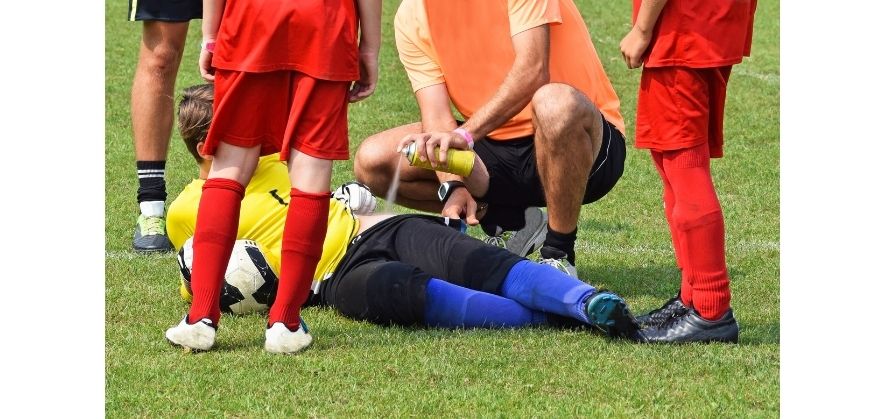 In soccer, goalkeepers are the only players who are allowed to touch the ball with their hands.
Of course, that's conditional on them handling it within their own penalty area!
In this article on why goalkeepers wear gloves, basic hand and wrist protection was cited as a reason for players in this position needing to wear this gear.
And it's quite easy to see why.
Just picture a goalkeeper trying to clear a soccer ball away when the opposition team has a set piece opportunity.
Now that ball will be whipped, drilled or lofted into the penalty area with fair amounts of pace and power.
Before the goalkeeper even manages to get a hand onto the ball, he has to wade through his own teammates and opposition players who are also jostling for possession.
Can you imagine having to do all that and then punch the powerfully hit soccer ball away with their bare hands?
That's part of the logic for why goalkeeper gloves were invented, as their thickness and padding offers enough cushioning to protect the hands from injury.
Goalkeeper gloves that have spikes on them therefore add supplementary cushioning, which gives an additional layer of protection for the players that choose to wear gloves with this backhand design.
Why don't all goalkeepers wear gloves which have spikes?
Player choice is the number one reason why you won't come across every goalkeeper wearing gloves with spikes.
Some goalkeepers have their own superstitions about the sorts of gear they wear for matches, whilst others simply prefer the traditional look and feel of gloves that don't have the spiky elements.
On the other hand, sponsorship deals are another contributing factor.
You see, the top goalkeepers in Europe are typically endorsed by big brands to wear their gear.
And goalkeepers have to adhere to such contractual obligations or else they'd risk losing out on a tonne of money!
A great example is Hugo Lloris' long term sponsorship deal with Reusch – a company dedicated to releasing innovative winter gear and professional goalie gloves.
Which goalkeeper gloves have spikes on them?
Adidas have pioneered this new goalkeeper glove design and a lot of their top tier gloves feature their "demonskin" technology.
Take a look at the short clip below, as it does a good job of presenting the Adidas Predator Pro line-up that was the starting point for spike design:
You can grab this pair at Amazon:
Or you could get your hands on some other nice-looking alternatives, such as the:
Final thoughts
It's safe to say that goalkeeper gloves have taken gigantic steps with regard to the evolution of their design.
They're no longer seen as just pieces of hand safety equipment, especially because new designs such as the gloves with spikes on them appeal to a much wider demographic of soccer players and fans.
If this article has been useful for you, then you might want to have a look at this roundup on the best goalkeeper gloves as well.
If you enjoy the content that I create and would like to buy me a coffee, then I'd really appreciate it!
Any money that I earn through this donation will be re-invested into more content for this website.
Additionally, by sending in a donation you'll also receive a copy of my recently released 190+ page eBook on Soccer Ball Care, as well as be subscribed to our mailing list where you'll be regularly informed on the latest developments concerning the Soccer Whizz blog.
Latest posts by Samuel Waihenya
(see all)