Over recent years, Harry Maguire hasn't been able to cover himself in glory.
The Manchester United and England international player has come under a heavy fire of criticism for his underwhelming and error-strewn performances on the pitch.
So much so, that fans have begun to mock him in various ways.
Maguire's career trajectory looked to be on an exponential ascension when he made his way from Hull City to Leicester City and then to his current team in Manchester United.
The sky truly looked to be the limit for Maguire, but somewhere along the line a switch was flipped and things have massively gone downhill.
Maguire no longer makes the starting eleven for Manchester United, which isn't a good look especially because he is the current team captain.
One of the ways in which Maguire is criticized is when people draw comparisons between himself and a refrigerator.
But what does this even mean?
Where is the logic behind relating Maguire's ability as a soccer player to the capability of a physical fridge?
Well, it's actually quite simple when you think about it more deeply.
Harry Maguire is called a fridge purely because of the fact that he's a slow player who struggles to get off the mark quickly when it comes to accelerating during matches. His running ability is compared to the snail like pace it takes to move a refrigerator from one location to another.
Let's investigate this point a little further.
Reasons why Harry Maguire gets trolled with the fridge label
There are two main factors that cause this embarrassing comparison to even exist.
We shall now look at each one in turn.
1. Lack of pace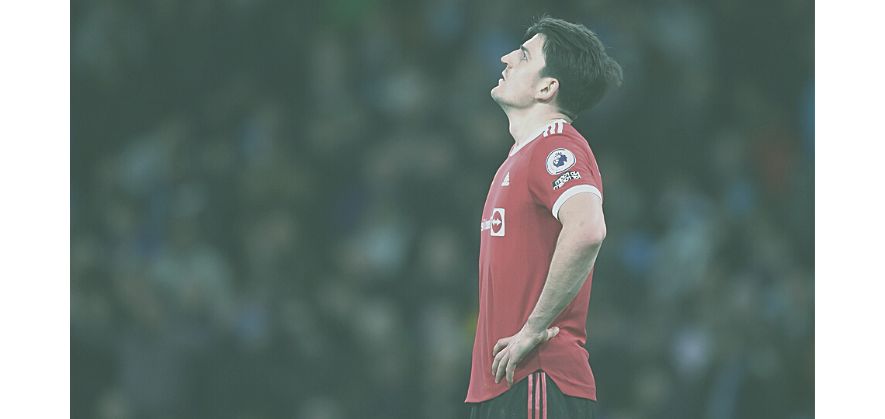 It's no secret that Maguire is not a fast soccer player.
Can you picture the winner of a foot race between Maguire and an extremely rapid winger like Adama Traore?
Well, you wouldn't get a prize for predicting the latter player as the victor because the outcome is obvious even to fans who don't watch the sport.
One of Harry Maguire's biggest weaknesses is his speed.
He isn't quick enough to deal with the threat of opposition players making runs in behind his team's defensive line.
At times, it's actually comical to watch how slow he is and this is why he gets labelled as a fridge.
Here's some video footage showcasing this:
Notice the speed at which Maguire's defensive partner (Eric Bailly) was able to run in order to deal with the counter attacking threat that Chelsea posed in that move.
And then compare that against the pace at which Maguire himself is able to demonstrate.
It really is laughable how slow he is in comparison to his opponents, because the gap in ability here is so huge that it stands out like a sore thumb.
2. Little agility
You know how it's so difficulty to move a fridge to face a different direction?
Well, Maguire actually has the same problem when it comes to playing soccer.
He struggles to change his body direction fast enough in order to deal with the attacking threat posed by opposition players.
One of the funniest examples of this was when Southampton's Armando Broja got the better of him in aground duel.
Just take a look at this video:
Notice how long it took for Maguire to adjust his body position to try and make a tackle.
By the time he realizes that Broja has cut infield and turned past him, it's too late and all he can do is stick out a flailing leg to try and thwart the threat to his team's goal.
Maguire's lack of mobility as shown in the clip above highlights how inflexible he is and it's why comparisons are drawn between himself and a fridge.
Flipping a fridge to face a different direction takes a lot of effort and is an action that is really slow, which is sort of similar to the speed at which Maguire turns and moves about on the pitch.
When was Maguire first called a fridge?
It's difficult to pinpoint the exact moment when Maguire was first referred to as a fridge.
But one unfortunate event in Maguire's life looks to have been the catalyst.
In the summer of 2020, Maguire was arrested in Greece after being involved in a physical altercation with the police.
A group of men were said to have taunted the England player, which led him into a fist fight with said individuals.
One eye witness who was a local resident claimed the opposing group baited Maguire into a fight by branding him as a "rubbish footballer" and a "fridge".
Here's his personal account of that event:
"I'm a big football fan and recognized Harry Maguire, who was with a group of friends. They were making a lot of noise and it appeared that they had had a lot to drink. Another group of British men started abusing them, saying he was a rubbish footballer and played for a rubbish team. They were also calling him a fridge and I didn't really understand what they meant by that."

Source – Give Me Sport
More so, we can circle back to one particular fixture where his performance stood out in such a way as to warrant the comparison.
The game involved Manchester United being hammered by six goals to one at home to Tottenham Hotspur.
Maguire performed so poorly and was called out for his role in Tottenham's xth goal when he inexplicably pulled down his team mate Luke Shaw when the latter was attempting to clear the ball from danger in the penalty area.
Here's the clip showing what happened:
Once that dreadful error took place, fans went on social media to lambast Maguire for such a poor defensive showing by comparing him to a refrigerator.
Does being called a fridge affect Maguire's performances?
The unfortunate events that took place in Greece do appear to have affected Maguire's displays on the pitch.
Maguire is no longer part of the starting lineup for his current club Manchester United, because of his error-strewn performances that have relegated him to a place on the substitutes bench.
It remains to be seen whether Maguire will be able to recover mentally from the ordeal, but one thing that's for sure is being called a fridge certainly won't help.
Closing thoughts
This article has essentially covered the reasons why Harry Maguire is labelled as a fridge.
Hopefully you'll have found the post quite insightful.
For more Maguire-related content, you can check out our blog posts on:
If you enjoy the content that I create and would like to buy me a coffee, then I'd really appreciate it!
Any money that I earn through this donation will be re-invested into more content for this website.
Additionally, by sending in a donation you'll also receive a copy of my recently released 190+ page eBook on Soccer Ball Care, as well as be subscribed to our mailing list where you'll be regularly informed on the latest developments concerning the Soccer Whizz blog.
Latest posts by Samuel Waihenya
(see all)