A legend of soccer recently departed the European game for greener pastures, but it wasn't without significant supporter backlash.
Cristiano Ronaldo shocked the world when he decided to sign an extremely lucrative two-year contract with Saudi Arabia's Al Nassr.
The sums of money involved in this deal were simply outrageous, as Ronaldo apparently stands to earn more than 177 million pounds per year as a salary!
His move to Saudi Arabia therefore begs the question of where all the hate he's been receiving stems from.
Because on the face of it, there wouldn't be much if any reason for a soccer follower to despise Ronaldo because of his decision to cash out before his playing career comes to a final end.
So, this article has been written to answer this, as there's a little bit of a backstory you'd need to read through in order to understand why most Manchester United fans no longer like and appreciate the Portuguese forward.
For starters, we'll give a short answer summary which is as follows…
Manchester United fans hate Cristiano Ronaldo because of the disrespectful public manner in which the former Mancunian player behaved prior to his exit from the club. Ronaldo conducted a television interview with Piers Morgan where he criticized different parts of the organization, from the former and current managerial team all the way to the top brass (i.e. the owners Avram and Joel Glazer).
That's the gist of it.
For more detail, you're going to have to continue reading.
What did Ronaldo do?
Let's set the scene.
Manchester United kick off the season in shocking form, losing to the likes of Brentford and Brighton and Hove Albion, as new manager Erik ten Hag attempts to figure out his best team.
Ronaldo featured in both of those defeats, even managing to start the Brentford game as the first-choice striker.
It was clear from those performances that Ronaldo had lost a step, as he looked slower to react to the pace of the game and he struggled to exert influence over proceedings in a manner which he's been so used to doing across several seasons in the past.
So, what does the manager decide to do?
He benches Ronaldo in the next game against Liverpool, which they manage to win by the way.
Manchester United then pick up another two wins away at Southampton and Leicester City without Ronaldo in the starting eleven, making it clear for all to see that the Portuguese legend would play a bit part role in the league this season.
Of course, Ronaldo wouldn't accept a squad role in the team because of his massive ego and drive to always be the best.
Which brings us on to the first point on why Manchester United supporters hate Ronaldo.
1. Refusing to come on as a substitute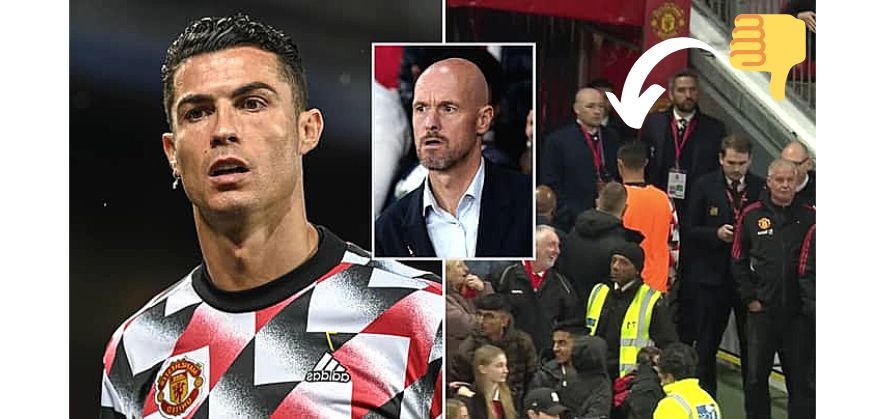 So, when Erik ten Hag calls upon him to come off the substitutes bench to close out a winning result against Tottenham Hotspur in the Premier League, the forward snubs the call!
He refused to come on as a late substitute in that game , instead choosing to walk down the tunnel before the final whistle had even been blown.
Here's a video which shows how this unfolded at Old Trafford:
That poor attitude was eventually confirmed by the coach – Erik ten Hag – in a later press conference:
"Yes. I am the manager; I am responsible for the culture here and I have to set standards and values and I have to control them. In the team, we have values and standards and I have to control that. It will (be) a (time for) reflection for him, but also for everyone else. Football is a team sport and you have to fulfil certain standards. And I have to control it. After Vallecano, I told him it was unacceptable… this is the second time, there are consequences. We miss him tomorrow."

Source – Reuters
After that debacle, Ronaldo only made a handful of appearances in the Premier League, which were:
A 1-0 home win over West Ham United where he started the game; and
A 3-1 defeat to Aston Villa away from home
But the next thing Ronaldo did really managed to get United fans seething.
2. Public television interview criticizing the club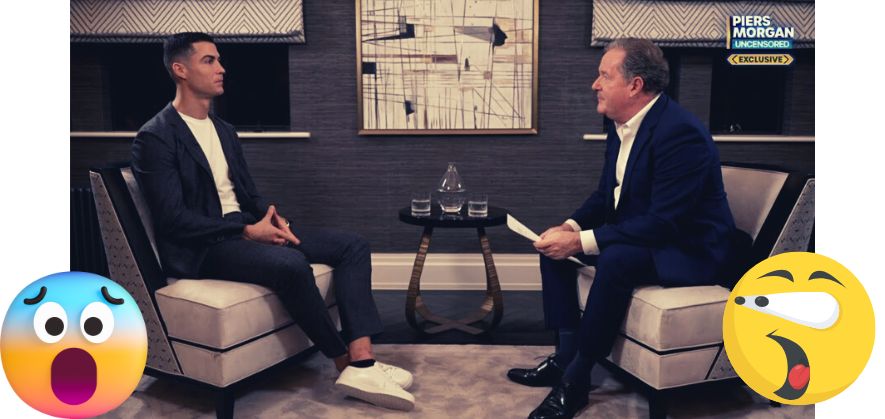 Cristiano Ronaldo did the unthinkable.
He breached the terms of his contract by launching what is now widely regarded as one of the most scathing attacks on a club that soccer has ever seen.
A couple of games before the 2022 FIFA World Cup in Qatar, Ronaldo featured in a two-part television interview with British broadcaster, journalist, writer and television personality Piers Morgan.
He took to the camera to bring in to disrepute the operations taking place at Manchester United.
Within each segment, he talked about the club's lack of progress on the pitch; criticized the Glazer family for their role in the downfall of a historic giant by claiming they don't care about the club; as well as his lack of respect for the current manager Erik ten Hag.
Here are some highlights:
His decision to air out his personal views in such a manner forced Manchester United to terminate his contract right before the World Cup kicked off.
Ronaldo went into the tournament as a free agent off of the back of that publicity stunt.
So, now you see why fans of this team really hate what he did?
Throwing a strop just because he wasn't able to cement his position in the starting eleven and blaming everyone but himself really made him public enemy number one in the eyes of most United supporters.
Will Ronaldo eventually be forgiven by Manchester United fans?
Only time will tell here.
By all means, Ronaldo does have legendary status for the club as he was a fantastic servant for them during his first spell.
He earned a transfer move to Real Madrid – for a world record 80 million pounds at the time – for his sensational performances that left the Premier League marveling at his talent.
However, he may have burnt those bridges with his attitude and the television interview could be "the straw that broke the camel's back", so to speak.
If you've enjoyed this thought piece, stick around and have a look through other pieces of Ronaldo content on the blog, such as:
If you enjoy the content that I create and would like to buy me a coffee, then I'd really appreciate it!
Any money that I earn through this donation will be re-invested into more content for this website.
Additionally, by sending in a donation you'll also receive a copy of my recently released 190+ page eBook on Soccer Ball Care, as well as be subscribed to our mailing list where you'll be regularly informed on the latest developments concerning the Soccer Whizz blog.
Latest posts by Samuel Waihenya
(see all)