Disclaimer: Soccer Whizz is a participant in the Amazon Services LLC Associates Program, an affiliate advertising program designed to provide a means for sites to earn advertising fees by advertising and linking to Amazon.co.uk (source: Section 5). As an Amazon Associate I earn from qualifying purchases.
Lionel Messi is a player who has scored hundreds of goals in his professional career.
And as the years have gone by it's easy to see that he enjoys finding the back of the net just as much as when he was a teenager making his first strides in the game.
Quite often, the Argentinian maestro chooses to celebrate his goals in quite a peculiar way.
He typically raises both of his hands towards the sky whilst walking or jogging back to his own half, where he then waits for the match to resume.
But why does he do this and what's so significant that Messi chooses to regularly celebrate goals in this manner?
Well, the answer is actually very simple to understand.
Lionel Messi's hand pointing celebration towards the sky is done in honor of his deceased grandmother, who passed away before the player burst onto the professional scene with FC Barcelona.
Read on to get the full picture regarding this topic.
Messi's reasoning for pointing to the sky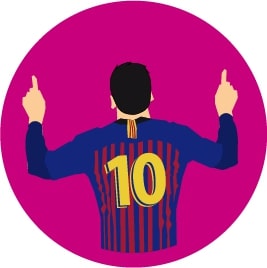 The Argentinian has actually addressed the reason why he prefers to celebrate goals in this way the vast majority of the time.
Here's what he had to say:
"I am doing this because I dedicate my goals to my grandmother. She took to me to football but now she can't see how far I have come. Nevertheless, she continues to help me and my family."

Source – Tribal Football
On reflection, this is quite a noble gesture that shows how grounded Messi is despite his worldwide level of fame and the colossal amount of riches he has amassed throughout his career as a soccer player.
He's also able to demonstrate that he's appreciative of his roots and remembers the people – particularly his grandmother – who helped him become the successful man that he is today.
Lionel Messi's grandmother is also said to have brought him to his first ever soccer game when still a young toddler, according to Luca Caioli who is the author of a biography written about the player himself.
If you want to grab a copy of this book right away then you might want to try out an Audible membership.
Amazon gives Audible members access to thousands of podcasts and audiobooks for a very insignificant monthly fee.
For book lovers out there this is a godsend because the cost of a single monthly membership generally covers the equivalent price of one paperback title!
Ultimately, you get your money's worth and then some!
So, if you want a 30-day free trial of Audible membership and you live in either the United States or the United Kingdom, check out the links below:
Anyways, let's get back to the story.
His grandmother was insistent towards a coach in Rosario – Messi's home town – that the boy receive a run out despite the coach being reluctant to play Messi because of his small stature at the time.
The coach eventually obliged but gave a snide comment saying that he'll position him near the touchline so that when Messi cries to be taken off of the field, his grandmother could be well placed to take care of that situation.
What makes this account so funny is that Messi went on to play so well in the match that he didn't have to be taken off, and from that moment the rest is history.
Video explanation of why Messi points towards the sky when celebrating
To gain a deeper perspective for why Messi likes to point to the sky, you should take a look at the video clip below:
It goes into detail explaining where the celebration comes from.
What is Messi's signature goal celebration?
You can easily say that Messi's "pointing to the sky with both his hands" move is his favorite celebration.
More often than not he employs it when he beats the goalkeeper with an easy tap in or a calmly slotted strike.
For the more sensational goals, he tends to celebrate with team mates or do very unique moves like taking off his shirt and displaying it to the fans.
Here's an image of him doing exactly this when he scored a 92nd-minute winner against Real Madrid at the Santiago Bernabeu in the 2016/2017 La Liga season:
Wrap up
That marks the end of this brief posting on why Messi likes to point his fingers towards the sky when celebrating goals that he personally scores.
Hopefully you'll have gained a lot more insight into his preference for this move.
For more interesting Messi-related content, have a look at some of the following articles which are also present on our blog:
If you enjoy the content that I create and would like to buy me a coffee, then I'd really appreciate it!
Any money that I earn through this donation will be re-invested into more content for this website.
Additionally, by sending in a donation you'll also receive a copy of my recently released 190+ page eBook on Soccer Ball Care, as well as be subscribed to our mailing list where you'll be regularly informed on the latest developments concerning the Soccer Whizz blog.
Latest posts by Samuel Waihenya
(see all)