Over the years, Cristiano Ronaldo has firmly established himself as one of the best soccer athletes to ever grace the game.
He's broken numerous goal scoring records for club and country, and won a considerable number of domestic and intercontinental titles such as the English Premier Lue, La Liga, Serie A and UEFA Champions League titles.
It therefore doesn't come as a surprise that the Portuguese superstar commands a massive following across all social media platforms like Instagram, Facebook and Twitter.
But what combination of reasons could have led to Ronaldo becoming one of the most followed personalities in the world?
Well, we've put together our thoughts in this article.
Let's start with a quick summary.
Ronaldo has so many followers primarily because he's had one of the most decorated soccer careers in the history of the game – winning multiple individual and team titles along the way. With soccer being a world wide sport, a good percentage of the planet know him and want to be associated with him.
Without a doubt, if Ronaldo was only half as talented as he is and never achieved as much sporting success as he has done throughout his career, he would have a substantially lower following on social media.
Now, read on to get the full picture.
Reasons why Ronaldo has so many followers
There are a couple of plausible explanations as to how Ronaldo has been able to amass such a massive following of supporters.
We'll now cover each one in turn.
1. Prestigious playing career
Ronaldo has successfully conquered the challenges brought about by different soccer leagues over the course of his time as a professional in the sport.
When he was purchased from Sporting Lisbon by Manchester United in 2003, the guy was just a scrawny little kid who would get bullied by the likes of Paul Scholes and Rio Ferdinand during training sessions.
Here's an account of this recalled by several of Manchester United's first team players at the time:
You could make a strong case for that initial bullying phase adding to his self-belief and molding him into the resilient player that he currently is today.
Once he matured, Ronaldo was a goal scoring machine.
The man won Premier League titles and a UEFA Champions League trophy with Manchester United.
And that was only the beginning.
From there he went on to become a league and cup winner in Spain with Real Madrid, before heading to Juventus to claim a domestic title there as well.
Wherever Ronaldo has gone, he has inspired millions of fans.
For instance, he brought his flashy style of play to the Premier League which a lot of viewers loved to see, as he would have no reservations about showcasing a couple of stepovers when he had the ball in advanced attacking areas.
Ultimately, the player's on pitch exploits have contributed to the huge success he's had in his professional career, which gave him the platform to grow his following outside of the game to astronomical heights.
2. Active public relations team working for him
Most celebrities have public relations teams who handle their social media accounts for them.
Cristiano Ronaldo utilizes this for his own accounts and you can see that it works quite well for him.
The team behind his accounts try to maintain an active online presence for him as well as try and grow his personal brand, so they will regularly post fresh image and video content about Ronaldo that they'd hope would grow his audience.
By strategically posting engaging content on these platforms, Ronaldo is able to introduce himself to more and more people around the world through organic as well as paid reach.
And because his pages are so inspirational to those who know him and follow the sport, many people are compelled to give him a follow, thereby boosting his numbers quite considerably.
3. Attractive physical appearance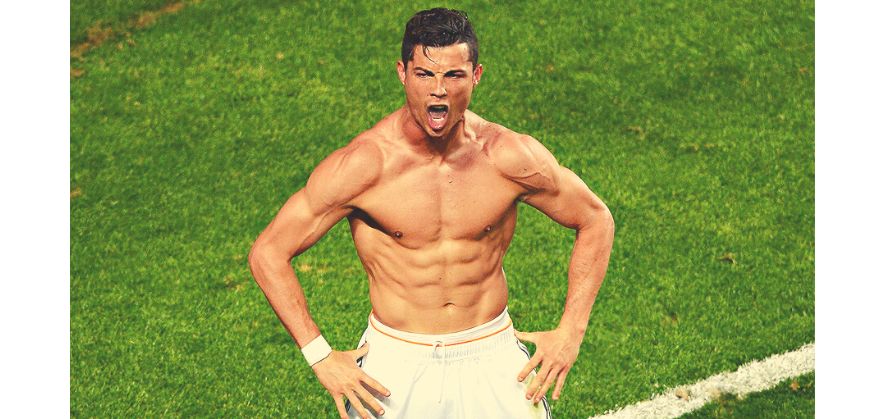 Ronaldo also attracts a lot of attention due to the fact that he is a fine physical specimen.
Lots of women follow him because they find him attractive and want to see more of his pictures and videos on social media platforms.
In addition to this, he serves as an inspiration to the men out there looking to keep in good physical shape, as he posts content pertaining to his personal workouts during the season as well as in the off-season.
A pretty face is able to attract a lot of eyeballs and that is no different here.
Ronaldo looks more physically attractive than most soccer players who play professionally, so it doesn't come as much of a surprise that more people want to follow him as a result of being beautiful to look at.
How is Ronaldo the most followed sports personality?
Ronaldo has built a long-lasting legacy that he can look back on in his old age with immense pride.
The soccer player has the Instagram account with the biggest following – as he's amassed a total of 455 million followers according to Statista.
Here's a table that breaks down how Ronaldo ranks at the top of the social media following charts:
| Celebrity Name | Account | Follower Count (millions) |
| --- | --- | --- |
| Instagram | instagram | 520 |
| Cristiano Ronaldo | cristiano | 455 |
| Kylie Jenner | kyliejenner | 349 |
| Lionel Messi | leomessi | 338 |
| Selena Gomez | selenagomez | 328 |
| Dwayne Johnson | therock | 322 |
| Ariana Grande | arianagrande | 317 |
Which soccer players have a comparable amount of social media followers to Ronaldo?
There's only one other soccer player who has follower numbers that can rival that of Ronaldo.
His name is Lionel Messi.
In another article which talks about why Messi follows Chelsea on Instagram, we mentioned that the player has approximately 353 million followers on the platform.
Beyond that, there aren't any players who come near the sort of popularity that these two giants of the game have garnered over the last couple of decades.
However, there are still a few players who also have quite a large following, such as:
Who manages Ronaldo's Instagram account?
Ronaldo is a busy man.
When the man is on the pitch performing for club and country, he obviously can't be expected to personally keep all his followers up to date.
So, he hired a team that work behind the scenes to keep the content flowing.
Back in 2016, reports suggested that Marisa Mendes (i.e. the daughter of Ronaldo's agent Jorge Mendes) had been hired to manage all of Cristiano Ronaldo's social profiles.
Whether that is still the case today is unknown as far as we're concerned.
Conclusion
Ronaldo has very many followers on social media.
This article has comprehensively explained the factors that have arguably had the greatest contribution to his overwhelming popularity.
For more Ronaldo related content, you can check out the posts we have below:
If you enjoy the content that I create and would like to buy me a coffee, then I'd really appreciate it!
Any money that I earn through this donation will be re-invested into more content for this website.
Additionally, by sending in a donation you'll also receive a copy of my recently released 190+ page eBook on Soccer Ball Care, as well as be subscribed to our mailing list where you'll be regularly informed on the latest developments concerning the Soccer Whizz blog.
Latest posts by Samuel Waihenya
(see all)