For the vast majority of his professional soccer career, Cristiano Ronaldo has been associated with the number 7 jersey number.
However, there have been a few points in the Portuguese star's career where he's had to wear another shirt number instead.
If you think back to the time when Ronaldo played for Sporting Lisbon as a teenager, he donned the number 28 jersey.
And it made perfect sense!
Ronaldo clearly hadn't yet established himself as a world class player even though the potential to become one was clearly evident.
However, once Ronaldo moved to Manchester United in 2003 for 12 million pounds, he was immediately handed the number 7 jersey.
That became his shirt number for a couple of legendary seasons, and after he had finished dominating teams in the English Premier League, the player set his sights on conquering Spain's La Liga.
Now, this is where things get interesting.
Cristiano Ronaldo transferred to Real Madrid as the club's record signing at the time, and he was presented as the direct successor to Ronaldo Luis Nazario de Lima – who wore the coveted number 9 jersey.
Ronaldo had to wear this number 9 jersey because his preferred number 7 jersey was already being worn by Raul Gonzalez, who was the captain of the team. Real Madrid couldn't just ask their talisman to hand over his jersey to Ronaldo, as the former was set to play his last season at the club and it would be considered very disrespectful to a person widely regarded as a club legend.
Why did Ronaldo wear 9 at Real Madrid?
The number 7 jersey has become a major part of Cristiano Ronaldo's brand.
A lot of fans even refer to Ronaldo as CR7, which shows just how strongly associated this squad number is with the player himself.
But funnily enough, Ronaldo never had an intense love for the number 7 jersey as he started out at Sporting Lisbon with the number 28.
When Manchester United came to Lisbon to play a pre-season friendly match against the Portuguese side, Ronaldo performed so well that Sir Alex Ferguson became very keen to sign him.
Sporting Lisbon won that fixture by three goals, and former Manchester United defender Mikael Silvestre recalls the Portuguese teenager having the intent to put on a show:
"It was an incredible performance to watch that night. This kid nobody knew tore us apart for the whole game. No one could get near him; he was amazing. At the start, no one had even heard of Ronaldo, but by the end, everyone knew about him."

Source – Bleacher Report
His scintillating performance in that friendly game earned him a move to one of the biggest clubs in England – Manchester United.
Once he arrived there, Ronaldo requested the number 28 jersey that he wore at Sporting Lisbon, but Sir Alex Ferguson explained to Ronaldo that he wanted him to put on the iconic number 7 that had been worn by club legends such as:
George Best;
Eric Cantona; and
David Beckham
Sir Alex was really convinced that Ronaldo would grow to become the world's best player sooner rather than later, which is why he made that request.
Fast forward a few years later to the time he joined Real Madrid in 2009, and Ronaldo was arguably the most talented soccer player in the profession, along with a young Lionel Messi.
However, he couldn't continue wearing the number 7 which he had firmly established a connection with, as another legend of the game called Raul Gonzalez was already assigned with this particular squad number.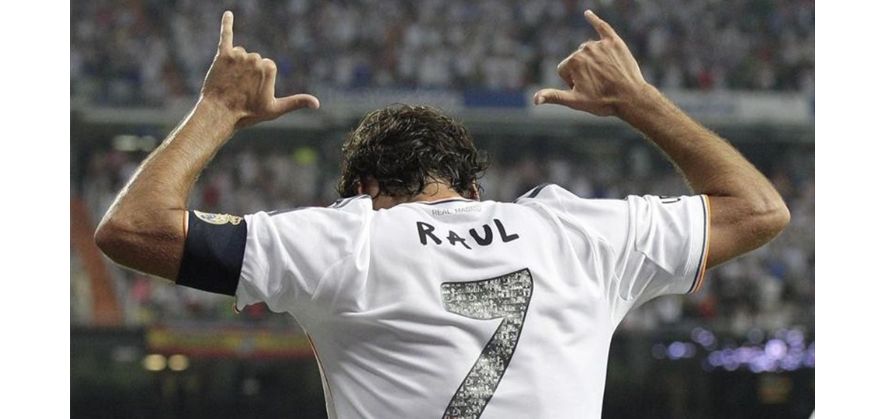 Raul was Real Madrid's top goal scorer in UEFA competition and as the captain of the club he pulled rank over Ronaldo who was just a new signing back then.
Ronaldo couldn't simply swap jerseys with Raul as that would be considered disrespectful to the club legend, and such an action could have created disharmony in the dressing room if the number swap actually came to pass.
So, Ronaldo settled for the number 9 jersey previously worn by Ronaldo Nazario (i.e. the Brazilian Ronaldo), until Raul left Real Madrid for Schalke 04 in the following campaign.
Who was number 7 before Ronaldo at Real Madrid?
As we've already explained, the player who wore the number 7 before Ronaldo at Real Madrid was Raul Gonzalez Blanco.
The image below shows his squad number history: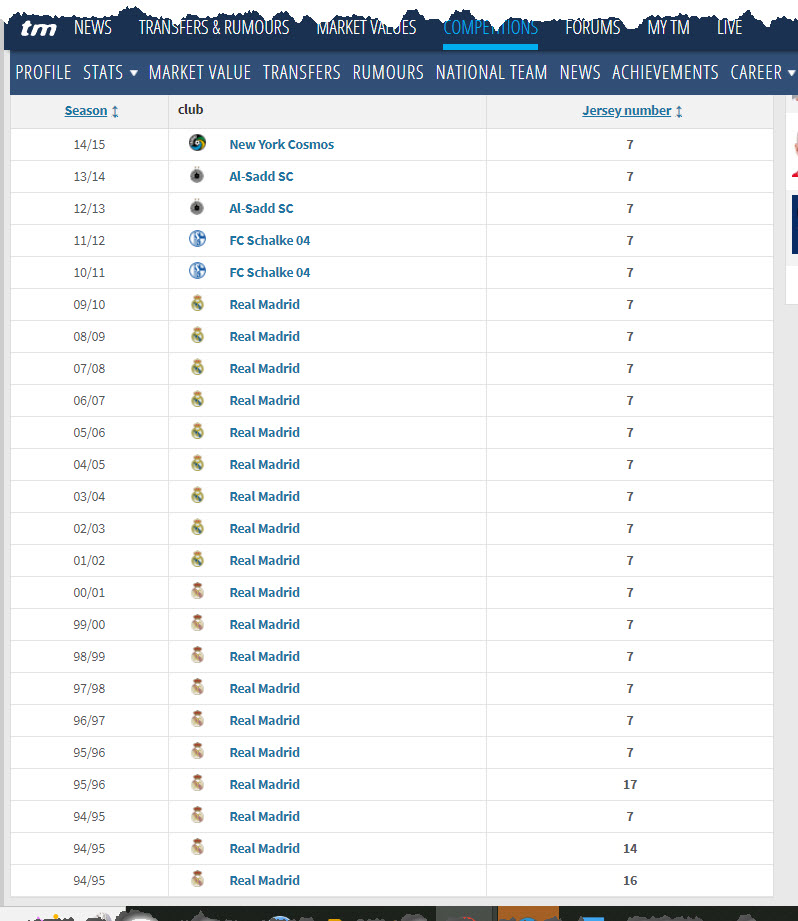 You can clearly see that Raul started wearing the number 7 jersey for Real Madrid in the 1994/1995 season, and he stays with that number all the way until he left the club.
Why did Ronaldo change his number?
Ronaldo obviously changed his number once Raul left the club because he had already built a strong connection with the 7.
Not only did he consider his personal connection to the number, as he also weighed up the benefit for his brand if he kept wearing the number 7 shirt throughout his career.
It simply made good business sense to make the number 7 jersey his own.
When did Ronaldo change from number 9 to number 7?
Cristiano Ronaldo changed from the number 9 jersey to the number 7 jersey on the 3rd of August 2010.
The then 25-year-old made the switch after the previous owner of the jersey – Raul Gonzalez – had left the club for German side Schalke 04.
Final thoughts
So, there you have it!
That's the full back story as to why Ronaldo initially wore the number 9 jersey at his former club Real Madrid.
If you've enjoyed this read, then you're likely to love some of our other Ronaldo-related content like:
If you enjoy the content that I create and would like to buy me a coffee, then I'd really appreciate it!
Any money that I earn through this donation will be re-invested into more content for this website.
Additionally, by sending in a donation you'll also receive a copy of my recently released 190+ page eBook on Soccer Ball Care, as well as be subscribed to our mailing list where you'll be regularly informed on the latest developments concerning the Soccer Whizz blog.
Latest posts by Samuel Waihenya
(see all)