Disclaimer: Soccer Whizz is a participant in the Amazon Services LLC Associates Program, an affiliate advertising program designed to provide a means for sites to earn advertising fees by advertising and linking to Amazon.co.uk (source: Section 5). As an Amazon Associate I earn from qualifying purchases.
Soccer is without a doubt a physically demanding sport.
Although it doesn't compare to the grueling nature of other games like rugby or American football, it certainly involves a lot of player-to-player contact.
Normally, an athlete competing in this game will take to the pitch wearing an identifiable jersey, accompanying shorts, shin guards and a pair of cleats.
But there are times where a soccer player will wear a mask that covers up part of his or her face.
Why is this the case?
Well, that's where this article comes in as it's been written to answer this exact question!
So, let's start with a quick answer to the topic at hand.
Soccer players wear masks with intention of covering and protecting a laceration or unstable part of the face that was previously hurt. The masks serve to safeguard the player against further injury which could take the form of lacerations to the chin or lip, or even possible fractures to the nose or cheekbone.
How do the masks protect soccer players from injury?
The masks that soccer players wear are purpose-built for their safety as they take part in the sport.
It really is that simple.
When a professional player injures part of their face, they will have to consult with the medical team at the club they represent.
If they are then authorized to play, then a sports mask will need to be worn.
What the mask generally does is guard against further injury to areas of the face such as the:
Chin;
Lip;
Nose; or
Cheekbone
The masks also protect any existing facial grafts and they also serve the purpose of softening existing scar tissue.
Because the material covers part of the face, it reinforces protection of the injured area by acting as a barrier.
Typically, the masks are custom constructed using a three-dimensional model visualization of the face that is taken from scanned data derived from an optical scanner or cone beam technology.
Once that model is complete, the mask can then be designed to the exact player specification needed.
Which soccer players have previously worn a face mask when competing?
Now, there are a number of soccer players who have had to wear masks to prevent further damage to a previously injured part of their face.
Here are a couple of notable examples.
1. Antonio Rudiger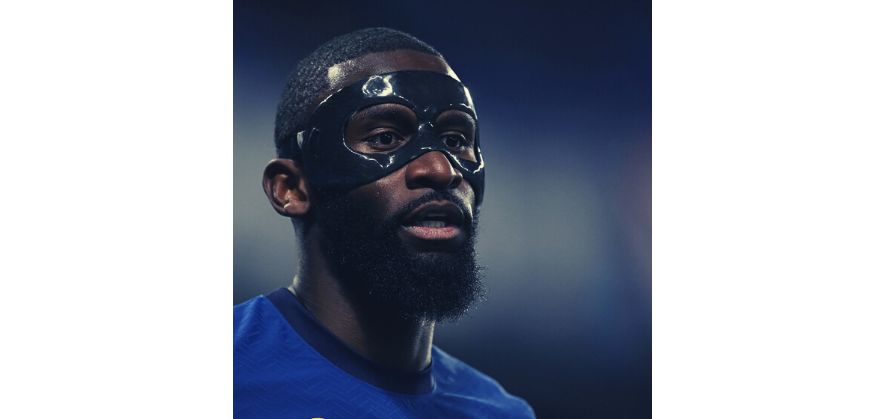 If there was any player who would battle on and not miss a match because of a facial injury, it would be Antonio Rudiger.
You see, this guy is a warrior and many fans would share that same sentiment.
The former Chelsea central defender had to wear a protective mask at Euro 2020 when representing his nation Germany.
This was as a result of a blow he sustained to his face in the first leg of a UEFA Champions League game versus Real Madrid that happened in April 2021.
One of the journalists who regularly reports on Chelsea news confirmed on social media that the player had in fact broken his jaw from the collision with Real Madrid's Alvaro Odriozola which took place at the tail end of the match.
2. Harry Kane
Back in 2016, the Tottenham Hotspur forward unfortunately managed to fracture his nose in a match against Crystal Palace.
Kane was caught in the face by a flailing elbow in his team's FA Cup defeat to the London side and had to wear an unobtrusive mask so that he could represent his side in future fixtures.
What's quite interesting is that, at the time of the incident, the player didn't even realize that he'd broken his nose!
So, he simply carried on playing before scans taken after the game confirmed the full extent of the injury.
Of course, a player of Kane's competitive nature would surely not be happy at having to sit on the bench or miss out on games entirely because of such an injury!
So, the England captain played through a handful of games with a mask covering his face.
One thing that stood out about Kane's protective gear was the lace that held the mask to the player's face.
It was a transparent plastic band that actually sort of resembled a standard diving mask.
More so, his mask had his jersey number emblazoned onto it, with the number 10 mark showing clearly where his right cheekbone should be.
The good news was that the mask didn't stop or hamper Harry Kane's performance, as he even managed to find the back of the net in a derby clash with North London rivals Arsenal.
Check out the video clip below for footage of that moment:
3. Robert Lewandowski
Barcelona's talisman Robert Lewandowski also had to put on a protective face mask following a serious incident in 2015, when he represented his former team Bayern Munich in the DFB Pokal cup competition.
Bayern was up against fierce rivals Borussia Dortmund and in this match, he picked up a fractured nose and jaw.
The Polish international had to undergo an operation to repair the damage he'd suffered, and in his first few games back in competitive play, Lewandowski wore a mask that covered a large part of his nose.
Here's what that looked like:
Needless to say, Lewandowski didn't have much, if any trouble scoring whilst wearing the protective facial gear.
4. Pierre-Emerick Aubameyang
Perhaps the saddest case of a player having to wear a mask is Chelsea's Pierre-Emerick Aubameyang.
The Gabonese forward had his house broken into by burglars, who stole jewelry from him and inflicted physical injuries on his jaw.
His former manager Tomas Tuchel confirmed at the time that mask would allow him to safely compete:
"He has the mask and the doctors tell me the mask is good and he feels comfortable with it. So, he would be okay but we need to check it and we need to check it with no contact, half-contact, and then full contact. We need to see how he feels with it."

Source – goal.com
Which soccer player will wear a mask at the upcoming FIFA World Cup?
There's one famous player who will have to wear a protective mask at the upcoming FIFA World Cup that's set to take place in the country of Qatar.
And the player in question is South Korea's captain Son Heung-min.
Son was involved in a serious head collision with Chancel Mbemba – an Olympique Marseille defender – in a recent UEFA Champions League clash.
Both players were jumping up to win an aerial duel when their heads made significant contact.
You could tell from the photo evidence of the injury that Son had suffered damage to part of his cheek, with many speculating that he had actually damaged his eye-socket.
It was indeed confirmed later on that the South Korean forward had fractured his eye socket.
The player then had to undergo surgery on his facial injury and doubt was cast as to whether he'd be able to recover in time for the start of the world's biggest sporting competition.
However, Son himself posted a message on social media that his participation at the tourney would not be in doubt.
And the South Korean was part of the final 26-man squad announcement.
So, you should expect Son to wear a protective mask when he lines up to play for his national team later on in the year.
Where can you buy these protective sports masks?
If you've suffered any sort of facial injury and can't stand having to watch your friends play soccer from the sidelines, then you're in luck!
Over on Amazon there are quite a few options for masks that you can buy and wear whilst playing sports.
Check out some of the products down below:
Sale
QianCheng Nose Guard Shield, Protective Guard L2 Black with Silicone Padding
Provides effective protection for the entire face and nose, however not a universal size. Please follow the measurements information before purchasing the product. Suitable for basketball and rugby.
Made of high impact material. Sturdy and resistant. Does not hinder visibility.
Adjustable straps for a comfortable fit (straps length - 52cm). Stylish design.
The products listed may not necessarily be the same ones worn by professional players, but they will no doubt allow you to get back onto the pitch as quickly as possible.
Final thoughts
Now, you know exactly why soccer players sometimes have to wear masks covering parts of their face.
If you've found this article informative, then you may be interested in checking out some of our other posts concerning things that soccer players do, such as:
If you enjoy the content that I create and would like to buy me a coffee, then I'd really appreciate it!
Any money that I earn through this donation will be re-invested into more content for this website.
Additionally, by sending in a donation you'll also receive a copy of my recently released 190+ page eBook on Soccer Ball Care, as well as be subscribed to our mailing list where you'll be regularly informed on the latest developments concerning the Soccer Whizz blog.
Latest posts by Samuel Waihenya
(see all)