As a spectator who watches numerous soccer matches over the course of a season, there are many peculiar things you tend to pick up on every now and then.
Players, managers and match officials have strange habits, with little to no explanation generally offered by the broadcasters as to why these actions are performed.
That's why some concepts in the game are quite difficult to explain, resulting in tons of internet searches from soccer fans who are simply looking for basic answers.
One of soccer's most recognized oddities is when a soccer referee has a look at a player's shorts before the match kicks off.
You'll usually spot this happening in the tunnel if the game hasn't yet commenced, as the teams line up to walk out onto the pitch.
Or, you might see an assistant referee on the sidelines make this request for a player that's about to be substituted and brought into the action from the dugout.
So, why do soccer referees check player's shorts?
Well, there's actually a very good answer for this…
Soccer referees check player's shorts to inspect whether the color of their undershorts (if worn) match the color of their regular shorts. Soccer's world governing body – FIFA – clearly state in their rulebook that a player's undershirt or undershorts must be the same color as the top layer of their game kit.
But that's not all.
Read on for a greater explanation of the aforementioned answer, as well as for further insight into this particular topic.
Reasons why referees check a soccer player's shorts
For some people, this action may seem like an intrusion of a player's privacy.
However, those of you who share that sentiment need to understand that the rules are the rules!
Of course, they're meant to be followed and not broken.
And when it comes to following the rulebook by the letter, the referees are usually the first people to toe the line.
Let's now explain why the match officials have a look at player shorts.
1. Inspecting undershorts color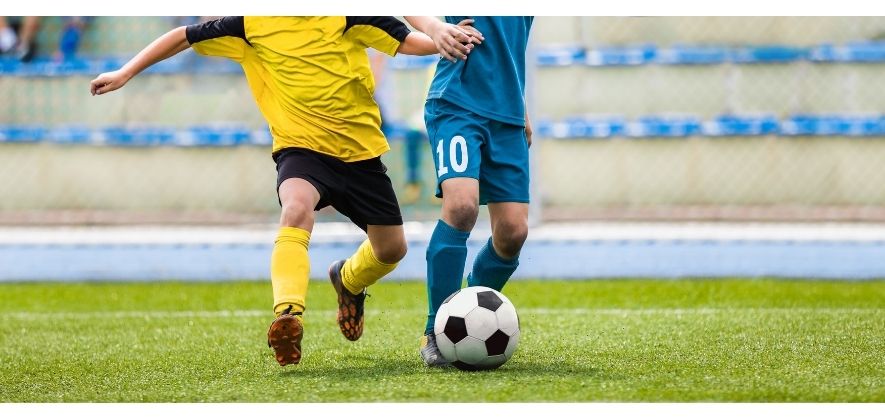 Competitive soccer has to be played fairly.
And one of the ways in which FIFA ensures that the game's integrity remains intact is by regulating what players can wear on the field of play.
Here's what the International Football Association Board (IFAB) has to say about player equipment, particularly when it pertains to the matter of shorts:
"Undershorts/tights must be the same colour as the main colour of the shorts or the lowest part of the shorts – players of the same team must wear the same colour."

Source – The FA
From that excerpt, the laws are clear.
Make no mistake, as a player you shouldn't turn up to a match with undershorts that don't match the color of your outer shorts.
So, referees usually enforce this rule by checking player's shorts prior to kick off or before they step onto the pitch by way of substitution.
If they find that a player has worn an under short that differs in color from the main short, the chances are high that they won't permit that player from participating in the fixture.
Instead, the player would probably be requested to head back to the changing room and put on an under short with an appropriate color.
2. Looking for promotional messages on undergarments
Another good reason why match officials inspect the undershorts of players is to look for any form of slogan, statement, image or advertising present on the undergarment that could draw attention away from a kit sponsor's own branding and embroidery.
Again, this is made clear in the Football Association's handbook:
"Equipment must not have any political, religious or personal slogans, statements or images. Players must not reveal undergarments that show political, religious, personal slogans, statements or images, or advertising other than the manufacturer's logo. For any offence the player and/or the team will be sanctioned by the competition organiser, national football association or by FIFA."

Source – The FA
The Soccer Whizz blog has already covered extensively why soccer teams have sponsors on their jerseys, so this article won't take a deep dive in to that.
All you should know is that any form of promotion or advertising on an undergarment is likely to bring about media attention if that advertising ended up being displayed during a game.
So, to avoid such a situation from unfolding and causing a public stir, referees take a quick check at the shorts and under shorts of a player to determine that no form of slogan, statement or image which could bring unnecessary attention is present.
This is also backed up by The Western Journal, who posit that undergarments which contain any that are not FIFA approved shouldn't be worn.
Examples of moments where players have had their shorts checked
If you still don't believe that this sort of inspection takes place, then here are some instances where you can see for yourself what happens:
Belgium vs Panama – 2018 FIFA World Cup
Right before kickoff, the referee and his group of match officials perform a routine check of each Panama player's shorts and undergarment.
Take a look at the footage below:
You can clearly see each player being required to lift up their shorts to reveal the color of their garments underneath.
Denmark vs Portugal – Euro 2012
Here we had a case of a player almost getting away with wearing an undergarment that had Paddy Power advertising on it!
Nicklas Bendtner – when celebrating drawing his team level after coming from two goals behind against Portugal – revealed that his undershorts were of a contrasting green color with illegal "Paddy Power" wording on them.
After the game, the player was fined 80,000 pounds for breaching the rules.
Closing thoughts
Now you understand the importance of referees checking player's shorts.
It's clearly not an unnecessary action for the officials to perform, as by doing so they're able to make sure every player is complying with the rules that state undergarments must match short color and not have any political or religious statements; personal slogans, or advertising on them.
If you've enjoyed reading this post, then check out some of our referee-related content such as:
If you enjoy the content that I create and would like to buy me a coffee, then I'd really appreciate it!
Any money that I earn through this donation will be re-invested into more content for this website.
Additionally, by sending in a donation you'll also receive a copy of my recently released 190+ page eBook on Soccer Ball Care, as well as be subscribed to our mailing list where you'll be regularly informed on the latest developments concerning the Soccer Whizz blog.
Latest posts by Samuel Waihenya
(see all)