Working as a professional soccer referee is certainly not the easiest undertaking.
This is primarily because referee performances come under heavy scrutiny from analysts and fans, who put a magnifying glass on any contentious decision that referees happen to make during matches.
Being a referee demands a lot of critical thought, even when it comes to the attire that they wear to the field!
If you pay close attention to the clothes that referees wear when officiating games, you'll have noticed that their kit is of different color to that of the jerseys and shorts worn by the players of both teams.
That brings us to a very pertinent question that is regularly asked by fans of the sport…
Why so soccer referees wear different colors?
Funnily enough, the answer is actually quite simple.
Soccer referees wear different colored jerseys in order to contrast with the color of the kits worn by the players representing both sides on the pitch. This helps to avoid confusing situations where a player passes the soccer ball to the match official instead of towards their own team mate.
Reasons why referees wear different colors
Let's investigate this a little further as well as explain another interesting reason for the color difference.
1. To distinguish themselves from both teams
When two soccer teams participate in a competitive fixture, their jerseys and shorts are usually of different color.
Away teams usually sport a different shirt color to their home opponent in order to avoid kit clashes that could cause confusion for officials, spectators and players.
In fact, here's what the Premier League has to say about this:
"When playing in league matches the players of each participating club shall wear a strip which is of a sufficient contrast that match officials, spectators and television viewers will be able to distinguish clearly between the two teams."

Source – Goal.com
Now, think about it this way.
If players and teams are bound by rules that prevent kit colors from clashing against one another, don't you think that it would be quite contradictory if a referee were to wear a similar color to either team?
That's right.
With that logic, the color coding also applies to referees too!
Back when the game was televised in black and white, referees would wear a blazer instead of a shirt.
Here's what this looked like: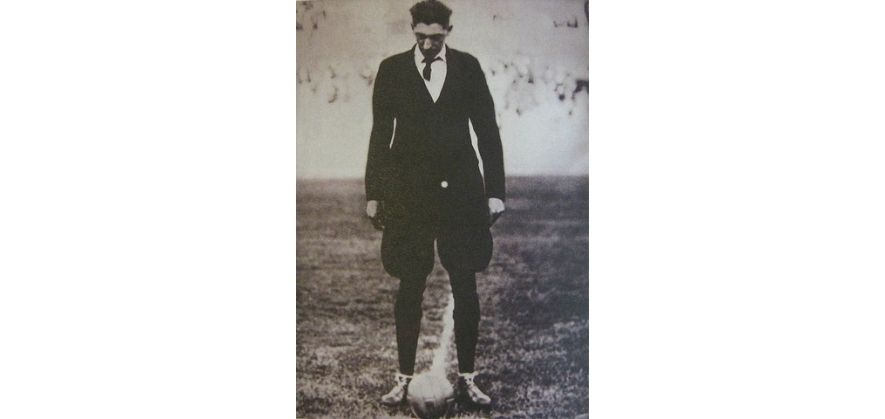 That blazer was almost always black in color unless one of the participating sides sported a very dark jersey color that would blur the lines between players of that team and the match official.
In such scenarios, the referee would wear another color of blazer – usually red – to distinguish themselves better.
So, you can see how the tradition of a referee putting on a contrasting jersey color has been brought forward over the years.
Now, the match officials have a much wider variety of color choices to select from.
Ultimately, referees don't want to serve as distractions on the field so they will pick the jersey color that contrasts best with the kits of the teams supposed to compete against each other.
But interestingly enough, there has been a case of a referee's jersey clashing with that of the players on the soccer pitch.
In a fixture between Vålerenga Oslo and Sarpsborg 08 that took place in 2013, the referee and his assistants had worn bright yellow shirts that looked eerily close in color to one of the teams that had turned up in a shiny green.
Here's what that looked like: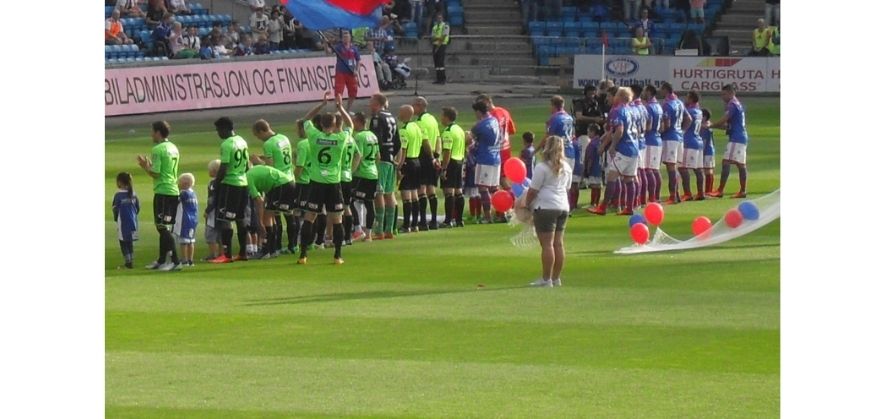 Because the colors were too similar, the referee along with his assistants had to their jerseys to black ones at half time!
Related article – why soccer refs wear pink
2. Growth of television audiences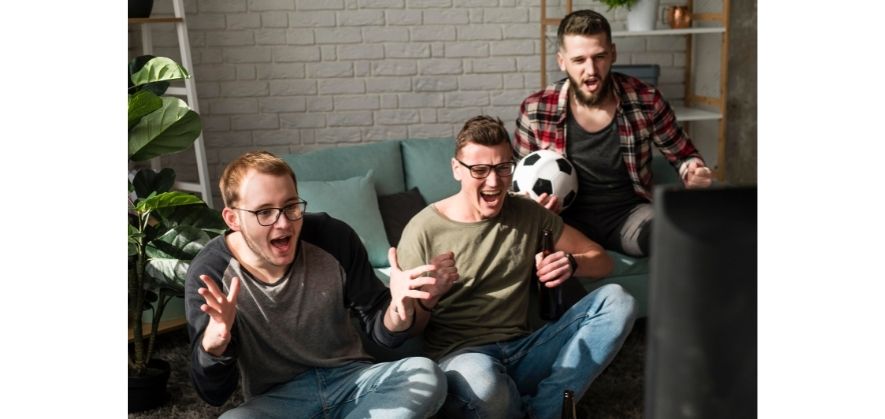 Another reason why referees wear different jersey colors is because of the growth of television audiences.
Over time, television screens graduated from black and white to the having the full spectrum of colors available.
That means that from the comfort of your sofa set, you can picture the players wearing kits of different color on the green grass field.
Referee attire had to account for this change in viewing dynamic as well.
If the jerseys of match officials remained solely black, spectators would sometimes struggle to pinpoint the exact location of the match official when watching from home, especially if one of the other teams wore a jersey color close to black too.
So, to enhance the viewing experience for fans at home and make it easier for them to keep up with the action, soccer's top governing body and other associations decided to introduce other jersey colors for match officials.
What color do soccer referees normally wear?
FIFA dress code rules stipulate that referees must wear black shorts, black socks and black shoes (cleats).
But where the color choice comes in is when it comes to the matter of jerseys, as soccer's world governing body allows referees to choose from five colors for international contests, which include:
Black;
Yellow;
Red;
Green; and
Blue
Here are some pictures that show what colors referees typically wear: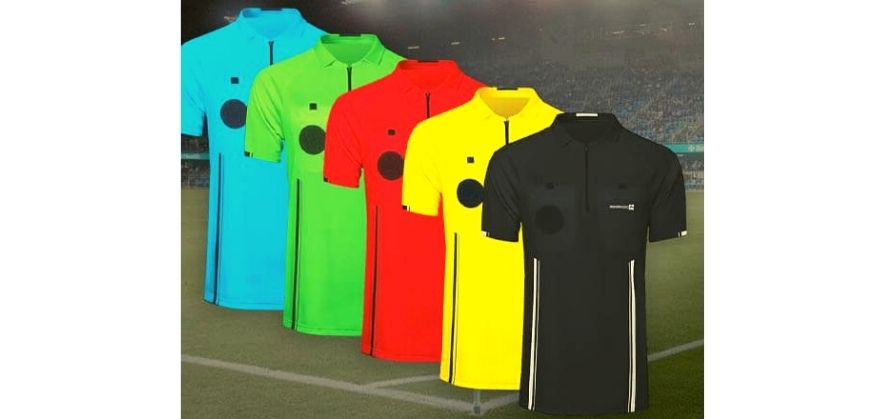 On the other hand, when it comes to competitions like the UEFA Champions League, referees are afforded even more interesting colors such as bright pink and lime green.
Who decides what color referees wear?
Soccer's world governing body – FIFA – is the organization who mainly decides what jersey colors referees have the choice of putting on for international matches.
When it comes to club level soccer, the decision making is held by respective league associations.
For example, the Premier League will have some say in what match officials in their division should wear, and the same goes for the Champions League and its governing body – UEFA.
Closing thoughts
That marks the end of this article on why soccer referees wear different colors.
Hopefully it has enlightened you on the logic behind match officials changing the color of their jerseys.
If you're passionate about refereeing in soccer, then you should check out some of our related posts like:
If you enjoy the content that I create and would like to buy me a coffee, then I'd really appreciate it!
Any money that I earn through this donation will be re-invested into more content for this website.
Additionally, by sending in a donation you'll also receive a copy of my recently released 190+ page eBook on Soccer Ball Care, as well as be subscribed to our mailing list where you'll be regularly informed on the latest developments concerning the Soccer Whizz blog.
Latest posts by Samuel Waihenya
(see all)