The game of football has certainly created several heated discussions and talking points among dedicated analysts together with the casual fans that watch the sport and, occasionally as observers we are left with more questions than answers.
This is particularly true when the topic of linesmen and the peculiarity of their accompanying gear gets brought up every now and then.
Prior to the introduction of assistant referees within the game, linesmen held different-coloured flags mainly for media identification purposes, such as when a referee needed to make a distinction between the two officials within a post-match report or, when commentators, sports pundits, journalists and clubs themselves had a reason to mention a particular linesman on televised programs, newspaper articles and official press releases respectively.
Now before I expound upon the answer I've just provided above; I'd like to quickly talk about the specific flag colours that these officials use.
What are the primary linesman flag colours?
The assistant referees of today carry brightly coloured flags that are a combination of yellow and orange.
You can see this in the image below.
According to Law 6 of the Football Association's documentation on other match officials, the linesmen have a duty to use their coloured flags to indicate:
When a football leaves the field of play for a corner kick, goal kick or throw in
Offside infringements
Substitution requests
Whether a goalkeeper moves off his line before a penalty kick is struck
However, before the assistant referee title was officially brought into the sport by the International Football Association Board in 1991, one linesman would usually have a chequered yellow and red flag whilst the other would hold a plain yellow flag with no colour pattern on it.
Let's now talk about why this was the case…
Distinguishing seniority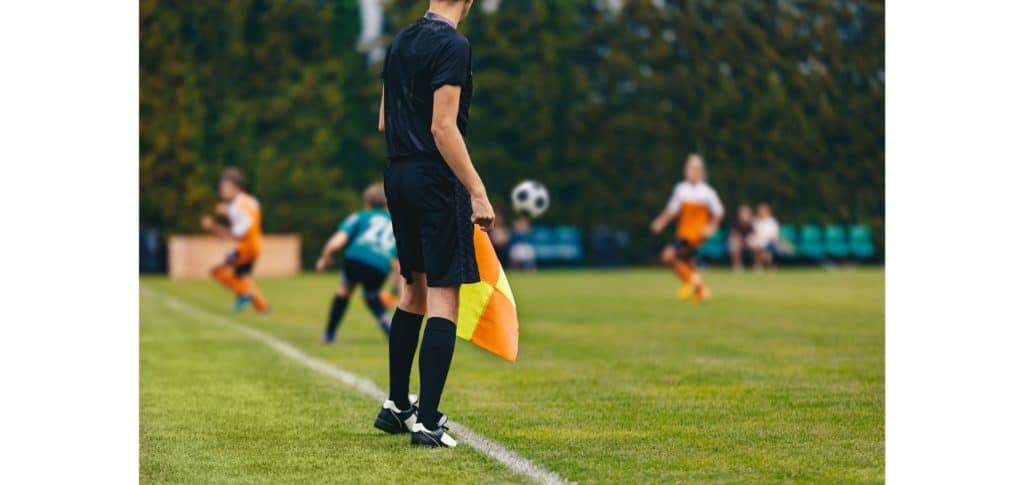 Back in the distant past – think before the 1990s – the fourth official role had not yet been created.
This meant that a senior linesman was assigned to the side of the pitch that had the manager dugout and substitute benches situated behind it, as the scope of their role as secondary officials extended to controlling player substitution requests and performing conflict resolution with coaches and managers.
It was more or less an unwritten rule that the linesman with greater seniority when it came to officiating would have the predominantly red coloured flag, whilst their junior counterpart would simply use the yellow flag.
In fact, according to an answer posted by the United States Soccer Federation (USSF) on a referee forum, the reason for senior referees using the red flag was purely alphabetical, because the letter 'R' – which represents the colour red – comes before the letter 'Y' which signifies the colour yellow and therefore red is senior to yellow.
However, this changed with the introduction of the fourth official role in 1991, which assumed the senior linesman's responsibility of managing team substitutions and managerial disputes on the side lines.
This resulted in a shift in reasoning for different-coloured flags used by linesmen to being purely identification related, and within most footballing competitions in the present day, the assistant referee flags are now identical in appearance.
Identification purposes
The withdrawal of responsibilities that were previously held by traditional linesmen has rendered the coloured flag distinction unnecessary for use in today's modern game.
But before the flags became more streamlined with regard to colours and patterns, several parties involved within the game at a macro and micro level were reliant on these differences in order to easily identify officials.
Football can be marked with controversy, and back in the day journalists, pundits, clubs and media outlets would use the red and yellow flag colours to determine which linesman was being spoken about when publishing a newspaper story; writing an official press release or speaking to a televised audience.
Even more so, referee communication was and still is imperative to the integrity of the sport, and the first officials themselves would need to point out situations involving their colleagues within their post-match reports when required, particularly if a linesman was involved in a physical scuffle or verbal argument with a player.
Which linesman flag set is best?
Seeing as this article has been talking quite a lot about linesman flags, I thought it would be an opportune moment for me to point out the best set available for purchase.
The Optimum Orange and Yellow Linesman Flag Set is my top pick as it has a plethora of positive customer reviews and it also stands tall by way of its high visibility, lightweight design, comfortable soft handle grip and easy storage due to it coming with a carrier bag.
You can check out my detailed product roundup on the best football linesman flags for further information.
Final thoughts
So, there you have it!
Linesman flags were different colours in order to discern the level of seniority between each assisting official; as well as for ease of identification particularly when a linesman would need to be mentioned by a referee in a match report, or by a media outlets in newspaper columns and television screens.
If you enjoy the content that I create and would like to buy me a coffee, then I'd really appreciate it!
Any money that I earn through this donation will be re-invested into more content for this website.
Additionally, by sending in a donation you'll also receive a copy of my recently released 190+ page eBook on Soccer Ball Care, as well as be subscribed to our mailing list where you'll be regularly informed on the latest developments concerning the Soccer Whizz blog.
Latest posts by Samuel Waihenya
(see all)