Disclaimer: Soccer Whizz is a participant in the Amazon Services LLC Associates Program, an affiliate advertising program designed to provide a means for sites to earn advertising fees by advertising and linking to Amazon.co.uk (source: Section 5). As an Amazon Associate I earn from qualifying purchases.
The beautiful game has come a long way with regard to the accessibility and technological advancements that have improved soccer products.
For it was not too long ago when me and my friends at school used to play with makeshift balls that were composed with any malleable materials that we could find lying around.
We'd form a ball shape from the materials we collected and then tie them all together with a few rubber bands!
Nostalgia at its absolute finest.
In today's world, football fans have their pick of finely constructed and expertly stitched size 5 soccer balls for very affordable prices.
Mitre Delta Plus Professional Football

Made from hyperfoam material

Adidas Unisex Adult Team Training Pro Football

Sleek pattern for enhancing visibility

Innovativeoctagon panel design

High Living Professional Match Soccer Ball

Suitable for all weather or surface types

Optimum Classico Football

32 panel design specification
Right, the product evaluation begins now!
1. Nike Premier League Flight Football
Nike Premier League Flight Football
3D printed ink helps sharpen the ball flying
ACC technology that adds a texture to grip to ensure a consistent contact in wet or dry conditions
4 Panels fused create a larger sweet spot on the ball to give powerful blows
2. Adidas Unisex Adult Team Training Pro Football
3. Mitre Delta Plus Professional Football
Mitre Delta Plus Professional Football
Delivering control, accuracy and power, this is Mitre's mid-level professional ball and it's approved by FIFA, so you can be sure of its quality
When you kick the ball, you want it to fly straight and true, that's why Mitre crafted the laminated power bladder catching the top corner of the net has never been easier
Play your best, whatever the weather Mitre's revolutionary Hyperseam technology means almost zero water uptake, helping your ball last longer
Mitre is a brand that brings back the memories.
There was always a bit of banter amongst my peer group that the global manufacturer used to make the hardest footballs known to man.
However, multiple reviewers safely attest to the fact that this soccer ball is very different.
It is machine stitched together with a foam backed polyurethane (PU) material, which is said to offer a well-balanced soft touch when coming into contact with a person's foot.
The distinct 14-panel configuration of the ball and its hyper foam material is designed to deliver more of a player's kick power into the ball whilst retaining optimum circular shape and size control.
This ball is also versatile in the sense that it can be used quite comfortably on natural grass as well as astro turf surfaces.
And as a further testament to this product's quality, FIFA has stamped it with its very own FIFA Pro Quality accreditation mark.
Top notch indeed!
4. Optimum Classico Football
Optimum Classico Football
Complete Control: The Optimum Classico Football is crafted for football enthusiasts and players that allows them to have full control of their football game. The ball is perfect for training and for recreational football games.
High Specification: Optimum are known to for creating top quality products that guarantee customer satisfaction. With Classico Football, Optimum have manufactured it to have high specifications of its size and shape, and thus helps provide players with an ideal practice and training routine. It also has 32 panels and weighs 290-310 grams.
Lasts Long: If you need a football that can withstand the strongest strikes and kicks, then you're on the right product. The ball is shipped deflated so we recommend that you get the Optimum pump to inflate your ball.
This soccer ball is a very popular choice in the budget range.
It features an impressive design having been crafted from shiny polyvinyl chloride (PVC) material, and it has a 2-ply lining.
The ball comes available in three distinct colourways:
Black / Fluro
Black / Red
Black / Blue
It also boasts high specification with regard to the way in which it was manufactured, as it comprises of 32 panels and weighs in at approximately 300 grams.
Lastly, the ball promises users' complete control with a durable design that can withstand strong kicks and hard impacts.
5. High Living Match Training Soccer Ball
High Living Match Training Soccer Ball
High quality training football: the high living football is crafted for football enthusiasts and players that allows them to have full control of their football game. The ball comes deflated
Suitable for all weather or surface Type: high quality soccer ball is suitable for all type of Weather and For all type of surfaces i-e a grass or AstroTurf surface. Soft foam lining ensures first touch and cushioned impact to aid development
Lightweight and durable design: lightweight design helps to improve player confidence when stepping Up to the next size ball - helping develop the players of tomorrow. Suitable for young players making the step up to the senior game
Here is another small brand that has created a quality product.
This football is suitable for all weather conditions or surface types.
It features a soft foam lining that makes the ball easier to control on a player's first touch.
When it comes to the outer material, this ball is made from a shiny polyurethane (PU) leather and its textured surface manipulates air-flow in order to streamline the ball's flight and increase a player's shot accuracy.
It also uses high contrast colour graphics to aid visual tracking when in use on a playing surface.
What to consider before buying a soccer ball
I will now offer a brief soccer ball buying guide before supporting my final recommendation.
1. Playing surface
Natural turf pitches
Synthetic pitches
2G, 3G or 4G pitches
Hybrid pitches
But the list doesn't stop there, as soccer can also be played on indoor courts (futsal) or even on a busy street or quiet alleyway!
So, as a buyer you will need to figure out which surface you intend to play on the most as this will enable you to narrow down on your selection.
This is because a standard soccer ball purchased for training and playing competitive matches on grass will not be suitable for use on indoor courts; when playing on the streets or even on a sandy beach.
Now that you understand that, let's discuss the size spectrum.
2. Size
Soccer balls come in a standard circular shape across the board, but they are sold in a fairly broad range of different sizes.
These sizes range from 1 (mini) to 5 (professional).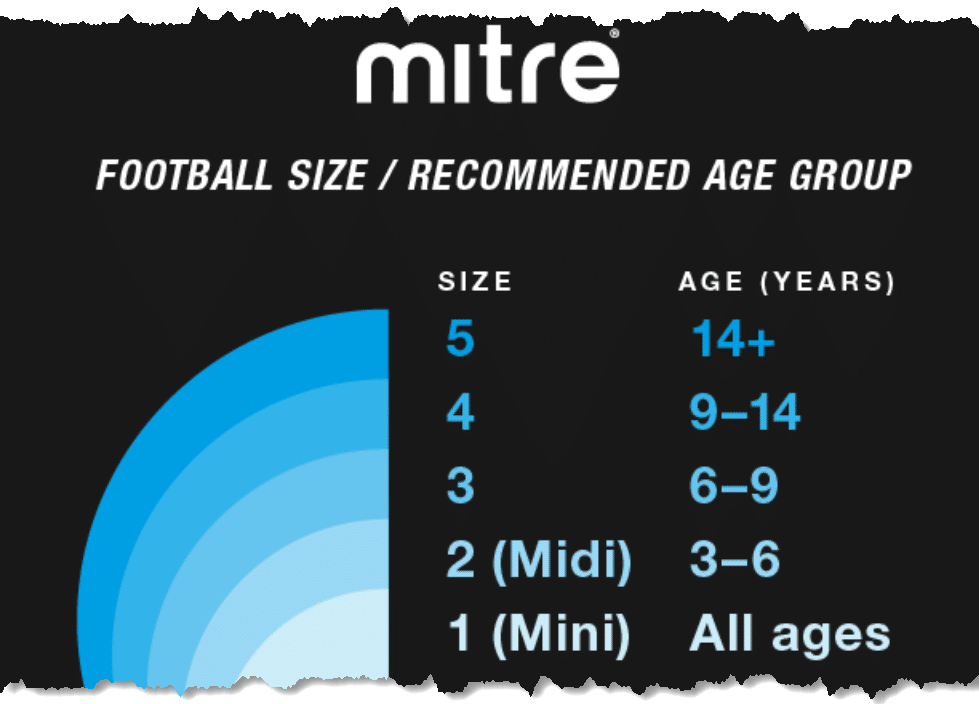 More specifically, the Football Association have published guidelines on ball sizes for different age groups, which are as follows:
Under 7s, Under 8s, Under 9s and Under 10s – Size 3 ball
Under 11s, Under 12s, Under 13s and Under 14s – Size 4 ball
Under 15s, Under 16s, Under 17s and Under 18s – Size 5 ball
If you want to hone your technical skills or simply need a ball for a little toddler to play with, a smaller size 2 or size 1 ball would be recommended.
On the other hand, there are different specifications when it comes to playing on indoor futsal pitches.
Here the FA recommends that younger players under 12 years of age should use a size 3 ball, whilst players who are 13 years old and onwards should play with a size 4 ball.
The next factor you need to consider is durability, and this is where the material of the football you buy is really important.
3. Material
We Print Balls – a custom sports ball and equipment manufacturer – states that the outer surface of a soccer ball is usually made of synthetic leather and not full grain leather.
They also emphasise that soccer balls comprise of four different components, which are:
The cover
The stitching
The lining
The bladder
Synthetic leathers are usually made from two materials called polyurethane (PU) and polyvinyl chloride (PVC).
The former is said to be a more durable material and soccer balls made from polyurethane are often used by players and clubs at semi-professional and professional levels of the sport.
Soccer balls made with polyvinyl chloride are sold cheaply on the marketplace and are often used for things like promotional events or practice sessions.
Another consideration that a buyer would need to take into account before making their purchase is the type of internal bladder that was used in the construction of the ball.
The bladder is what holds the air inside the ball as it acts as an inner tube, and is made from either latex or butyl.
Butyl bladders retain the air for much longer periods of time than their latex counterparts, as soccer balls made from the latter often require frequent inflation.
However, latex bladders are said to provide better surface tension which translates into better contact performance when a person strikes the ball with their foot.
Now that you've gained an awareness and appreciation for the intricacy of a football's construction, it's time to talk about budget.
4. Budget
For the soccer fanatics who like to emulate the professional match experience to every fine detail by doing things like putting on shin pads, wearing base layers and sporting full length socks, a premium football would be a perfect choice.
These often cost from as little as £60 to as much as £140.
Conversely, the cheaper match balls and training balls which suit the more casual player are often in the £25 to £50 price range, whilst the bargain basement options feature from about as low as £2.
It's safe to say however, that the lower priced options are usually of a much lower build quality than the premiums.
So, that marks the end of the buyers guide section.
I will now provide my verdict.
Final Recommendation
I can seriously vouch for the quality and overall performance of the Mitre Delta Plus Professional Football.
It's a winner firstly because it sits at the right price point – not too expensive unlike the Nike Premier League Flight.
But even more importantly, it arguably offers the best combination of robustness and air retention, with the added uniqueness of water resistance to solidify it as "the icing on the cake" which ultimately makes it my standout pick.
See you next time!