Disclaimer: Soccer Whizz is a participant in the Amazon Services LLC Associates Program, an affiliate advertising program designed to provide a means for sites to earn advertising fees by advertising and linking to Amazon.co.uk (source: Section 5). As an Amazon Associate I earn from qualifying purchases.
One of the beauties of the sport we call football is that it can be played in different surroundings.
From the lush green grass of football pitches in Europe to the crowded favelas in South America, the game knows no bounds.
In today's article I'm going to be reviewing the best futsal balls to buy, as I simply love making the purchasing decisions of a football fan so much simpler.
For those of you reading this looking to save some time, you can jump ahead to the top picks I've highlighted below:
| | | | | |
| --- | --- | --- | --- | --- |
| | | | | |
| | Senda Rio Training Futsal Ball | Special foam backing for softer touch | | |
| | GFutsal TotalSala PRO 400 Low Bounce Futsal Ball | Simple balck and white design | | |
| | Mitre Impel Futsal Football | | | |
| | Baden Futsal Low Bounce Practice Ball | | | |
| | | High contrast colour graphics | | |
1. Senda Rio Training Futsal Ball
Senda Rio Training Futsal Ball
Low-bounce ball for optimal futsal play features a special foam backing for softer touch
Made with a durable cover for extended durability on hard courts and reinforced bladder for extended air retention
Hi-Tech machine stitched construction for stronger seams
The Senda Rio Futsal Ball is made by Senda Athletics who I mentioned earlier on in the article.
They are the official ball partner of the United States Youth Futsal organisation.
With over 50,000 registered players, the company is able to have its gear tested by top futsal players and coaches who provide them with the feedback they need to be able to improve their product offerings.
So, when it comes to ball construction and manufacturing, you can expect them to know their stuff.
Moving onto the ball, it features a soft foam backing that provides a softer overall feel and touch.
Additionally, its outer cover is made of a tough microfiber rubber that was machine stitched together for stronger seams which ultimately enhances durability on hard indoor court surfaces.
Lastly, the ball is Fair Trade Certified – meaning those that worked to produce this futsal ball had better working conditions for and no child labour was involved in its development.
All in all, Senda is a good ethical company to support by purchasing this futsal ball.
As a slightly cheaper alternative -in case you're put off by the price of this ball – you can have a look at the MIKASA Unisex's SWL-337 Futsal Ball which is of almost a similar quality and construction to the Senda ball.
2. Mitre Impel Futsal Football
Mitre Impel Futsal Football
3.5 mm soft foam, idel for practicing
30 Panel design for a reliable performance and durable lifespan
Built for optimal control and close quarter passing
Mitre are one of the behemoths of football manufacturing, as they have nurtured a reputation amongst consumers as having some of the best performing footballs on the market.
In fact, one of their footballs was included in my earlier roundup of the best soccer balls for training sessions and competitive matches.
Their Impel Futsal Ball has been built with optimal control and close quarter passing at the forefront of their thinking.
With regard to the ball's specifications, it is made from synthetic leather with 3.5mm soft foam and features a 30-panel green/pink design said to offer reliable performance and a long-lasting lifespan.
3. GFutsal TotalSala PRO 400 Low Bounce Futsal Ball
GFutsal TotalSala Futsal Ball
The model TotalSala was designed according to the Brazilian Futsal Confederation specification for size and weight and is used by English football/futsal academies.
The futsal balls are made of DC-Shine material including 4 lamination layers for durability.
Size 4- circumference: 61-64 cm, weight: 410-440g - from 14/15 years old to adult
Here we have another quality futsal ball that receives top marks from me for simplicity, as it It comes in a universally recognised black and white design.
The GFutsal PRO 400 Ball is crafted from polyurethane leather which is durable and the leather of choice for footballs used by semi-professionals and professionals working in the sport.
More so, the ball's bladder is made from butyl that's filled with polyester, which is said to give the ball lower bounce movement and allows for a heavier feel.
Lastly, it's stitched together with 32 panels and features 4 lamination layers for enhanced durability.
4. Baden Futsal Low Bounce Practice Ball
Baden Low Bounce Futsal Practice Ball
LOW BOUNCE - Increase your performance and ball control on the field with Futsal low bounce soccer balls
PRECISION - Each soccer ball is handsewn to ensure each panel is sewn together with precision and accuracy
PERFORMANCE - The advanced PU cover material gives you a truer flight and better control
Here we have another vintage style futsal ball that performs to an admirable standard.
What is particularly unique about this Baden Futsal Low bounce Ball is that it is handsewn to ensure that each panel is stitched together with pinpoint precision.
The ball cover is also made from advanced polyurethane leather that is said to provide truer flight when struck and better touch control when a player is in possession of it.
More so, it is reinforced with a butyl bladder in order to provide the greatest possible air retention after it has been inflated, along with maximum durability when in use.
5. Nike Menor X Soccer Ball Futsal
Nike Menor X Futsal Ball
Synthetic
Futsal size is smaller and heavier than traditional balls
Textured casing enhances touch and feel
And the final product as part of this best futsal balls roundup is one from global sports brand Nike.
The Nike Menor X Futsal Ball is a size 4 ball with an outer material that's made from synthetic leather.
Additionally, it comes in a blue and white colourway and features high contrast graphics for an immediate, true read on the ball's flight trajectory, spin and curve.
With the individual product reviews wrapped up, I'm now going to quickly answer a few commonly asked futsal-related questions.
Frequently asked questions
What is futsal?
What size ball does futsal use?
The futsal sport mainly uses Size 4 balls that are smaller in size than standard association football ones.
More particularly however, futsal balls are usually range from Size 1 to Size 5, although Size 4 is most commonly used.
Here is a helpful size chart: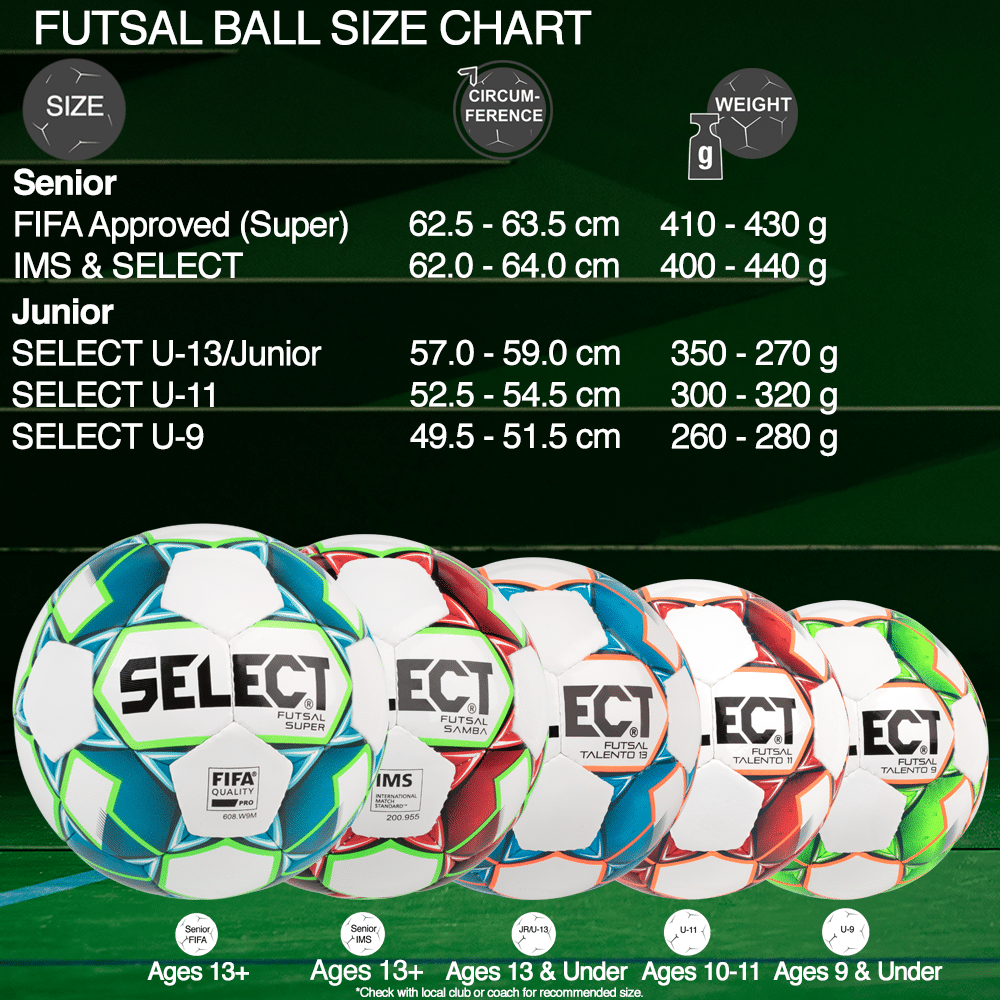 What is the FIFA recommended futsal ball size?
A FIFA approved futsal ball must be between 24.61 inches and 25 inches in circumference.
Is a futsal ball heavier than a football?
Contrary to popular belief, the answer to this question is no.
According to FIFA, the inspected weight of a Size 5 ball is 410 – 450 grams, whereas for a futsal ball this weight is 400 – 440 grams.
Therefore, both the minimum and maximum inspected weights of a futsal ball are 10 grams lighter than a normal ball that is used outdoors.
What is the difference between a soccer ball and a futsal ball?
If you watched the fascinating video that I linked to above, then you'll have deduced that a futsal ball is smaller and has less bounce than a standard size football.
As the sport of futsal places larger emphasis on attributes like control and speed, it encourages safer and more skilful pieces of play from its participants.
Here are the main differences summarized:
Qualities to look for in a futsal ball
As a first-time buyer it may be difficult to distinguish a well-crafted futsal ball from a poorly manufactured one.
A good futsal ball will tick most or all of the following boxes:
Durable enough to be used for long periods of time with minimal wear and tear
Perfectly circular in shape for precision shooting and close ball control
Excellent craftsmanship with good quality stitching
Easily visible to the naked eye
So, taking into account the aforementioned characteristics, let's have a look at the best futsal balls that can be bought on the marketplace.
Final recommendation
There are so many good options here, but my standout pick has to be the Senda Rio Training Futsal Ball.
Despite the premium outlay, it ticks all the right boxes for durability, air retention and softness on the outer shell which makes playing with it safe and comfortable.
The icing on the cake with this product is the fact that it is Fair Trade certified, meaning the ball was constructed with ethics at the very forefront of the company's objectives.
If you liked this article, feel free to share it or leave a comment in the section below.
If you enjoy the content that I create and would like to buy me a coffee, then I'd really appreciate it!
Any money that I earn through this donation will be re-invested into more content for this website.
Additionally, by sending in a donation you'll also receive a copy of my recently released 190+ page eBook on Soccer Ball Care, as well as be subscribed to our mailing list where you'll be regularly informed on the latest developments concerning the Soccer Whizz blog.
Latest posts by Samuel Waihenya
(see all)