Disclaimer: Soccer Whizz is a participant in the Amazon Services LLC Associates Program, an affiliate advertising program designed to provide a means for sites to earn advertising fees by advertising and linking to Amazon.co.uk (source: Section 5). As an Amazon Associate I earn from qualifying purchases. This blog also earns small commissions from ShareASale and CJ affiliate links inserted within this article.
In the past couple of years there has been a lot more media coverage on the topic of concussion within football.
It has even prompted football's world governing body – FIFA – to trial the use of concussion substitutes at the Club World Cup.
The decision was certainly made with the thought of player welfare in mind.
You only need to look at the fractured skull that Wolverhampton Wanderers' Raul Jimenez sustained in an aerial challenge with Arsenal's David Luiz to see that changes to the sports legislation were sorely needed.
So, in today's article, I will be covering the best soccer headgear available for players of all age ranges.
Without further ado, here are my top recommendations:
Now I shall provide a detailed breakdown of the feature sets offered by each of the aforementioned products.
The process will involve highlighting each product's core features along with listing the accompanying benefits and drawbacks so that you can make your own informed evaluation.
Let's begin!
1. Storelli Exoshield Headguard
Storelli Exoshield Headguard
#1 RATED SOCCER HEADGEAR: Rated as the #1 soccer head guard by Virginia Tech for reducing the risk of sports head injuries by an estimated 84%. Sleek yet heavy-duty design provides 360 degree impact protection from cuts, bruises, and contusions.
MILITARY-GRADE PROTECTION: Armored with 9mm of combat-grade Team Wendy Zorbium foam used in U.S. Army, Navy, and Marine Corps helmets. Engineered to reduce g-forces to the head by up to 50%. Made stronger for safer soccer.
ULTRALIGHT & ERGONOMIC: Ultra-light at just 8 ounces, headgear conforms to the head for optimal fit. Perfectly suited to head the ball and accommodates short and long hair, including pony tails. Maximizes comfort without compromising performance.
The Storelli Exoshield Headguard is said to offer military-grade protection as it is embedded with 9 millimetres of combat-grade viscoelastic protective foam which is used in the helmets worn by soldiers in the U.S Army, Navy and Marine Corp.
In addition to this, it is engineered to reduce g-forces to the head by up to 50% which means that you can head the ball without having to worry about your physical and mental well being further down the line.
It also provides 360-degree padded shielding against the cuts and bumps that usually arise from head and elbow collisions when competing.
The product is lightweight in nature as it comes in at only 8 ounces and it is designed to conform to the shape of the wearer's head for maximum comfort and fit.
It does this all whilst avoiding that traditional 'helmet-like' look of other products and maximises head protection in key areas.
Overall, the brand has built a lasting reputation.
This is mainly due to the fact that it has become popularised as the most protective, comfortable and stylish soccer head guard on the market and is worn by athletes who participate in football's most prestigious competitions like the English Premier League and the UEFA Champions League.
As the headguard is not size adjustable, a buyer would have to ensure that they choose their size correctly before making a purchase.
The manufacturer has made this headguard available in multiple sizes so I've linked to each one in the list below:
Update: Amazon appear to have run out of stock so I've sourced the same product from multiple vendors instead.
Links to each are available below:
2. WOSAWE Head Guard Gear
WOSAWE Head Guard Gear
【Head Protection】 - The headguard offers EVA foam protection across the head, Resistant to dirt, wrinkle and abrasion, which help absorb the impact and protect the head during impact.
【Breathable and Comfortable】- Soft shell headguard with maximum cranial comfort, Large ventilation holes on the top of head allow maximum airflow and the cavity above the head allows hot air to escape.
【Adjustable Size】- Football helmet with sticker chin in the front and rear laces is adjustable for proper fit according to yourself head size, suit for most of youth/adults men and women.
This WOSAWE Head Guard is made of thickened ethylene-vinyl acetate (EVA) foam that is designed to fully protect an athlete's head with high impact resistance.
It also features fully ventilated panels and a unique antibacterial lining for maximum moisture wicking capability.
Goalkeepers in particular will like this product as it comes with an adjustable chin sticker and rear strapping.
In addition to the ample head protection it provides, the headguard is resistant to dirt, wrinkles and abrasion which helps to absorb impacts more effectively.
The headguard is also a good choice for those after cranial comfort, as the ventilation holes facilitate maximum airflow and the cavity that is situated above the head on the design allows hot air to escape freely.
3. Full 90 Sports Premier Performance Soccer Headgear
Full 90 Sports Premier Performance Soccer Headgear
Advanced head protection: the F90 premier performance Headgear represents the latest advancements in performance protection technology and tru-play design
The X-Band design of the Premier has a low profile and a high level of protection and comfort.
Lightweight/low profile: advanced true fit system that provides expanded coverage of the occipital lobe while maintaining a low profile, custom and comfortable fit
The Full 90 Sports Headgear features an advanced true-fit system, which comprises of an x-band design and an interchangeable occipital back padding, which beautifully combines to offer players the amount of protection that's right for their style of play.
This headguard also conforms to the shape of the wearer's head, which helps to improve the feel of the ball in head-to-ball contact situations.
Along with this, the embedded Cool Max fabric significantly reduces moisture build up by accelerating the evaporation process within the headguard, which ultimately provides for a more comfortable and sturdy fit.
4. Unequal Halo 3 Lightweight Protective Headgear
No products found.
The No products found. looks like a traditional headband but is made from a patented and coated aramid fabric – with proven impact dispersion properties – that functions to absorb and disperse impact energy safely.
The headband is lighter than expected and once worn the Airilon foam within the padding softens while on the user's head.
What's even more interesting is that this headgear was scientifically proven to be effective at reducing the risk of head injury by Virginia Tech's independent / accredited laboratory.

Here's what the publication had to say about this headguard in 2018:
Virginia Tech impact tests evaluated a headgear's ability to reduce linear and rotational acceleration of the head resulting from head-to-head impacts a soccer player might see on the field. Headgear with more stars provides a reduction in risk. For soccer headgear, VT recommends the Unequal Halo 3 as a 4-star headgear and the lightest in the recommended category.

Virginia Tech Helmet Ratings / Biomedical Engineering and Mechanics
This headgear comes in two sizes (1 and 2), with the former being a tight fit for heads less than 20.5 inches in circumference.
I'm now going to briefly talk about what a buyer should keep in mind when choosing soccer headgear.
Factors to consider when selecting soccer headgear
Normally when you think of football as a sport, one of the first things that comes to your mind is the spectacular goal a player scored or a fancy piece of skill that a flair player was able to pull off.
However, football is a physically demanding and combative sport and a player's head often comes into the firing line during the game.
This is why headgear is such an important piece of safety equipment, particularly for amateur or semi-professional players who don't need to risk the likely long-lasting damage that comes with heading a ball on a regular basis.
(NOTE: For more roundups on protective gear you can check out the buying guides for shin pads and goalkeeper gloves)
So, here are a few headgear-related factors to bear in mind before you settle on a product to purchase:
Material
High-impact foam is often used to make headgear for football as it sufficiently cushions the head from the full force of impact.
The plastic helmets which you see participants using in other sports are not suitable as they are usually bulky and may contain uneven surfaces, which would ultimately make heading the ball with accuracy an increasingly difficult task.
More so, according to the Chicago Tribune, the outer shell of football headgear normally comprises of multiple materials such as cotton, nylon or a synthetic mixture of various fabrics.
Coverage
When it comes to coverage, different types of headgear cover different areas of the skull.
Some headgear is designed to provide full surface area skull protection, whereas on the other hand, other types of headgear such as the halo design (see image below) are crafted with the specific intention to go all around the head whilst leaving the person's crown area exposed.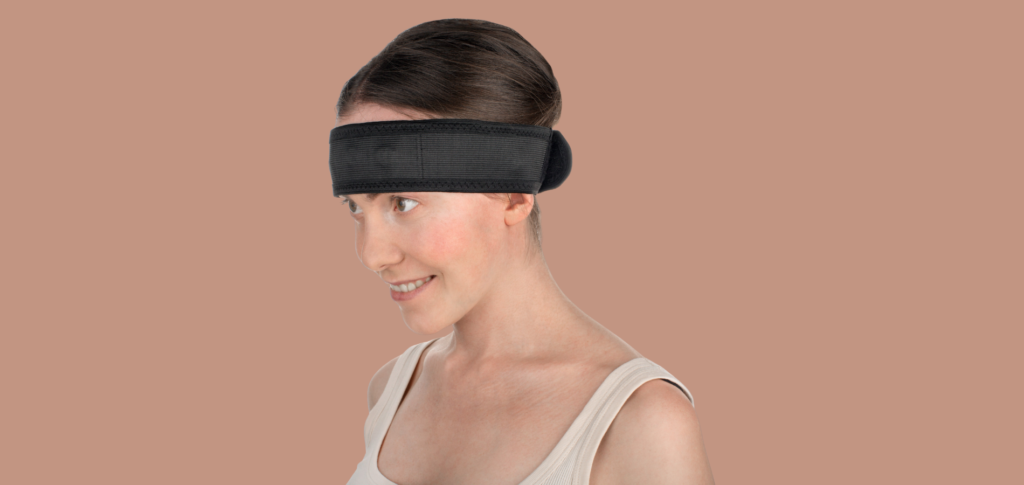 Thickness
Soccer headgear also comes with varying degrees of thickness.
If you're a player looking to prioritise the protection of your head above all else, then it would make sense to purchase the thickest headgear option available.
But it's also important to note that thicker headgear is likely to be heavier in weight, which may impede the athlete's overall level of physical comfort when running on the pitch.
In addition to this, thick headgear may afford you less cushioned control when you make an attempt to head an aerial ball.
Safety standards
FIFA officially allowed the use of protective headgear on the field in 2003 and since then, the equipment's global adoption has slowly grown over time.
Together with this, the American Society for Testing and Materials (ASTM) pioneered a product performance standard for soccer headgear (ASTM standard F2439-06).
Support for this regulatory standard is backed by the National Federation of State High Schools (NFSH), who posit that consumers should look for headgear that meets the aforementioned ASTM standard, as long as they are in their original configuration and haven't been subjected to any modifications.
So ultimately as a buyer, you will want to purchase headgear that is compliant in the eyes of the regulatory bodies that oversee adherence to the necessary safety procedures within the sport.
Cooling technology
Wearing a headguard in the sweltering heat is no doubt not ideal for the majority of athletes.
This point only emphasises the importance of purchasing headgear that has cooling technology incorporated into the design.
Various brands opt for lightweight nylon materials that are scientifically proven to keep you cooler than their cotton counterparts.
Removable padding
Lastly, a good piece of football headgear will offer an increased level of user customization by way of removable padding that can be detached from the overall garment for either washing or replacement.
Now that you're fully aware of the qualities to look for in the best soccer headgear, I'm going to drill down into the top recommendations.
Let's begin…
Frequently asked questions
Having fleshed out the best soccer headgear available on the market, it's now time for me to provide some answers to questions surrounding the topic of headgear and its ability to prevent injury.
Do football leagues officially sanction the use of headgear in professional matches?
Yes. As long as the headgear you choose is one of those that has been approved by your league's governing body, then you are free to wear it during a standard 90-minute game.
Does wearing headgear reduce the risk of head concussions?
The answer here is also yes.
One particular study conducted by researchers at Canada's McGill University discovered that, out of 250 adolescent soccer players in the 2006 season, 27% of those who wore protective helmets suffered concussions while participating in the sport compared to 53% of those who played without headgear.
This is backed up by an analysis conducted by a research team at the University of Wisconsin who arrived at the conclusion that top-quality headgear was associated with a sharply lower concussion rate, based on product-level evidence.
Final recommendation
Picking the best soccer headgear out of the small bunch of options previously mentioned is not an easy task.
But if I was to make a judgement call, I would have to opt for the Storelli Exoshield Headguard above all the others.
Despite the premium price point, this headguard stands tall with regard to quality control where some of the other options crumble, as the stitching is well refined.
More so, users are not likely to experience discomfort wearing this headguard as its semi-soft foam backing prevents sweat build up quite effectively.
Feel free to leave a comment below if you want to share some your thoughts on the article.
If you enjoy the content that I create and would like to buy me a coffee, then I'd really appreciate it!
Any money that I earn through this donation will be re-invested into more content for this website.
Additionally, by sending in a donation you'll also receive a copy of my recently released 190+ page eBook on Soccer Ball Care, as well as be subscribed to our mailing list where you'll be regularly informed on the latest developments concerning the Soccer Whizz blog.
Latest posts by Samuel Waihenya
(see all)