Disclaimer: Soccer Whizz is a participant in the Amazon Services LLC Associates Program, an affiliate advertising program designed to provide a means for sites to earn advertising fees by advertising and linking to Amazon.co.uk (source: Section 5). As an Amazon Associate I earn from qualifying purchases. This blog also earns commissions from ShareASale affiliate links placed within the content.
Over the last couple of decades, the design of soccer cleats has really evolved.
A modern pair that you purchase today – be it from your online retailer like Amazon or Pro Direct Soccer – is almost unrecognizable to what was on the market back in the day.
You see, there's this fairly new range of laceless soccer cleats that have become all the rage among various soccer circles.
They're a godsend for players who hate tying up their laces during games, as all you have to do is put your feet into them and you're good to go for the entire 90 minutes.
Laceless soccer cleats initially set the retail marketplace by storm by coming out with a sock-like design, which allowed soccer athletes to simply slip their feet into the cleats with minimal fuss.
But now there's even more variation when it comes to their style, as these cleats now typically look like a normal pair of soccer cleats, just without the laces.
Anyway, let's get down to business by evaluation the top options for this particular category of soccer cleats.
We shall start with a comparison table that outlines the finest laceless soccer cleat options:
In summary, the Adidas Predator Accuracy + laceless cleats come in first place here but not by a big margin. The New Balance Tekela v4 Pro cleats are a worth adversary.
How we selected the best laceless soccer cleats
Isolating the best laceless soccer cleats certainly wasn't an easy task.
The plethora of options on the market, from brand such as Nike, Adidas, Puma and New Balance made it quite difficult to find the greatest choices that players can get their hands on.
But because this blog is dedicated to soccer and all its intricacies, a lot of time and care was put into performing first hand market research on various retail websites like Amazon and Pro Soccer.
Buyer reviews and product specifications were fully analyzed to decide the ranking order of the laceless cleats from first to last, with the option coming bottom of the pile still being a fantastic product in and of itself.
Ultimately, we came to the conclusion that four specific pairs of laceless soccer cleats were far and a way better than the rest of the bunch.
How the best laceless soccer cleats were tested
The testing procedure for coming up with the list of top laceless soccer cleats comprised of the following factors:
How well the cleats perform under the rigors and pressures of competitive soccer games (e.g. ball control, shot power, etc.);
Evaluating how real-world users felt about the comfort and grip on the turf that these cleats provide; and
Sourcing feedback from other online channels such as soccer-related forums which may have useful first-hand feedback about the products in question
Now, let's get started with our in-depth reviews of the best options.
1. Adidas Predator Accuracy + Soccer Cleats
Adidas' latest creation is none other than the Predator Accuracy +.
These soccer cleats have the signature three stripe design prominently featured on the throat line area, which makes them a real eye-catcher to look at.
Now, Adidas have been making soccer cleats for a very long time, having started up as a company in August of 1949.
They have a solid reputation for making sports footwear, especially in soccer as the Predator model of cleats has a famous history.
You only have to look back to the likes of talented superstars such as David Beckham and Steven Gerrard, to see how far the Predator legacy runs back.
With their newest iteration, Adidas are really taking power and accuracy to even higher heights.
Here's how…
HybridTouch upper
First off, you get a soft HybridTouch upper with High Definition Grip rubber elements in the strike zone.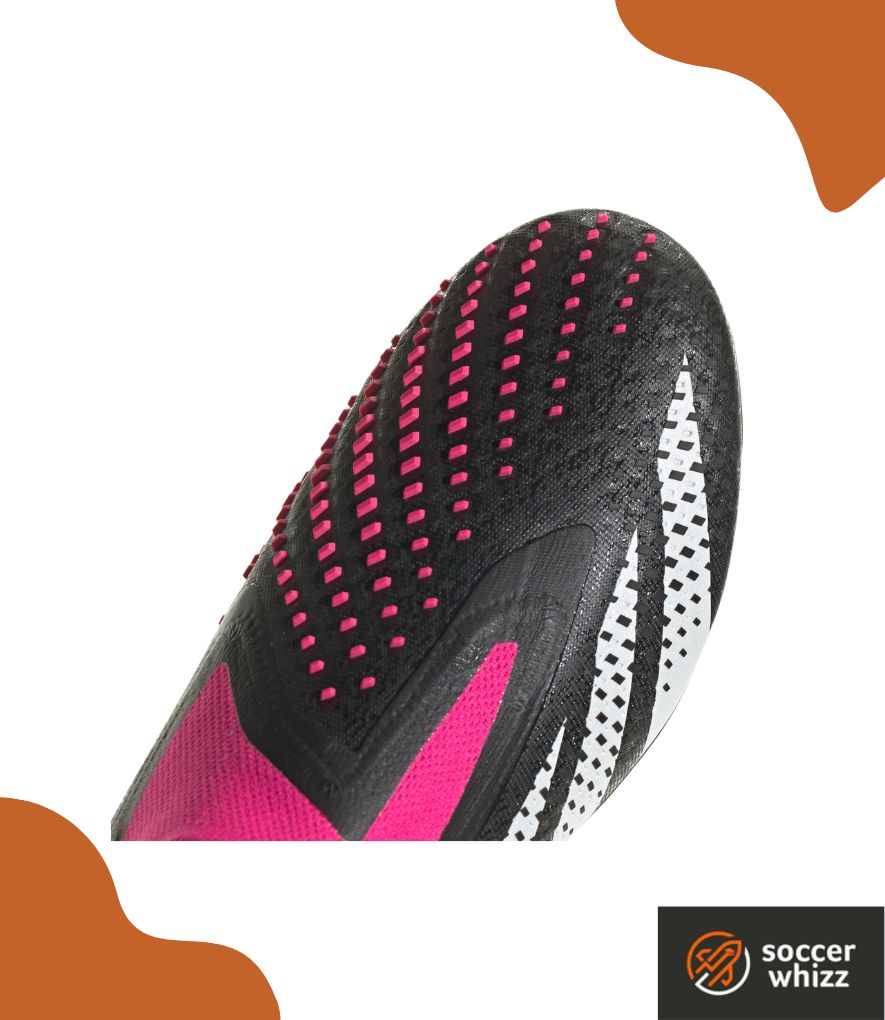 This can be seen with the neat separation of little dots present on the upper part of this cleat's design.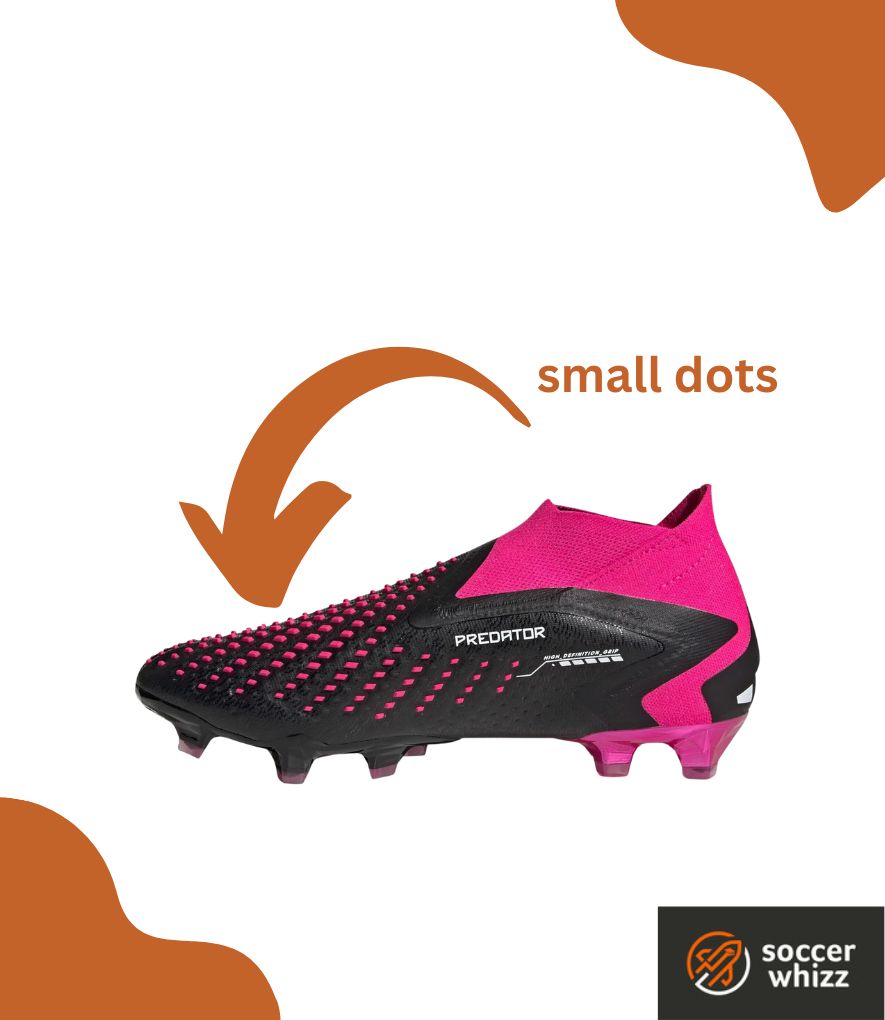 You immediately get the sense that these cleats are purpose built for striking the ball with power and accuracy, which makes them a fine choice for strikers looking to find the back of the net.
What is great about the hybrid upper is that it provides solid grip and control on the ball, all whilst ensuring the forefoot stays flexible for comfortable movement.
Instead of your shots blazing over the bar frame and into the crowd, wearing these should help with getting more of your goal attempts on target.
Split outsole
With the split outsole, traction problems become a thing of the past for players looking to accelerate quickly from a standing start.
The arrangement of the studs – which sees a clear division between the spikes at the front of the cleat outsole and those at the back – makes these cleats great for firm ground.
What's more is that the split outsole includes a power facet that enables players to get more power on their strikes.
PrimeKnit collar
Finally, the smoothness of the two-piece collar adds extra comfort to the laceless tongue when these cleats are worn.
It really wraps around your feet like a second skin.
This is great for players with sensitive ankles that can't withstand the abrasion and skin scraping that comes with wearing soccer cleats with a less flexible collar opening.
Video reviews
Here are two video reviews for these laceless soccer cleats that are worth watching:
Other specifications
Material – upper contains a minimum of 50% recycled content as well as synthetic fabric
Mid-cut textile upper
Sole plate – firm ground
Fastenings – laceless
2. New Balance Tekela v4 Pro Soccer Cleats
Sale
New Balance Tekela v4 Pro Cleats
Full-foot stretch-knit upper with minimal texture and weight to bring you closer to the ball
Laceless closure for secure lockdown and stability
3D knit collar for grip and ease of entry
Here we have another fine laceless choice for attack-minded soccer players.
Introducing the New Balance Tekela v4 Pro Laceless Soccer Cleats.
They've certainly got a catchy name to them and that's not all that stands out about this footwear.
New Balance have really ground their way into the sports equipment limelight which has so often been filled by traditional giants like Nike and Adidas.
What's equally impressive is that their ambassadorial work with established soccer athletes like Liverpool's Trent Alexander Arnold and Bayern Munich's Sadio Mane has catapulted their business and attracted a young legion of fans eager to try on their gear.
These soccer cleats don't fail to disappoint in the slightest, as they've got a great feature set which consists of the following:
Full-foot stretch-knit upper
Now this element sounds a bit fancy but it's actually pretty simple to grasp in real terms.
What it means is that when your foot rests inside the cleat, it isn't restricted by the fabric coating, which provides the flexibility a player needs to trap the soccer ball securely and with greater precision.
The minimal texture and weight bring your feet even closer to the ball when it's in your possession, which is great for those attacking midfielders and wingers who like to dribble in tight spaces.
Additionally, the seam-free off-set instep zone present beside the upper helps with tighter ball control and releases pressure when you make that touch.
The last thing you'd want as an attacking forward is to lose momentum in a transition play through failure to trap the ball precisely.
Multi-directional conical stud configuration
The configuration of the studs beneath the cleat are also a sight to behold.
As you can see from the photo below, the arrangement here is a conical one:
In combination with the TPU angled studs, this configuration blesses those who are agile enough to make the most of it, as the traction you get is fantastic for making lightning fast turns and changes of pace on firm ground surfaces to outwit opposing defenders with rapid movement.
Video review
Here's some video footage taken by a buyer who's had the opportunity to put these soccer cleats through the paces for an entire month:
Other specifications
Sole plate – firm ground
Heel type – block heel
3. Puma Ultra Match + Soccer Cleats
Sale
Puma are a brand that are always there or thereabouts when it comes to having a top product.
Over the decades they've done well to take a chunk of the financial pie in the sports apparel market, which is largely dominated by Nike and Adidas.
Credit must be given to them for designing a laceless cleat that caters well to creative speedsters.
Think about a player like Neymar and how he glides around the pitch so quickly with the ball at his feet.
The unique construction of these cleats is tailored to such performance, and here's how Puma goes about ensuring this:
GripControl mesh upper coating
Unlike other cleats that come with an upper coating that features solid leather, these cleats have a lightweight mesh upper.
This is great for players of the pacey and creative mold whose first thought is to get past an opposition player with speed and a sprinkle of creative footwork.
Puma's Ultra Match + Soccer Cleats provide the nimble platform for athletes to step past their opponent like a breeze, as the mesh has been reinforced with a thin layer of GripControl skin for decisive command over the ball.
The skin is also fairly resistant to the natural elements, as you should expect the same sort of close control under different weather conditions such as rain or snow.
TPU Speedplate outsole
Another impressive part of the cleat design is the thermoplastic polyurethane (TPU) outsole.
This has been fitted to give athletes that burst of acceleration they need when making a sprint.
Just think about how professional players like Kingsley Coman are able to get past their markers with relative ease.
He drives towards the byline or cuts inside and in an instant he's off and through on goal.
Ultimately, the underfoot is well designed for you to get off to a blistering start in a foot race with your opponent.
Other specifications
Collar – knitted low cut
Sole plate – firm ground
Other laceless soccer cleats worth considering
Here are some alternative laceless soccer cleat options which are more friendly on the wallet:
Closing thoughts
With this lengthy product roundup all wrapped up, you now know which laceless soccer cleats on today's market offer the best value for money.
Should you wish to explore the topic of soccer cleats even further, you can check out our other post on whether soccer cleats can be used for American football, as it's quite informative.
Naturally, you'd want to know whether a soccer cleat purchase can have extended utility which runs all the way through to another sport.
Latest posts by Samuel Waihenya
(see all)