Disclaimer: Soccer Whizz is a participant in the Amazon Services LLC Associates Program, an affiliate advertising program designed to provide a means for sites to earn advertising fees by advertising and linking to Amazon.co.uk (source: Section 5). As an Amazon Associate I earn from qualifying purchases. I also earn commissions from ShareASale affiliate links within the content.
Younger soccer players need ample protection for their legs as they play the sport, particularly because their bodies are yet to reach full maturity.
When you also consider the fact that kids are more likely to be rash in their challenges when it comes to contesting for the ball, it makes a lot of sense to purchase a pair of shin guards for them.
But where do you start?
In today's world, there are so many different retailers that buyers can suffer from having a wealth of too many different options to choose from.
You don't want to have to deal with that overwhelm, as it'll only make you more frustrated at how difficult it is to buy sports gear for your child.
So, that's where we want to make things easy for you.
This article will present an evaluation of the standout options for youth soccer shin guards; taking away the headache of choosing a quality pair for you.
Let's begin with a quick look at the recommended picks:
Overall, the Nike Charge Youth Shin Guards come top of the pile. Mainly because they tick the three major boxes of offering ample shin and ankle protection, comfort through the foam backing that's soft on the skin, as well ease of use when putting them on with the anatomical fit and stirrup design.
How we selected the best youth soccer shin guards
The first step involved compiling an exhaustive list of all the soccer shin guards for kids and youth players alike, from all the major brands that you find with listings on online retailers such as Amazon and Pro Soccer.
Once that was done, we spent a lot of hours analysing the feedback given from verified buyers of the shin guards.
End users are in the best position to give an evaluation of the shin guards in question, so we relied on their input when it came to deciding which options to list within this roundup.
How the best youth soccer shin guards were tested
With the above information in mind, we looked for several basic criteria, such as:
Extra ankle support provided with cushioned ankle padding;
Durable outer shell made of carbon fiber material for the best shin protection;
Ample comfort and cushioning through soft inner material; and
Breathability through moisture-wicking components
Anatomical design (i.e. custom shin fit for the left and right leg) was an additional bonus.
Now, let's review each option in detail…
1. Nike Charge Youth Shin Guards
The first youth soccer shin guard option that we wish to bring to your attention is the Nike Charge Youth Shin Guards.
Without a shadow of a doubt, you'll have heard about the sportswear giant Nike or used one of their products, so we don't have to give you an introduction into what they're all about.
The company has been in operation since 1964, when it was founded under a different name (i.e. Blue Ribbon Sports).
Nike's exemplary track record of producing quality soccer equipment has never been in doubt, as they excel at marketing their range of products such as cleats, gloves, t-shirts and socks to customers in multiple corners of the world.
Of course, these days people are more vocal about their lack of quality control on their sneaker products, which have recently come under a lot of scrutiny.
But it's safe to say that the youth soccer shin guards they've developed here don't appear to be a victim of this, at least at first glance.
Let's now drill down into how they've been crafted…
Pull-on stirrup design
Your child doesn't have to fiddle about with these shin guards when it comes putting them on, because of the easy way in which they've been made to slip on and cover the leg.
All you have to do is slip your feet through the ankle support and slide these shin guards up your leg.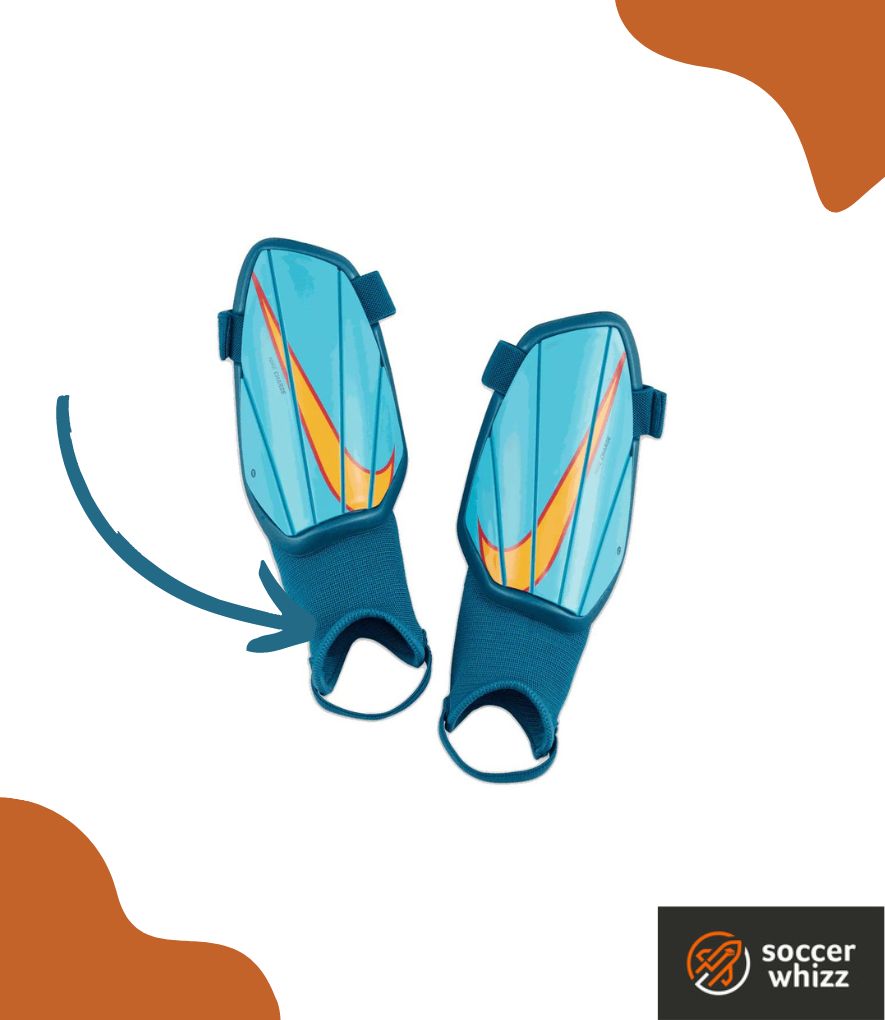 With the elastic bands and Velcro strapping, you can adjust the fastening to have them as tight or as loose as you want.
Ultimately, this design keeps the shin guards firmly in place as you play, which is what is needed to ensure maximum protective coverage for your legs.
Hard outer shell
Youth players are more likely to be rough around the edges when it comes to their discipline and choosing the right moments to fly in for a tackle.
This means they're more likely to encounter bumps and bruises from collisions with other players on the field.
Fortunately, these shin guards come with a hard shell that provides low-profile impact absorption.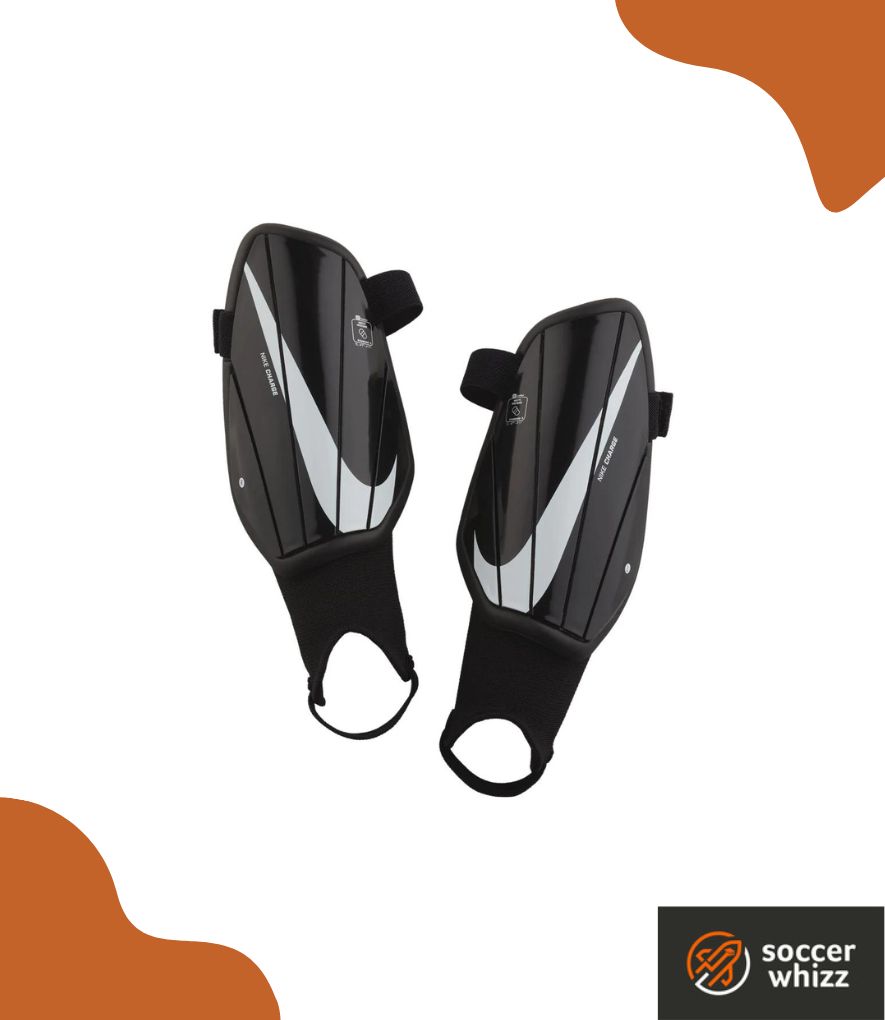 What that means is that this product does a pretty good job of protecting young players from those forceful impacts that are bound to happen during games.
Foam backing
Shin guard for youth players aren't good enough if they're not comfortable.
Nike does a considerable job of ensuring that by incorporating a foam backing that fits the contours of your skin.
Coupled with an anatomical fit, these shin guards are well built to cater to the shape of each leg.
Other specifications
Shell composition – 43% polypropylene, 33% ethylene-vinyl acetate (EVA), 17% polyester, 7% rubber
Weight – 190 grams
2. G Form Youth Pro Shin Guards
G Form Youth Pro Shin Guards
G-Form's proprietary and patented molded composite constructions and designs with a unique integration of (RPT) to provide a superior combination of impact protection, comfort and performance.
These football shin pads for children which are sold in pairs are very low-profile, giving you an edge over the competition.
NOCSAE and CE certified for Outdoor/Association Soccer (CE EN 13061:2009)
Next up in this product roundup are G Form's Youth Pro Shin Guards.
You probably have never even heard about the company that produces these, as they're not your typical Nike, Adidas or Puma outfit.
So, here's some enlightenment for you.
G-Form is an American company that has been brought up by technology.
They developed a revolutionary "SmartFlex" technology in a manufacturing plant, and they've been able to integrate it into a wide range of different products which they sell, such as:
Hiking gear;
Baseball equipment;
Cycling gear; and most importantly
Soccer gear
What they've also done which is quite unconventional is provide protection for athletes through the sustainability of their equipment.
Going green is the craze, but G-Form take things a step further by using that sustainability objective to deliver durability when it comes to their youth shin guards.
Here's a quote from their website that sums this all up:
"G-Form pads are created using a patented sealed system that provides a waterproof barrier, ensuring that perspiration or outside elements do not damage the integrity of the products. This means our pads will significantly outlast products made with EVA or PE materials – saving tons of discarded worn-out pads from ending up in landfills."

Source – G-Form LLC
If that's left you impressed, then you're about to be blown away by how they make their shin guards function so well.
Have a read below for more details.
SmartFlex padding
G-form have created a proprietary and patented molded composite constructions for their youth shin guards that are simply brilliant.
Here's a video which breaks down how their SmartFlex padding comes together:
So, their SmartFlex design come with a unique integration of body-mapped and sculpted padding that offers form-fitting impact absorption, as well as flexibility when soccer players are twisting and turning on the field.
What is also quite fascinating about this product is that the padding on the shin area hardens upon impact, meaning that youth players can rest even easier knowing that there's extra reinforcement being given to them to keep their legs safe from injury.
Ultimately, their shin guards provide a superior combination of impact protection, comfort and performance, all at the same time.
Contoured seam
These shin guards also differ from others on the market when it comes to the fact that they offer calf compression.
You're probably well aware of the benefits of better blood circulation on the muscles, and these shin guards do just that through their single contoured seams which are built for optimum calf compression.
Other specifications
Shell composition – 82% polyamide, 18% elastane
Fastening type – slip on
Certification – NOCSAE and CE certified for Outdoor/Association Soccer (CE EN 13061:2009)
3. Adidas Youth Tiro Match Shin Guards
Third up, we have these No products found..
Like Nike, Adidas has a fantastic reputation of delivering sportswear for soccer players all around the world, which should fill you with confidence for the youth soccer shin guards that they have on offer here.
Here are the standout features:
Anatomically designed asymmetric shield
One thing that really stands out with these shin guards is how the plastic outer contours to fit the shape of a player's left and right leg.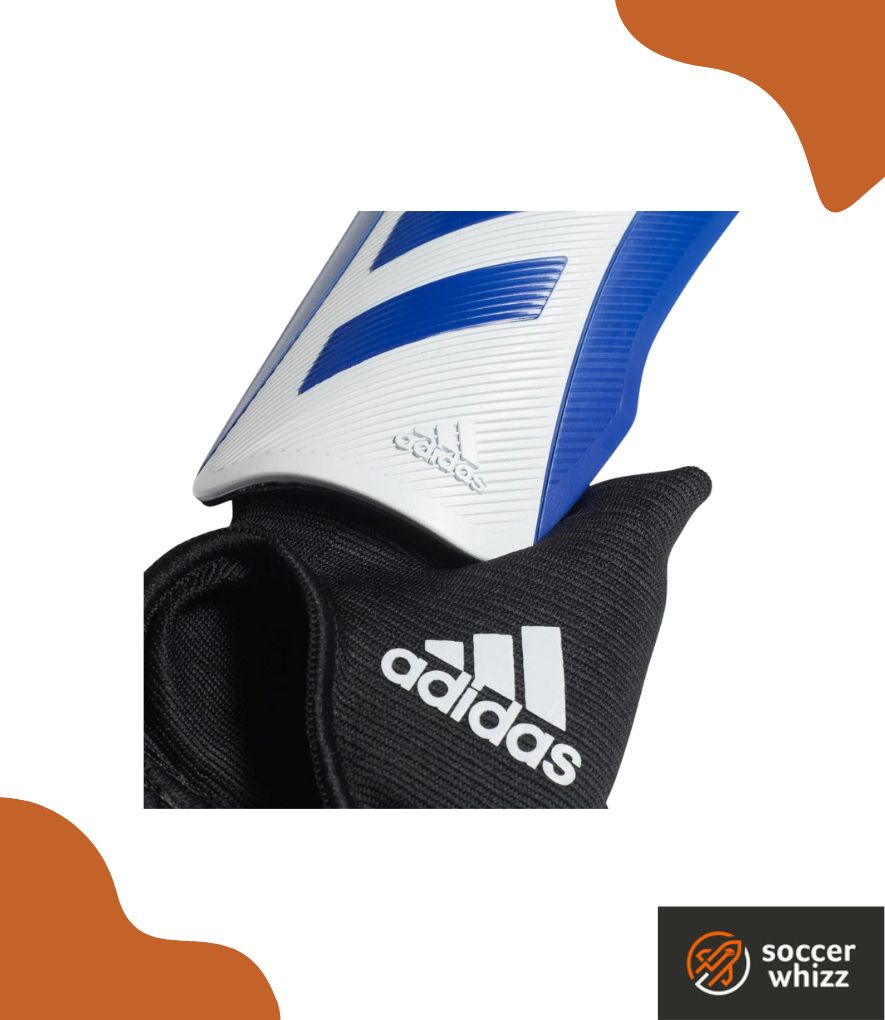 You get separate shapes for each leg, with the EVA-backed shielding that's embedded into the material providing ample leg protection for those crunching tackles by absorbing impacts.
Attached ankle guard
Adidas have also focused on not just keeping the upper leg well protected, as they've included ankle support for each shin guard as well.
This is a great addition because players at this level tend to leave their feet in when going into tackles.
Such rash behavior is to be expected for kids that are still learning about different aspects of the game like developing better timing when it comes to regaining ball possession.
So, top marks to Adidas for looking to protect the ankle area as well.
Video review
We managed to find a decent video that covers what these shin guards look and feel like once taken out of the delivery packaging.
Have a watch below:
Other specifications
Shell composition – 95% polypropylene, 5% thermoplastic rubber (TPR) injection molded
Closure type – hook and loop
Other youth soccer shin guards worth considering
Having gone into greater depth for the highlight choices, we'll leave you with some other shin guard options that you may want to prospect:
Sale
Shin Pads Boys CE Certified Airsfish Kids Football Shin Guards Breathable Non Slip Extended Adjustable Straps Lightweight Soccer Shin Pads for Boys Girls Teens Leg Calf Protective Gear Black
【CE Certified Shin Pads】CE Certified Football Shin Guards professional designed for kids/youth soccer player protection for training or matches,made of high-quality hard PP shell,has a high impact resistance performance,lightweight and durable.more protective than ordinary shin pads,They will greatly reduce the risk of serious injury.NOTE:1.Shin Pads will not cover the entire calf.2.If the size you received does not fit,please contact us for a free exchange(Patent Pending)
【Comfort & Durable】Airfish using the new kind of environmental protection EVA material,it has high resilience and tension resistance,strong toughness,good shock resistance and cushioning.The first to use a safe and skin-friendly velvet cloth to wrap the inside,improved comfort and breathability, more sweat-absorbent and non-slip than traditional only EVA inner.The upgraded nylon edging design prevent cracking,reduces friction on the legs,increasing durability and aesthetics.
【Lengthen 3.6 cm/1.4 inch Velcro Strap】Two adjustable elastic Velcro straps fix the shin guard up and down, prevent its glissade, Fit well and easy to put on or take off. Dual adjustable hook and loop buckle add more stability at the same time, preventing the shin guards from falling off effectively. Velcro straps lengthened 3.6 cm/1.4 inch to make the adjustable length range wider. Your children can adjust to appropriate lengths according to their lower leg size.
Malker Football Shin Guards for Kids Youth Adults Shin Guards Pads with Sleeves, Lightweight and Compact, Protective Soccer Equipment
Safety Protection: our soccer shin guards can resist external impulsive force effectively, thus providing powerful protection for lower leg and reducing sports injury.
Comfortable Lightweight Breathable: the lower leg sleeves are made of air-permeable mesh Dacron fabric, which is both stretchy and can let air in, effective to protect calf muscles. The outer covering of shin guards plate is made of solid plastic materials, and there is a layer of EVA sponge inside to relieve external destructive force.
Sizes: there are three sizes soccer shin guards available, which are intended for children, teenagers and adults, boys and girls.
Sale
How you can choose soccer shin guards for your child
When you're buying shin guards for young players, you primarily want to take into account their safety as they compete.
This can be done by weighing up the following areas:
Ankle protection
Shin guards with ankle straps offer extra reinforcement by wrapping under the feet.
For young players, you'll want to look for shin guards that come with this ankle support, as the other types are slip-in and only take care of the shin area.
Hard shelling
Another thing you'll want is the outer shell of the shin guard to be solid enough to protect the youth player's legs as they perform.
Now, the two most common shin guard materials are plastic and carbon fiber.
For the best protection, you should go with carbon fiber as it's lighter and stronger for high level play.
What are the best shin guards for kids?
It's a tough call to decide a winner, but if one were to choose in an isolated moment the winner would have to be the Nike Charge Youth Shin Guards.
They've got ankle support, anatomical design and hard shelling, which are the main boxes that a buyer would tick for a youth soccer shin guard.
If you've enjoyed the browse, then you should proceed to have a look through our guide on how to wear your shin guards the right way, as that's the natural progression someone would take having bought a pair that they're happy with.
Alternatively, you can read another product roundup which is focused on the best soccer shin guards overall, as there are options there for adult players worth checking out.
Thanks for reading!
If you enjoy the content that I create and would like to buy me a coffee, then I'd really appreciate it!
Any money that I earn through this donation will be re-invested into more content for this website.
Additionally, by sending in a donation you'll also receive a copy of my recently released 190+ page eBook on Soccer Ball Care, as well as be subscribed to our mailing list where you'll be regularly informed on the latest developments concerning the Soccer Whizz blog.
Latest posts by Samuel Waihenya
(see all)