The goalkeeper gloves you bought five years ago have taken a battering.
In addition to being worn out, they no longer fit snugly when you try to put them on.
Listen up…
The aforementioned scenario is something that many soccer players experience.
If you've been playing the sport since you were little, you're very likely to have gone through the process of upgrading the size of your soccer cleats as you grew older.
On a similar note, goalkeepers have to replace their gloves all the time too, and that means the old products usually get left behind and forgotten.
But this outcome doesn't necessarily have to be the case!
Instead of throwing your old pairs of goalkeeper gloves in the trash can, you can donate them to a charity organization of your choice. Alternatively, you can dust them off and sell them for a discounted fee. And if those two options don't particularly appeal to you, then you could store them away in a box or cabinet, or simply repurpose them for a different use case.
What things can you do with old goalie gloves?
It's certainly tempting to throw away old goalkeeper gloves.
Especially when a pair you used to wear doesn't fit you comfortably anymore, and you're not blessed with a younger sibling that you could hand them down to if they shared a similar interest in the sport, then on the surface of it you're left with little options other than discarding them.
However, because human beings are generally lazy people, we don't often explore all of our existing possibilities.
There are so many different things you can do with goalkeeper gloves, so let's expound on the courses of action that were initially outlined higher up in the article.
1. Donate
Giving your goalkeeper gloves away to a charity organization is one of the kindest things you can do with your unwanted soccer gear.
This is because your simple donation makes a huge impact in the lives of the underprivileged children and families who are the likely benefactors of your generous giving.
When it comes to donating your old goalkeeper gloves, one of the organizations that I'd highly recommend you to consider is The Glove Bank.
It was founded by professional goalkeeper Asmir Begović – currently plying his trade with Everton in the English Premier League.
Have a look at this recent post published on their Twitter feed where they showcase the gloves that were handed out to children in Ghana, for example:
Begovic explains the project in more detail below:
Once The Glove Bank receives your old goalkeeper gloves, they refurbish them before sending them over to young goalkeepers in various parts of the world who can't afford to buy their own pair.
Not everyone on the planet is privileged enough to have the opportunity to buy such essential goalkeeper equipment, so this is a fantastic initiative that's worth getting behind.
All you have to do is send your used gloves to the postal address outlined on their website and you're good to go!
2. Sell
Other times, you might decide that the best way forward with an old pair of goalkeeper gloves that you have sitting in your wardrobe is to resell them.
You can give them a nice clean before sticking them up for sale on an online marketplace of your choice.
A good option for this would without a doubt be eBay.
Here's a screenshot of some listings for used goalkeeper gloves, so that you can get a little feel for how the platform looks before jumping onto the next step: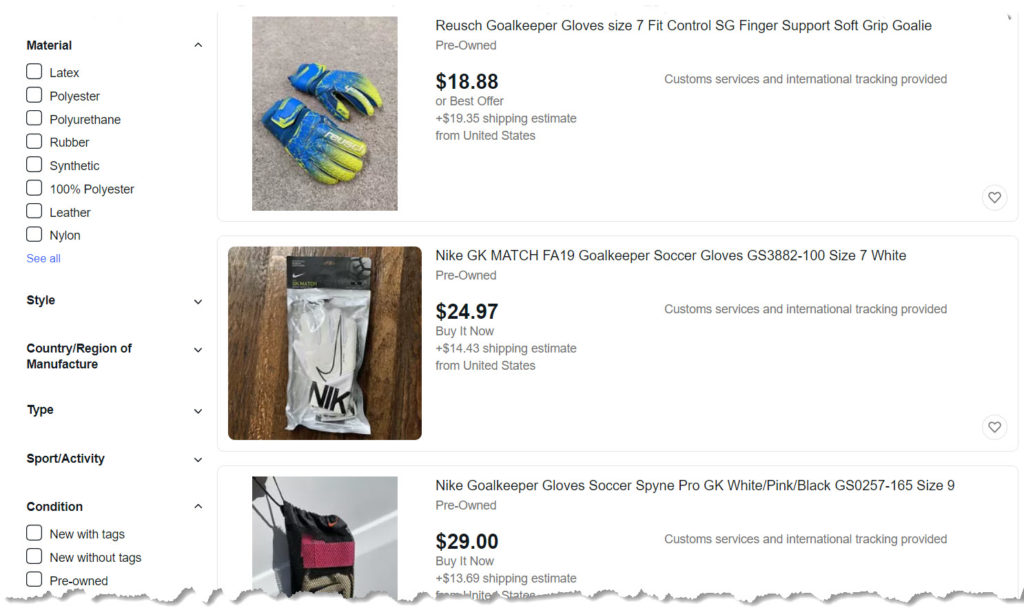 Notice how you can upload your own set of pictures of the gloves to show potential buyers the sort of condition they're in, as well as what color they look like.
The good thing with this path is that you recoup some of your initial investment on the gloves, which is always nice to have.
3. Repurpose
Another thing you can do with old goalkeeper gloves is repurpose them.
You don't even have to stretch them out and cut them open, as you can simply decide to use them for something like plucking out weeds from your home garden.
But if you do decide to do some intense surgery on them, you could consider using them for flower pottery or something similar.
4. Store
Finally, you have the option of storing your old goalkeeper gloves in a box or cabinet.
Nostalgia is nice to experience from time to time, because your mind gets taken back to a different part in time where you remember yourself making acrobatic diving saves and other sorts of innovative goalkeeping moves.
A lot of people also associate a lot of happiness and joy in their lives from the products that they used to use in the distant past, so keeping them nicely tucked away is a good way of reliving those positive memories.
And on a separate note, our post on what to do with new goalkeeper gloves also explains the storage process from the angle of preserving useful life.
Check it out!
Final thoughts
This article has covered a lot of things that you can do with old goalkeeper gloves.
Just to recap…
Old goalkeeper gloves can be donated to those in need; resold for a lower price than they were bought on a platform like eBay; repurposed or even stored away in a box or cabinet for nostalgia.
And once you figure out what you're going to do with your old goalkeeper gloves, then you might as well consider the possibility of buying a great new pair!
If that's on your mind, then check out our article covering the best goalkeeper glove options available today.
If you enjoy the content that I create and would like to buy me a coffee, then I'd really appreciate it!
Any money that I earn through this donation will be re-invested into more content for this website.
Additionally, by sending in a donation you'll also receive a copy of my recently released 190+ page eBook on Soccer Ball Care, as well as be subscribed to our mailing list where you'll be regularly informed on the latest developments concerning the Soccer Whizz blog.
Latest posts by Samuel Waihenya
(see all)