Disclaimer: Soccer Whizz is a participant in the Amazon Services LLC Associates Program, an affiliate advertising program designed to provide a means for sites to earn advertising fees by advertising and linking to Amazon.co.uk (source: Section 5). As an Amazon Associate I earn from qualifying purchases. This blog also receives small commissions from CJ affiliate links placed within this article.
As an amateur football player, I can vividly recall the sheer amount of pain I felt every time I rolled over my ankle.
It's a sensation that I wouldn't wish on my worst enemy.
The ankles are such a delicate part of the human anatomy, and they need to be supported and protected in order to prevent injuries to the area of the body in question.
So, in today's article, I'll be taking a deep dive into the best football ankle braces that athletes can purchase in 2022.
Here's a quick summary of my top choices:
The McDavid Light Ankle Brace with a Figure 6 Strap comes ahead of the chasing pack due to its impeccable ability to restrict lateral movement around the ankle in a way that does not discomfort or impede the natural motion of the athlete.
In addition to that, the laces afford the wearer additional customisability, as the tension of the brace can be adjusted to preference.
Now let's talk about the aforementioned ankle brace options in greater depth.
1. McDavid Light Ankle Brace with Figure 6 Strap
McDavid Light Ankle Brace
✅ PREVENTION AND RECOVERY - The McDavid ankle brace is not only very appropriate for injury prevention, but also for recovery after injuries. If you want to return to your favourite sport after a serious ankle injury, this McDavid Ankle Support is a Must-have. It is scientifically proven. Athletes who participated in an independent study had 3 times fewer injuries when wearing this McDavid Ankle brace.
✅ SAFETY - The McDavid sports ankle brace provides the same level of support as that provided when using a sports tape - but in a reusable and economical way. The individually adjustable design of the ankle support is based on the sports strap and offers you maximum support.
✅ STABILIZATION - Thanks to its laces, the McDavid ankle brace can be adjusted according to your needs. The laces offer you the opportunity to choose the bandage tension that feels perfect for you. The laces are covered with straps so that you don't have to worry about continuing to practice your favourite sport. In addition, a stretchable arch is added to the Achilles heel to limit resistance as you move your foot forward.
McDavid can be lauded for taking a safety-first approach into the development of this ankle brace.
Thanks to the figure 6 strap present on this Figure 6 Ankle Brace, it creates a natural arc around your ankle that acts as a barrier which effectively amplifies the overall stability of the ankle when planted on surfaces such as grass or turf.
Additionally, the manufacturer designed this brace with the goal of preventing an athlete's ankle from dislocating sideways. Their incorporation of a stretchable arc at the Achilles area serves to reduce resistance when an athlete moves forward sharply.
They also haven't neglected customisability with this brace, as the laces give the athlete full control over how much tension they want around their ankle. The laces are also covered with straps so as to minimise interference with sporting performance.
This ankle brace is also fairly comfortable to wear, as the latex-free neoprene material provides thermal compression and the padding situated on the inside of the brace is soft on the skin.
You might also be interested in checking out some McDavid ankle brace alternatives, such as the:
2. Aircast A60 White Ankle Brace
No products found.
This No products found. was specifically designed for British tennis sensation Andy Murray for a Grand Slam tournament at Wimbledon.
But its overall quality makes it a great option for footballers too, as there is a significant overlap between the two sports in the way in which the athletes twist and turn on the field and on the court.
The A60 ankle brace is said to reduce injury occurrence rates and prove useful for thing such as:
Ankle sprains and fractures
Tarsal tunnel syndrome
Chronic instability
Its most prominent feature is the stabiliser guards that are fixed in place at either side of the athlete's ankle at 60-degree angles. They function to protect the athlete against ankle rolls.
This ankle brace is also stitched together with a number of different materials such as nylon, elastane, spandex and polyester.
What's more is that it also comes with a single piece of strapping that allows the wearer to tailor the compression fit to their own preference.
3. MEDIZED Ankle Brace
MEDIZED Ankle Brace
【ANKLE BRACE WITH INNOVATIVE & 360° DEGREE DESIGN】: MEDIZED has developed Ankle Stabilizer Support Brace that provides effective, stronger, and stable support for your Ankle. The brace is designed with 2 straps that forms figure 8 to protect and support ankle. Further, the brace has been designed with 2 side stabilizers to provide stronger and effective support. Its non-stretch stabilizing straps mirror the stirrup technique of an athletic taping procedures.
【STRONG SUPPORT & STABILITY】: The Ankle Stabilizer Support Brace has been developed with 2 Stabilizers on both the sides and 2 straps that provides strong support and effective stability to the ankles. The brace has been designed to help prevent and treat Ankle Sprains. The Ankle brace fits comfortably into normal athletic or street shoe. This is highly effective lace up Ankle Brace with straps that replicate ankle taping, securely locking heel in place.
【RLIEF IN PAIN AND PROTECT & REHABILITATE THE ANKLE】: Recommended for ankle injury rehabilitation/mobilization from sprains and strains. The brace is widely used for prophylactic use. It supports for chronically weak ankles. The ankle brace provides compression and comfort to a soft ankle with significant higher protection than traditional stirrups.
The MEDIZED brace has been designed to afford athletes 360-degree ankle support.
It comes with 2 straps that the wearer is supposed to use to form a figure 8 shaped taping, which ultimately secures the heel firmly in place.
Furthermore, the brace is equipped with 2 stabilizers situated on either side of the ankle covers, and they function to provide complementary cushioned support.
Overall, it is a nice mid-range option for chronic ankle instability, as well as prophylactic and therapeutic use in sporting activities like football.
4. CAMBIVO Ankle Support Brace
CAMBIVO Ankle Support Brace
2 PAIRS(Pack of 4) INCLUDED! - Cambivo ankle brace is equipped with a comfortable fit cuff and non-slip texture that can keep your feet in place to prevent slipping. Our plantar fasciitis support' open-toe design and soft material enable your feet more freely when wearing under any socks or with sandals, slippers, sneakers, heels, and shoes.
PERFECT FIT AND COMPRESSION - The ankle support sleeves provide great compression around your arch and ankle area. The unique structure and shape of the plantar fasciitis socks provide support for every step you take to help you achieve a better sports performance.
BREATHABLE FABRIC - The plantar fasciitis support socks lightweight and breathable material can keep your feet dry for no sultry feeling. CAMBIVO ankle support brace is made of moisture-wicking material, which can dry rapidly to make your skin surface nonstick.
Now here is an ankle brace that is of the previously outlined sleeve type.
The non-slip texture of the CAMBIVO Ankle Support Brace keeps the athlete's feet in place so as to prevent slipping, and the open toe design enhances overall comfort.
They also do the job that they were created for, as they offer ample compression around the arch and ankle areas of the feet
In addition to that, the elastic three-dimensional (3D) fabric wicks away moisture and does a fantastic job of keeping the lower leg muscles warm, as heat is able to penetrate faster and further into the skin of the wearer.
5. Bodyprox Ankle Support Brace
Sale
Bodyprox Ankle Support Brace
Provides adjustable support suitable for sprains and mild swelling from overworked muscles. It features a shorter style that is more suitable for all ages when compared to our other braces. It contains 70% neoprene for its heat-retaining benefits and 20% nylon for added stretch and comfort.
Extremely flexible and moves with your body as it progresses through the healing process, providing support and stability. The use of rigid, hard-shell braces when it's not required can cause further damage to your injury by preventing movement altogether.
Personalized compression with three3 adjustable straps that can fit feet of all sizes. The instep and heel remain open to promote comfortable movement without bunching or pinching. The brace is perforated to allow your skin to breathe while maintaining muscle warmth.
In my opinion this Bodyprox ankle brace tops the list in the budget range.
The brace is comprised of a quality neoprene material that is specially perforated to keep the athlete's feet cool, along with hindering the growth of odour-causing bacteria.
You can also tell that they've built it with the end user in mind, as they've placed a great amount of emphasis on protective and preventive features.
This is best exemplified by the adjustable strap that comes with reliable Velcro adhesion which keeps the brace in a semi-rigid state that is not too immobilising for the wearer.
Other ankle braces for soccer worth considering
Now this article has pinpointed the top five ankle brace options.
But beyond that, there are some alternative products that might be worth a look at.
Here's a list of choices from Mueller that you can peruse:
What is an ankle brace?
Benefits of ankle braces
The best football ankle braces offer athletes many discernible benefits, and I will now talk about a few of these at length.
Reducing swelling
We've all been there.
The demands of this sport can take a toll on the human body and sometimes we make sacrifices in order to not let our team mates down.
This involves making ourselves available for competitive action even when our ankles may be swollen and in need of a prolonged break from the demands of twisting and turning that the beautiful game dictates.
Ankle braces reduce this swelling by eliminating pressure and reducing the load on the foot and ankle area, which helps to prevent further damage whilst relieving short term pain.
Injury prevention
The good thing with ankle braces is that they don't only offer support to the ankle after an athlete experiences gets hurt, as they are also effective at snuffing out any discomfort or injury beforehand.
This is backed up by a study conducted by the University of Wisconsin who discovered that American football players who wore ankle braces were 61% less likely to suffer from acute ankle injuries when on the field.
Accelerate healing
When athletes are looking to get back into competitive shape after an ankle injury, braces help to slowly ease the ankle in.
They do this by helping the athlete to regain their full range of motion by providing support for weakened ligaments and joints.
More so, ankle braces are an important part of an athlete's rehabilitation process after a major injury, particularly when a patient resumes light physical activities such as brisk walking and jogging.
Things to consider when buying an ankle brace
Buyers need to be conscious of a few key points before heading out to make their purchase.
I will now highlight a few of these…
Brace type
Not all ankle braces are the same, and there are in fact 3 different types of ankle brace:
Sleeves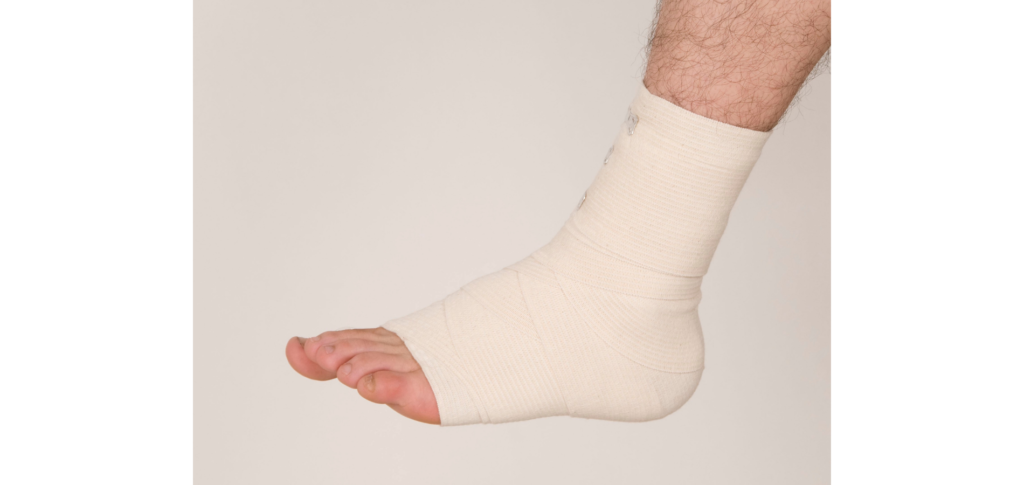 The sleeve type ankle brace is in fact similar in appearance to an elbow compression sleeve.
Neoprene or knit fabric are the materials that are most often used to make them, and they are purposefully designed to alleviate symptoms of arthritis, tendonitis or plantar fasciitis.
Additionally, they are lightweight in nature, which promotes flexible movement for the athlete, all without neglecting the overall objective of giving ankle protection.
Straps
The strap type ankle brace is not far away in resemblance from the previously talked about sleeve type.
Where the former differs considerably is with regard to the strapping.
The straps are fairly elastic and are held firmly together by sections of Velcro.
Footballers tend to prefer this ankle brace type because it constantly keeps the ankle protected and it offers firmer support that restricts any needless movements.
Laces
Lace-up ankle braces look just like a pair of shoes.
Once tied up correctly, the laces offer greater foot and ankle compression.
This makes them ideal for athletes recovering from existing injuries as they will want maximum support to the afflicted area, along with the ability to restrict any sort of forceful ankle movement that could result in an injury setback.
The material
As a prospective buyer you will also need to think about the material that has been used to make a functioning ankle brace.
This is because different materials have different properties. Some materials are better at absorbing shock and pressure than others, others offer a greater range of ankle mobility or support, whilst some materials offer better moisture wicking properties and breathability which helps to keep your feet cool and dry during a football game.
Support level
When it comes to ankle support, you should simply think about a linear scale.
The rule here is that the greater the level of support the ankle brace has, the more protection the athlete's ankle is afforded.
But these benefits come at the expense of mobility, and vice versa.
Frequently asked questions
Before I wrap up this roundup, I'm going to answer a couple of questions that tend to pop up regarding ankle braces.
Will I still get injured if I wear an ankle brace?
Ankle braces are not the complete solution to ankle injuries, and even though the added support provided makes it much more difficult for an injury to occur, it is still entirely possible.
Can I wash my ankle brace?
Yes, it is perfectly fine to wash your ankle brace and in fact it is recommended due to the way the human body works.
When running, turning and twisting, your feet produce sweat which is absorbed into the fabric. You will need to wash the ankle brace with a combination of mild soap or laundry detergent and cold water to keep it smelling fresh.
How long does a good ankle brace last?
This answer is going to be different for each individual as it is based on the person's own frequency of activity.
However, if the use case is aligned with occasional recreational use, then a 2- year period where the product retains its shape and quality can be expected.
Final thoughts
And that brings me to the end of this product roundup!
In my own personal opinion, the McDavid Light Ankle Brace with a Figure 6 Strap is the clear winner.
It is seriously effective restricting lateral movement around the ankle in a way that does not discomfort or impeded the natural motion of the athlete, and the laces afford the wearer additional customisability, as the tension of the brace can be adjusted to preference.
NOTE: You might also want to check out the best options for protecting your shins.
If you enjoy the content that I create and would like to buy me a coffee, then I'd really appreciate it!
Any money that I earn through this donation will be re-invested into more content for this website.
Additionally, by sending in a donation you'll also receive a copy of my recently released 190+ page eBook on Soccer Ball Care, as well as be subscribed to our mailing list where you'll be regularly informed on the latest developments concerning the Soccer Whizz blog.
Latest posts by Samuel Waihenya
(see all)