Disclaimer: Soccer Whizz is a participant in the Amazon Services LLC Associates Program, an affiliate advertising program designed to provide a means for sites to earn advertising fees by advertising and linking to Amazon.co.uk (source: Section 5). As an Amazon Associate I earn from qualifying purchases.
Soccer has become such a results-driven sport over the past couple of decades.
Winning trophies with excellent on-field performances has taken up such high importance, particularly due to the obscene sums of money paid out to the soccer teams that manage to "get the job done".
Such fantastic rewards prompt owners to hire experienced and successful managers.
Likewise, players strive to equip themselves with the highest quality soccer gear so that they can level up various aspects of their game.
In fact, a lot of goalkeepers try out many different types of gloves before settling on a preferred choice.
Why is this the case, you ask?
Well, goalkeeper gloves contain a material component called latex that functions by providing the grip and control that players in this position need to hold onto soccer balls struck towards them during matches.
Now the thing is, latex quality varies from glove to glove.
This is why when you're window shopping, you may come across goalkeeper glove descriptions that state a certain product offers great grip in dry conditions and adequate grip levels in wet conditions.
Or alternatively, the latex could have the most amazing tackiness but all at the expense of durability.
As a casual buyer you're bound to get confused by such things, especially with the reckless way in which the companies that promote these products use highly technical terminologies and complicated jargon that muddies the waters even more.
So, that begs the question…
Which latex type is best for goalkeeper gloves?
Here's where the article cuts right to the chase.
Contact latex is widely regarded as the highest tier of latex that a goalkeeper's glove palms can contain. Many professional goalkeepers rely on this latex type during match days, as it provides the absolute best grip levels in dry playing conditions along with great ball control in wet weather.
Ranking goalkeeper glove latex types from best to worst
This article will now take a moment to explore why contact latex trumps all the other forms, before introducing the lower quality types one by one.
If you're after a quick summary, then take a look at the table below:
| Latex Type | Dry Weather Grip | Wet Weather Grip | Durability |
| --- | --- | --- | --- |
| Contact | | | |
| Quartz | | | |
| Cyclone | | | |
| Giga grip | | | |
| Mega grip | | | |
| Supersoft | | | |
Otherwise, let's begin!
1. Contact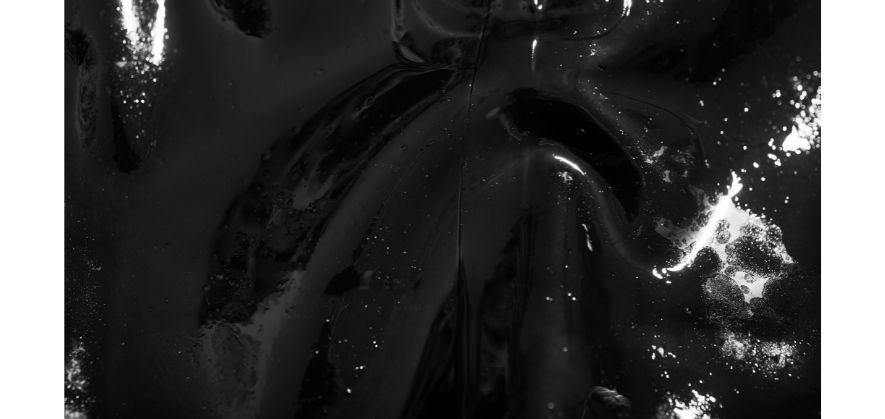 As you've already been made aware, contact latex is the gold standard that many professional goalkeepers love to have.
It delivers the highest possible level of grip in dry playing conditions whilst at the same time not taking too much of a performance hit when encountered with wet weather.
When you buy gloves with this sort of latex embedded, you'll be met with a plastic film covering that wraps around each entire glove.
For premium types of latex such as this, manufacturers try to preserve the condition of the latex from the very start.
This is so that goalkeepers can experience the stunning grip levels right from the moment they have to make their first catch.
Because this latex offers the best grip in pretty much all sorts of playing environments, it's naturally the most expensive.
And another potential drawback of contact latex is that it isn't as durable as some of the other forms, which will be discussed further down.
A great example of goalkeeper gloves that use this form of latex are the Renegade GK Eclipse gloves.
Renegade GK Eclipse Gloves
TOGETHER WE STAND: The RGK team is very sympathetic to all of those who may be affected by this virus and understand that the negative economic impact on our customers will, in many cases, be significant. As a result we have made the decision to substantially reduce our prices through April in order to do our part to lessen the financial damage. We will get through this together.
PROFESSIONAL LEVEL: The new RGK Eclipse series is our 1st truly pro-level goalie gloves. These gloves were designed from the ground up using feedback from pro keepers combined with the best materials and construction methods we know of. We're not claiming it's the best glove on the market, but we'll put it up against any competitor in a head to head.
PRO-LEVEL GRIP PERFORMANCE & CONTROL: All Eclipse gloves use high-performance German EXT Contact Grip latex, which is the standard for professional level goalie gloves. This plus other upgrades like the extended palm, 180° thumb wrap, and pre-arched palm instantly improve grip and ball control.
2. Quartz
Next up we have quartz latex.
This one boasts greater durability than the aforementioned contact latex and at the same time, it's a great all-rounder when it comes to grip and control.
Goalkeepers definitely won't feel uneasy wearing a pair of gloves that use quartz latex as it's equally very good in dry and wet conditions.
3. Cyclone (aqua wet weather)
Here we have the latex type that ranks among the best – if not the best – for wet weather play.
It offers supreme grip in those rainy conditions whilst also holding up pretty well when it comes to durability.
Cyclone latex is no slouch either in terms of its gripping ability in dry environments, which is why it ranks just below quartz and contact latex respectively.
Here's an example of gloves that use cyclone latex:
Sells Aqua Cyclone Goalkeeper Gloves
The Aqua Cyclone models provide outstanding performance in the most inclement weather.
The line was developed with Adhesion Opti Response palm latex, which provides a top grip in the rain.
Roll Finger Cut construction.
4. Giga grip
Slightly further down we have giga grip latex.
Don't be deceived into thinking that this is a poor quality latex because that's far from the truth.
It offers goalkeepers equally solid control in dry and wet conditions due to a combination of natural softness and chemically enhanced treatment.
However, in order to maximize performance you've got to keep gloves that use this form of latex damp during games by sprinkling water onto them.
What this does is re-activate the latex, as the added moisture helps with palm stickiness that makes catching soccer balls easier.
One piece of advice you should follow is not spitting on your goalkeeper gloves, as the use of saliva causes them to smell.
Interestingly enough, this form of latex used to be of professional standard, but due to various advancements in latex technology that saw contact latex supersede it, it isn't considered as such today.
5. Mega grip
Following closely behind giga grip latex in terms of quality is the mega grip compound.
This latex is said to be the most commonly used latex of "high performance" that you'll find in the world today.
Although it offers worse control in wet weather than the giga grip version, it offers really decent grip in dry conditions.
You can get a bit of a performance boost out of this latex with a little dampening of the glove palms, and it's a good latex to use in training sessions.
But ultimately, it wouldn't be the first or even the second choice recommendation for match play due to the availability of better alternatives for such a use case.
6. Supersoft
Finally, we have the standard latex type that's found in most goalkeeper gloves sold today.
It's a good choice for young and casual players alike, as the grip is good enough for such levels of play and the durability this latex offers isn't too much of a concern.
The latex thickness and subsequent protection it provides varies greatly from glove to glove, although it's made from a harder compound and contains less chemical treatment.
You'll also find that this form of latex isn't as sticky as it's counterparts, but it does alright without needing to be watered every now and again.
Is latex good for goalkeeper gloves?
Without a shadow of a doubt, latex is a large part of why goalkeeper gloves are such popular pieces of soccer equipment.
Just picture trying to grab a soccer ball with glove palms that don't have any sort of stickiness!
The game would be much more difficult for goalkeepers as they'd frequently spill the ball and give opposition forwards the opportunity to pounce on their errors of judgment.
Latex eases the work of a goalkeeper considerably, because the bulk of the grip work is done by the compound that's embedded within the glove palms.
Check out the video below which talks about the benefits that latex offers, as well as offering an evaluation of the differences between some of the best types:
Closing thoughts
This article has covered all the different types of latex used in the goalkeeper gloves that are sold today.
Hopefully you'll have gained lots of new insight into this aspect of goalkeeping.
Before you leave, why don't you check out our article on the best goalkeeper gloves?
It could provide you with an opportunity to put your new-found latex knowledge to the test!
Latest posts by Samuel Waihenya
(see all)