Disclaimer: Soccer Whizz is a participant in the Amazon Services LLC Associates Program, an affiliate advertising program designed to provide a means for sites to earn advertising fees by advertising and linking to Amazon.co.uk (source: Section 5). As an Amazon Associate I earn from qualifying purchases.
Timekeeping is an integral part of a football game.
For a referee, being able to keep track of the number of minutes that have elapsed is just as important as taking note of which team managed to find the back of the net.
Because professional league and cup fixtures each have a scheduled beginning and end, match officials are required to ensure that games commence without delay and finish after 90 minutes whilst taking injury time and occasional stoppages in play into account.
Therefore, in order to perform the aforementioned duties effectively, a football referee will no doubt need a good quality sports watch.
Which is why in today's article, I'll be conducting a detailed roundup of the very best soccer referee watches that are available for purchase.
Here's a quick overview of my top recommendations:
| | | | | |
| --- | --- | --- | --- | --- |
| | | | | |
| | Casio GW-B5600-2ER Sports Watch | Water resistant upto 200m | | |
| | RefStuff RefScorer Digital Referee Watch | | | |
| | | | | |
| | LEAP Football Referee Wrist Watch | 45 minute countdown setting | | |
The Casio GW-B5600-2ER Sports Watch leads the way with its superior functionality compared to the rest, as it's equipped with Bluetooth technology that synchronises itself well with smartphone devices to give it even greater purpose, not to mention the durable resin casing and waterproofing which makes the device sturdy enough to use come rain or shine.
You also can't look past its use of solar power to charge the battery, which adds to overall watch longevity by negating the need to replace the original cell.
1. Casio Sports Watch GW-B5600-2ER
Sale
Casio GW-B5600-2ER
Made to survive: this g-shock watch is designed to survive the stresses of daily life and for everything from laundry and washing your hands, to getting caught in true british rain, this watch is 200 metres water resistant and suitable for professional diving as a diving watch. The display is made from hard mineral glass which protects the watch from unsightly damage and the watch can survive temperatures as low as -10 °c. Manufactured using our patented hollow Core Guard Structure, this protects against impact and vibration as well as 10 metre drops onto concrete
Bluetooth smart: the watch is equipped with energy-saving Bluetooth technology, which offers power-saving data transfer at the push of a button. The watch can connect to a smartphone wirelessly via Bluetooth using the g-shock connected app, enabling access to a wide range of useful Functions such as Phone Finder feature. If you misplace your connected Phone, push a button on the watch to sound an Alarm on the Phone
Casio tough solar technology powers the watch by light. With this eco-friendly feature, you never need to replace the battery, also helping maintain the water resistant of the watch. There is also a built in battery level indicator which shows the current battery charge level of the watch, Accuracy: +/- 15 seconds per month
Top of the list of recommendations is this GW-B5600-2ER football watch manufactured by Casio.
Not only is the brand widely recognisable, as they also produce quality products that are robust in nature and offer supreme longevity.
Here's a breakdown of this device's impressive capabilities:
Bluetooth® smart
First and foremost, the energy-saving Bluetooth technology integrated within this watch prolongs battery life and offers data transfer by the simple push of a button.
You can connect it wirelessly to a smartphone device as well, which grants access to a whole host of other features such as automatic local time adjustment.
Solar powered
A solar cell provides this watch with the power that it needs to operate, which means that a buyer never needs to replace the battery that comes with the device.
The built-in battery level indicator makes this watch ideal for referees as they can keep an eye on and estimate how long the watch will continue to function before it needs its next charge.
Auto LED light
One of the niftiest features of this watch is the light-emitting diode (LED) which adds luminosity to the face of the watch, as it can be pre-programmed to brighten the display whenever a referee extends their wrist and angles the frame towards their own face.
This is a great feature that makes a referee's work much easier by eliminating the need to squint whenever they want to take a glance at the watch during a match.
Multifunctional settings
Casio have been able to incorporate a variety of time functions into this device.
For instance, the worldwide time function is able to display the current time in major cities and certain areas within the world, which extends its use case beyond the football pitch as it can be worn – without the need for time adjustment – even when a person decides to travel abroad.
In addition to this, it comes with a stopwatch function where elapsed, split and final times are measured to a degree of one hundredth of a second (1/100 sec) accuracy.
The watch is also equipped with a countdown timer – which can be toggled to the nearest second and up to 24 hours in advance – making it an ideal choice for a football referee as the setting allows for audible signals to be emitted at pre-determined times like match kick off, the end of the first half and full time.
Resin materials
The resin casing makes for a watch that is durable and relatively insensitive to extreme cold or hot temperatures.
And what's more is that the resin banding is a good material for a referee watch, because the strapping is flexible enough to not cause physical discomfort when an official is performing their role on the pitch.
Technical specifications
Lastly, this watch performs admirably with regard to water resistance, as it meets the 20-bar classification of waterproofing according to the ISO 22810 standard.
The Casio is also fairly light when wrapped around the wearer's wrist, with it weighing in at approximately 53 grams.
If you're still after a Casio sports watch but don't have the necessary budget for this model, you'll be pleased to hear that the Casio Men's W800H-1AV Classic Sport Watch is much more affordable and offers an approximate 10-year battery life, 100-meter water resistance and an LED backlight.
2. PULIVIA Sports Stopwatch
PULIVIA Sports Stopwatch
Multifunction Digital Watch: 12/24-Hour Clock, 2 Sets Alarm Clock, Auto Date, Water Resistant, Shock Resistant, 3-line Display. Fashionable sporty dial and silicone watch band design, military style outlook. Large Dial and numbers show time clear. Use the Luminous mode, press "LIGHT" button to see the time clearly with back-light in the night.
Professional Football Soccer Game Coach Referee Timer: The watch can count time down for football game, soccer game and other balls game, the game time can be set from 1 to 99 minutes and it can record the additional time for injure and substitution when the game time is still going.
Professional 100 Lap Memory Stopwatch: Allow to record in both the lap and split time with the ability to store 100 memories for events. It can measure up to 10 hours in 1/1000 seconds and the measurement memories can be recalled with the fastest lap, slowest lap and average lap time, also can recall each split/lap time in the order.
This No products found. is one of my top picks for the best budget category.
It boasts of both shock and water resistance and sports a sleek 3-line display with silicone strapping and a back-light that is adequate.
Multiple display modes on this device such as countdown timing, pace mode and 100 lap memory make it easy for referees to even track their own fitness whilst they are away from competitive officiating.
The stopwatch functionality is particularly great as it can recall – to a degree of one thousandth of a second (1/1000) – the fastest, slowest and average lap times which simplifies the analysis of one's physical performance.
A screen protector is also pre-attached to the watch meaning it is already safeguarded from the damage which can occur when a referee collides with a player on the field or falls over.
3. LEAP Football Referee Wrist Watch
LEAP Football Referee Wrist Watch
Professional Football Referee Watch by LEAP
Can be used for most kinds of sports/ games
Programmed 45 minutes countdown setting (can be changed to other time frame by manual)
This LEAP referee watch does the job that it's intended for.
It features a programmed 45-minute countdown setting which is really ideal for beginner referees who may struggle to keep track of the time that's elapsed during each half.
This countdown setting can also be adjusted to a different custom time interval by way of the user manual, which means it gives the wearer the flexibility when it comes to the duration of time that one wishes to track.
Additionally, it comes with a chronograph display mode and basic stopwatch functionality that measures times to one hundredth of a second (1/100) and can be set up to a maximum of 9 hours, 59 minutes and 59.99 seconds.
The display itself showcases two time parameters and on each side of the frame casing there are four black buttons that are programmed to operate in specific ways.
4. RefStuff RefScorer Digital Referee Watch
RefStuff RefScorer Digital Referee Watch
WORLDS FIRST in Digital Watches to Record the Score of the Game!
The INCREDIBLE Interchangeable Customisable Different Colored Top Rings/Bezels!!! – personalise and pair your watch to match the color of your Referee shirt or outfit that you are wearing for your match! (sold separately in packs of 5)
Team Kick Off Reminder on the Match Day Score Screen and Select Home and Away Team Colors or customize your own with your choice of Vibration, Beep or BOTH Alerts at the Same Time.
I was really impressed by the uniqueness of this product, as it's the world's first digital referee watch that allows a user to select home and away team jersey colours as well as record changes to the score line throughout the duration of a match.
The watch is clearly labelled and has a variety of buttons situated on the front face and sides, with two of those responsible for the activation of the backlight and 12/24-hour formatting.
Let's get straight into the headline features:
Match timers
With this watch you don't really have to worry about tracking time intervals as it comes with 11 pre-set timers for 5, 10, 25, 30, 45-minute periods and a few more.
The countdown timer which is available when you set the watch to Match Day Mode allows for counting in either an upward or downward direction, which is great for a referee that wants to monitor until there is no allotted time left or until a certain duration has elapsed.
Sound alerts
The sound signalling with this device is also pretty robust as well, as it is capable of performing vibrations and beeping sounds (depending on the wearer's personal preference) to indicate the end of regulation time.
What's more is that when the normal 90-minute period has concluded, this watch will auto-elapse the added/extra time which makes it a great option for referees still adjusting to the flow of the game and who are susceptible to forgetting to keep track of the time.
Product Demo
I'll leave you with a complete demo video so that you can see this watch in action:
Things to consider before purchasing a referee watch
After all, it's only natural to want to make an informed decision after having considered multiple variables that will undoubtedly have an impact on the type of watch that one decides to select.
So, let's get started…
Use case
The context in which you want to use a referee watch is very important.
For example, a professional match official that takes charge of games at organised league levels within a particular country will have different requirements for a referee watch in comparison with someone who was simply buying one for recreational use.
This is because the latter would just want to oversee causal kick-about games as opposed to a fully qualified and trained football referee who has – according to Law 5 of the International Football Association Board's (IFAB) laws of the game – a duty to act as a timekeeper; keep a record of matches through the provision of a match report to the relevant authorities together with communicating with their assistants and fourth officials when certain situations arise.
Level of experience
Another important factor to take into consideration is how long you have been refereeing matches for.
If you've only taken charge of a handful of games, a basic referee watch that performs core timekeeping functions and doesn't come equipped with the more advanced settings would probably be a better fit for you.
On the other hand, an individual with several hundred hours of officiating experience under his or her belt will be much more comfortable with the more sophisticated tools that the higher specification referee watches can handle.
Screen display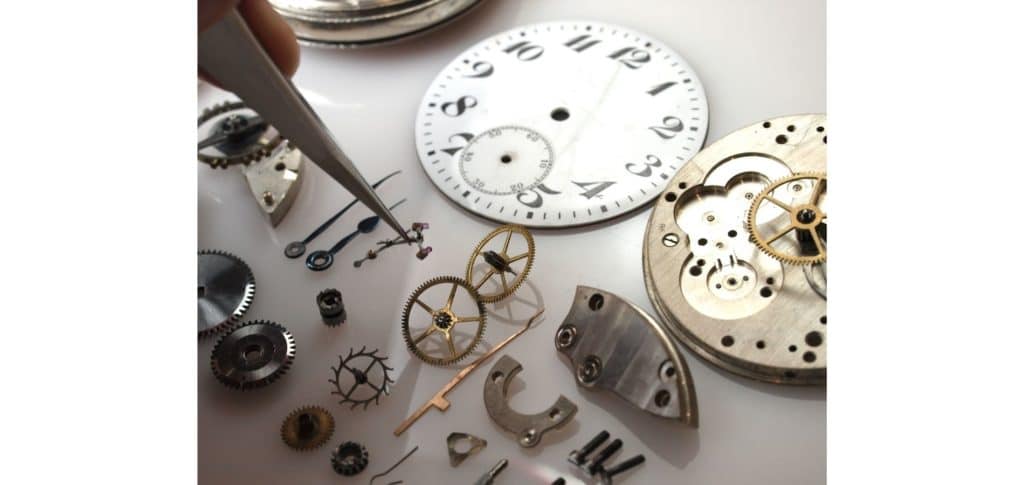 What the wearer is are able to see when having a long look or taking a quick glance at a referee watch should enable the easy extraction of useful information about the match in play.
This means a watch with shortcut buttons that are enabled once pressed and a home screen that displays 3 or 4 pieces of critical time information within a single viewport is close to essential.
Furthermore, a clearly readable font with adjustable size settings should be a compulsory watch requirement due to the nature of a referee's job which involves running around the field monitoring actions that players are taking, with only enough time to scan the display during short breaks in play.
You will also need to evaluate whether you would like a watch with multiple display modes such as chronograph, basic time of day and a football specific timing mode to keep track of match stoppages.
Functionality
As a buyer you will also need to weigh up what sort of functionality you would want the watch that you go for to be capable of performing.
This includes but is not limited to options like:
Tracking injury and stoppage time
Time measurement and formatting
The option to save recorded data
A back-light button for enabling increased visibility in poorly lit venues
Audible speakers for emitting various beeping sounds to signal game completions or countdowns
Battery life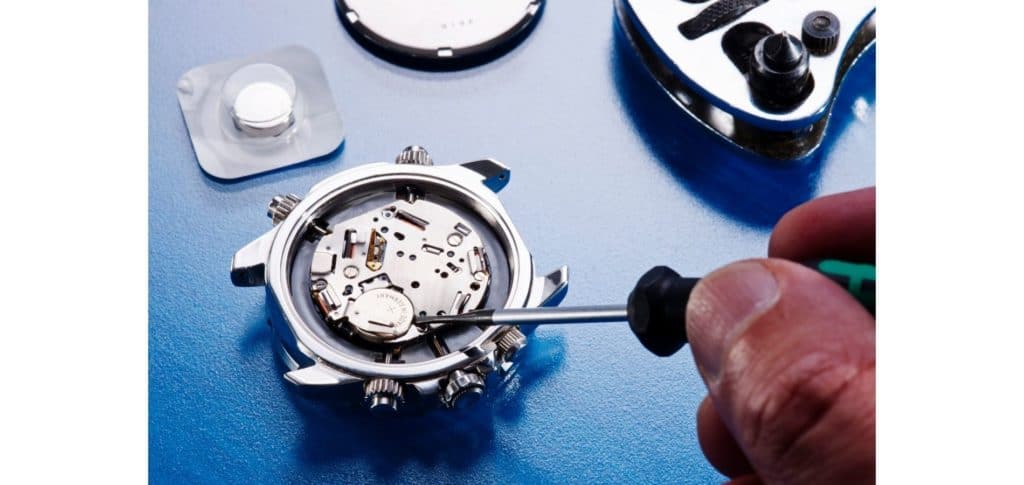 It should go without saying, but a good referee watch will need to withstand the test of time through being able to run for at least a 12 to 24-hour period without the need for charging.
For a local referee who officiates games at an amateur or semi-professional level, this can be vitally important as certain remote areas may not have adequate charging facilities.
Water resistance
As football is a game that is played come rain or shine, one must pay attention to whether waterproofing is needed for the specific environment that matches will be officiated in.
If a referee is going to take charge of games held at indoor venues, then a watch without water resistance may be considered, whereas the situation would be reversed for someone refereeing outside where water droplets from the sky could potentially damage the watch.
There are varying degrees of water resistance and according to the watch manufacturer Prisma, a resistance rating of 3 ATM offers the bare minimum level of waterproofing.
In fact, here's a table – collated with data from both Great Watches NYC and First Class Watches – that breaks down the water resistance scale more clearly:
Frequently asked questions
Now before I wrap up this product roundup, I'm going to answer some common questions that prospective buyers tend to have when they're weighing up which watch to opt for.
Should I get a quartz or mechanical watch?
When it comes to the accuracy of watch movements, quartz outperforms its mechanical counterparts due to the fact that it only loses about 4 seconds per month whilst the latter loses between 5 and 10 seconds each day.
Ultimately, the final decision here will rest on a user's own personal preference, as mechanical watches do offer better longevity.
How long can I expect a good referee watch to last?
The answer to this question is obviously subject to whether you opt for a quartz, mechanical or automatic watch, but it's reasonable to expect 4 to 5 years of use on the first battery for a quartz mover, followed by subsequent 1 to 2 year durations on the following replacements.
Final Recommendation
I haven't looked beyond the Casio GW-B5600-2ER Sports Watch for top pick and I'm very unlikely to. In spite of its premium price point, it impresses with its solar power capability, integrated Bluetooth technology and ease of set up, as well as being aesthetically pleasing to the eye.
If you enjoy the content that I create and would like to buy me a coffee, then I'd really appreciate it!
Any money that I earn through this donation will be re-invested into more content for this website.
Additionally, by sending in a donation you'll also receive a copy of my recently released 190+ page eBook on Soccer Ball Care, as well as be subscribed to our mailing list where you'll be regularly informed on the latest developments concerning the Soccer Whizz blog.
Latest posts by Samuel Waihenya
(see all)