Disclaimer: Soccer Whizz is a participant in the Amazon Services LLC Associates Program, an affiliate advertising program designed to provide a means for sites to earn advertising fees by advertising and linking to Amazon.co.uk (source: Section 5). As an Amazon Associate I earn from qualifying purchases.
There aren't many goalkeepers who can put up a solid claim to have achieved the level of success that Hugo Lloris has had over the course of his professional career.
You see, the Frenchman is a FIFA World Cup winner!
Winning on soccer's biggest global stage is deservedly the best highlight any player could possibly obtain.
However, all that sporting glory comes with a raft of press and media coverage.
And as a by-product of that success, a lot more eyeballs are drawn to the players who managed to conquer and dominate at arguably the world's most prestigious professional sports tournament.
With that said, Hugo Lloris is a player who's had plenty of attention drawn on him, especially because he captained the French team to their famous World Cup win in Russia.
If you have a search online, you'll find a whole raft of questions that get asked about the Tottenham Hotspur goalkeeper.
From what his favourite meal is, to other things like what car he drives and where he lives!
But this article has been written with only one focus – to reveal the gloves that Lloris wears to soccer games!
So, without further ado, let's do this reveal.
Hugo Lloris currently wears a vapor grey and blue-coloured version of Reusch's Attrakt Freegel Fusion Ortho-Tec Goaliator goalkeeper gloves.
The company reached a long-term cooperation with Lloris in 2019, after the Frenchman left his sponsorship agreement to Uhlsport – another solid soccer gear brand.
In fact, Lloris had a lot of positive things to say about Reusch, right when the partnership announcement was made:
"I've always been aware of the great quality of Reusch. But in the moment I got the chance to test for the very first time the new Fit Control gloves I was impressed by the grip of the G3 Fusion! I really like the product! This is one of the main reasons why I decided to join Reusch.

The second reason is the permanent availability and the super service provided by the Reusch team since the first phone-call, trying everything to make the product simply perfect for my needs. Now I'm very happy to join this motivated team and I'm looking forward to many successful years together!"

Source – Footy Headlines
Now I'm sure some of you are going to need some visual proof that Lloris actually wears these gloves, so here he is wearing the gloves in a recent fixture: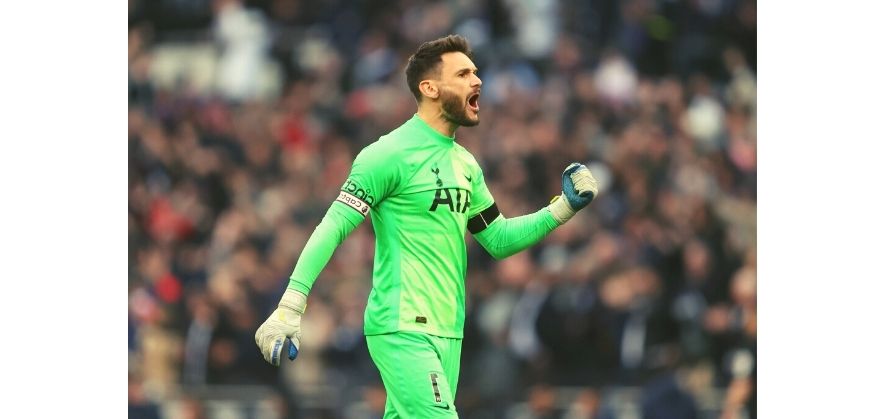 Comapre those with the product listed on Reusch's website here and you've got an exact match!
So, what makes these gloves so special that a FIFA World Cup winner decides to wear them for a couple of years?
Well, read on to find out!
Features of Lloris' goalkeeper gloves
There's a lot to like about these gloves, but I'm only going to touch base on a few areas.
1. G3 latex mixture
Grip is of so much importance to goalkeepers.
I can't tell you how critical it is for a player in this position to be able to comfortably hold onto a soccer ball that's struck at them with power.
At the end of the day, the game is a results-oriented business.
Any slippages and spills of the ball by a goalkeeper can have devastating consequences, particularly if the opponent is able to capitalize on such opportunistic events.
So, Reusch has looked to take goalkeeper glove grip to an even higher level.
Let me now explain.
Special adhesive additives have been lumped into the latex composition on these gloves to make the latter extremely tacky.
Furthermore, the foam padding on these gloves has been fused with tiny latex injections that have been speckled into the palm.
What this does is improve the all-round performance of the palm area, as the latex dots give a boost to glove durability, with hydro grain technology amplifying grip levels in rainy conditions.
Because of all these components coming together, you get top-notch abrasion resistance, together with optimal grip in dry conditions and a very good amount of stickiness in wet-weather environments.
2. Rolled expanse cut
What this means is actually quite simple.
The latex gets rolled and shaped around the fingertip area of the gloves, which ensures that goalkeepers get the largest possible latex-to-ball contact area.
The fingertips make up such a crucial part of goalkeeping, especially because in some instances a soccer ball can travel so fast in a goalkeeper's general direction that it becomes so difficult to hold onto.
3. Breathable mesh gussets
Back in the year 1945 when goalkeepers started wearing gloves, there was no concern for how hot these pieces of equipment would get when they were worn.
On a hot summer's day, goalkeepers would simply put them on and go out to perform.
However, times have certainly changed.
Consumers want to buy products that are comfortable to wear, and that logic also goes for goalkeeper gloves.
The good thing is, Reusch have incorporated breathable mesh gussets into the lower parts of the fingers on these gloves.
So players get the ventilation and breathability that they need, as the gussets provide the glove with anatomic pre-shaping that gives them the flexibility to move their fingers and feel the breeze of air within the glove structure.
Video review of Lloris' goalkeeper gloves
If you're reading this article with the intent to buy these gloves, you'd definitely want to check out an informative review of how they perform in real-time.
The video below does a short play-test of these gloves, which will give you a better idea of their suitability for you:
Where can you buy Lloris' goalkeeper gloves?
As usual, the retailer called Amazon delivers.
The online marketplace stocks these Reusch Attrakt Freegel Fusion Ortho-Tec Goaliator gloves in quite a few sizes.
Reusch Attrakt Freegel Fusion Ortho-Tec Goaliator Gloves
Fusion foam is Reusch's most powerful foam offering optimum grip and durability.
Evolution Negative cut glove cut very close to the hand for a good ball grip.
Removable slides to protect fingers while maintaining maximum flexibility.
So, you can go ahead and take your pick from the aforementioned options.
Wrap up
You've now got all the information you need at your disposal.
But I'm going to give a small recap…
Hugo Lloris puts on Reusch Attrakt Freegel Fusion Ortho-Tec Goaliator goalkeeper gloves, having worn this brand of soccer hand gear since 2019.
These gloves are a solid choice for young goalkeepers who are looking to climb the ranks, as well as being one among many fantastic glove choices for professional soccer players.
Alternatively, you can widen your glove scouting range a bit further by having a look at our fantastic product roundup article on the best goalkeeper gloves.
If you enjoy the content that I create and would like to buy me a coffee, then I'd really appreciate it!
Any money that I earn through this donation will be re-invested into more content for this website.
Additionally, by sending in a donation you'll also receive a copy of my recently released 190+ page eBook on Soccer Ball Care, as well as be subscribed to our mailing list where you'll be regularly informed on the latest developments concerning the Soccer Whizz blog.
Latest posts by Samuel Waihenya
(see all)