Disclaimer: This post is entirely sponsored for by Start Grid LLC. As always, all opinions and ideas are entirely my own.
The English Premier League is one of the most watched soccer leagues on the planet, and for very good reason.
Some of the world's most talented players participate in this competition, not to mention the fact that teams within this division are coached by some of the most brilliant sporting minds that the game has to offer.
When you see the likes of Pep Guardiola and Jurgen Klopp shouting instructions from the sidelines, you really get the sense that the Premier League is the place where the best of the best compete against each other.
Because the Premier League has amassed so much popularity over the past couple of decades – with it being watched by over 3 billion people as recently as 2019 – it generates a lot of questions from enthusiastic fans who are keen to learn more about the competition.
One of the most common queries asked about this league concerns how many games one season of this league consists of.
In this article, we're going to solve this question by providing a complete mathematical breakdown that shows how we arrived at the total.
But first, let's kick things off with an answer snippet for those of you in a hurry.
The total number of games played in a Premier League season is 380. This figure is arrived at by multiplying the number of game weeks that the competition has in a single campaign (i.e. 38 game weeks), by the number of matches which are played within each game week (i.e. 10 matches).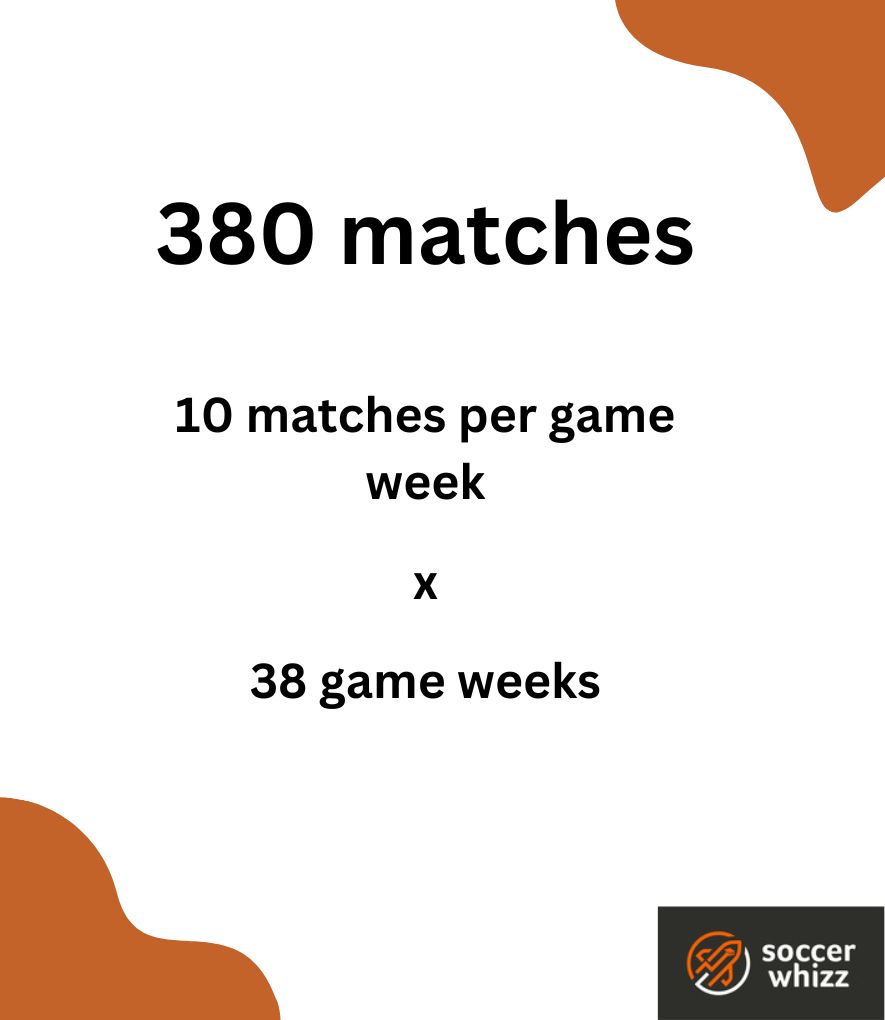 How is the number of Premier League games calculated?
The way we arrive at the total of 380 matches is actually quite straightforward.
For those of you who play Fantasy Premier League, then you'll probably already be aware of the concept of game weeks.
However, if you're new to the sport then here's an example you can see: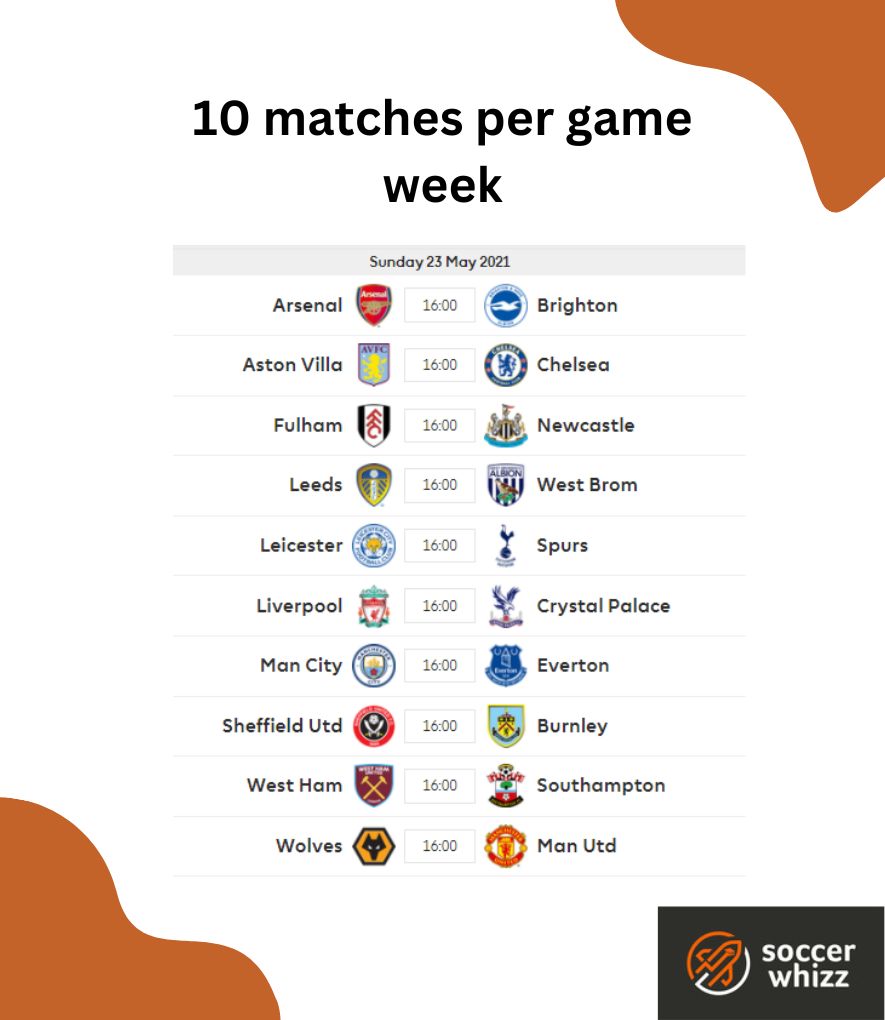 A game week is an allocated time within the fixture calendar where every Premier League team plays a scheduled fixture.
With there being 20 teams in the Premier League division, only 10 matches can be played within a regular game week as a single fixture consists of two teams facing off against one another.
Each team is therefore allocated a corresponding opponent during a normal game week, bringing the total amount of matches played to 10.
Now, with that figure of 10 in hand, we proceed to the next part of the calculation.
There's a total of 20 teams within the Premier League, but they don't play 20 times because they can't have a match against themselves.
So, what you're left with is 19 matches for each team to play, as this equates to the number of opponents a team can face off against within the division itself.
Bearing in mind that each team plays a home fixture at their stadium ground and a separate away fixture against a certain opponent, each club therefore has a total of 38 games to compete in.
Here's an example of West Ham's fixture schedule for the 2021/2022 Premier League campaign: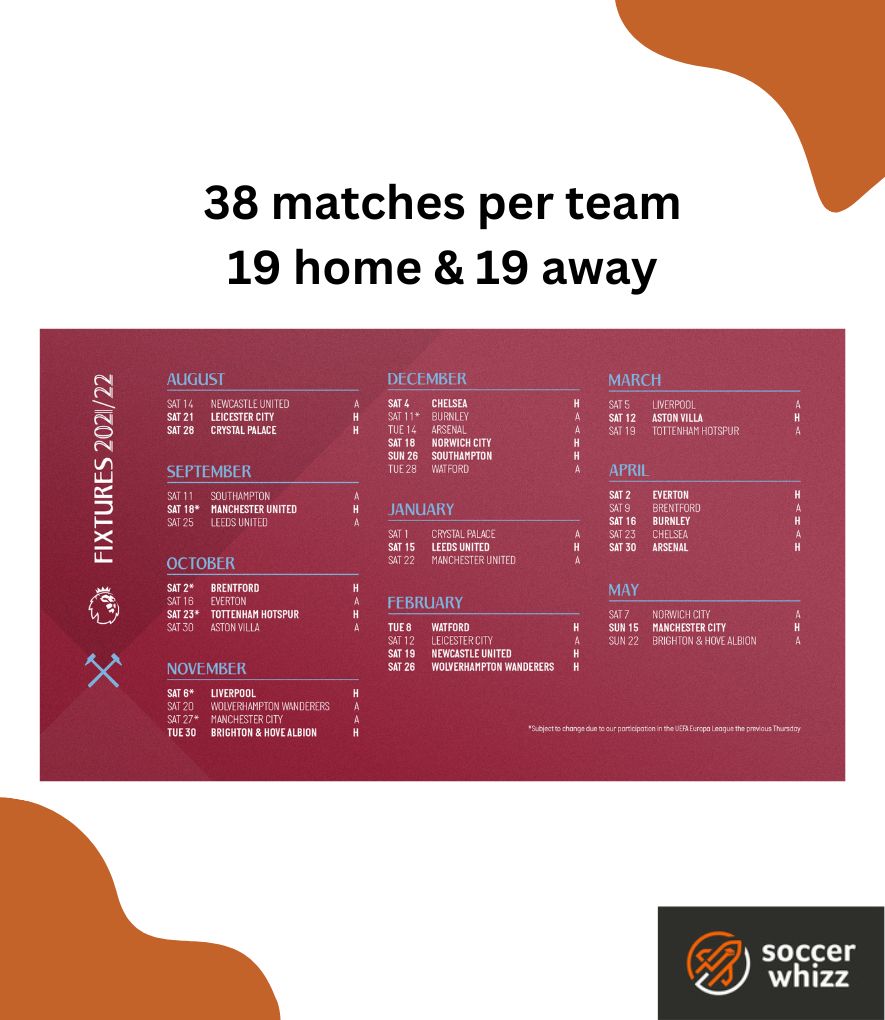 With both figures in hand, all you simply need to do to arrive at the correct number of matches played is multiply this number of 38 match weeks by the number of games that are played within a single game week to arrive at the overall 380 game total.
Can there ever be more than 380 matches in a Premier League campaign?
As a matter of fact, yes there can!
But the probability of such an event happening is extremely unlikely, to say the least.
If you want to try and profit off of such an idea then you can certainly utilize different types of betting odds to vouch for such an outcome, but you're bound to end up out of pocket.
You'd be better off putting your hard earned money on regular soccer games that have wins, draws or losses as possible results, because the aforementioned events happen much more often than not!
Anyway, let's get back to the improbable topic in question here.
A scenario where an additional match is added to the standard 380-game season would only realistically happen in a special circumstances, such as where there is a tie for first place based on the following metrics:
Points accumulated;
Goal difference;
Goals scored; and
Head to head results against each other
Here's the exact quote:
"If following the completion of the Competition either the League Champions or the Clubs to be relegated or the question of qualification for other competitions cannot be determined because two or more Clubs are equal on points, Goal Difference and goals scored the relative position in the League Table of the Clubs will be determined by… a play-off on a neutral ground, the format, timing and venue of which shall be determined by the Board."

Source – Premier League Handbook; Section C.17.3
So, for example, if Manchester United and Manchester City had the same number of points, goal difference, goals scored and even head-to-head results, then the two teams would face off against each other in a unique title playoff match at a neutral venue to determine the ultimate Premier League winner.
What happens after all the Premier League fixtures are completed?
Once the Premier League campaign draws to a close, teams get information on the competitions that they'll be participating in within the following season.
So, the top four placed teams by way of league standing will compete in the group stages of the UEFA Champions League competition.
On the other hand, the bottom three teams within the division drop down to the second tier of English soccer called the EFL Championship, with their Premier League spots taken up by:
The EFL championship winners (1st placed team);
The EFL Championship runners-up (2nd placed team); and
The EFL Championship playoff final winners
Concluding thoughts
That wraps up this post on how many games there are in a typical Premier League campaign.
If you've enjoyed the read, then you'll probably love to check out our related content on our blog concerning this particular competition, such as our posts on:
If you enjoy the content that I create and would like to buy me a coffee, then I'd really appreciate it!
Any money that I earn through this donation will be re-invested into more content for this website.
Additionally, by sending in a donation you'll also receive a copy of my recently released 190+ page eBook on Soccer Ball Care, as well as be subscribed to our mailing list where you'll be regularly informed on the latest developments concerning the Soccer Whizz blog.
Latest posts by Samuel Waihenya
(see all)