Soccer as a sport has really matured in America over the last couple of decades.
Because the game is not typically considered to be the most popular in the United States, the number of talented players good enough to test themselves in the world's most competitive soccer league have been few and far between.
Youth soccer development in the nation had come under fire many times for their over-emphasis on physique, as there was an abundant culture of primarily training athletes to be fast, powerful and strong whilst not paying enough attention to the technical aspects of the game.
The good news is that things have changed.
Firstly, Major League Soccer is a much more competitive league – evidenced by the influx of foreign talent coming into the division and not being streets ahead of the rest technically.
More so, United States representation across other European divisions is beginning to grow at quite an impressive rate.
In fact, these days when you put on the television to watch a game, you're very likely to come across an American playing for an English team in the Premier League.
This article has been written to investigate which Americans are currently plying their trade in England's top soccer division, so let's get down to naming the players who feature in this league.
1. Christian Pulisic – Chelsea
The poster boy for American soccer these days is none other than Christian Pulisic.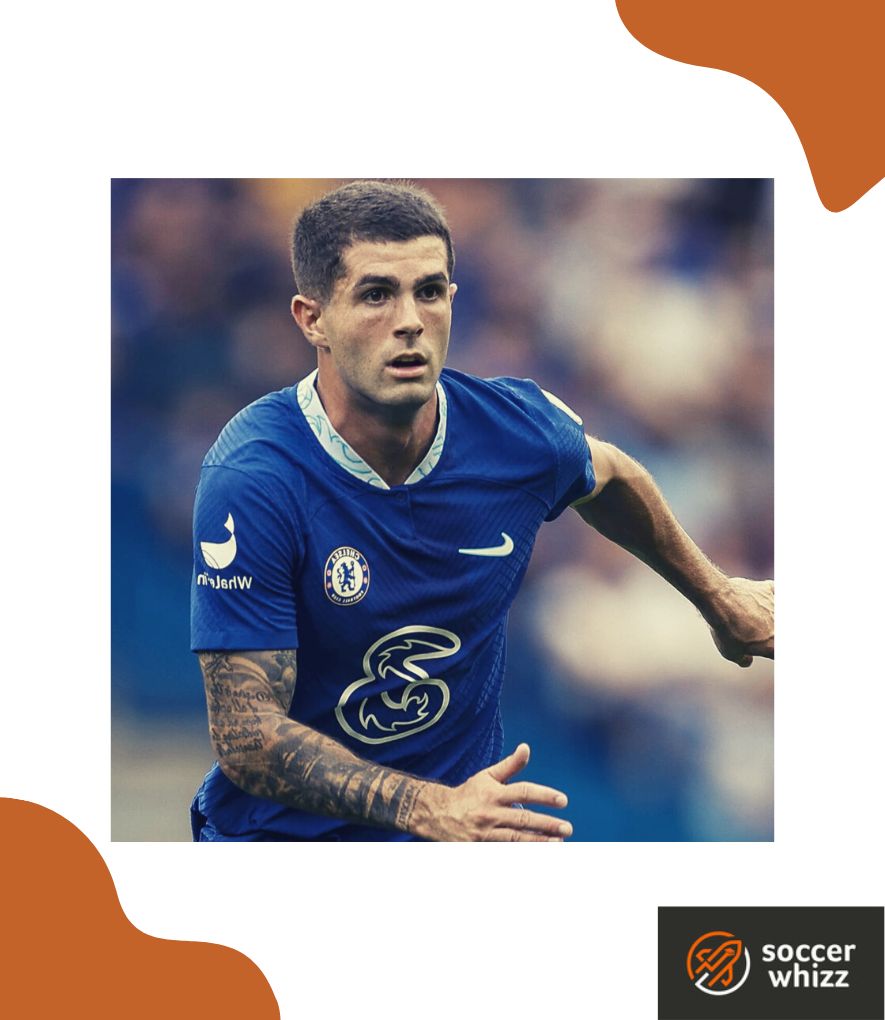 He's been an immensely popular American player ever since he came onto the soccer scene with Borussia Dortmund back in 2016.
Pulisic is said to have caught the eyes of the German club's scouts when they were sent to watch the Nike International Friendlies game between the United States and England back in 2014.
Here's some footage from that match:
Apparently, the Dortmund scouts had been sent to watch another American player called Haji Wright, who later signed with Schalke 04.
But they were so impressed with Pulisic's contribution in the fixture that they immediately went back to Germany and recommended him to the higher ups in charge of recruitment.
And due to the fact that his grandfather was born in the European Union member country Croatia, Pulisic was able to obtain a Croatian passport in 2015 that allowed him to play for Dortmund twenty months before the FIFA's imposed age limit.
Joining the German side from the PA Classics, he was one of the very few young Americans to join such a high-profile European team, so that really put him on the world map.
Borussia Dortmund has a fantastic reputation for finding and nurturing the greatest young talent into mature stars who can compete with the very best in the world.
You only have to look at the likes of former Dortmund players such as Erling Haaland and Jadon Sancho to see the caliber of players that the club is able to attract and develop.
Pulisic followed in the footsteps of his parents – Mark and Kelley – with the former being an indoor soccer player who had an eight-year career with the Harrison Heat before venturing into coaching.
Here's what they had to say about their influence on Christian:
"We almost pushed him in directions other than soccer. He wasn't forced in any manner. I wanted to make sure he was making the decision. Things don't work if you're forcing training on kids."

Source – Bundesliga.com
On a similar note, Christian Pulisic also has a sister called Devyn that he really looks up to, as she runs a successful horse stable business.
Her role as a mentor for him could arguably have had an influence on his determination to succeed as a professional.
Anyway, let's get back on topic.
Christian spent a couple of years at Dortmund before earning a 58-million-pound move to the English Premier League side Chelsea in 2019.
Although quite unfortunately, his time at the club has been plagued with injuries as the American international hasn't managed to finish a season with more than 10 league goals.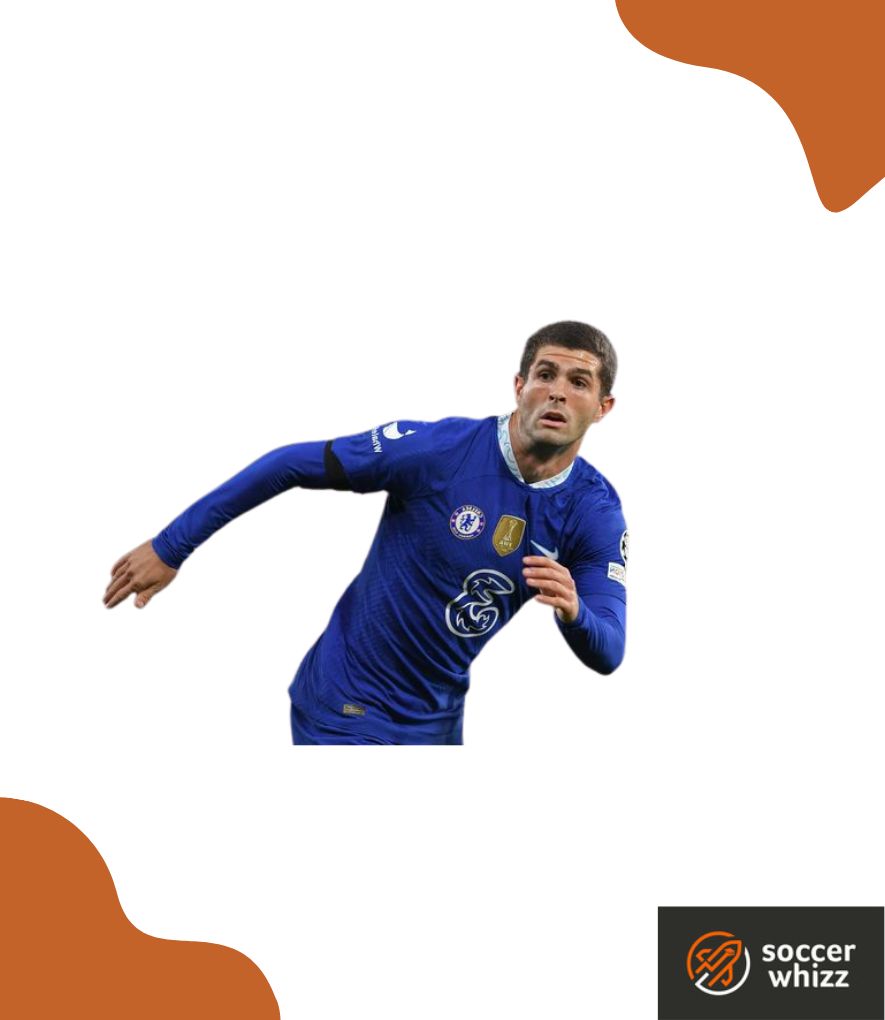 Perhaps the managerial acquisition of Graham Potter can change that?
We'll have to wait and see!
2. Brenden Aaronson – Leeds United
Next up, we have the hard-working Leeds United attacking midfielder Brenden Aaronson.
This guy is seen as a pressing machine, as evidenced by his displays which see him relentlessly closing down opposition players in their own half and making it difficult for them to play out from the back.
Aaronson was brought to Leeds United by Jesse March, who in fact coached the player during his time at Red Bull Salzburg.
The player registered an impressive tally of six goals and ten assists for the Austrian side in the previous 2021/2022 campaign, earning him a prestigious move to England.
Because March already knows how to utilize the player's talents, Aaronson has been able to hit the ground running for Leeds in his first season, as he's already had quite a few goal contributions for his English team this campaign.
Here's one of his best moments yet:
Notice how quickly he chases after the ball when Chelsea's goalkeeper Mendy receives it.
He immediately cuts out Mendy's passing options and steals the ball from him before slotting it into an empty net.
Leeds fans will hope to see more of the same from the American as the season goes on.
3. Tyler Adams – Leeds United
Brenden Aaronson's team mate Tyler Adams is another American playing soccer in the English Premier League.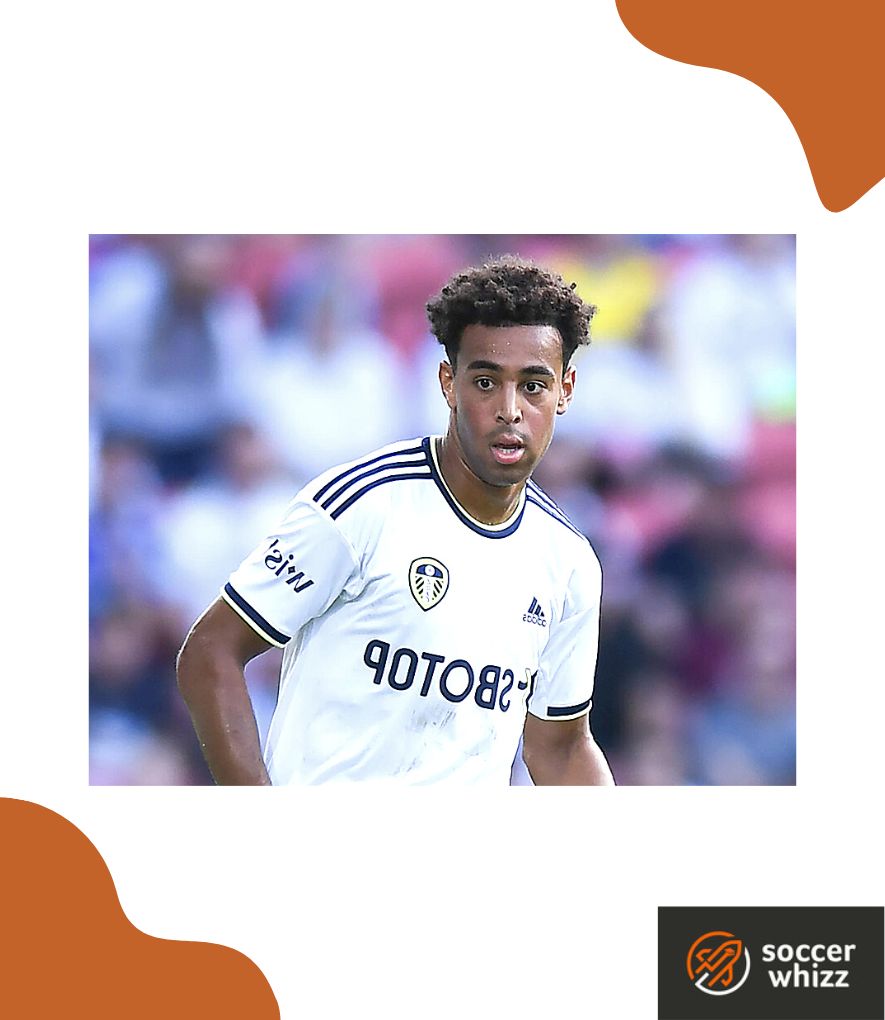 When Manchester City swooped in for defensive midfielder Kalvin Phillips last summer, Leeds needed to reinforce their squad and opted to land the American from the German team RB Leipzig.
Here's his very own Twitter post confirming his move to the club.
Adams demonstrates good leadership qualities as a player, exemplified by his leading role in occasionally captaining the United States Men's National Team (USMNT) and helping his former club RB Leipzig secure a domestic trophy (i.e. the DFB Pokal) last season.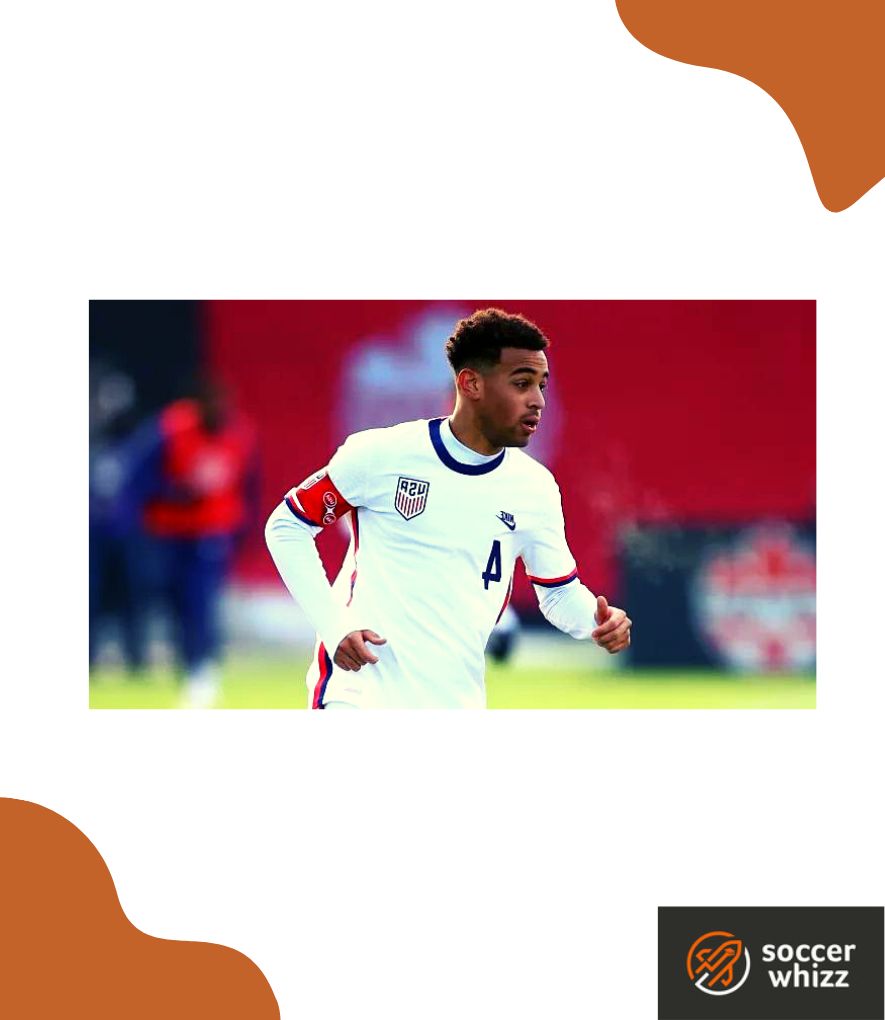 Fans will be hoping that Adams is able to replicate his impressive performance levels in his stint with the Yorkshire club.
4. Weston McKennie – Leeds United (On loan from Juventus)
You can clearly see that Leeds have a penchant for signing American players!
Another one joined their ranks pretty recently, this time from the Serie A side Juventus.
Weston McKennie committed to Leeds on a loan deal set to run until the end of the 2022/2023 campaign.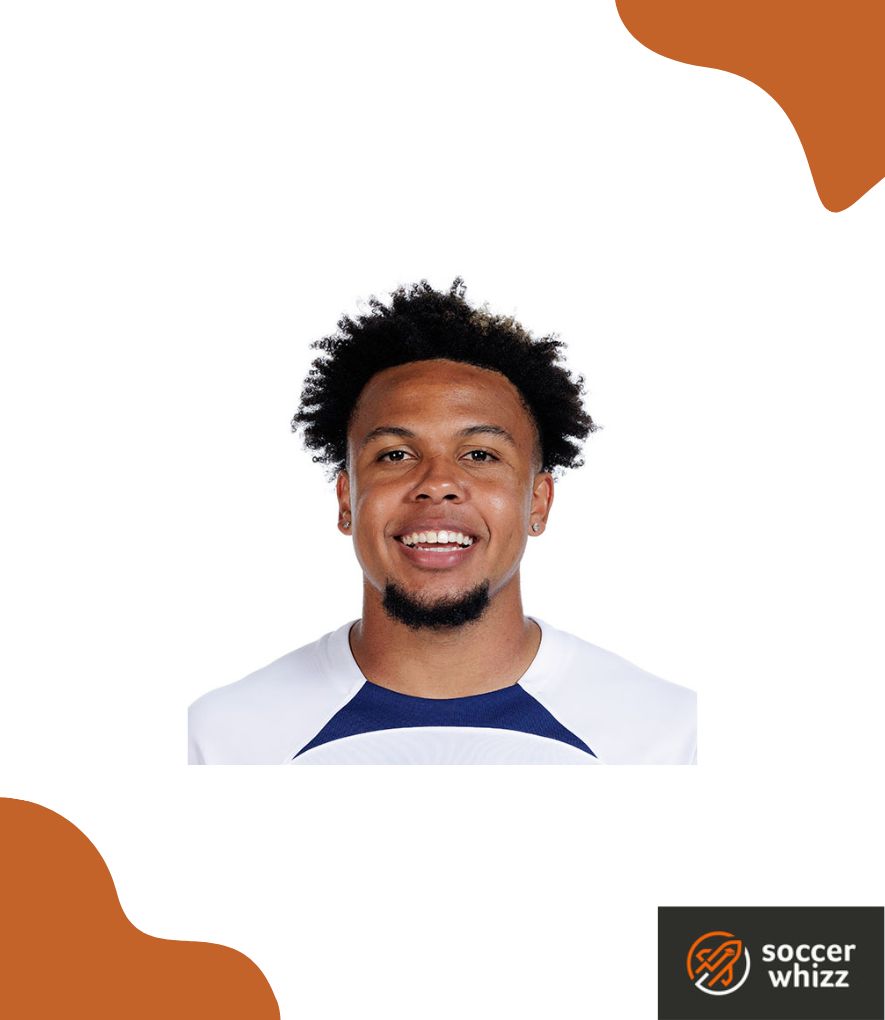 It must be quite difficult for him to get enough minutes in that Italian side, featuring the likes of Adrien Rabiot who has had a remarkable resurgence in form, along with Manuel Locatelli who is also a really good soccer player in his own right.
Hopefully he'll put in a string of good performances for Leeds that will help keep them in the division!
5. Chris Richards – Crystal Palace
A relatively low-profile name in comparison to the other Americans already mentioned in this article is Chris Richards.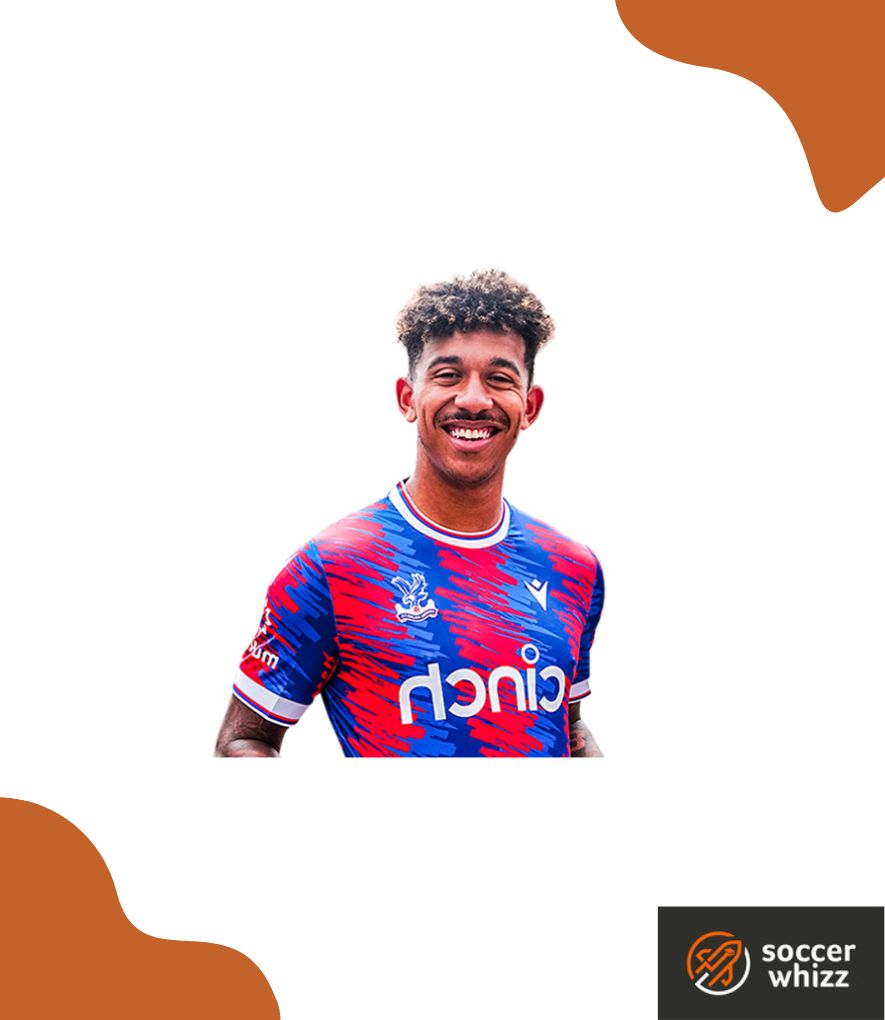 The defender was signed by Crystal Palace from Bundesliga team Bayern Munich on a five year deal worth a reported fee of 8.5 million pounds.
He was a youth product of the FC Dallas team in America and earned a move to the German champions due to the talent he displayed as a teenager.
However, after successive loan spells that consisted of game time at another German club called 1899 Hoffenheim, Richards returned to his parent club in search of a transfer away for more playing time.
And that brings us to the present at Crystal Palace.
It will be tough for the American to get starts in the Premier League purely because of the competition he comes up against in his position.
Marc Guehi and Joachim Andersen are the established first choice pairing in manager Patrick Viera's lineup, so barring injury to either of the two players, Richard's minutes in the competition will be limited to cameo appearances off of the bench.
6. Tim Ream – Fulham
Number six on this list of American players participating in the English Premier League is Tim Ream.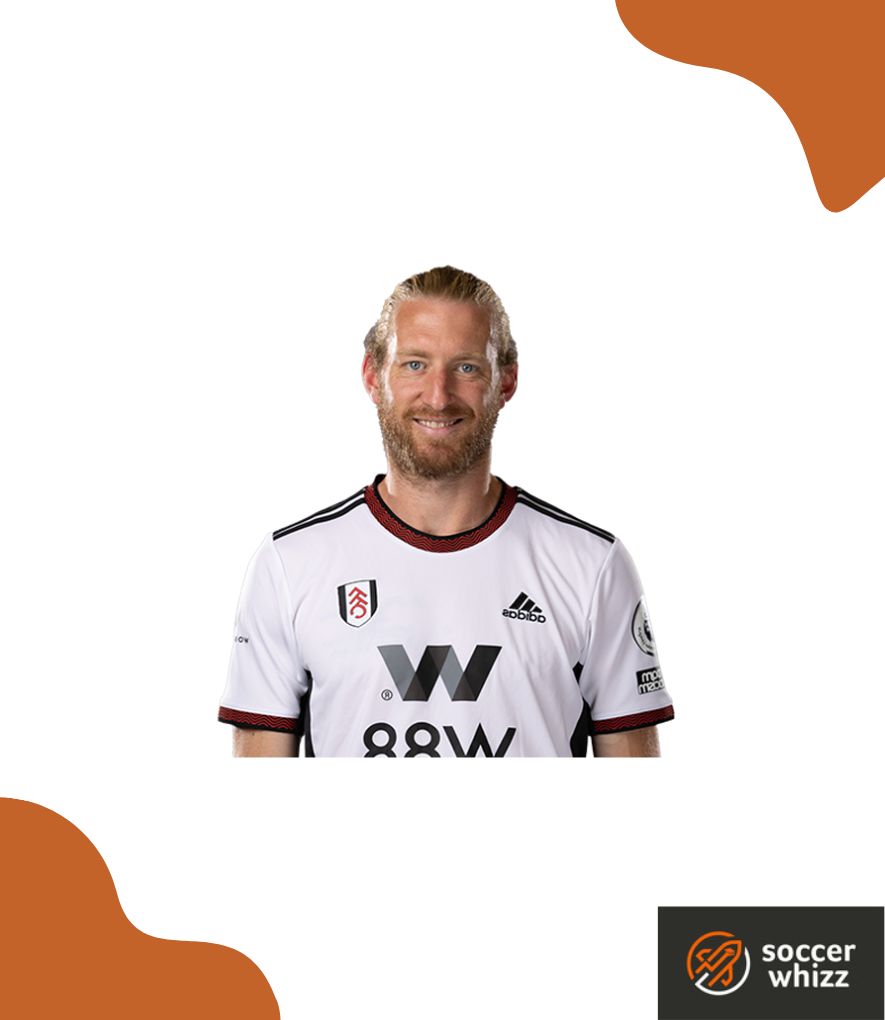 The veteran 35-year-old has been a key figure in Fulham's ascent back to England's top division, as he earned promotion with them from the EFL Championship in the previous year.
Having been with the English club since 2015, Ream will be fired up and ready to help Fulham survive relegation this season, especially because he doesn't have any future international commitments with the USMNT.
Funnily enough, Ream's contract with the London-based club expired at the end of the 2021/2022 campaign, but Fulham gave him an extension for another year.
He was ever-present for Fulham last year as he started all of the club's 46 league matches in the Championship, so you can expect him to feature quite prominently in the Premier League this year.
7. Antonee 'Jedi' Robinson – Fulham
Another Fulham starter that's American is Antonee Robinson.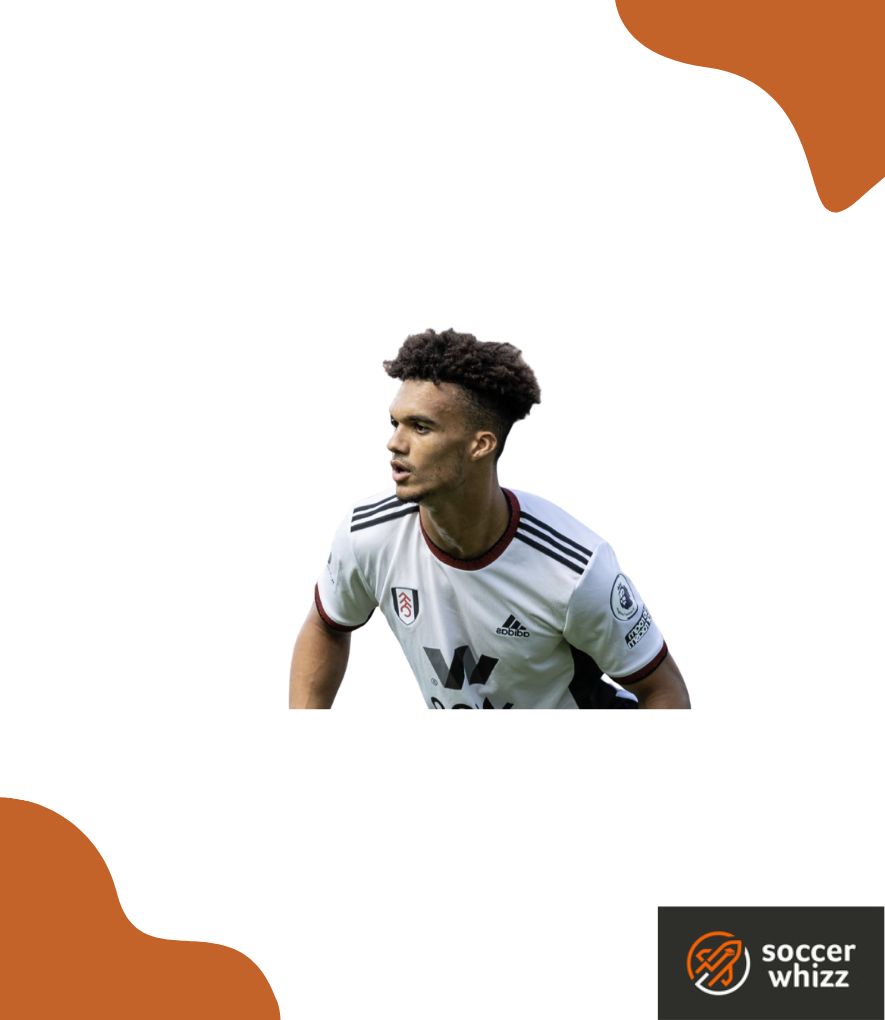 The 25-year-old left back is Fulham's and the USMNT's first choice option for this position, and he's demonstrated his class by being a dependable figure when Fulham won promotion back to the Premier League from the EFL Championship last year.
The "Jedi" was born in the United Kingdom to a father who had American citizenship and played in the Everton youth academy before earning a move to the Craven Cottage team.
Now you're probably wondering why Robinson doesn't line up for England when they play international games, right?
Well, the truth is that the competition for places in the England team is extremely fierce.
You have the likes of Ben Chilwell and Luke Shaw who are objectively better players than Robinson higher up in the selection criteria.
And then there's Kieran Trippier who can also feature at left back when required.
This competition for places probably made Robinson reconsider playing for England and choosing to instead represent the United States.
8. Matt Turner – Arsenal
Matt Turner is an American goalkeeper who plays for the North London club Arsenal.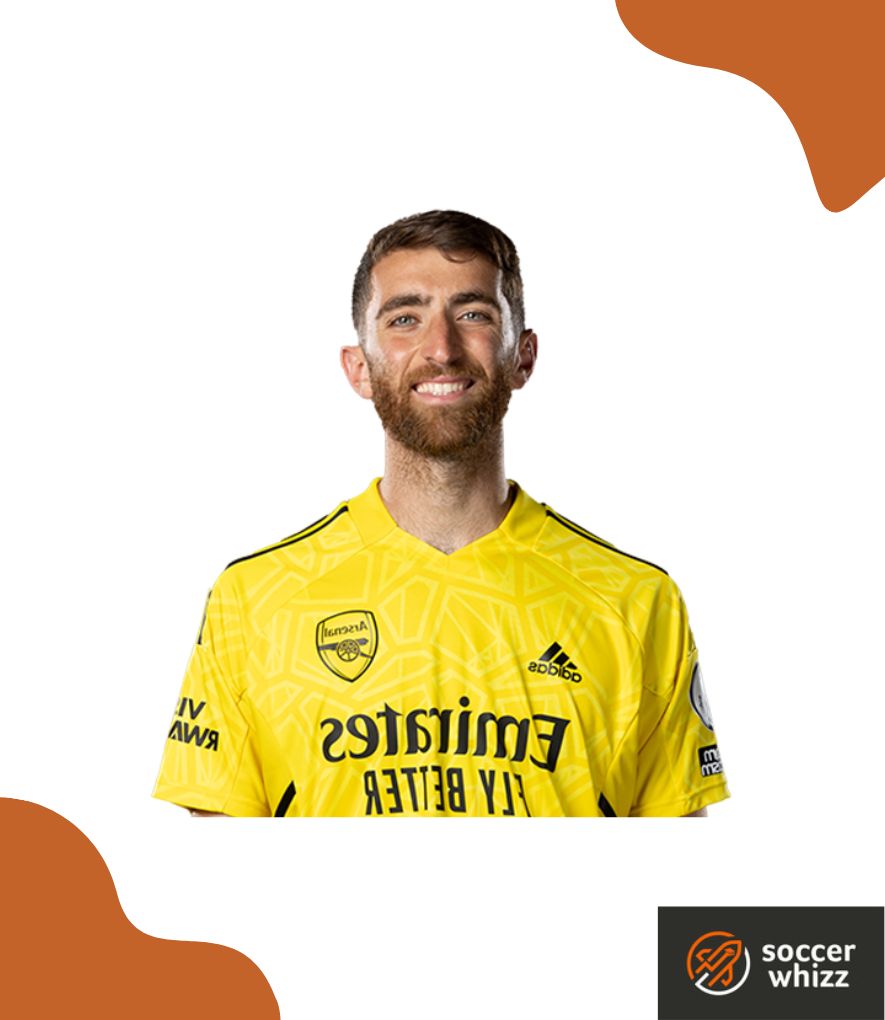 He's the backup option to first choice goalkeeper Aaron Ramsdale, which means that he won't see much if any playing time in the Premier League due to the fact that Ramsdale is preferred by the manager Mikel Arteta.
Turner was previously third in the pecking order for goalkeeper selection, but following Bernd Leno's transfer to Fulham, he has solidified his spot as the second-string goalkeeper for the current season.
If you want to see Turner playing, tune in to Carabao Cup or FA Cup fixtures that Arsenal play in, as he may get some minutes in these competitions.
9. Gabriel Slonina – Chelsea
Finally, we have the Chelsea goalkeeper Gabriel Slonina.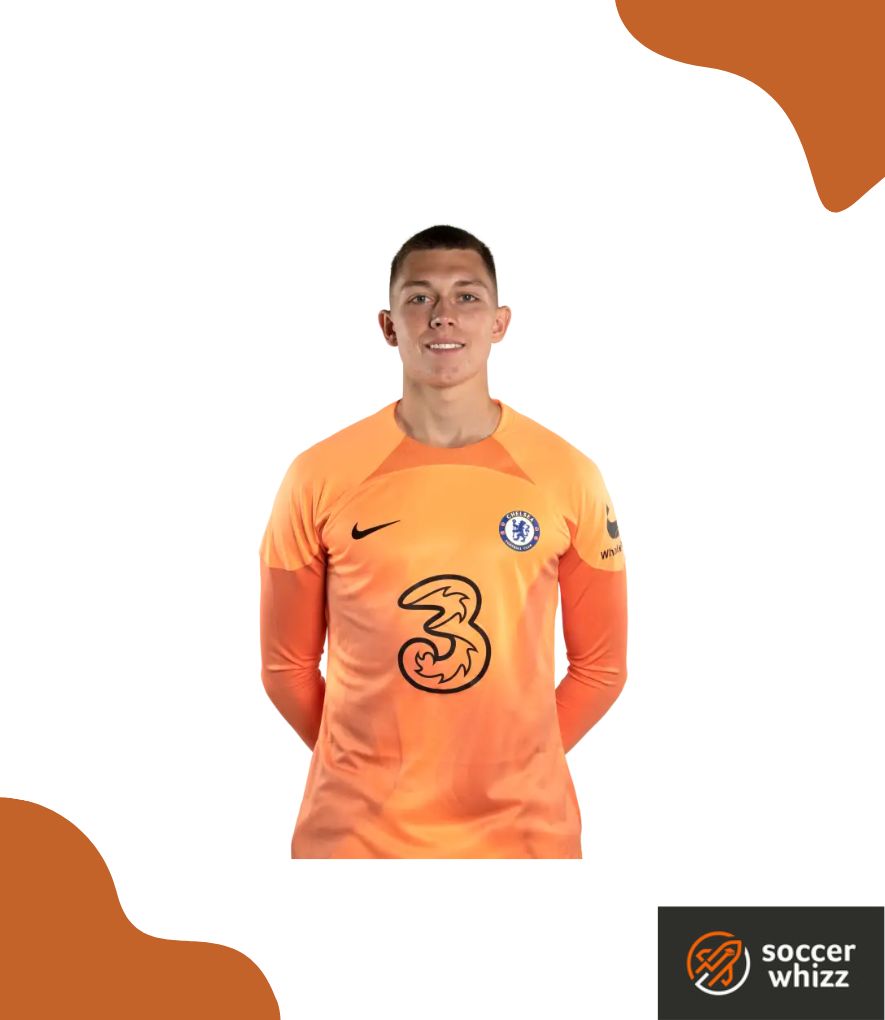 Slonina has had a meteoric rise since making his professional debut in Major League Soccer with Chicago Fire.
The United States youth international goalkeeper became the youngest goalkeeper to play in America's top division at 17 years and 81 days on the 4th of August 2021.
And there's been some great news recently too.
Slonina has been summoned by Chelsea to train for two weeks with his parent club, as he's only on a short-term loan deal with Chicago Fire.
Perhaps Slonina will pick up some first team minutes in the foreseeable future, seeing that the other goalkeeper he's in competition with (i.e. Édouard Mendy) appears to be out of favor with Graham Potter due to an inability to play the ball calmly out from the back.
Fingers crossed that Slonina makes his debut for Chelsea very soon!
How many Americans play in the English Premier League?
At the time of writing, there are a total of nine Americans representing different teams in the English Premier League.
If you're after a quick summary of all the players, you can simply scroll through the table below.
| Name | Age | Team | Position | Year Joined |
| --- | --- | --- | --- | --- |
| Christian Pulisic | 24 | Chelsea | Attacking Midfielder (Left, Right) | 2019 |
| Brenden Aaronson | 21 | Leeds United | Attacking Midfielder (Centre) | 2022 |
| Tyler Adams | 23 | Leeds United | Defensive Midfielder | 2022 |
| Chris Richards | 22 | Crystal Palace | Central Defender | 2022 |
| Tim Ream | 35 | Fulham | Central Defender | 2015 |
| Antonee Robinson | 25 | Fulham | Left Back | 2020 |
| Matt Turner | 28 | Arsenal | Goalkeeper | 2022 |
| Gabriel Slonina | 18 | Chelsea | Goalkeeper | 2022 |
| Weston McKennie | 24 | Leeds United | Midfielder | 2023 |
Who is the best American in the Premier League?
From a talent perspective, it's difficult to argue against Christian Pulisic being the best American player in the English division.
He's made the ranks at one of the most talented teams in England and the other American players in this league don't really match up to Pulisic in terms of the accolades they've managed to win.
Pulisic is already a UEFA Champions League winner with Chelsea, a feat that he's really proud to have accomplished.
Are there any American managers in the Premier League?
Yes, indeed there is!
Well, at least there was before this article got updated.
The former Leeds United boss – Jesse March – is in fact American.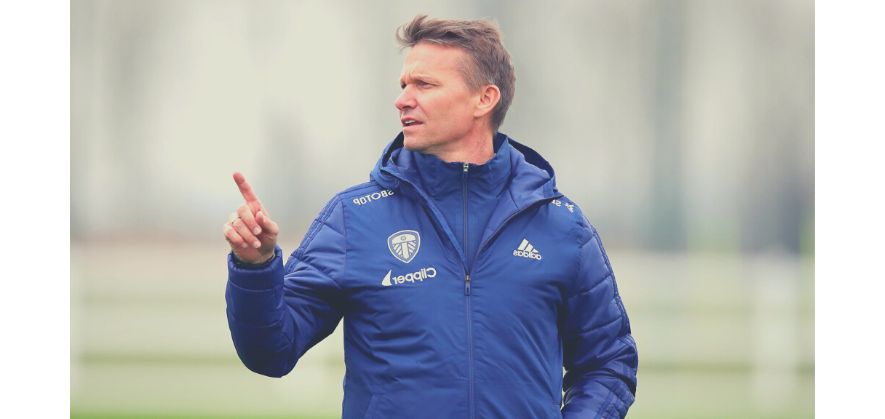 March took over from his predecessor Marcelo Bielsa in 2022 and is known to have a high-energy playing style for the teams that he coaches, consisting of peddle to the metal pressing.
The 48-year-old was able to guide Leeds to Premier League safety in the last campaign after they flirted with relegation from the division for the vast majority of it.
Having had managerial stints at Montreal Impact, New York Red Bulls, Red Bull Salzburg and RB Leipzig, his pedigree as a trainer isn't in question.
Unfortunately, his ability to succeed long term with the club was questioned by the Leeds hierarchy, who chose to relieve him of his duties in the 2022/2023 campaign following a dismal run of results in the Premier League.
Final thoughts
This article has comprehensively covered the topic of Americans playing in the Premier League.
Hopefully it was insightful and opened your eyes to the American talent representing the country in one of Europe's top divisions.
If you enjoy the content that I create and would like to buy me a coffee, then I'd really appreciate it!
Any money that I earn through this donation will be re-invested into more content for this website.
Additionally, by sending in a donation you'll also receive a copy of my recently released 190+ page eBook on Soccer Ball Care, as well as be subscribed to our mailing list where you'll be regularly informed on the latest developments concerning the Soccer Whizz blog.
Latest posts by Samuel Waihenya
(see all)