Disclaimer: Soccer Whizz is a participant in the Amazon Services LLC Associates Program, an affiliate advertising program designed to provide a means for sites to earn advertising fees by advertising and linking to Amazon.co.uk (source: Section 5). As an Amazon Associate I earn from qualifying purchases.
In football, goalkeepers have to live up to high expectations from their managers, team mates as well as the fanbase of the team that they represent.
Keeping the ball out of the net is certainly no easy feat at any level of the game.
And this 90-minute task is made even more difficult when the man between the posts has to put their physical health on the line by regularly diving and sprawling onto hard ground as quickly as possible.
Therefore, in today's article I'm going to reveal my well researched and thoroughly reviewed findings on the best padded goalkeeper shorts that players can sport in order to protect the hips and lower thigh areas of the body.
Let's kick things off with a brief look at the top recommendations:
Adidas Men's Tierro 13 Goalkeeper Shorts

Elastic waistband with drawcord

Storelli Sports ExoShield Goalkeeper Shorts

82% polyamide, 18% elastane

Nike Padded Goalie Shorts

Dri-fit technology with mesh panels

87% polyester, 13% cotton

McDavid Unisex Hex Pro Style Goalkeeper Shorts

KELME Goalkeeper Padded Shorts
The Adidas Men's Tierro 13 Goalkeeper Shorts sit at the summit for me because they not only meet the basic requirements of having good protective padding with great shock absorption that is supplemented by great comfort, they are also widely reviewed when compared against the alternatives which is another signal of customer confidence in the product.
Furthemore, Adidas have provided clear aftercare instructions that help to keep the product in the best possible shape after years of use which is quite commendable.
As a runner up, the McDavid Unisex Goalkeeper Shorts make the cut as they are innovatively designed and uniquely endorsed by hugely popular football professional goalkeepers as you will shortly discover.
And although they haven't featured in this roundup, the JAKO Goalkeeper Pants look to be the best goalkeeper short option for kids, as they come with ergonomic padded inserts for the hip area that absorb impact quite well and a string of positive reviews.
1. Adidas Men's Tierro 13 Goalkeeper Shorts
Adidas are one of the dominant juggernauts when it comes to the consumer market for sports apparel, so you can rest assured that their products meet the benchmark for quality in the vast majority of cases.
Appearance
To begin with, these shorts receive top marks from me for style and shape.
The black colour of the garment combines very well with the signature three stripe design that features prominently on either side of the shorts.
Provided you select the correct size before purchase, you will also be impressed with how they effortlessly contour to the shape of your own waist and thighs.
This is partly because the 20-centimetre medium-sized inseam contributes to a trendy and well-fitting look that is neither too baggy nor overly snug for a goalkeeper.
Although size concerns are also negated by the presence of an elasticated waist with drawcord which allows for a simple adjustment.
Climalite fabric
The 100% polyester fabric is soft in texture and it serves to sweep sweat away from your skin so that you feel comfortable throughout the game and can maintain focus on keeping that prized clean sheet.
However, in order to preserve the longevity of the goalkeeper shorts the manufacturer recommends that buyers adhere to the strict washing instructions which include:
No bleaching
No dry cleaning or tumble drying
Machine washing at a warm temperature (e.g. 40 degrees) and avoiding the use of fabric softener
Protective padding
Ultimately, a goalkeeper would want to invest in a specialised pair of shorts for the shielding and reinforcement that helps them to withstand falls and sharp impacts.
This item ticks the above box as it doesn't disappoint.
Flexible padding on the hips gives the wearer a robust amount of protection against bruises and bumps, especially when a goalkeeper attempts an acrobatic slide or dive.
2. Storelli Sports ExoShield Goalkeeper Shorts
Storelli Sports ExoShield Goalkeeper Shorts
ARMORED GOALKEEPER SHORTS: Premium padded soccer shorts for goalkeepers, armored with 7mm of heavy-duty thigh and hip pads to prevent cuts, bruises, and contusions. Shuts down distractions and promotes dominance. Made stronger for safer soccer.
EXTREME LOWER BODY PROTECTION: Engineered with high-performance XRD Extreme Impact Protection pads that absorb up to 90% of impact to ensure a safe landing on any surface. Designed to maximize safety and confidence when sliding and tackling.
LIGHTWEIGHT & FORM FITTING: Ergonomic design maximizes range of motion and fitted design keeps padding close to the body, ideal for layering. Features a drawstring to adjust the waist for a secure, comfortable fit.
Storelli are another sports clothing manufacturer who have made a name for themselves as a premium brand that sells fantastic products on the higher side of price bracket.
They focus exclusively on developing gear that protect footballers from head to toe, and the fact that they specialise in this area means I'm able to confidently vouch for them among my list of top choices.
Their goalkeeper shorts are quite similar in shape and appearance to the previously reviewed Adidas ones, with the main notable difference being the signature yellow Storelli logo placed on the bottom right front side.
Now let's look at the headline features:
Heavy-duty padding
The padding on these is a bit more pronounced as it comes embedded with 7 millimetres of flexible polyurethane foam that is optimised for impact absorption on the external sides of each leg area.
The shorts also give decent cushioning at the rear, which can come in handy when a goalkeeper gets caught flat footed and lands on their backside.
Impact resistant
They've extreme impact protection pads that they've been engineered with are said to absorb up to 90% of impact which should ensure a safe landing on any surface.
This makes these shorts a great option for goalkeepers who rely on their reflexes as cuts, bruises and contusions are prevented no matter how intensely or aggressively one chooses to dive and slide.
Form fitting
Besides the sweat-wicking and anti-bacterial treatment of the 95% polyester fabric which keeps athletes cool and odour free, the shorts envelope the body in a way that presses the padding a little firmly against it.
This improves a goalkeeper's range of motion whilst wearing them, and the ergonomic design makes the shorts ideal for layering on top of or underneath another piece of clothing.
So, these shorts are great for use in much colder environments where temperatures are quite low, as they don't get too bulky even with additional garments worn with them.
Before I move on to the next recommendation, I'd just like to mention the Storelli Unisex Bodyshield Goalkeeper Sliders.
If you're looking for a layering solution equipped with basic lower body protection then these will have you sorted.
They come with 10-millimetre moulded thigh pads along with 3-millimetre tailbone pads that are designed to minimise distractions for goalkeepers so that they can concentrate on giving their best performance.
3. Nike Padded Goalie Shorts
Nike Padded Goalie Shorts
Dri-fit technology, which provides high breathability and good ventilation
Embroidered swoosh on left leg; ideal for training or match itself
Comfortable fit that is made of soft, lightweight material polyester and cotton
Nike is quite arguably the top sports manufacturer in the world.
They are involved across multiple consumer categories and it shouldn't come as much surprise that they've managed to be included within this product roundup on the best padded goalkeeper shorts.
What they've designed here ranges from good to excellent if I were to award them with a basic quality rating.
The goalkeeper shorts are well padded on either side, as the safety cushioning extends all the way to the lower thigh areas situated just above the knees.
In addition to this, there are mesh panels located at the back and sides which promote better ventilation, which is very important for an athlete's personal comfort as they need to be cool and dry during competition.
Nike have also paid attention to custom fit, as they've incorporated an elastic waist with a drawcord into the design so that the sizing can be fine-tuned to the exact specifications of the person wearing the shorts.
The fabric comprises of 83% polyester and 13% cotton, which is a good combination as breathability and warmth are accounted for in equal measure.
All in all, these shorts are a decent option particularly for those on a tighter budget.
Despite the scarcity of consumer reviews on this product, the fact that one can get their hands on shorts made by a household brand for a reasonable price is quite the bargain in my view.
4. McDavid Unisex Goalkeeper Football Shorts
McDavid Unisex Goalkeeper Football Shorts
Excellent protection for goalkeepers: the Mcdavid Hex goalkeeper Short protects the hips and thighs. The padded Short is specially designed for goalkeepers. Be like marc-andré TER stegen and wear only the best goalkeeper Short!
Ergonomically fit thanks to hex technology: the Mcdavid Hex technology consists of Small hexagonal foam pieces. These pieces move independent and freely with the body. The 9 mm hex padding of the Mcdavid Extreme goalkeeper Short does not affect the movement of the lower body
The Mcdavid Hex pads are made out of closed cell foam hexagons, which do not absorb water and provide an advanced shock absorption
The McDavid brand is one that I can also vouch for without hesitation.
First off, they are globally renowned for their innovation when it comes to manufacturing sports apparel that is designed to afford athletes the best possible protection from injuries.
I even featured one of their products in a recent review roundup which covered the best ankle braces for football.
But let's get on to the appealing elements behind this good pair of goalkeeper shorts:
HEX padding
They've certainly gone the extra mile here by patenting the HEX technology that these shorts have been designed with.
This mechanism comprises of 9-millimetre closed foam hexagonal cells that combine with textiles to allow the padding to contort freely and synchronously with the movement of a goalkeeper.
These cells are resistant to water intake and provide great shock absorption.
The padding also adapts to an athlete's body shape as well, thereby offering an immense level of flexibility and protection against bruises and abrasions that may be sustained while diving.
More so, it is strategically placed on either side in order to offer ample cushioning for the knees, hips and thighs.
Supreme comfort
McDavid have also incorporated moisture management technology within the fabric to wick sweat away from the skin and break it down for fast evaporation.
The comfort doesn't stop there, as the shorts are made with needle flat seams to eliminate the skin irritation that is usually brought about by the body continuously rubbing against a fabric when an athlete is competing.
Professionally endorsed
What I find really unique about this product is that the company has secured professional endorsement deals with some of the top goalkeepers within the game!
Barcelona's first choice goalkeeper Marc-André ter Stegen is the main face of this brand, as he appears in the product demonstrations casually kicking a football whilst wearing the shorts.
They've also sought collaboration with former Manchester City and current Chelsea goalkeeper Willy Caballero, which gives the product further purchase appeal.
5. KELME Goalkeeper Padded Shorts
KELME Goalkeeper Padded Shorts
✔️ FIT - The perfect fit will make you never want to try another brand again.
✔️ PROTECTION – Multiple protection pads placed on strategic areas to protect your lower body for that game saving dive.
✔️ CONFIDENCE - We know how important it is to look and feel good on the field. Soccer is a mental game and your confidence is a big part of your success. We are doing our part to make you look and feel like a PRO.
Last up we have these shorts by KELME.
Now it's easy to think this is one of those AliExpress type companies but that couldn't be further from the truth.
As a matter of fact, it is an established Spanish sports brand – that was once upon a time the designated official sponsor for the Spanish national team at the 1992 Olympic games.
They've been in operation for approximately half a century and have also previously sponsored La Liga football league in the 2018/2019 season and Real Madrid, who are the most decorated European side in football today.
So, the products they produce certainly shouldn't be scoffed at as they've got a solid reputation.
Now, let's look at the headline features here.
Stylistically, they're quite different to the ones that have already been reviewed.
To begin with, the colour of these goalkeeper shorts is navy blue with a touch of orange, as the padding features brightly coloured stitching on either side and the embroidered logo comes in a shade of orange as well.
At first glance, you'd also think that they were just a regular pair of shorts, as the multiple protection pads placed on strategic areas of the garment are not particularly prominent.
But they fit the bill for a goalkeeper nonetheless, as they come with K-Air technology that promotes ventilation and overall breathability which serves to keep an athlete cool and dry during games.
Qualities to look for in goalkeeper shorts
Before proceeding to review the aforementioned options, it's always important for prospective buyers to be educated on the different factors that contribute to overall product quality.
With a better understanding of the elements that combine together to make a great set of goalkeeper shorts, it becomes much easier to conduct detailed procurement evaluations that ultimately make for more informed purchases which leave customers satisfied for years to come.
So, let's now take a look at what you should be on the lookout for.
Motion range
Goalkeeper shorts naturally offer a greater range of motion than goalkeeper pants partly due to the fact that the former wraps around the lower body from the hip to knee area, whereas the latter covers and compresses the upper and lower legs in their entirety.
But if twisting, turning and stretching quickly and easily are major sticking points, you should consider acquiring sliding shorts which can further promote fluid body movement on the pitch.
Sliding shorts – that are typically worn underneath a pair of regular garments as a sort of base layer – may be a more suitable use case for a goalkeeper that thrives on having an abundance of flexibility.
They are said to offer much more versatility than standard shorts, but their thinness of padding and effective compression comes at the expense of cushioning and overall protection.
Length
With football tactics having evolved over the last couple of decades, goalkeeper roles have transitioned from being purely about shot stopping and reflexes.
Much greater emphasis is now placed on ball distribution and progressive build up through playing out of defence.
In fact, it's now commonplace to watch goalkeepers frequently move within their 18-yard box to avail themselves as passing options by shifting positions as play begins from deep.
Furthermore, with plenty of teams making use of high defensive lines, goalkeepers are expected to play their part as sweepers by intercepting through balls that get played in behind.
This means that the men between the posts have to run more miles than ever before, and you need more than a safe pair of goalkeeper gloves for a complete performance.
Watch the first four minutes of the video below, which dissects the tactical deployment of Ederson by Manchester City manager Pep Guardiola with regard to chance creation and sweeping:
So, different short lengths are likely to affect your running and kicking performance to various degrees.
Three-inch ones are said to provide ample ventilation and range of movement for running whereas, on the opposite end of the length spectrum, a seven-inch pair can safeguard your thighs and knees more effectively by preventing abrasions brought about by skidding on the turf.
The table below sums this all up:
Getting the length right is now more important than it's ever been for a goalkeeper, and the option you choose will depend largely on your playing style as a goalkeeper.
If you are more progressive when it comes to passing and do plenty of running, goalkeeper shorts that are low in length would be much more ideal for you.
Weight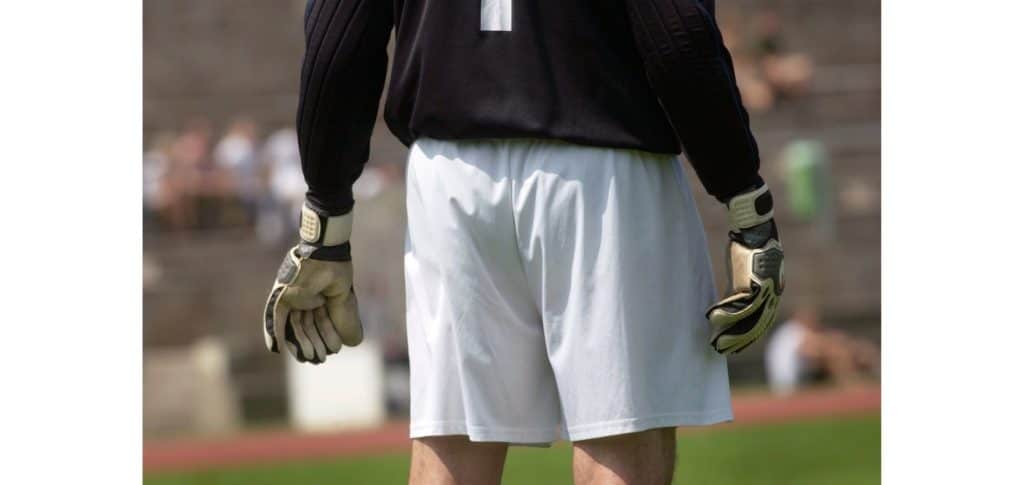 The last important consideration outside of things like the budget you have available to spend and the reputation of the brand in question is how heavy the shorts feel once worn.
As a goalkeeper involved in lots of acrobatic activity on the football field, you will want shorts that are lightweight in nature.
Longer inseams can make shorts feel heavier and a build-up of sweat within the fabric that holds one back when contesting for a ball can have a detrimental effect on performance
Frequently asked questions
Before I conclude, I'll take a short moment to cover a couple of queries that prospective customers may have when it comes to the topic of goalkeeper shorts.
Here goes…
Do professional goalkeepers wear padded shorts?
From my own personal experience of watching the sport for several years, I'm yet to encounter a goalkeeper that wears them during professional competition.
At that level of the game, the margins are so fine and it's so important for goalkeepers to feel as lightweight as possible.
Which is why you are likely to find them comfortable wearing the regular football shorts of their own team and maybe a pair of base layer leggings as an addition underneath.
Although it's equally important to note that the rules of the game do allow the use of shorts and pants specifically tailored for the goalkeeper position with extra padding.
How often should padded goalkeeper shorts be washed?
This will differ from person to person.
If you are wearing the shorts as an under layer, I would recommend a wash after every use case due to the fact that they would be in direct contact with the skin throughout a game or training session.
However, if you they are being worn as a top layer over a pair of underwear, it's perfectly fine to put them in the machine after every second or third match.
Just be careful not to wear the shorts if they are already smelling of unpleasant body odour!
Closing recommendation
That brings me to the end of this product roundup on the best padded goalkeeper shorts.
It's not easy to pick a winner due to the overwhelming quality of the options that are available.
But if I had to go for one above the rest, I'd gladly settle with the Adidas Men's Tierro 13 Goalkeeper Shorts, primarily due to the abundance of positive reviews and the budget friendly price point when stacked up against the alternatives.
Latest posts by Samuel Waihenya
(see all)