Disclaimer: Soccer Whizz is a participant in the Amazon Services LLC Associates Program, an affiliate advertising program designed to provide a means for sites to earn advertising fees by advertising and linking to Amazon.co.uk (source: Section 5). As an Amazon Associate I earn from qualifying purchases. The blog also earns small commissions from ShareASale and CJ affiliate links placed within the article.
I must admit, coming from the United Kingdom I had never heard about the Select soccer ball brand until a couple of months ago.
Which is quite shocking considering the fact that I love most aspects of the sport.
Anyway, they've received plenty of rave reviews within the United States and Canada, so I thought it would be nice to do a dedicated product roundup on their soccer ball range.
Now, I always kickstart this type of article with a comparison table that quickly outlines the top options – handy for those who don't want to read the entire text.
So, here's my curated list of the top Select soccer balls that buyers should get their hands on:
| | | | | |
| --- | --- | --- | --- | --- |
| | | | | |
| | SELECT Numero 10 Soccer Ball | | | |
| | SELECT Brilliant Super Soccer Ball | Microfibre synthetic leather | | |
| | SELECT Royale Soccer Ball | | | |
| | SELECT Bundesliga Derbystar Match Ball | | | |
In my opinion, the Select Numero 10 ball wins hands down. It possesses all the characteristics of a great performer due to its top-notch flight, bounce and roundness; with a reasonable price point being the icing on the cake.
Now, let's get down to the nitty gritty business by further dissecting the aforementioned options.
1. Select Numero 10 Soccer Ball
Select Numero 10 Soccer Ball
HIGHEST QUALITY: A legendary match and training ball used around the world for decades for training and matches
PREMIUM MATERIALS: PU material laminated with neoprene foam to increase softness with SELECT's premium zero-wing latex bladder for optimal bounce
NFHS/NCAA and IMS APPROVED: Meets or exceeds all requirements for NFHS(National Federation of High Schools) and NCAA play. IMS(International Match Standard) approval as well.
I'll start with Select's best seller – the Numero 10.
This has been the match and training ball of choice for many amateur, semi-professional and top-level players across the globe for a number of years.
As a prospective buyer, just by looking at this product you get the initial sense that it ticks the trust and quality boxes that are a necessary prerequisite before making a soccer ball purchase.
For starters, you've got the simple choice of two colourways:
White, black and gold
White and red
More importantly however, the Numero 10 has a number of cool design features that I'd like to talk about.
So, grab yourself a coffee and brace yourself for what's about to be revealed!
Neoprene foam laminated
The polyurethane outer shell of this soccer ball has been laminated with a neoprene foam which is said to increase overall softness.
One of the most common frustrations brought about by some soccer balls is when they are to hard to kick or control.
You jostle for a header and end up with a migraine afterwards, or you could attempt to toe poke the ball and subsequently suffer from a blister!
So, this premium material add-on provides ample cushioning for players which ultimately elevates the comfort and enjoyment they derive from playing the game.
Zero-wing latex bladder
Another great inclusion within this Select soccer ball is the latex bladder.
You see, this component amplifies the responsiveness of the ball by providing it with livelier bounce capabilities.
Professional players usually endorse soccer balls with this bladder type because you can extract better agility, aerodynamics and overall performance from them.
Although on the flip side, the nature of the material has a bit of a downside to it.
Latex consists of micro pore openings that ventilate – which partly explains why soccer balls lose air over time.
Nevertheless, the benefits of a latex bladder generally outweigh the downsides when it comes to a soccer ball that's been expertly constructed.
FIFA approved
As quality-conscious buyers we're always looking out for certain seals of recognition that will nudge us to make a purchase.
This ball has exactly that with its International Match Standard (IMS) approval badge from FIFA.
I talked about what this means in my article on what soccer balls professional players use, so you can check that out for further information.
To briefly summarise that post, International Match Standard soccer balls have undergone and successfully passed a series of tests to judge certain qualities like roundness, bounce, water absorption and size retention.
This ball also gets the green light from the National Federation of High Schools (NFHS) and the National Collegiate Athletic Association (NCAA) in the United States, making it safe for play even at grassroot level.
Video review
What's a roundup article without a thorough visual demonstration of how the product looks like, right?
Here's a great video that covers this area:
Other specifications
32 panel construction
Hand-stitched
4-layer material underlining for greater bounce
2. Select Brilliant Super Soccer Ball
Select Brilliant Super Soccer Ball
HIGHEST QUALITY: Premium Teijin microfiber synthetic-leather combined and 3-layer underlining with a Zero Wing latex bladder give the ball a lively bounce and an even lighter and softer touch
THERMO BONDED TECHNOLOGY: A method that activates the glue with heat and pressure to bond the 32 panels. No stiching. TB ball tkes up less water helping to keep original weight when playing in wet conditions
PREMIUM OUTER MATERIALS: The outer material and the underlying foam gives the ball a light touch and a comfortable softness
Up next we have another brilliant option called the Select Brilliant Super Soccer Ball.
I mean, what a great choice of name!
On a more serious note, this ball is specifically designed for play at the highest competitive level.
The one being reviewed right now is the official version 17 ball for the National Association of Intercollegiate Athletics (NAIA).
And within the Amazon listing itself, there are some other premium alternatives like the Brilliant Super USL League One ball and the Brilliant Super USL Championship ball.
But I'm only going to talk about the NAIA ball here, as the others cost a fair bit more.
Let's get started then!
Teijin microfibre synthetic leather
To begin with, this ball is made from some of the highest quality fabric available.
What this synthetic leather excels at is keeping the ball's spherical shape intact.
So, as a player you don't have to have any worries or reservations about kicking the ball as hard as you can for fear of it becoming egg-shaped.
This soccer ball will retain its roundness all-year round.
3-layer underlining
Just like the previously reviewed model, the Brilliant Super uses neoprene foam to give it a lighter touch through extra cushioning.
And this component also goes some way to providing the ball with a livelier bounce.
But this underlining wouldn't mean much of anything if the stitching and surface texture wasn't up to scratch.
The precision of hand-stitching enables the ball to have more stable flight patterns when airborne, whilst the textured surface offers more friction which makes in-game aspects like ball control and dribbling a more pleasant experience.
FIFA certified
There's just so much to love about this ball.
This is because it has also managed to attain the highest possible FIFA quality rating for ball performance factors such as weight, bounce, water absorption and shape-stability.
Video review
Get a clearer picture of this ball in action by watching the video that I've linked to below:
Colour choices and editions
Prosoective buyers are certainly in for a treat as the Brilliant Super range comes in a multitude of different colours and editions.
You can take your pick from the list of options below:
Other specifications
Zero-wing bladder
32-panel design
3. Select Royale Soccer Ball
No products found.
The No products found. is one of the more recent models that the manufacturer has released, as it's undergone a slight revamp for the start of the 2019-2020 soccer season.
Admittedly, I struggle to see any differentiating factors that make this ball stand out from its predecessors.
But take nothing away from that statement, because this is still a really great ball.
Firstly, it's got a Japanese polyurethane outer covering of 1.8 millimetres that gives it great durability and puts it as a strong contender for being the match and training ball of choice amongst all sorts of players.
Now, 1.8 millimetres might not sound like a lot to you but for someone such as myself who's reviewed several soccer balls in past articles, I'll tell you that this ball has quite the thickness!
A ball this thick is greatly protected from the tears and abrasions that come as part of intensely competitive games
Select also favours hand-stitched craftmanship and that is the case here as the ball's panels were firmly secured by hand to ensure the best balance of friction and flight control, as well as reinforce ball roundness.
Furthermore, the ball has the International Match Standard badge that I've already spoken briefly about, meaning it meets the strict ball quality standards set out by the world football governing body – FIFA.
Another plus – perhaps over the other reviewed models – is the flexibility when it comes to colour choices.
Prospective buyers will salivate at the options they have here, which consist of:
White and blue
White and red
White and green
White and maroon
Video review
Here's a short clip that dates back to 2013 when the earlier version of the ball was in demand:
Other specifications
32-panel count
Zero-wing latex bladder
NFHS® and NCAA® approved
4. Select Bundesliga Derbystar Match Ball
Germany's highest soccer league division certainly gets a lot of eyeballs.
The Bundesliga is one of the most prestigious competitions that professional players could ask to play in, and the ball that SELECT have created for it is simply outstanding.
SELECT's Derbystar soccer ball certainly pulls all the punches, as it's approval by FIFA ensures that it performs to the highest quality standard.
You can have a read of our article on how soccer balls are tested as it thoroughly explains all the dynamics.
It also features a zero-wing latex bladder just like the aforementioned Brilliant Super model, so you can rest assured that the ball will maintain an optimally round shape as well as have a very lively bounce.
Another great quality of this ball is the fact that it's been hand-stitched together.
What this does is ensure the seams sit deeper within the inner structure of the ball, thereby lowering the likelihood of stitches tearing or becoming undone.
Other specifications
Ball diameter – 28 inches
Ball size – 5
You can also purchase this soccer ball on Pro Soccer.com, as they list the DerbyStar ball for a similar price.
You can also have a look at this Unisex version of the Bundesliga Derbystar on Amazon.
It's well reviewed and the price point is more affordable.
Things to consider before buying a SELECT soccer ball
Just before you make the final decision on what Select soccer ball you're going to buy, take a minute to read through some of the things you need to bear in mind.
Competition level
For starters, you'd be better off keeping things simple by opting for one of the more basic training balls like the Numero 10 – especially if you're just a casual player.
At that novice level, the extra bells and whistles that make up a professional level ball won't make much of a difference to your game.
Budget
At the end of the day, the amount of disposable income that you have will dictate the sort of soccer ball that you'll be able to afford.
Durability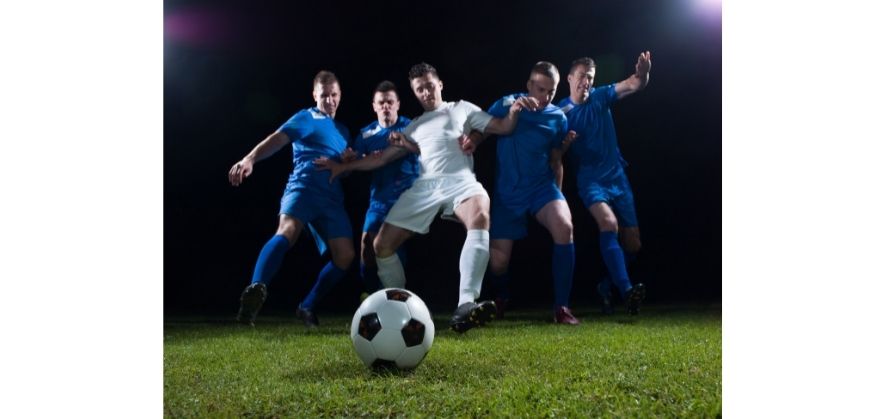 Are you after a ball that will withstand the test of time, or are you content with something that will give you a little less mileage?
If you fall into the former category, the Select Royale Ball is a good fit because of the thickness of the outer material.
At 1.8 millimetres of outer polyurethane, this ball is a good candidate to withstand tears and rough abrasions that come as part of fiercely contested games.
What leagues use Select soccer balls?
Select have a solid international reputation.
Most impressively, they work in partnership with the Danish national team and supply their soccer balls to the Danish League as well as the Belgian, Portuguese, Norwegian, Finnish, Icelandic and Swedish leagues.
That's a total of seven different leagues within Europe, and I haven't even counted the tiers that fall under each of those.
What's quite interesting is that they've also expanded their base to include the United States, with the USL Championship – a Division 2 league sanctioned by the United States Soccer Federation – being a major beneficiary.
Their territorial dominance doesn't even stop there, because in 2020 the Singapore Premier League was the first soccer competition in the Asian region to use Select as an official match ball sponsor.
Are select soccer balls good?
All things considered; Select is a very good soccer ball brand.
If I was to rank them on a sliding scale from best to worst, they would come in just behind Adidas soccer balls who sit at the very top; slightly ahead of Mitre soccer balls and Puma soccer balls, not to mention being comfortably in front of Nike soccer balls.
Favouring hand-stitched construction, the manufacturer is able to use human precision to some of the highest quality soccer balls known to man.
In my honest view, they fully deserve all the plaudits that they attract.
And if I was to pick a winner out of the three, it would have to be the Select Numero 10 as you receive more or less the same performance benefits for a fraction of the price of the higher-priced Brilliant Super model.
Before you go, you can also check out my general soccer ball buying guide.
Latest posts by Samuel Waihenya
(see all)