Norway's soccer sensation Erling Braut Haaland just seems to be getting better and better with each passing game.
The Manchester City forward appears to have hit stride following a series of impressive performances that have left seasoned Premier League defenders struggling to catch their breath.
His height and physicality allows him to bully opponents off of the ball, and despite him being quite tall in stature he has remarkable quickness off the mark.
Many defenders will attest to having been caught out by Haaland's break of pace, with his speed being one of the qualities that makes him stand out as a fantastic player.
However, Haaland doesn't just dominate internet searches for his fierce playing tenacity and goal scoring ability.
There's actually something quite funny about him that's been doing the rounds as well.
And it relates to the interesting way in which the Norwegian international runs.
Read out to find out more!
What is the Haaland running meme?
Well, it all started when Haaland made an impressive sprint in a UEFA Champions League fixture versus Paris Saint Germain back in 2020.
Haaland took almost everyone in the stadium by surprise with his sizzling acceleration to get from one end of the soccer field to the other.
The speed he clocked was so good, nearly managing to beat an existing world record when it comes to sprinting over a distance of 60 meters.
We're talking approximately:
"Three-tenths of a second off the world record set by American sprinter Christian Coleman in 2018. It was also just shy of the Norwegian national record, which stands at 6.55."

Source – Diario AS
Here's some footage which shows how he got to this speed:
Covering the aforementioned distance in a staggering time of 6.64 seconds earned him massive plaudits from soccer fans across the world.
From this point on, people took creative license to show Haaland running amongst other stalwarts of sprinting like Usain Bolt, with others joking that Haaland is able to challenge Forrest Gump (a fictional character from a 1994 film) in a foot race.
Here are some of those pictures: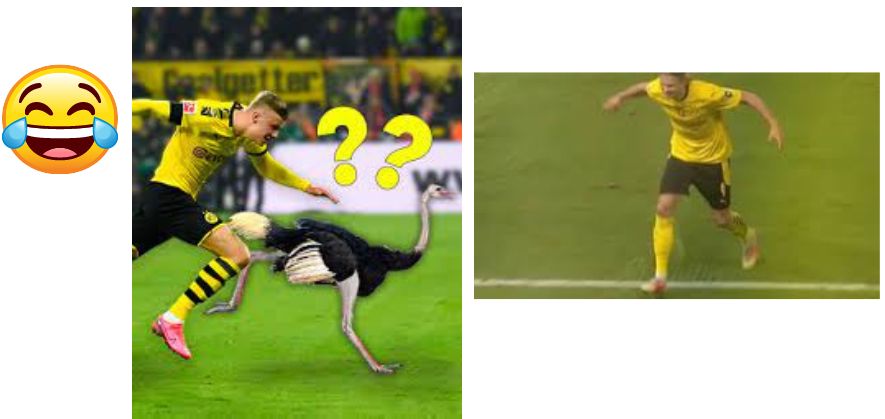 Where did the meme originate from?
Norwegian television channel TV 2 Sport came up with a fitting way to commemorate Haaland's sprinting feat by throwing up a playful video that pokes a little fun at the player himself.
They released this footage back in February of 2020 to their social media channel.
Here's what it shows:
You've got to give them credit where it's due.
The television outlet captivated its viewers by exaggerating Haaland's sprinting capabilities beyond realistic levels.
When you see him sprinting up a mountain or managing to outpace the legendary Jamaican athlete Usain Bolt, you can't help but laugh at the ridiculousness of it all.
Why do people say Haaland runs like an ostrich?
The way in which he ran that day brought about even more popularity.
You see, the way in which Haaland sprints is quite funny.
He flings his arms forward as his feet do the bulk of the work, in such a peculiar way that it looks as though his running form resembles that of an ostrich making a quick burst.
Check out the informative video below, which sheds some extra light on this hilarious subtopic:
Final thoughts
Hopefully this short article has shed some light on the Haaland running meme.
You'll now understand why the Manchester City player gets made fun of, as it pertains to the manner in which he performs sprints during games.
If you'd like to find out more about soccer's long list of different memes, you can have a read through some related content on our blog, such as:
If you enjoy the content that I create and would like to buy me a coffee, then I'd really appreciate it!
Any money that I earn through this donation will be re-invested into more content for this website.
Additionally, by sending in a donation you'll also receive a copy of my recently released 190+ page eBook on Soccer Ball Care, as well as be subscribed to our mailing list where you'll be regularly informed on the latest developments concerning the Soccer Whizz blog.
Latest posts by Samuel Waihenya
(see all)