Harry Maguire is a soccer player whose performances on the pitch have come under a lot of intense media scrutiny.
In the past couple of seasons, the England defender's reputation has fallen quite heavily.
Time has seen Maguire go from being a stalwart of the national team setup, to a laughing stock who rides the substitutes bench at Manchester United.
And that begs the question…
How did Maguire's meteoric descent happen?
This article will therefore point readers in the right direction by highlighting Maguire's faults as a player.
So, let's start with a quick summary.
Harry Maguire is regarded as a bad soccer player because of his high propensity to make unforced errors on the pitch, which ultimately lead to his team conceding goals. The defender's lack of mobility and momentary lapses in concentration epitomize the negatives in his game.
Now, we're going to breakdown the exact areas where Maguire falls short as a defender.
Buckle up, because it isn't going to be pretty by any means!
Reasons why Maguire is not good at defending
It's become a bit of a common occurrence to see Harry Maguire's name in the sporting headlines for the wrong reasons.
But believe it or not, Maguire used to be a very serviceable defender who played a role in helping Manchester United secure UEFA Champions League competition with 2nd and 3rd place league finishes under former manager Ole Gunnar Solskjaer.
That's quite commendable considering the quality of competition in Manchester City, Liverpool, Chelsea and to a lesser extent Tottenham Hotspur.
So, what went wrong for Maguire that makes him such a bad player today?
Well, the answer can probably be traced back to…
1. The Greece incident
Harry Maguire was detained in Greece whilst on holiday after he allegedly hit a police officer whilst on the island of Mykonos.
The Manchester United captain was then found guilty of aggravated assault, with a number of other unpleasant things coming up in his case, such as the fact that he resisted arrest and attempted to bribe the police officers who were taking him into custody.
It's believed that the commotion started when Maguire and his group were involved in an altercation with people who they accused of trying to drug Maguire's sister.
Even though Maguire pleaded not guilty to the charges and was eventually acquitted, some say this incident affected his mental stability, which subsequently affected his performances on the soccer pitch.
You could tell because if you watched him play after that ordeal, you could notice that his performances were a bit erratic.
For soccer athletes, confidence plays such a big part in how they're able to deal with sequences of play on the pitch.
Therefore, the lack of confidence which had filtered into Maguire's play arguably contributed into his downward spiral when it came to his output.
2. Lack of pace
Maguire certainly isn't the quickest defender in the world.
His speed limitation arguably inhibits the rest of the team because his defensive partners in Luke Shaw, Victor Lindelof and Raphael Varane have to cover for his shortcomings when it comes to how quick he is off the mark.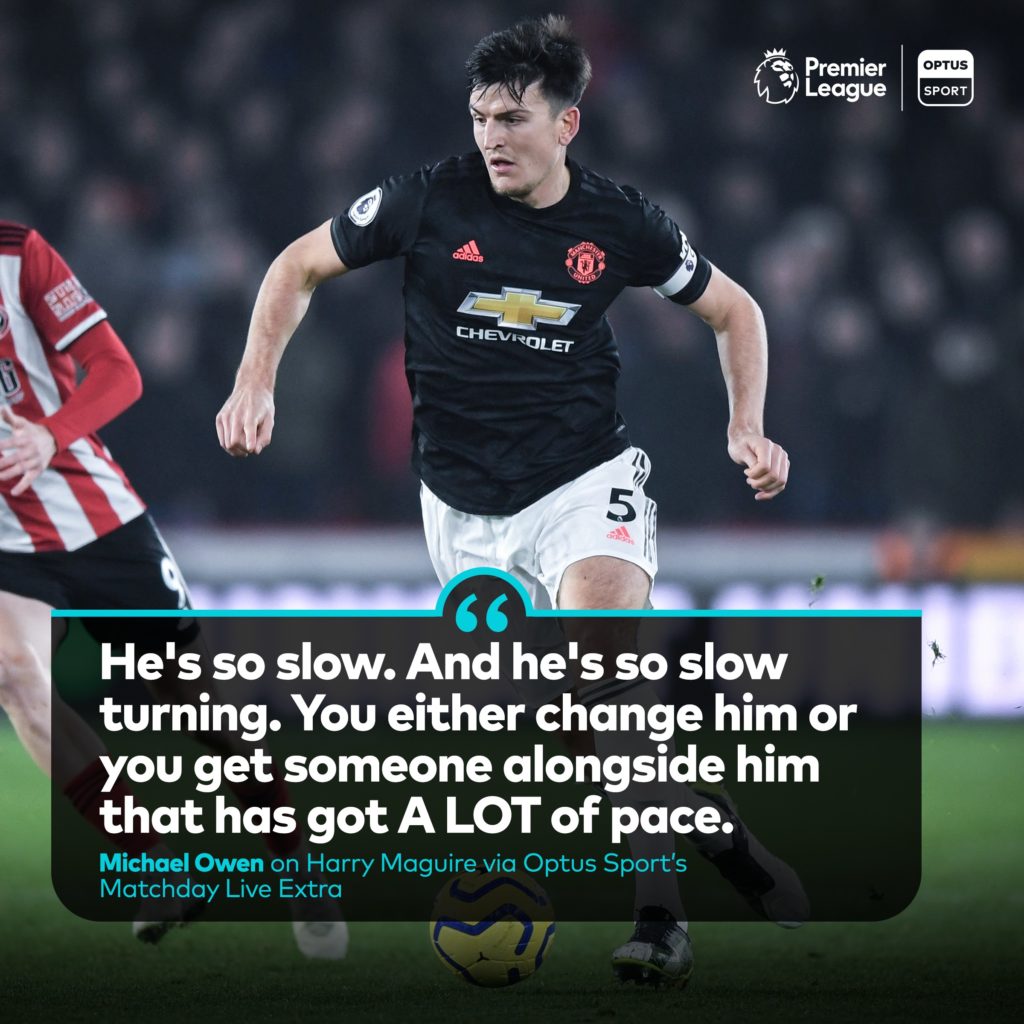 Now, Manchester United is a club with massive stature and it's largely expected that they dominate the opposition through playing with a high defensive line.
But because of Maguire's slowness, the team tends to get caught out on the counter.
Many goals have been scored against Manchester United from counter attacking situations as a result of Maguire's lack of mobility, so much so that the player now finds himself camped on the substitutes bench because opponents were consistently able to expose his lack of speed.
3. Concentration lapses
Another point that goes against Maguire is the fact that he clearly loses concentration during matches.
There are many examples of moments in games where he gifts the ball to an opponent through an errant or overhit pass.
Other times he's guilty of failing to keep track of his marker during set pieces and other dangerous situations.
And the statistics manage to back this up:
Here's a funny video compilation which best exemplifies his inability to remain focused during matches:
When did Maguire start to face criticism for his performances?
Maguire began to feel the wrath of the media as well as the supporters after a string of poor performances that happened after the Greece incident which saw him temporarily held in police custody.
In fact, the criticism got so bad that Maguire would even get booed whilst on international duty with the England national team.
What can Maguire do to improve as a soccer player?
Of course, the demands and pressures of being a professional soccer player are not easy to overcome.
But where there's a will, there's probably a way.
Maguire definitely has scope to improve as a player, especially due to the fact that he's still in his late twenties.
Some steps he could take to becoming a better defender include:
Working harder in training sessions;
Analyzing video footage of his past displays to take note of his shortcomings;
Asking the coaching staff for feedback on his sporting deficiencies; and
Consulting with a sports psychologist to better his mental state and boost his confidence
If Maguire were to make an active effort towards improving the weaknesses in his game, then he can catapult himself to being one of England's best defenders.
Closing thoughts
That wraps up why Maguire is bad at soccer these days.
If you've enjoyed reading through this article, then you're in luck because we've got similar content that you can check out.
Have a look at the links below:
If you enjoy the content that I create and would like to buy me a coffee, then I'd really appreciate it!
Any money that I earn through this donation will be re-invested into more content for this website.
Additionally, by sending in a donation you'll also receive a copy of my recently released 190+ page eBook on Soccer Ball Care, as well as be subscribed to our mailing list where you'll be regularly informed on the latest developments concerning the Soccer Whizz blog.
Latest posts by Samuel Waihenya
(see all)