It's safe to say that the vast majority of teenage football fans aspire to grow up and play the game at the highest level.
With role models like Cristiano Ronaldo and Lionel Messi setting the bar astronomically high when it comes to how they perform on the pitch and how they carry themselves off of it, you can see why so many youngsters want to emulate them by becoming professionals.
As a matter of fact, the question of how to become a footballer at 14 years of age certainly comes with a lot more moving parts than, for example, learning to play football at the age of 30, and this article will outline exactly why this is the case.
So, without further ado, let's begin.
1. Find your natural playing position
My recommended starting point for someone who is only 14 years old is to get acquainted with playing across multiple positions on the pitch.
But what's even more important is developing a feel for a particular area where you are most comfortable playing in.
Recognising your ideal position is all about discovering the specific duties you like to perform and conducting an objective assessment of what your best attributes are.
From there you can match the tasks you like to do with what you're actually good at, which is a great way of settling on a playing position.
The following video breaks this down quite well:
It's also important to note that at this age it's quite normal to be unfamiliar with the more complex facets of the game, so it would be a bright idea to sharpen up on football theory by picking up some books that cover football tactics in detail.
When I was a teenager playing in high school, I could play in any area across the heart of midfield as well as on either wing.
However, I eventually found out that my best performances arose from a central attacking midfield position.
From here I enjoyed having the freedom to drop deep and collect the ball whenever I felt it necessary, together with being able to freely drift to either side of the pitch to form positional overloads and making runs into both half spaces.
Additionally, players of this age group shouldn't forget to have fun.
Even former England skipper David Beckham shares the same sentiment, as he says you have to enjoy playing the game if you want to make it to the very pinnacle of the sport.
2. Join a local football team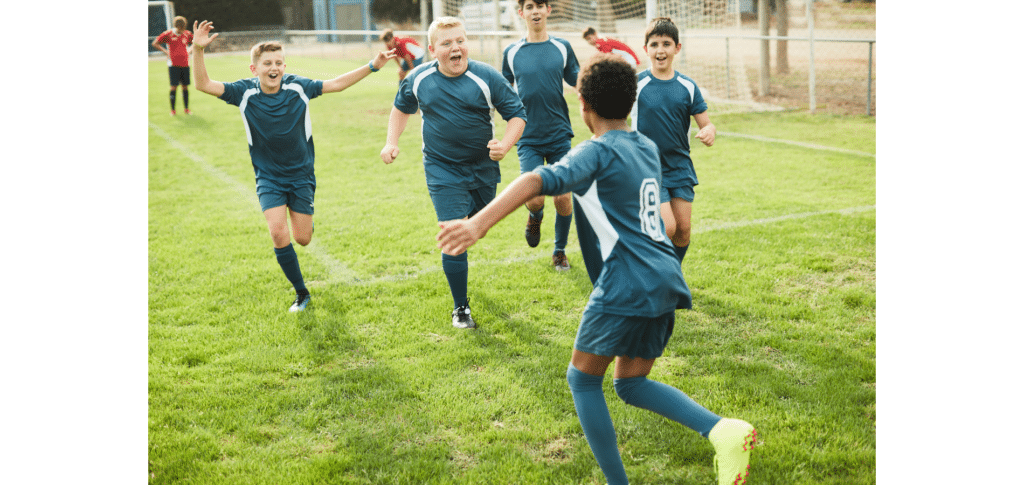 Another important aspect of striving to become a professional footballer is receiving adequate game time.
The experience that you gain from playing with people of a similar or greater skill level is invaluable.
More so, playing games on a regular basis with your local football club is a great way to organically increase your visibility to scouts.
Arsenal's versatile midfielder Ainsley Maitland Niles is one particularly famous beneficiary of grassroots football, as he was initially scouted at the age of 7 whilst playing up front for his local side Lakeview.
Such a success story tells you all you need to know about the opportunities available to kids that are able to put themselves out in the best possible playing environments.
And perhaps the most critical aspect of racking up the minutes is to keep challenging yourself.
It's very easy to stunt your own development by being the "top dog" amongst the people that you play with.
Borussia Dortmund's Erling Haaland arguably became the prolific goal scorer that he is today by playing in higher age groups and frequently facing opponents who were physically taller and stronger than himself.
3. Dedicate time to practice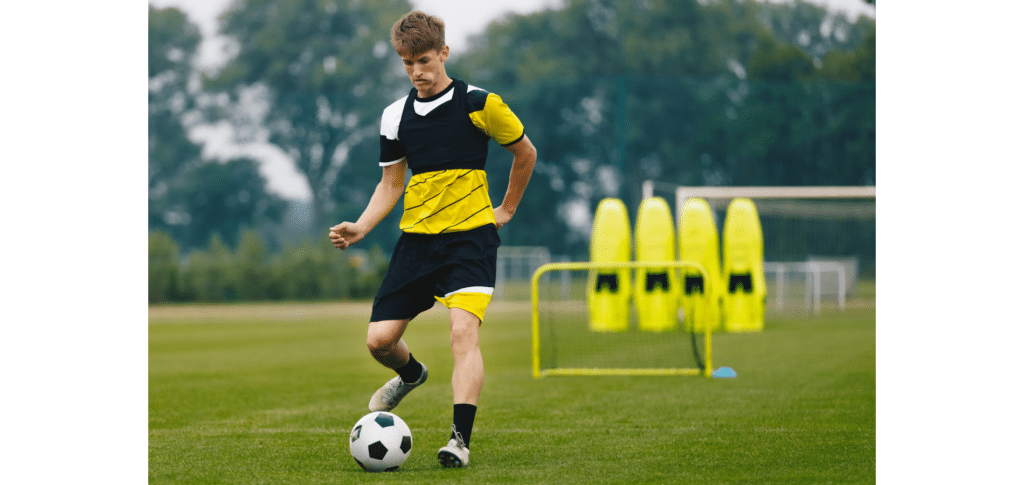 You often hear the popular saying that "practice makes perfect".
The reason it gets repeated so often is because more often than not, an individual succeeds after dedicating a lengthy amount of time to improving or attaining something that they were striving towards.
So, the act of repeating certain drills and routines will help to refine your precision and overall technique.
A great application for this is free kick training.
With a mannequin set, a footballer can easily mimic a real dead ball scenario and attempt to strike the ball up over the practice wall and into the net.
4. Watch over your diet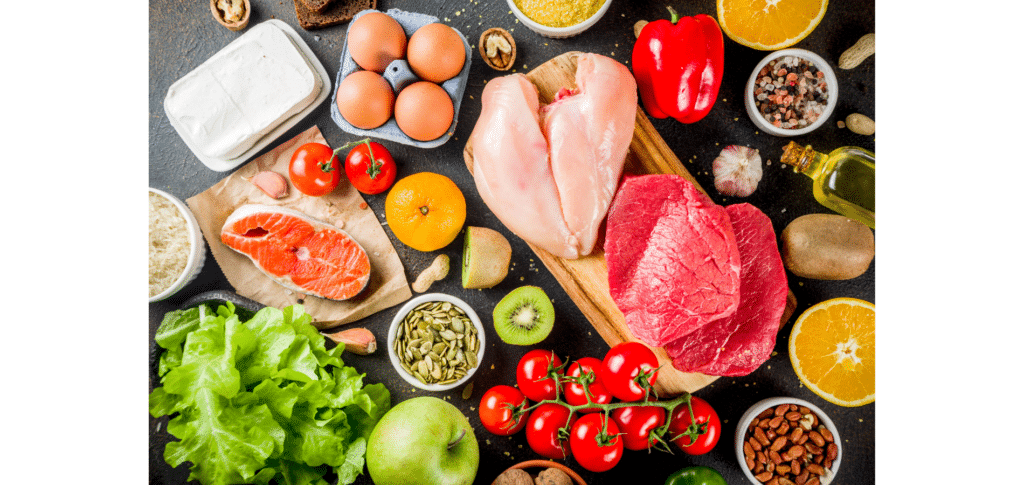 Making it to the top of the football pyramid is extremely difficult.
Arsene Wenger even revealed that 67 percent of football players between the ages of 16 and 20 are no longer pursuing the profession by the age of 21.
This damning statistic emphasises how hard it is for young players now, which is why it's so important for them to treat every single aspect of their lives at that age as seriously as possible.
Therefore, aspiring players even have to carefully monitor the foods that they consume.
As footballers expend considerable amounts of energy exerting themselves during training sessions and competitive matches, meals must contain plenty of nutritional value in order to replenish reserves and keep them healthy.
Ultimately, a good diet for a footballer will consist of:
Protein
Whole grain carbohydrates
Fresh fruit and vegetables
Plenty of water
So, as difficult as it may be to avoid the fish and chip takeaways and all the sugary delicacies like donuts and other pastries, this sort of sacrifice is necessary.
5. Create a football CV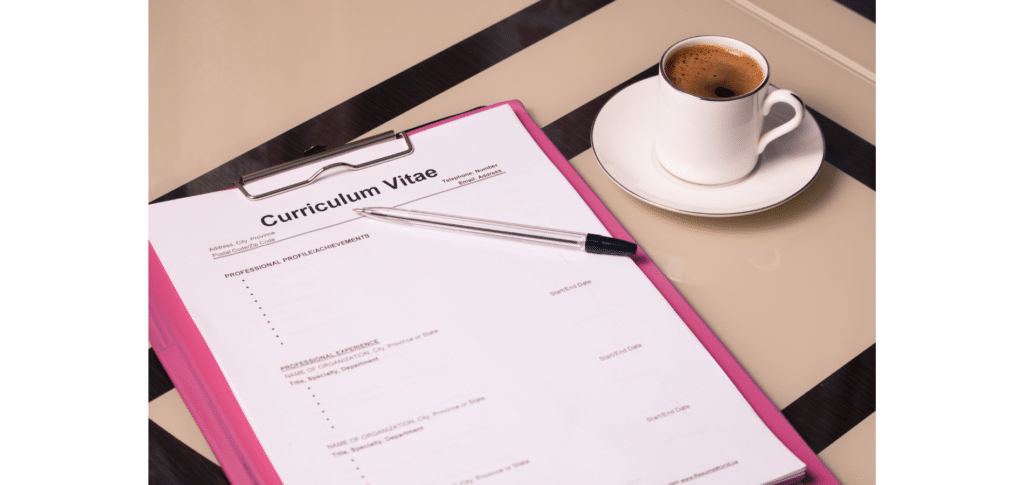 A football CV is a great way of acting proactively with regard to career development.
By having a document that outlines your overall ability, playing history and player profile, you can position yourself professionally when you receive formal approaches by scouts, clubs or other football representatives.
You can also expound on things like how you've managed to maintain your fitness levels over the years, as well as the significant achievements that have been attained.
6. Apply for trials
The last point, which ties in well with having a football CV, is applying for trials at professional clubs.
At the age of 14, you will be looking at making the junior teams of clubs that have a solid reputation and status within the footballing community.
Websites like UK Football Trials help facilitate this process smoothly as by registering with them, they are able to fast track applications to trial events situated throughout the country.
They also have an extensive scouting network which means you are more likely to be seen by professional clubs, as they provide players with the platform to impress in both training and match scenarios.
Can you get scouted at 14?
Without a doubt.
Many of the world's most popular footballers were discovered at a very young age.
Look at a past academy prospect like Jesse Lingard – who was integrated into the Manchester United youth set up at the tender age of 7.
If you are equipped with the skills that football scouts are looking for, you have every chance of being picked up by a professional team, even at 14.
Final Thoughts
That brings me to the end of this article on how to become a footballer at 14.
Hopefully it has given you lots of food for thought on the steps and processes a young teenage player would need to undertake in order to achieve the ultimate goal of playing at the highest levels of the sport.
My key takeaway has to be dedication.
Without that willingness to sacrifice your time by practicing day in and day out, it will be largely difficult to succeed as the competition for places at academies is very high.
If you enjoy the content that I create and would like to buy me a coffee, then I'd really appreciate it!
Any money that I earn through this donation will be re-invested into more content for this website.
Additionally, by sending in a donation you'll also receive a copy of my recently released 190+ page eBook on Soccer Ball Care, as well as be subscribed to our mailing list where you'll be regularly informed on the latest developments concerning the Soccer Whizz blog.
Latest posts by Samuel Waihenya
(see all)