Disclaimer: Soccer Whizz is a participant in the Amazon Services LLC Associates Program, an affiliate advertising program designed to provide a means for sites to earn advertising fees by advertising and linking to Amazon.co.uk (source: Section 5). As an Amazon Associate I earn from qualifying purchases. This blog earns small commissions from ShareASale affiliate links placed within the content.
The one role on the soccer field where margins are particularly fine is the goalkeeping position.
You see, goalkeepers are tasked with preventing opposition players from scoring goals that would impact match results.
So, the onus is on them to perform at an extremely high level to keep the soccer ball from finding the back of the net.
In order to be effective at doing this, they need to be physically flexible to stretch their bodies for those diving saves, as well as have the right equipment that protects them from injuries as they fall to ground.
But one other area where their equipment needs to help them in their role is when it comes to keeping hold of the ball.
Picture a powerful shot struck in a goalkeeper's direction.
If the gloves that they're wearing don't provide sufficient levels of grip, then the ball is likely to slip out of their grasp as they attempt to catch it, which would likely result in a goal scored for the opposition team.
That's why in this post, we've decided to review some of the options goalkeepers have when it comes to goalkeeper gloves that provide great grip.
For starters, let's have a quick look at the top options for gloves in this particular category.
The Storelli Sicario SpeedGrip gloves come out on top here, particularly because of their uniquely constructed palm lining that makes the gloves feel like a "second skin", not to mention the contact latex used which offers optimum tackiness that keeps the ball glued to your palms after a catch.
With that brief summary out of the way, we can now dig into the complete analysis of each glove within this roundup.
So, let's begin!
1. Storelli Sicario SpeedGrip Gloves
First up, we have the Sicario SpeedGrip gloves.
But before we get into the nitty gritty of the feature set and explain why these gloves are great for grip, it's good to get a sense of the makers behind the product.
The company itself was founded in 2010 by soccer-obsessed creatives with a vast amount of collective experience in designing performance gear tailored towards injury prevention for players.
What Storelli prioritized in the construction of these was grip, as they focused on making a minimalist glove for players that demand and crave an intense feel for the ball whilst it is in their control.
Here are some of its standout attributes:
SpeedGrip® palm lining
You have the first glove which incorporates minimalist principles into the structural design without compromising on aspects such as:
Cushioning – 3mm of impact foam for maximum palm protection; and
Latex quality – 3.5mm German contact latex
The palm lining makes the whole design feel a lot lighter when worn, almost like a "second skin" of some sort which keeps your fingers glued to the ball when contact is made.
Signature punch zone
As we've already alluded to, getting your fist on the soccer ball during corners and wide set pieces is very important when a goalkeeper is protecting their goal.
The polybutadiene hex-shaped punch zones on the backhand of this glove model help to generate powerful rebound and grip for goalkeepers, ultimately giving them the confidence to step off of their goal line and clear away those aerial threats.
Video review
Take a look for yourself at how this product performs in a visual demonstration:
Other specifications
Available sizes – 9 to 12
Cut type – Concave (maximizes the curvature of the palm for controlling the ball)
If you like the look of the gloves made by this brand, you should have a look at our article rounding up the finest Storelli goalkeeper gloves on the market, as there are other options in that post which you might be interested in.
2. Reusch Pure Contact Gold X Glueprint Goalkeeper Gloves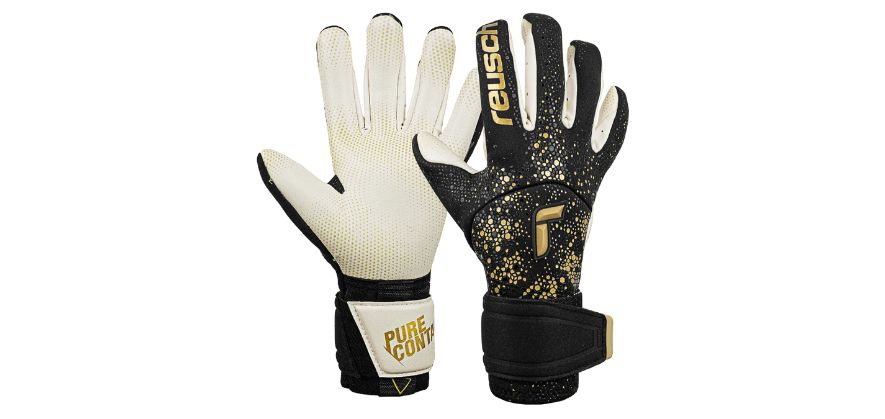 Next up, we have Reusch's Pure Contact Gold X Glueprint gloves.
The name is very suggestive; alluding to the product being able to facilitate a soccer ball being glued to your palms when you hold onto it.
You'd think that bodes well for goalkeeper gloves centered on grip, and it does!
Anyways, Reusch are a goalkeeping glove specialist that have been in the business of making these high-quality, innovative and well fitting products for more than 85 years.
Even Tottenham Hotspur's Hugo Lloris uses gloves from the Reusch brand when competing in his team's professional matches, so the company definitely know a thing or two about designing goalkeeper gloves for grip.
Here's where the features of this specific pair now come in to the frame.
Special sticky print on palm latex
This model of their gloves uses a special GluePrint technology applied to the palm latex.
What it does is enhance the overall tackiness and grip of the latex, which ultimately better grip in different zones of the palm.
More so, the positioning of the ink is said to follow a very precise pattern which is designed to cover the palm areas that see the most action when a goalkeeper goes for those catches.
Pretty nifty if you ask me!
Here's a video which shows a glimpse of the GluePrint technology as well as other components of the glove:
FreeFlex backhand
The backside of this glove is very flexible, which makes punching the ball away even easier because you don't struggle putting your fist in a clenched position.
There are thin silicone applications within the backhand area which are added to the neoprene fabric in order to keep that flexibility and overall manoeuvrability of the hand.
Other specifications
Material composition – 51% latex, 31% rubber, 11% polyester and 7% polyamide
Available sizes – 7 to 11
Cut type – Evolution Negative Cut ESS
3. Renegade GK Eclipse Goalkeeper Gloves
Renegade GK Eclipse Professional Goalkeeper Gloves
TOGETHER WE STAND: The RGK team is very sympathetic to all of those who may be affected by this virus and understand that the negative economic impact on our customers will, in many cases, be significant. As a result we have made the decision to substantially reduce our prices through April in order to do our part to lessen the financial damage. We will get through this together.
PROFESSIONAL LEVEL: The new RGK Eclipse series is our 1st truly pro-level goalie gloves. These gloves were designed from the ground up using feedback from pro keepers combined with the best materials and construction methods we know of. We're not claiming it's the best glove on the market, but we'll put it up against any competitor in a head to head.
PRO-LEVEL GRIP PERFORMANCE & CONTROL: All Eclipse gloves use high-performance German EXT Contact Grip latex, which is the standard for professional level goalie gloves. This plus other upgrades like the extended palm, 180° thumb wrap, and pre-arched palm instantly improve grip and ball control.
When we are talking about business this is the glove for the big boys club.
The Renegade GK business meet the mark in how they operate, as they are made up of a devoted crew of former goalkeepers in Tyler and Ryan who are dedicated to doing things the right way and providing gloves for goalkeepers that are made from fantastic materials and stitched together in the correct way.
Since its founding in the year 2017, Renegade GK has mastered the manufacture of their gloves to provide that coveted balance between performance and durability.
What this means is that buyers get to purchase goalkeeper gloves that last a long time and simplify their job of making saves under opposition duress.
The best way to put it is that these Renegade Eclipse gloves are the best series tailored for professional goalies looking for elite level grip.
These pro-level goalie gloves have been designed with absolute precision and a number of features have been incorporated based on the feedback of real life professional goalkeepers in the sport.
This could be one of the best grip gloves on the market as they use the finest materials and construction methods.
So, let's look at what makes these gloves so appealing.
German contact composite latex
There is no room for error for a professional goalkeeper, and this set of gloves is exactly what is required.
The gloves offer a remarkable level of grip agility with the use of high-performance German EXT contact grip latex, which means that there's no way a ball will slip away from your fingers once there is ball-to-glove contact.
Contact latex offers the highest grip according to our article on the best goalkeeper glove latex types, so one may even say they are virtually perfect with the additional extended palm, 180-degree thumb wrap, and pre-arched palm ball grip that ensures superb control.
Breathaprene backhand
A professional goalie takes in a lot of pressure from oncoming shots – both those struck from close range and long distance.
With that in mind, Renegade built these gloves to handle the intensity of those powerful strikes by incorporating composite 4+3MM latex palms and a breathaprene backhand into the design.
The latter has rubber ridges that give further shock absorption and ball control, therefore allowing a goalkeeper to comfortably punch those heavy shots away without fear of injury to their knuckles.
Other specifications
Palm – German 4+3MM EXT Contact Composite Latex
Backhand 1 – Injected Molded Rubber
Backhand 2 (Body) – 6MM Composite Breathaprene
Bandage + Strap – Breathaprene with Elastic Slit + 6CM Pro-Strap
Fingersaves – Both with Pro-Tek (Removable) & Without
If you're looking for an alternative model in the Renegade series, then you should have a look at their Apex range of gloves as well.
Renegade GK Apex Orion Professional Strapless Goalie Gloves | 4mm EXT Contact Grip | Black & Blue Football Goalkeeper Gloves (Size 12, Adult, Evo Negative Cut, Level 5.5)
TRUSTED BY PLAYERS & THE PROS: RGK gloves are designed to perform and built to last. The Apex series is the lightest high-tech glove we've ever produced. Renegade GK is also the official GK glove of both the NPSL and WPSL, which are the largest professional football leagues in the U.S.
PROFESSIONAL LEVEL PLUS: The new RGK Apex series is our 2nd truly pro-level goalie gloves. These gloves were designed from the ground up using feedback from pros combined with the best materials and construction methods we know of. The new Evo Negative Cut with a single continuous gusset between the fingers maximizes the touch and feel that elite keepers demand.
PRO-LEVEL GRIP PERFORMANCE: All Apex gloves use high-performance German EXT Contact Grip latex, which is the standard for professional level goalie gloves. The composite 4+5MM latex palms are embossed to create flex zones, which maximize grip strength.
These come with a new Evo negative Cut with a single continuous gusset between the fingers, that serves to maximize the touch and feel that elite keepers playing at the highest level demand.
You also get the best type of latex – contact – which ensures immaculate levels of grip when the ball is struck towards you.
More so, the latex palms are embossed to create flex zones, which maximize grip strength, and the gloves feature an extended palm for exceptional ball handling, with internal silicone grips, and pre-arched palm areas.
Finally, for a full roundup of goalkeeper gloves made by this brand, check out our blog post which outlines their best options.
Factors to consider when buying goalkeeper gloves for grip
Before you remove your wallet from your pocket, there are a couple of things you need to remember.
First of all, the grip you receive will be determined by…
Latex type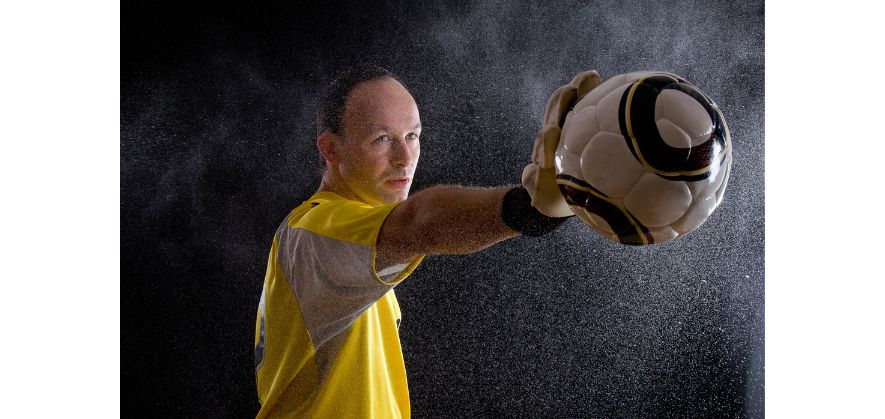 The amount of grip you get is all about the type of latex embedded into the palm area of the gloves you choose.
We've spoken at length about the best goalkeeper glove latex types, so have a read of that linked article for all the details.
In a nutshell, for the best grip you want to pick a pair that has contact latex, as this type offers the most tackiness.
Pitch conditions
Following on from the type of latex, you'll also need to weigh up what sort of environment you'll be playing in most of the time.
This is because there are gloves which don't perform equally as well in wet pitch conditions as opposed to dry ones.
You'll want to avoid a situation where you're playing on a rainy day and the gloves you have on hand aren't offering you any sort of clasping ability because of the fact that the palms have gotten damp.
So, make sure the gloves you choose perform well in different playing conditions, as those will offer you the robustness that you need to not have to worry about your ability to make catching saves out there on the grass.
Closing thoughts
To be quite honest, you can't go wrong with either of the aforementioned goalkeeper glove options if you're looking for optimum grip.
All the products in question do a fine job of providing goalkeepers very high levels of grip that make spilling the ball a thing of the past.
If you enjoy the content that I create and would like to buy me a coffee, then I'd really appreciate it!
Any money that I earn through this donation will be re-invested into more content for this website.
Additionally, by sending in a donation you'll also receive a copy of my recently released 190+ page eBook on Soccer Ball Care, as well as be subscribed to our mailing list where you'll be regularly informed on the latest developments concerning the Soccer Whizz blog.
Latest posts by Samuel Waihenya
(see all)