Disclaimer: Soccer Whizz is a participant in the Amazon Services LLC Associates Program, an affiliate advertising program designed to provide a means for sites to earn advertising fees by advertising and linking to Amazon.co.uk (source: Section 5). As an Amazon Associate I earn from qualifying purchases. This post also contains ShareASale affiliate links, for which we earn small commissions.
Nike are one of the biggest worldwide brands when it comes to sportswear, especially when it comes to soccer-related gear.
I can personally attest to being a diehard Nike fan, as all of my footwear and clothing purchases for soccer are Nike products.
There's just something about the style of Nike gear that draws in many a customer, so kudos to them for managing to develop a loyal consumer base.
Nike was founded in 1964 with their first retail outlet launched in 1966, and since then they've taken several massive strides into dominating the footwear market.
Although today, we won't be talking about their shoes.
Instead, this article is going to review the soccer socks that stand out in their product line.
Let's get started with a comparison table, which outlines the top picks:
Nike's Classic II Cushion Over-The-Calf Socks win outright because of their overall durability. Fabric threading doesn't come undone over time with multiple wears, and they hold up well in size and stretchiness after washes. And the icing on the cake is their ergonomic design which caters really well for your heels.
Have a read through the rest of this post for more details on each of the products listed above.
1. Nike Classic II Cushion Over-The-Calf Men's Socks
Sale
The first choice for a pair of Nike soccer socks that I'd recommend are these over-the-calf cushioned socks.
What you get with these socks is exceptional comfort, particularly because Nike have focused heavily on incorporating lots of ergonomics in the sock's design to reduce strains and pains for wearers.
Here's how they go about achieving this…
Dynamic plantar support
You've probably heard of plantar fasciitis and know that it's one of the most common causes of heel pain.
When there's too much pressure on your feet – which can be caused by involvement in intense activities like soccer – the plantar fascia ligaments in your foot get overworked.
These ligaments act as a shock absorber by supporting the arch of your foot as you run up and down the pitch, so if you're wearing a pair of socks that don't cater to the needs of your feet then you'll be in a bit of trouble!
And that's where these socks come in and do a great job.
The cushioning at the back of the foot supplements your plantar fascia ligament, giving you a supportive fit and more comfortable feel as you play the sport.
Attenuation
Another feature of these socks that put them up there with the best is the targeted cushioning.
What you get with this is attenuation in heavily stressed areas, which reduces the severity of impact on parts of your foot as you play.
You can think of it like having shin guards or layers of protective padding within your shoe!
DRI-FIT technology
Finally, Nike have incorporated their DRI-FIT material into the design, which helps ensure maximum breathability.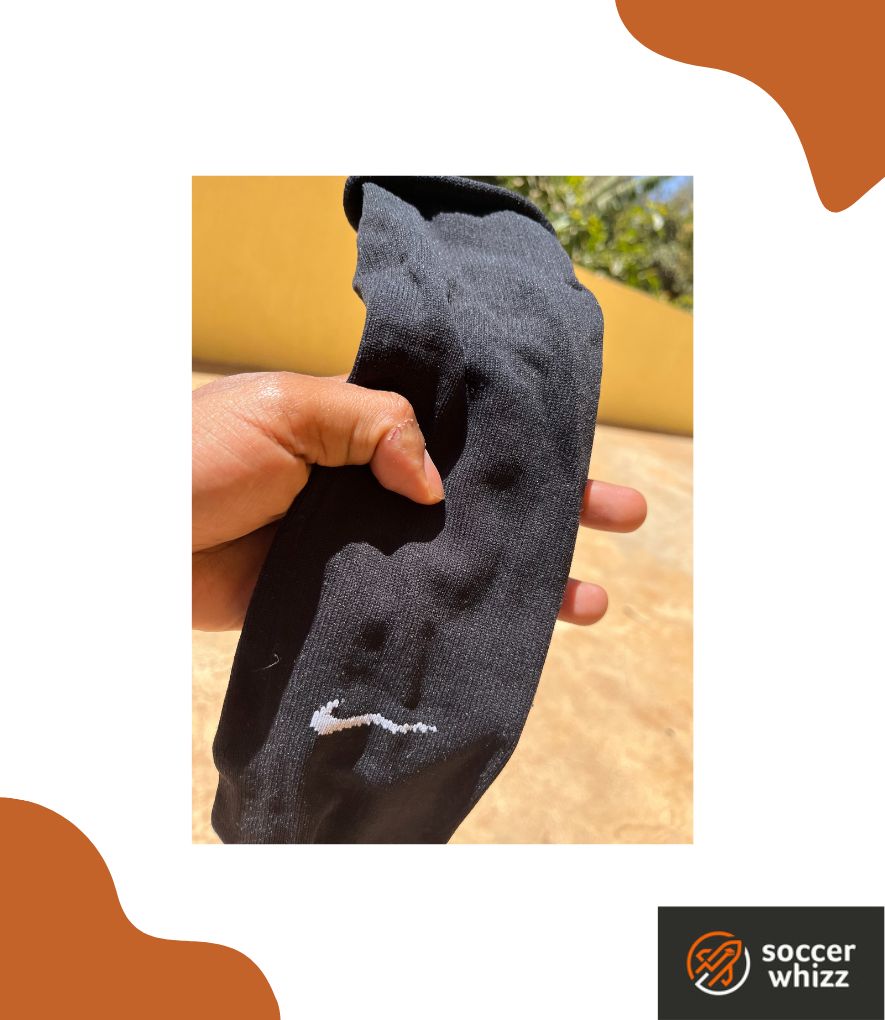 The last thing you'd want as a buyer is to purchase a pair of socks that cause a stink after you wear them for a couple of hours.
The socks wick away moisture by making sure that any sweat buildup rises up to the surface layer of the socks rather than condensing and eventually drying up on your skin.
Video unboxing
Here's a short clip of footage showcasing what these socks look like when you take off the packaging:
Other specifications
Material – 97% nylon, 3% elastane
Sizes available – small to extra large
If the length of these socks isn't to your liking, then you can have a look at the alternative ¾ length socks.
These run a bit shorter as the fit settles just below the knee area, and they come with the same features such as:
Articulated footbed support; and
DRI-FIT technology for breathability
2. Nike Men's Park IV Socks
Nike Park IV Socks
Suitable for men
Very pleasant and comfortable material
Made from quality materials
Next up, we have the Park IV soccer socks.
Just from their name, you'd think these socks would be ideal for a casual pickup game in the local park.
And you wouldn't be wrong with that opinion either!
Let's get straight in to the headline features of these ones.
Reinforced arch and heel
With these socks you get reinforced arch, heel and toe areas that serve to give your feet better overall support and stability as you play.
This makes a significant difference when you're playing soccer, as these socks prevent your feet from slipping and sliding within your shoe.
Even more so, the reinforced heel area is great for durability meaning that you can comfortably wear these socks for multiple games between washes.
You don't have to worry about the fabric at the heel area tearing apart like you would with a normal pair of socks, especially because of the material reinforcement in this area.
Compression fit
Apart from the material of these socks being able to wick sweat away which keeps your feet dry as you play, they also offer a compressed fit which is good for the leg muscles.
Compression socks have a number of benefits for soccer players, as you're able to increase blood circulation in your legs as well as reduce swelling and relieve pain the legs and feet.
Because soccer is such an intense physical activity, wearing these socks that have compression capabilities helps with your recovery after games.
Your feet don't suffer as much wear and tear during play, ultimately leaving them in a better post-game state.
Other specifications
Material composition – 93% nylon, 4% cotton, 2% acrylic, 1% spandex
3. Nike Match Fit Knee-High Team 20 Socks
Nike Match Fit Team 20 Socks
Sweat-wicking fabric helps keep feet dry and comfortable
Cushioning in high-wear areas helps absorb impact as you run.
Snug-fitting band wraps your midfoot for a supportive feel
Finally, we present you with the Nike Match Fit Team 20 socks.
There's a lot to like about these socks, so we're just going to get straight down to the standout features.
Anatomically correct left and right design
When you buy any pair of socks, you usually don't think twice about which foot each sock should go on.
You just grab the pair and put on whichever one without regard for any sort of left or right footed design.
These socks are quite different as they are separately designed to fit the anatomic shape of a left and right foot.
That's right!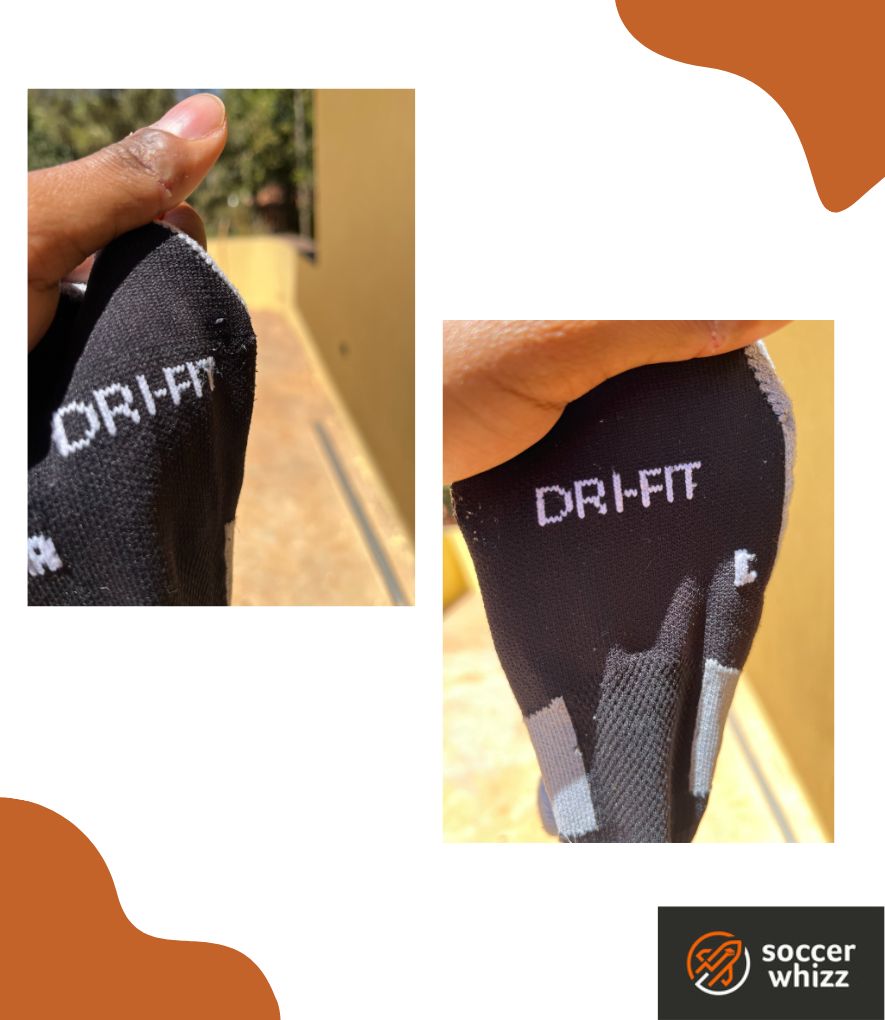 Each sock has a specific marking to indicate which foot it's supposed to be worn on.
Why this is great for buyers is because it really caters to the performance of soccer players.
You don't just have a sock that's made for comfort.
The designers at Nike have taken into account how left footed and right footed players move on the field and strike the ball; developing socks that cater to the anatomic design of each foot.
Snug bands for support
These socks also come with inner snug bands.
What benefit do these offer, you ask?
Well, they wrap around the midfoot to provide additional support for your foot as you play.
You get a little extra bit of traction that you otherwise wouldn't have had if you wore a normal pair of socks, as the snug bands are built to stabilize your feet as they sit within the shoes.
Other specifications
Left/right-specific design
Material – 92% polyester, 5% cotton, 3% spandex
Other Nike soccer socks worth considering
Have a look at some other sock models from Nike, courtesy of a different retailer called Pro Soccer:
What to look for in Nike soccer socks
When it comes to general considerations for this product category, two things immediately stand out.
These are:
Breathability
If you're a person that sweats a lot, then buying socks that have moisture-wicking capabilities is a must.
This keeps your feet dry as you play, because sweat build up is directed away from your skin and on to the fabric itself.
Open pores or mesh material is another component that you'll want to look out for here, as Nike socks with the aforementioned design features provide better airflow for your feet as they rest within your cleats or astro trainers.
Material
Certain fabrics are better than others, so make sure to look at the fabric makeup of Nike socks prior to purchase.
If you're going for warmth, then you'll want to see much less of cotton as it doesn't insulate or wick moisture as well as other materials.
Summary
Nike produce some solid soccer socks, it has to be said.
You can't go wrong with any of the products described in this article, but if you want to get the best of the best simply opt for the Nike Classic II Cushion Over-The-Calf Socks.
For further reading on good soccer socks you can buy, check out our article on the finest soccer socks.
Or, if you simply wish to read other informative pieces of content on our blog, then check out the following articles instead:
If you enjoy the content that I create and would like to buy me a coffee, then I'd really appreciate it!
Any money that I earn through this donation will be re-invested into more content for this website.
Additionally, by sending in a donation you'll also receive a copy of my recently released 190+ page eBook on Soccer Ball Care, as well as be subscribed to our mailing list where you'll be regularly informed on the latest developments concerning the Soccer Whizz blog.
Latest posts by Samuel Waihenya
(see all)