Kylian Mbappé is a young player who has been ripping through the opposition defenses of some of the best soccer teams in the sport.
The generational talent began his career in AS Monaco's youth teams, before coaches recognized his sheer level of talent and promoted him to the senior side at the club.
If you've been following his ascension for a couple of years, you'll no doubt be impressed with the speed at which the Frenchman has become such an elite player.
Mbappé has the speed and the finishing ability that even strikers older than him envy.
And a small part of his rapid development can be attributed to the idols that he has looked up to ever since he had his humble beginning in the game.
So, that brings us to the topic of today's article which concerns the identity of Kylian Mbappé's idol.
Here's a quick answer…
Kylian Mbappé idolizes Cristiano Ronaldo. The Portuguese forward – who has had a stellar playing career – inspired Mbappé by winning a lot of trophies and individual accolades.
Who Kylian Mbappé's idol is
It's been quite clear that Mbappé has already set out his own career trajectory.
When he was still a young boy, there was a photo taken displaying the walls inside of his bedroom.
They were covered in Cristiano Ronaldo and Real Madrid posters, as you can see from the image below: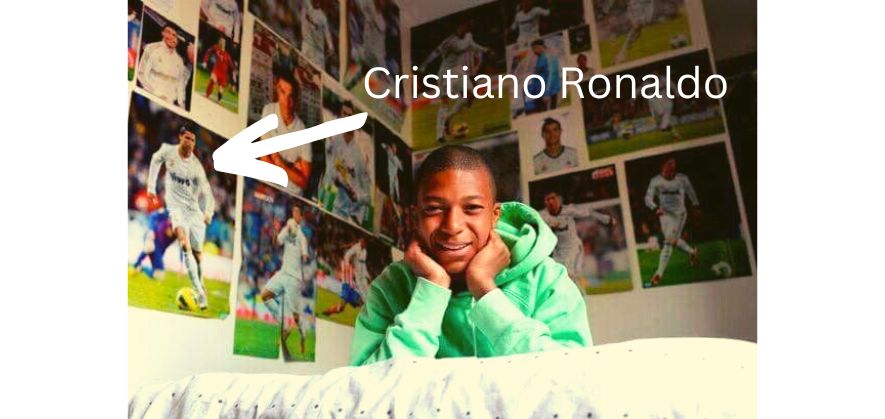 What is very obvious here is that Mbappé used to idolize Cristiano Ronaldo and imagined himself making the future step up from playing soccer in France to joining one of Spain's biggest teams.
You can imagine at his young age, seeing Ronaldo managing 50-goal seasons in his prime years.
You'd struggle to not be in awe of such brilliance!
More so, Kylian Mbappé's father personally confirmed that Ronaldo was his son's idol in an interview with France Football back in 2016.
Here's exactly what he had to say regarding this:
"He is a Real Madrid fan and his idol is Cristiano Ronaldo. He used to spend hours watching videos [of the now-Manchester United forward] on the internet."

Source – MARCA
Mbappé himself also said that Cristiano was his idol in a video interview with beIN SPORTS Asia.
Have a look at what he says from the 55 second mark:
Does Mbappé have more than one soccer idol?
As a matter of fact, he does!
Quite interestingly, Kylian Mbappé had another idol before Cristiano Ronaldo.
The Frenchman looked up towards the former France national team hero Zinedine Zidane.
Zidane played a pivotal role in France winning the FIFA World Cup in 1998, which coincidentally was the year in which Mbappé was actually born!
So, growing up you'd expect Mbappé to have consistently heard about how Zinedine Zidane was such a great player, arguably better than other top French talents like Thierry Henry and David Trezeguet.
In the past, Mbappé has also personally pointed out the fact that Zidane was his first soccer idol.
Here's what he had to say about the matter:
"Well, I've had phases. To start, as a child, it was Zidane. If you're a boy and you're French, your idol is Zidane."

Source – Bleacher Report
Who is Mbappé's favorite player?
This question is difficult to answer because there isn't any media coverage of Mbappé stating his opinion on this very issue.
We can only look at the existing evidence which clearly points towards Cristiano Ronaldo being his favorite player.
If you had your bedroom wall filled with posters of the Portuguese international when you were a child, as well as being a massive supporter of the team that Ronaldo played for, then it would be difficult to argue against Ronaldo being your preferred player.
Who inspires Mbappé to be a better player?
These days, Mbappé trains and plays competitive matches with the likes of Neymar and Lionel Messi.
Messi recently joined the Parisian club that Mbappé represents after transferring away from Barcelona.
And it's widely speculated that his signing by the French team could have influenced Mbappé's decision to stay at the club and learn from the Argentinian, when the former was rumored to leave for Real Madrid.
Having the combined experience of these two legendary players in Neymar and Messi to draw from would serve as a massive inspiration for any soccer athlete.
Closing thoughts
That just about covers the interesting topic of who Kylian Mbappé's soccer idol is.
Just to recap…
Mbappé has two idols – Cristiano Ronaldo and Zinedine Zidane.
The latter was the first player that Mbappé looked up to, after learning from a young age how Zidane helped his nation France win UEFA Euro 2000; the FIFA World Cup in 1998 and drag the national team to another World Cup final appearance in 2006.
If you've enjoyed reading through this post, then you can check out other Mbappé-related articles we have on the blog, such as:
If you enjoy the content that I create and would like to buy me a coffee, then I'd really appreciate it!
Any money that I earn through this donation will be re-invested into more content for this website.
Additionally, by sending in a donation you'll also receive a copy of my recently released 190+ page eBook on Soccer Ball Care, as well as be subscribed to our mailing list where you'll be regularly informed on the latest developments concerning the Soccer Whizz blog.
Latest posts by Samuel Waihenya
(see all)