Kylian Mbappé has thrust himself into the limelight of soccer's biggest superstars through his blistering performances at club and international level.
At the age of 22, Mbappé has already managed to win a whole host of prestigious trophies.
For example, the Frenchman helped his international team to a win at the 2018 FIFA World Cup, and he's played a part in the domestic dominance that Paris Saint Germain have had over the rest of the division through contributing to multiple Ligue 1 title wins.
But what sets Mr. Mbappé apart from most soccer players is his scintillating speed.
From a standing start, Mbappé is able to run up to maximum pace so quickly and that has definitely helped his performance exploits on the pitch.
And that begs the question – why is Mbappé so fast?
So much so that he's able to get a distinct advantage over opposition players?
Well, the answer boils down to a couple of things…
Kylian Mbappé is able to run very fast due to the abundant presence of fast twitch muscle fibers in his body. In addition to that, he's able to sprint faster than most other athletes in this sport as a result of his great sprinting technique, which allows him to get up to speed from a standing start very quickly.
Here's the full picture.
Reasons why Kylian Mbappé is able to run so fast
Time and time again, Mbappé gets the edge over his opponents on the pitch when it comes to speed.
Now, we're going to look at exactly what factors contribute towards his pace advantage.
1. Fast twitch muscle genetics
On topics such as this, it's always important to draw on the science.
Factual information is a great way of making a supporting argument, and that's no different here.
To begin with, the fast twitch muscle fibers in the human body are built for short and powerful bursts of energy.
More so, these muscle fibers produce greater and quicker force, which is necessary for demanding power activities such as sprinting.
It's arguably clear that Mbappé has more of these fast twitch muscle fibers in his skeletal muscle structure than the opposing slow twitch fibers, which are in greater proportion within the bodies of endurance athletes who run marathons and other long-distance events.
Furthermore, Mbappé is still young in age which means he's more likely to have a higher ratio of fast twitch fibers that give him the sudden bursts of energy needed to outsprint his opponents.
2. Good sprinting technique
Secondly, Mbappé has a very good sprinting technique.
This is made immediately obvious the second you see him start to pick up speed from a standstill or walking pace.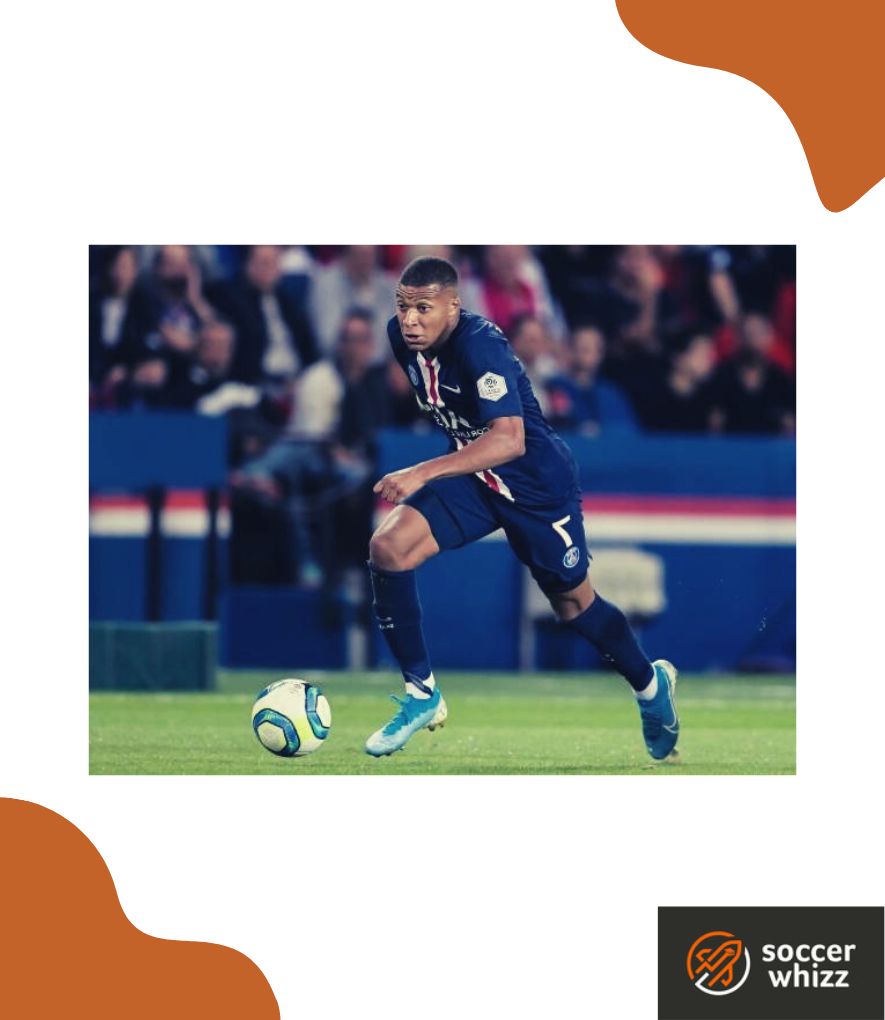 He's able to make great use of his first couple of steps when he begins a sprinting motion, which provide him with the necessary impetus to accelerate very rapidly.
You don't believe me?
Well, you can take a look at this for yourself!
The video footage below expertly details Mbappé's sprinting technique as it demonstrates the intricacies of his build up run that provide the springboard for his immense top speed:
3. Professional conditioning
Finally, another major contributor to Mbappé's lightning speed is the way he trains and conditions his body before, during and after practice sessions.
Having the right diet consisting of a healthy balance of vegetables, protein and carbohydrates gives Mbappé the energy he needs to sprint as fast as he does when on the pitch.
Soccer athletes playing at the highest professional levels of the game get access to the greatest medical experts, psychologists and physical trainers, who are able to offer them fantastic advice on how to improve their performance.
Mbappé no doubt gets the best advice from these people, which allows him to tailor his fitness regime towards bettering his own explosiveness when it comes to how fast he can run.
Is Mbappé faster than Usain Bolt?
A good question to ask is whether Mbappé is faster than the world's fastest man!
Firstly, Mbappé is not faster than Usain Bolt because the latter holds the world record for being the fastest sprinter over a distance of 100 meters.
Usain Bolt clocked 9.58 seconds over that distance at the IAAF World Championships which took place in 2009.
Here's a short excerpt that illustrates how fast Usain Bolt – in his prime – was:
"At the record-winning event, Usain Bolt's average ground speed was 37.58km/h, whilst reaching a top speed of 44.72km/h in the 60-80m stretch – numbers fitting for the world's fastest man."

Source – Olympics.com
In fact, if you watched the record-breaking event live, you'd even have noticed that Bolt slowed down as he drew closer to the finish line, which suggests that he could have shaved off a couple more milliseconds if he wanted to!
Mbappé is fast and at his current age, there's a strong probability that he could run a sub-11 seconds time for a 100-meter dash with the right training.
But faster than a Usain Bolt at the peak of his powers?
Not a chance!
Is Mbappé faster than Ronaldo?
The answer here is a resounding yes.
Cristiano Ronaldo was widely known for being very quick off the mark in his younger playing days, but as of this moment in time, many would argue that Mbappé has the edge when it comes to matters of speed and acceleration.
Ronaldo – at the age of 38 – has aged considerably over the last couple of years and one of the physical attributes where he has arguably suffered a decline is his speed.
In a foot race from a standing start, you'd expect Mbappé to blitz the Portuguese man with relative ease.
Who is faster than Mbappé?
Even if you've watched soccer for a number of years, you'd actually struggle to put together a list of players who have a sprint speed that's even comparable to Kylian Mbappé.
But there are a few names who may match the Frenchman for pace and even beat him in a short foot race.
Such as:
Adama Traore – Wolverhampton Wanderers;
Kyle Walker – Manchester City; and
Alphonso Davies – Bayern Munich
Closing thoughts
Anyway, that pretty much wraps up things on the topic of why Mbappé is so quick.
If you found this blog post interesting, then you should take a look at our other Mbappé-related articles on the site, such as:
If you enjoy the content that I create and would like to buy me a coffee, then I'd really appreciate it!
Any money that I earn through this donation will be re-invested into more content for this website.
Additionally, by sending in a donation you'll also receive a copy of my recently released 190+ page eBook on Soccer Ball Care, as well as be subscribed to our mailing list where you'll be regularly informed on the latest developments concerning the Soccer Whizz blog.
Latest posts by Samuel Waihenya
(see all)