Tottenham Hotspur's Son Heung Min is arguably one of the greatest soccer talents to have come out of South Korea in the past decade or two.
As a player, Son is quite unique in the sense that he's ambidextrous (i.e. has no problem striking the ball comfortably with either foot).
In addition to not having a weaker foot, the South Korean international is remarkably accurate in front of goal.
Many opposition goalkeepers in the English Premier League can personally attest to that!
Son Heung Min's popularity as a soccer player has undoubtedly grown with the time he's taken to establish himself as a first-choice regular for one of England's best teams.
He joined from Bayer Leverkusen back in 2015 and has matured immensely as a player.
But Son has also emerged into the spotlight as a meme figure despite being a fantastic professional athlete within the sport.
This was as a result of his teary-eyed performance in the aftermath of a defeat against Manchester City in the 2021 Carabao Cup final.
Now you're probably wondering, why would a soccer player receive such an enormous amount of coverage from people on social media platforms like Twitter for simply expressing his pain brought about by a defeat?
After all, crying once you've lost a very close and high-stakes game in a domestic cup final is pretty much normal!
Well, here's the answer.
The cheers son's crying meme was originally meant as a reference to express displeasure or dissatisfaction at a particular outcome or statement. It was a fitting moment when the Tottenham Hotspur player – usually referred by his first name Son – was seen in tears at Wembley Stadium following a cup final loss. People immediately took to social media to jokingly lament on the South Korean player's misfortunes.
For a better understanding of what this means, continue reading.
What does cheers son's crying mean?
Funnily enough, the origin of this meme can be traced back to the early days of buying and selling on Facebook.
A woman called Sharon Doyle wanted to purchase an Xbox console for her son and questioned the seller of the item whether the product was still on sale.
It's pretty normal to want to get the best bang for your buck as a buyer, so it was a good strategy for Sharon to ask if the item had retained its discounted price.
However, what followed was bad news for Sharon.
To her dismay, the seller called Debbie Palmer commented that the Xbox console was no logner on sale and that the product had in fact been sold already.
So, when Sharon learnt of this disappointing news, she left what is now a legendary comment used across the many spheres of social media and the internet.
Here's what the conversation on Facebook looked like: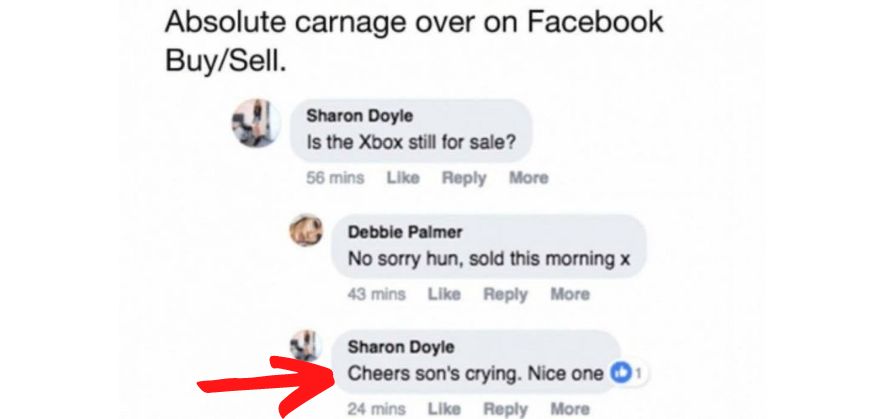 Her "cheers son's crying. Nice one" comment was quite funny at the time because it symbolized the fact that she'd jokingly already relayed the news to her son who had burst out into tears.
In a way, you can compare the remark to saying something like "thanks for nothing" or "good job well done for ruining my day".
When did the cheers son's crying meme become popular?
The cheers son's crying meme gained massive popularity once soccer fans from England became involved with the joke.
You can now see how this statement relates to Tottenham Hotspur's Son Heung Min, because his name "Son" is exactly the same as the original reference birthed many years ago on Facebook.
Here's what happened:
Once the full-time whistle had been blown, Son immediately broke down into tears following his team's defeat against Manchester City in the Carabao Cup final.
A headed goal from Aymeric Laporte was enough to give Manchester City the win.
Some of his opponents on the day in Phil Foden, İlkay Gündoğan and Kevin De Bruyne took moments to console the South Korean.
It was definitely quite an emotional moment for Son due to the fact that he wasn't able to influence the outcome of the match in the way that he normally does when on top form.
But that sorrow didn't stop fans from other teams making a mockery of the situation, quickly latching on to the fact that Son had experienced a terrible day and had capped off the disappointment by matching the original meme which was made many years ago.
Here are some Twitter excerpts which show how fans made fun of the Tottenham forward:
Closing thoughts
Hopefully this article has left you enlightened on the cheers son's crying meme which drew a wave of attention when the Tottenham Hotspur player cried on the Wembley grass in 2021.
If you're after more knowledge on soccer's funniest memes, then you'll want to have a look at the following articles published on our blog:
If you enjoy the content that I create and would like to buy me a coffee, then I'd really appreciate it!
Any money that I earn through this donation will be re-invested into more content for this website.
Additionally, by sending in a donation you'll also receive a copy of my recently released 190+ page eBook on Soccer Ball Care, as well as be subscribed to our mailing list where you'll be regularly informed on the latest developments concerning the Soccer Whizz blog.
Latest posts by Samuel Waihenya
(see all)