Lionel Messi will undoubtedly go down in soccer history as one of the greatest players to ever grace the game.
The diminutive yet nimble Argentinian has dazzled spectators with his performances for over a decade, and he continues to show his pedigree at the highest level even as he enters the twilight years of his career.
Messi is particularly famous for some of his performances in El Clasico fixtures – competitive league and cup matches against fierce rivals and perennial title challengers Real Madrid.
He holds the record for most goals scored in El Clasico fixtures as he's managed to find the back of the net 26 times.
That tally is quite some distance away from the next highest goal scorer in this fixture – Alfredo di Stefano of Real Madrid – who notched up a figure of 18 goals here.
El Clasico games are some of the most intense and fiery matches that a professional player can participate in, so whenever Messi has managed to score against Real Madrid it's always been cause for major celebration.
But there's one celebratory moment in Messi's career that stands out above all the rest – when he decided to take off his jersey and hold it up to the watching fans at the Santiago Bernabeu stadium.
This article will take a look back at this historic moment in the sport, talking about exactly what the celebration meant and why Messi was so inspired to perform it.
So, let's get started.
What game did Messi hold his shirt up?
Messi created a massive social media frenzy for the way in which he celebrated scoring a vital last-minute goal against Real Madrid to give Barcelona victory in a tightly-contested league affair.
On the 23rd of April 2017, the game between these two major teams was finely poised at two goals apiece.
In the closing minutes of the La Liga fixture – which took place at the Santiago Bernabeu – Barcelona's Sergi Roberto received the ball in his own half and was the catalyst for one of soccer's most famous goals.
Once in possession, Roberto made a darting run past two Real Madrid players in Luka Modric and Marcelo, before neatly threading the ball to his team mate André Gomes.
The Portuguese man then passed the ball to the overlapping Jordi Alba and most Barcelona fans can easily tell you what happens next!
In a signature move that we've seen time and time again over the last several years, the Spaniard cut the ball back across the edge of the area where Messi was expertly positioned to curl it into the bottom corner past the diving Keylor Navas.
Check out the video below which showcases the quick counter attack from start to finish:
Why did Messi decide to hold up his shirt?
The moment was hugely significant for Lionel Messi on a personal level, as that particular conversion marked his 500th goal for Barcelona.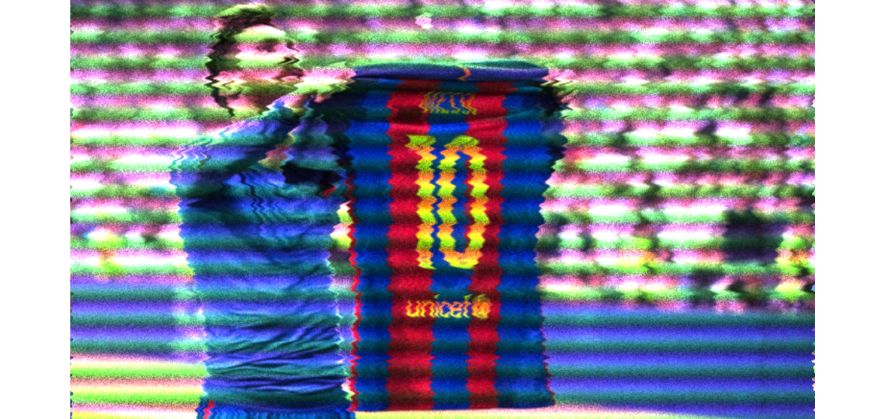 To reach such a landmark figure in a fixture as pivotal as the El Clasico was simply a match made in heaven.
And it was quite fitting for Messi to remove his shirt and show his name and jersey number to the Real Madrid fans in attendance.
You see, that moment symbolized how great of a player Messi was.
The Argentinian is usually known for being pretty modest and humble both on and off the pitch, but it was widely considered an acceptable break from his usual demeanor to celebrate in front of the opposing fans.
He basically gave Real Madrid fans the loud and clear message that he is the best player in the world, and rightfully so.
Obviously, the spectators in the crowd didn't take too kindly to Messi's unique celebration and a lot of them were probably happy to see the referee Alejandro Hernandez brandish a yellow card caution to Messi for taking off his shirt and holding it up to them.
Another possible inspiration for Messi's decision to hold up his shirt could be attributed to his former Barcelona team mate Ronaldinho.
At the one minute 30 second mark in the clip above, the Brazilian forward famously held up his shirt to fans in the stadium after scoring a pivotal brace for his former club Paris Saint Germain in a game against major rivals Olympique de Marseille back in 2002.
Messi could have taken up the idea to celebrate in this way as he looked up to Ronaldinho in his teenage years.
Which players have copied Messi's shirt celebration?
Lionel Messi holding up his shirt to the Real Madrid fans is a memorable image that many soccer players have etched into their minds.
When the greatest player of all time turns up and scores the winner in a match against one of the world's best teams, it's not something that fellow professionals tend to forget.
Here's a list of a few players who decided to emulate the Argentinian maestro.
1. Cristiano Ronaldo
Cristiano Ronaldo is known to have a massive ego as he always wants to be regarded as the best.
The Portuguese man wasted little time in taking off his shirt and therefore copying Messi's iconic celebration in the next El Clasico fixture, which was the Spanish Super Cup that took place in August later that very year.
Here's a picture of that: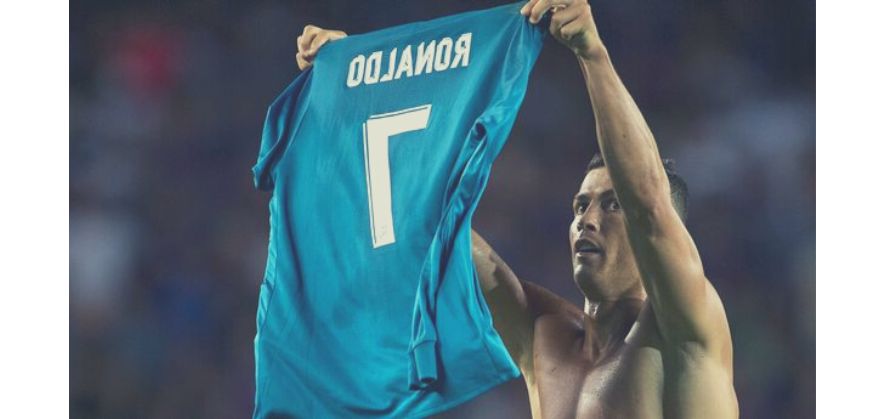 Ronaldo managed to score in that game and his celebration earned him a yellow card which eventually proved costly.
That's because the forward was given his marching orders later on in the match for a perceived dive.
Luckily for him, Real Madrid ended up 3-1 victors that evening.
2. Richarlison
Another Brazilian also appears to have taken a leaf out of Ronaldinho and Messi's book by copying the shirt celebration.
Tottenham's Richarlison lifted up his shirt when he played for his former club Everton in a Carabao Cup fixture against Lincoln City back in 2019.
However, his celebration is slightly different in the sense that he holds the jersey up with the club badge facing the crowd.
Richarlison references his commitment to the team he played for at the time by saying that he gives his all for the club logo that's embroidered on the front of his shirt.
3. Nabil Fekir
Finally, we have the Frenchman Nabil Fekir who copied Messi's shirt celebration a few months after the Argentinian performed it.
When Fekir used to represent Ligue 1 side Lyon, he held his jersey aloft when he scored for his team in a derby clash against Saint Etienne.
The fan backlash caused by that celebration was immense, as his celebratory move sparked a mass pitch invasion.
Here's how these events unfolded:
Fekir's moment of inspiration appears to have earned him cult hero status at the least amongst Lyon supporters, who pay tribute to his celebration that day by holding up shirts with his jersey number and name on them in remembrance.
What happened to the iconic El Clasico Messi shirt?
Quite surprisingly, the very shirt that Messi held up in front of Real Madrid's fanbase has been sold at auction for a staggering sum of money.
The piece of memorabilia fetched a sizeable 450,000-euro fee which made it the most expensive Messi jersey ever sold.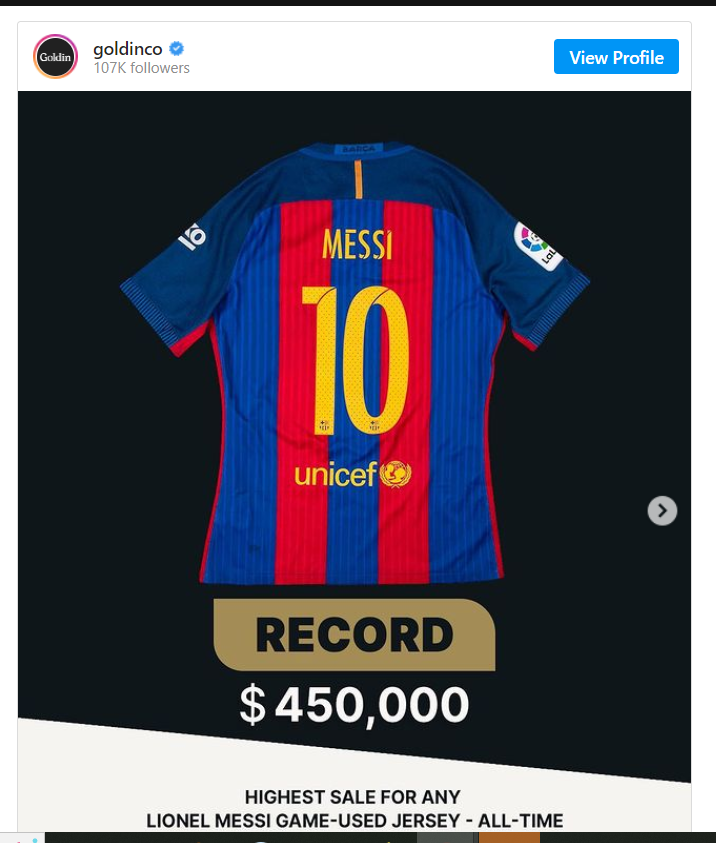 Can you imagine that?
The sale is said to have been handled by a company called Goldin that specializes in selling collectable items.
Using a meticulous verification process handled by a firm called resolution photo matching, the authenticity of the shirt was determined to be genuine through a detailed comparison between the physical shirt that was auctioned and photos taken from the match.
Closing thoughts
That marks the end of this article about Lionel Messi holding up his famous Barcelona number 10 shirt.
You should now understand the significance and context behind his decision to lift up his jersey to the crowd in defiance.
Hopefully you've enjoyed the informative read as well.
Furthermore, should you wish to have a look through more Messi-related content, then you can have a look at some of our other blog posts like:
If you enjoy the content that I create and would like to buy me a coffee, then I'd really appreciate it!
Any money that I earn through this donation will be re-invested into more content for this website.
Additionally, by sending in a donation you'll also receive a copy of my recently released 190+ page eBook on Soccer Ball Care, as well as be subscribed to our mailing list where you'll be regularly informed on the latest developments concerning the Soccer Whizz blog.
Latest posts by Samuel Waihenya
(see all)