Disclaimer: Soccer Whizz is a participant in the Amazon Services LLC Associates Program, an affiliate advertising program designed to provide a means for sites to earn advertising fees by advertising and linking to Amazon.co.uk (source: Section 5). As an Amazon Associate I earn from qualifying purchases.
Soccer players competing at the professional level are always well equipped when it comes to the gear that they put on before stepping on to the field.
You've obviously seen them tying the laces of their expensive soccer cleats; not to mention them wearing their team's jersey with their name and number displayed prominently on their back.
But that's not all.
The professionals of the world's most popular game also sport a very particular type of socks.
In this article, we're going to tell you what sort of socks the professional soccer players wear.
The post will also offer insight beyond a brief description of what they are, by highlighting the benefits these socks offer for athletes in this sport, as well as providing direction on where they can be bought.
So, without further ado, let's get started by answering the question in the title.
Professional soccer players generally wear knee-high soccer socks for competitive matches. The length of these socks goes beyond the calf, which is why you'll sometimes see them referred to as over-the-calf socks on the websites of various soccer stores.
What type of socks do pro soccer players wear?
Knee-high soccer socks have been the sock of choice for professional soccer players over many seasons.
This is how they look like:
Notice how these socks cover more of a player's legs than a normal pair of socks would.
The fabric itself offers professional players protection from the scratches and bruises that are brought about by different elements of competitive play, such as:
Sliding tackles;
Unexpected falls to ground; and
Opposition players leaving their feet in when contesting for the ball
We've talked about this in more detail within our article on why soccer socks are very long, so feel free to check that out when you've got some time to spare.
Additionally, these socks are usually made with moisture wicking materials that ensure sweat is drawn into the fabric rather than left on the skin, which keeps the legs and feet dry.
As the sport has such fine margins at the highest level, players need to feel comfortable in what they wear so that they can fully concentrate on their performance.
Can you imagine someone like Cristiano Ronaldo struggling to score goals or create attacking opportunities because of blisters on his feet caused by ill-fitting soccer socks?
That would be a nightmare!
Not only for him, but also for his team and the massive corporations that sponsor him.
Soccer socks are therefore made to offer comfort as players run and strike the ball on the pitch, in a way that normal socks can't.
Another performance component that these socks are built in with is compression.
The materials are made to press against the leg muscles so that blood circulation within this area of the body can increase.
If you've done a little bit of science in school, you will be aware that increased blood circulation means that a higher red blood cell count will exist to keep muscles oxygenated, which subsequently boosts endurance.
Ultimately, this is a critical advantage in a sport like soccer, as it means players can run at a higher intensity for longer periods of time.
Which other types of soccer socks exist?
Knee-high socks aren't the only soccer socks that professional players wear.
On the contrary, there are a number of alternative options.
Let's now look at each one in turn.
1. Crew socks
First up, we have crew socks.
These soccer socks typically stop halfway up the calf area.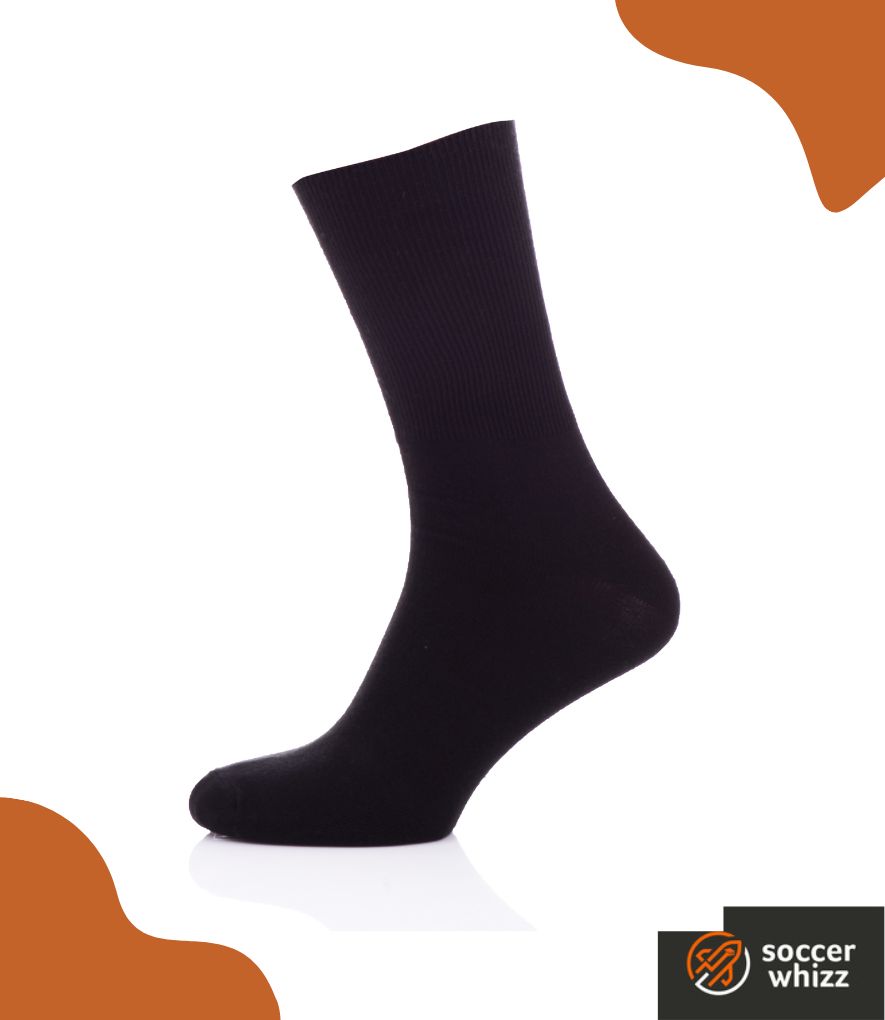 Because of their shorter length, they won't be able to completely cover a shin guard.
What this means is that you won't see soccer players wearing these for competitive matches because it would be against the rules which stipulate that soccer socks must cover shin guards entirely.
So, this type of soccer sock is much more conducive to practice games and sessions where the official rules aren't enforced.
If you come across footage of a professional team taking part in a training session, you'll spot many players wearing crew length socks.
One thing to note is that these socks aren't very pricey, as they typically fall within the $12 to $20 range.
Here are a few examples on Amazon:
New Balance Unisex 3 Pack Crew Socks, White, S UK
CUSHIONED CREW SOCKS: Uncompromising comfort that reduces foot fatigue with built-in arch support where you need it most.
UNISEX & NON-SLIP: Everyday athletic socks for both men and women with reinforced Y-heel and toe to keep the socks in place all day long.
HIGH PERFORMANCE SOCKS: At New Balance, our job is to aid athletes in their pursuits, whether helping professional athletes set records and win medals, or propelling everyday athletes to run their first 5K.
Sale
Under Armour Unisex Ua Heatgear Crew Long Sports Socks Compression Socks, White White Steel (100), L UK
Innovative Material – These crew socks are made of HeatGear fabric which wicks sweat away from your skin to keep you cool, dry and light.
Lasting Freshness – These walking socks have anti-odour technology to prevent the growth of odour-causing microbes, and mesh panels for breathability.
Comfort and Support – These long socks for active men and women feature dynamic arch support to reduce foot fatigue and ensure a comfortable experience.
2. Low-cut socks
Next up are low-cut socks.
These are even shorter in length than the aforementioned crew socks, as they stop just above the ankle area of the leg.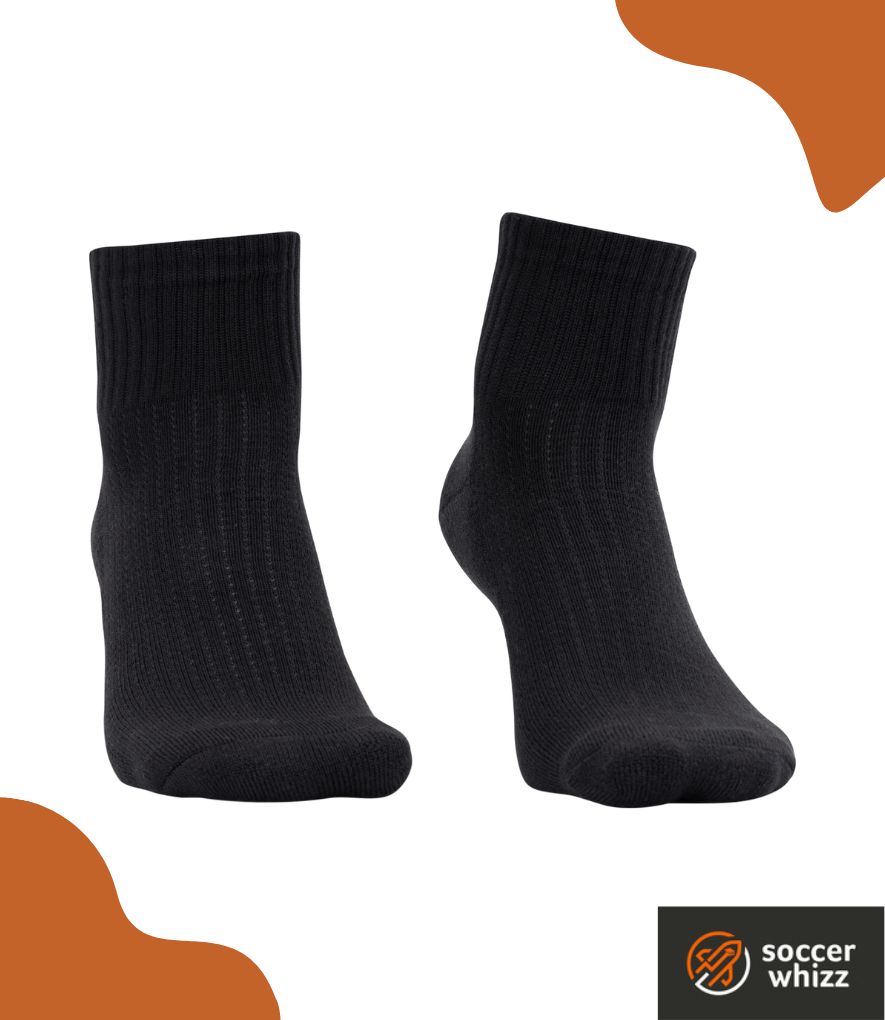 You may come across a few professional players wearing these in training as well, especially if they're a person who isn't fond of long socks or lengths of fabric covering up a large part of their legs.
Prices for this type of soccer sock sit within the $5 to $10 range.
3. Grip socks
Finally, we have what are called grip socks.
As the name suggests, these socks offer players more traction as they perform on the field.
They are great because they prevent the blistering that comes with feet sliding about within normal soccer socks.
Perhaps the most popular company for producing such soccer socks is Trusox.
What's quite interesting is that the founder of this American brand designed these socks based on his own practical experience as an athlete:
"The former footballer with a past in the minors Jim Cherneski, tired of feeling his foot move inside the shoe, decided to design a pair of socks with small dots lining the inside and outside in order to increase the grip inside the shoes. The creation of Cherneski immediately caught on and soon many sportsmen and women started using them, from baseball to American football, cricket, rugby and, of course, football."

Source – NSS Sports Magazine
Most professionals like to wear two pairs of socks these days, with one pair being Trusox because of the added grip that they offer.
You can get yourself a pair on Amazon if you like:
Trusox Mid-Calf Crew Cushion
MAKE CHANGES IN DIRECTIONS FASTER - non slip socks with INEXtech pads, that appear on both the inside and outside of the sock, secures your foot in TRUSOX and TRUSOX soccer socks are stable in your cleat. You can change direction quicker and more explosively, maximizing the power transfer with NO MOVEMENT IN YOUR CLEAT
HEEL WILL STAY IN CLEAT - INEXtech non slip pads secure your heel in place and it will not slip out of your cleats during the game or training session
PREVENT BLISTERS - your feet with grip socks will no longer slide around in your cleats and will reduce the possibility of getting blisters playing soccer, football, rugby, lacrosse, cricket, baseball or basketball
Closing thoughts
So, there you have it!
You now know that professional soccer players wear the best soccer socks, which typically consists of knee-high socks for competitive fixtures and a mix of crew length and low-cut socks for training games and practice sessions.
Should you wish to further educate yourself on topics to do with soccer socks, have a look through some of our other blog posts, such as:
If you enjoy the content that I create and would like to buy me a coffee, then I'd really appreciate it!
Any money that I earn through this donation will be re-invested into more content for this website.
Additionally, by sending in a donation you'll also receive a copy of my recently released 190+ page eBook on Soccer Ball Care, as well as be subscribed to our mailing list where you'll be regularly informed on the latest developments concerning the Soccer Whizz blog.
Latest posts by Samuel Waihenya
(see all)